OnePlus 3T vs. Google Pixel XL: Bargain bin
Bargain bin
GSMArena team, 27 December 2016.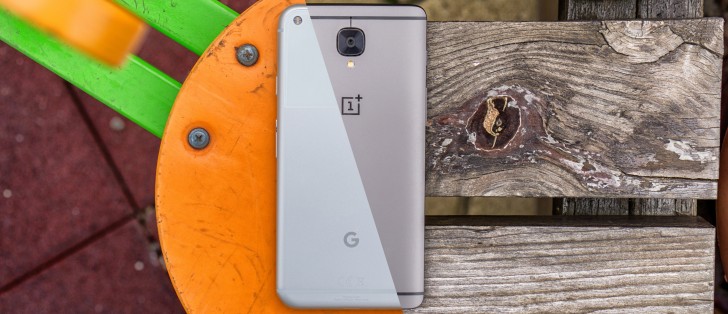 Retail package
With the Pixel XL you're getting an 18W fast charger that's not only Type-C but also one of the few chargers that adhere strictly to the USB power delivery spec. There's a C-to-C and a C-to-A cable in the bundle as well as a C-to-A adapter for plugging in peripherals. The Pixel XL complies to the USB 3.0 standard.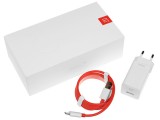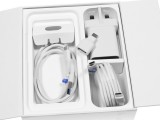 Dash charger with the OnePlus 3T • PD charger and assorted cables with the Pixel XL
The OnePlus 3T, on the other hand, ships with a custom charger and cable combo that together enable DASH fast charging (5V, up to 4A). You need both for the fast charging though as the system relies on a custom pinout of the otherwise USB 2.0-specced Type-C port.
Neither phone ships with a headset.
Half the price, just as good: Yes and no. You are getting a fast charger with the OnePlus 3T, but it's a proprietary solution so you have to stick to their approved accessories. There's also the matter of the slower USB 2.0 connection.
Design
The OnePlus 3T reuses the original 3's design, to the point that some readers questioned whether we actually shot the 3T for its review (we did!) or just straight up reused the old images. That's hardly a bad thing- the 3T looks and feels as upmarket as any big-name flagship.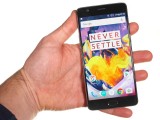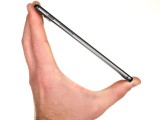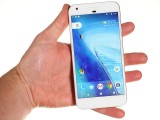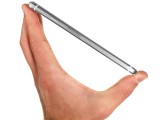 OnePlus 3T in the hand • Google Pixel XL in the hand
An all-aluminum handset that measures just 7.4 thick, the 3T loses points in the looks department only for its protruding camera. But it is the Pixel XL it's up against and its back is hardly a looker - you'll learn to live with it, and you may understand why Google went bold, but does anyone seriously actually like that?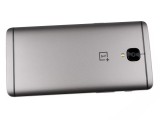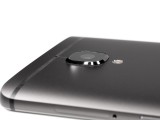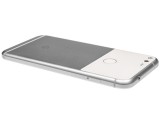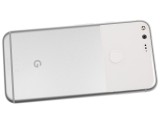 OnePlus 3T's camera sticks out a bit • The Pixel XL's is flush with the back, which can hardly save it
The OnePlus 3T's fingerprint sensor is on the front, below the display. It works great even though it's not an actual button and it doesn't have any sort of haptic feedback. The Pixel XL fingerprint sensor is on the back, under a cutout in the back glass.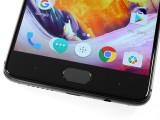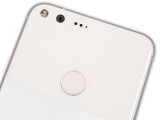 Fingerprint reader in the capacitive home button • Fingerprint reader on the back
One thing the OnePlus 3T has and the Pixel XL doesn't is a 3-position mechanical switch to toggle between normal ringing mode, do not disturb and silent. The OnePlus 3T can take a couple of nanoSIM cards while the Pixel XL is single SIM only. Neither phone is water resistant, though the Pixel XL does have an IP53 rating meaning it is splash-resistant. Not the 3T, though.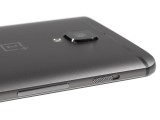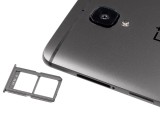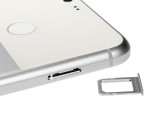 3T's 3-position 'mute' switch • The OnePlus 3T is a dual SIM device • just the one slot on the Pixel XL
Half the price, just as good: Yes, if not better. The high-quality build and premium feel of the OnePlus 3T are up to flagship standard, while the Pixel XL's half-glass back isn't doing it any favors.
Screen
5.5-inch AMOLED panels on both phones, but the Pixel XL has a bunch more pixels - its resolution is QHD, while the OnePlus was more conservative and went with FullHD. The Pixel is thus a lot better suited to VR uses than the 3T, and that alone could be a deal-breaker for some of you.
AMOLEDs aren't record breakers for brightness but both displays here post above average numbers in this department, with a marginal advantage for the 3T. It also edges ahead in the sunlight legibility test.
Display test
100% brightness
Black, cd/m2
White, cd/m2
Contrast ratio
OnePlus 3T
0
447
∞
Google Pixel XL
0
432
∞
Sunlight contrast ratio
Samsung Galaxy S6 edge+
4.615
Samsung Galaxy S7 edge
4.439
OnePlus 3
4.424
Samsung Galaxy S7
4.376
HTC One A9
4.274
Samsung Galaxy Note7
4.247
Samsung Galaxy A3
4.241
OnePlus 3T
4.232
Google Pixel XL
4.164
ZTE Axon 7
4.154
Samsung Galaxy S6 edge
4.124
Samsung Galaxy Note5
4.09
Huawei Nexus 6P
4.019
OnePlus X
3.983
Vivo Xplay5 Elite
3.983
Oppo R7s
3.964
Apple iPhone 7
3.964
Huawei P9 Plus
3.956
Samsung Galaxy A7 (2016)
3.918
Samsung Galaxy C5
3.911
Samsung Galaxy C7
3.896
Samsung Galaxy A5
3.895
Samsung Galaxy J7 outdoor
3.879
Samsung Galaxy J2 outdoor
3.873
Samsung Galaxy A8
3.859
Samsung Galaxy A9 (2016)
3.817
Motorola Moto X (2014)
3.816
Samsung Galaxy J7 (2016) outdoor mode
3.802
Xiaomi Redmi Pro
3.798
LG V20 Max auto
3.798
Sony Xperia XZ
3.795
Samsung Galaxy A5 (2016)
3.789
Apple iPhone 6s
3.783
Meizu Pro 5
3.781
Microsoft Lumia 650
3.772
Samsung Galaxy J7 (2016)
3.756
Oppo F1 Plus
3.709
Vivo X5Pro
3.706
Sony Xperia X Compact
3.694
Apple iPhone SE
3.681
Huawei Mate 9
3.68
Samsung Galaxy A7
3.679
Meizu PRO 6
3.659
BlackBerry Priv
3.645
Apple iPhone 7 Plus
3.588
Apple iPhone 6s Plus
3.53
Samsung Galaxy J3 (2016)
3.523
Samsung Galaxy J3 (2016) outdoor mode
3.523
Acer Jade Primo
3.521
Microsoft Lumia 950
3.512
Oppo R7 Plus
3.499
nubia Z11
3.466
Samsung Galaxy J7
3.422
Meizu MX5
3.416
LG V20
3.402
Oppo R9s
3.352
Oppo R7
3.32
Xiaomi Mi 5s
3.276
Samsung Galaxy J2
3.235
Sony Xperia X Performance
3.234
Xiaomi Mi Note 2
3.228
Motorola Moto X Play
3.222
Huawei P9
3.195
Lenovo Vibe Shot
3.113
Motorola Moto X Force
3.105
LG Nexus 5X
3.092
Huawei Mate S
3.073
Microsoft Lumia 640 XL
3.065
Sony Xperia X
2.989
Huawei Mate 8
2.949
Xiaomi Redmi 3S
2.913
Sony Xperia XA Ultra
2.906
LG G5
2.905
HTC One S
2.901
Xiaomi Mi 5s Plus
2.884
Sony Xperia Z5
2.876
Microsoft Lumia 550
2.851
Xiaomi Redmi 3 Pro
2.803
Sony Xperia Z5 compact
2.784
Meizu MX6
2.751
LG V10
2.744
Xiaomi Redmi 3
2.735
Sony Xperia M5
2.69
Huawei P9 Lite
2.679
Vivo V3Max
2.659
Xiaomi Mi Mix
2.658
Xiaomi Mi 4i
2.641
Sony Xperia XA
2.609
Motorola Moto G4 Plus
2.582
Motorola Moto G4 Plus (max auto)
2.582
Xiaomi Mi 4c
2.574
LeEco Le Max 2
2.567
Asus Zenfone 3 ZE552KL
2.563
Microsoft Lumia 640
2.563
Lenovo Moto G4
2.544
Oppo F1
2.528
Sony Xperia Z5 Premium
2.525
Huawei Honor 7 Lite / Honor 5c
2.506
Sony Xperia M4 Aqua
2.503
Oppo F1s
2.481
Motorola Moto G
2.477
Lenovo Vibe K5 Plus
2.473
Huawei G8
2.471
Huawei nova
2.467
Sony Xperia Z
2.462
Lenovo Vibe K5
2.459
Meizu m3 max
2.447
Huawei Honor 7
2.406
Sony Xperia E5
2.386
ZUK Z1 by Lenovo
2.382
HTC 10
2.378
Samsung Galaxy J5 (2016)
2.378
Huawei nova plus
2.329
HTC One E9+
2.305
Alcatel One Touch Hero
2.272
Apple iPhone 4S
2.269
Lenovo Vibe K4 Note
2.254
Sony Xperia C5 Ultra
2.253
Xiaomi Redmi Note 3 (MediaTek)
2.249
Sony Xperia C4 Dual
2.235
Xiaomi Mi Note
2.234
Motorola Moto G (2014)
2.233
LG Nexus 5
2.228
Huawei P8
2.196
Huawei Honor 6
2.169
Xiaomi Redmi Note 2
2.166
OnePlus Two
2.165
HTC One X
2.158
LG Aka
2.145
Xiaomi Redmi Note 4
2.145
Archos 50 Diamond
2.134
Xiaomi Redmi Note
2.119
Acer Liquid X2
2.084
Huawei P8lite
2.078
Moto G 3rd gen max manual
2.026
Xiaomi Mi 3
2.001
Xiaomi Mi Max
1.996
Sony Xperia E4g
1.972
OnePlus One
1.961
Meizu m3 note
1.923
Meizu m2 note
1.892
BlackBerry Leap
1.892
ZTE Nubia Z9 mini
1.759
Sony Xperia U
1.758
Asus Zenfone Selfie
1.68
Motorola Moto E (2nd Gen)
1.675
ZTE Nubia Z9
1.659
Jolla Jolla
1.605
Motorola Moto E
1.545
Sony Xperia M
1.473
HTC Desire C
1.3
Sony Xperia C
1.283
Meizu MX
1.221
Sony Xperia E
1.215
Not much to split the two in color accuracy either. The Pixel XL is somewhat more on point in default mode (avg. DeltaE 5.4 vs 6.4 for the 3T), but enabling sRGB mode on both phones shrinks the difference to 2.6 vs. 2.8.
Half the price, just as good: We had a hard time calling this one, but No. The OnePlus 3T's display is great and matches the Pixel XL's in all areas but resolution. It's a prime example of the saying, you get what you pay for.
Battery
The OnePlus 3T and the Pixel XL pack nearly identical batteries - 3,400mAh for the 3T and the 3,450 for the XL. There is of course the tiny difference of the display resolution - the high resolution screen of Pixel XL should be more taxing on the battery.
Well our tests showed that's the case only in video playback where the 3T outlasts the Pixel XL by more than 2 hours. In Wi-Fi web browsing the OnePlus phablet calls it quits a little earlier than the Pixel, and in voice calls the Phone by Google can last a couple more hours than the 3T. Neither web browsing time is truly impressive though, while both phones are very efficient when it comes to talk time.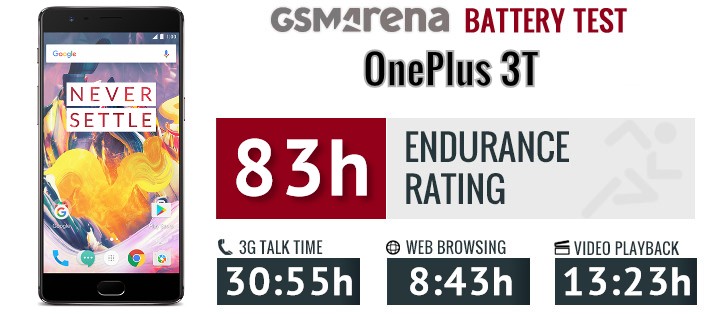 With minimal differences in most areas, it's no wonder that their overall endurance ratings are comparable. Still, the 3T's better longevity in the video playback department gives it a 5-hour edge altogether.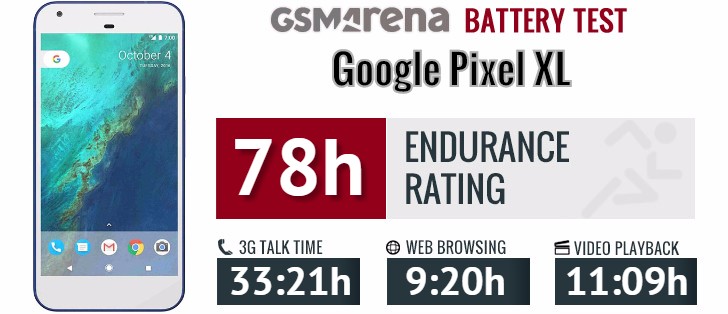 Half the price, just as good: Yes, indeed. Actually, if you watch a lot of videos, you'll find the OnePlus 3T to last you longer.
the One plus 3t is a fantastic phone. insanely fast ,insanely smooth and gorgeous to use. battery life lasts me an entire day of heavy use, after owning it since release, ive had older, cheaper phones last longer even when showing solid signs of agin...
I'm still using my 3 year old HTC One M8. I will change it to a 3T or LG V20, I guess.
Regarding the availability, in Romania I can't order Pixel.