Oppo F11 Pro review
GSMArena team, 16 March 2019.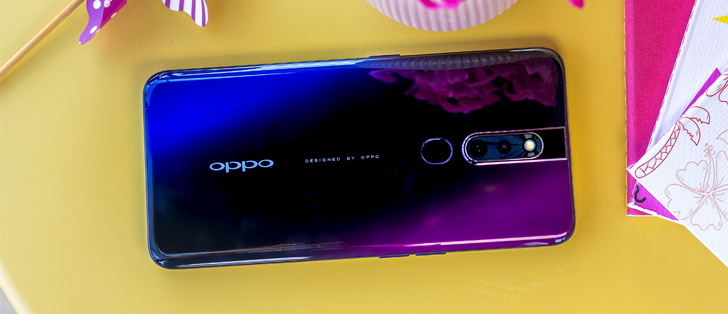 Design and build
The gradient paint job has made its way to the mid-range and even budget smartphones, so it's all but a surprise to see it on the Oppo F11 Pro. Oppo has an excellent track record for making stunning gradients of all kinds since the F7 and R15 models.
The F11 Pro has either triple-color or dual-color gradient depending on which model you opt for - Thunder Black of Aurora Green. We got the Black one, and it's as captivating as the official images suggested. But first things first.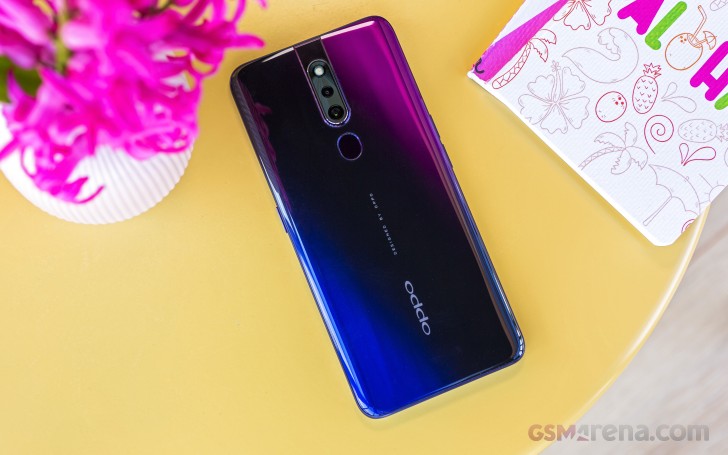 The Oppo F11 Pro's key feature is that large 6.53" display free of any cutouts and with the bare minimum of bezels. While the regular F11 has a waterdrop-like notch, the Pro model is all about the full-screen experience, and that's why Oppo has moved the selfie camera onto a motorized pop-up.
A pop-up selfie camera is an already familiar concept as seen in the portfolio of another of BBK's companies - Vivo to be specific. And it just makes sense to see this contraption spread among other BBK-owned companies, too.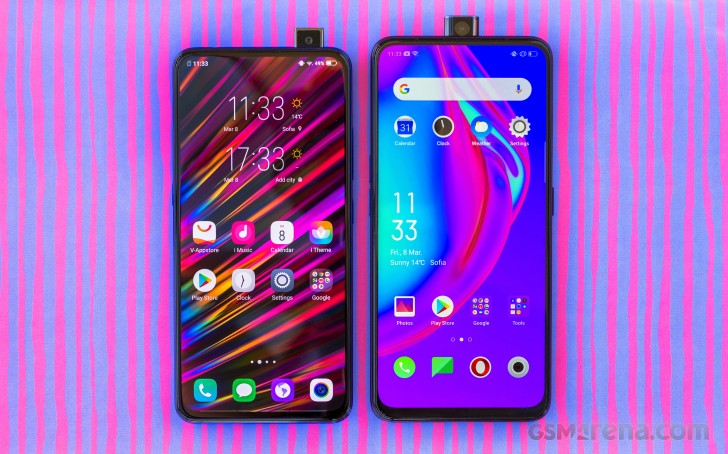 Vivo V15 Pro and Oppo F11 Pro
So, the selfie snapper is now on a motorized pop-up module and it works like the ones we've seen on a couple of Vivo phones. If Face Unlock is enabled, it will pop up every time you wake up the screen. We haven't fired this accidentally in a pocket, but Oppo promises the module is resilient enough to sustain plenty of manual pushes.
This might be a bummer for the die-hard selfie fans as it will take a second before the camera goes up and kicks off. And of course, whatever Oppo promises, an appendix like that is easy to break especially when crowds and tight spaces are involved. We guess it's either full-screen experience with Oppo F11 Pro or uninterrupted selfie photography with the regular Oppo F11.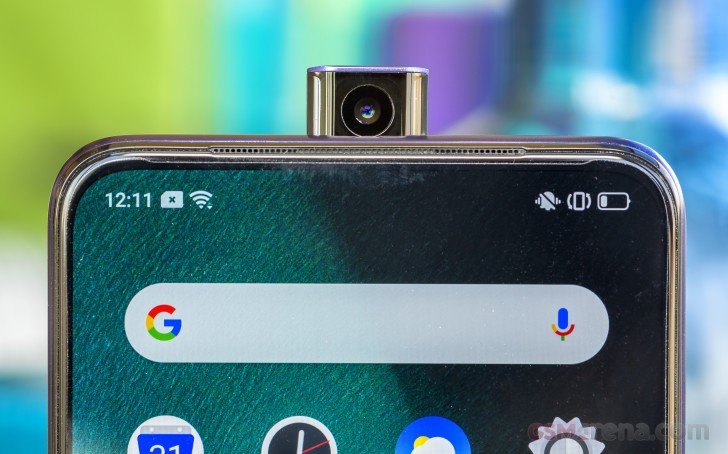 The screen is not truly bezel-less, none on the market is. This allows the makers to fit the earpiece on the top bezel, no matter how thin it is. And the one on the F11 Pro is super thin and long. Oppo says there are two receivers in there for clearer and sharper sound. Indeed, it does sound pretty well in calls.
Just don't mistake the earpiece for a speaker. The Oppo F11 Pro has just one loudspeaker, and it's at the bottom.
The top part of the frame has a noise-canceling mic and the ambient light sensor. There are two proximity sensors on the Oppo F11 Pro, but we can't really tell where - probably behind the screen.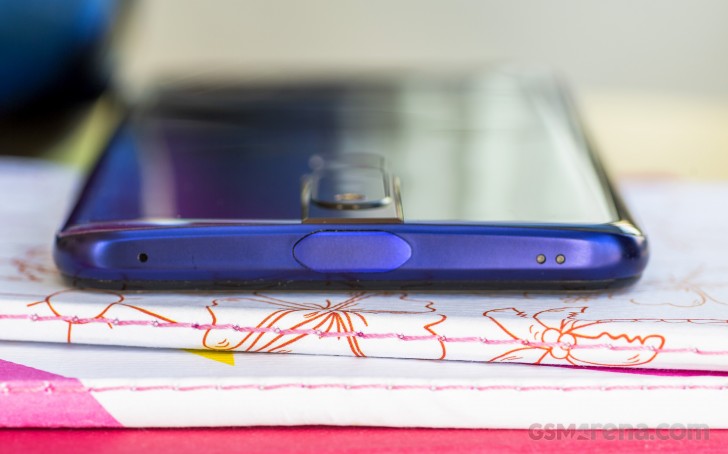 The rising camera is also here, and it transitions very cool towards the back when it's extended. Oppo has put a metal ring around the main camera setup on the back, which ends nicely on the selfie camera and when it's up, the back seems less interrupted.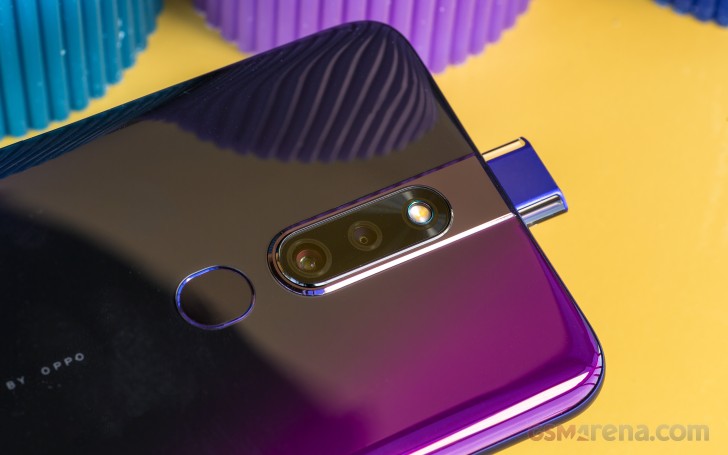 This prettiness is responsible for a double-hump though. First - the metal piece is bulging above the rear panel, and then the dual-camera setup and its LED flash are protruding even more. It's not as bad as it sounds though and if you are not that picky for, you may grow to like this unorthodox accent - at least it's symmetric.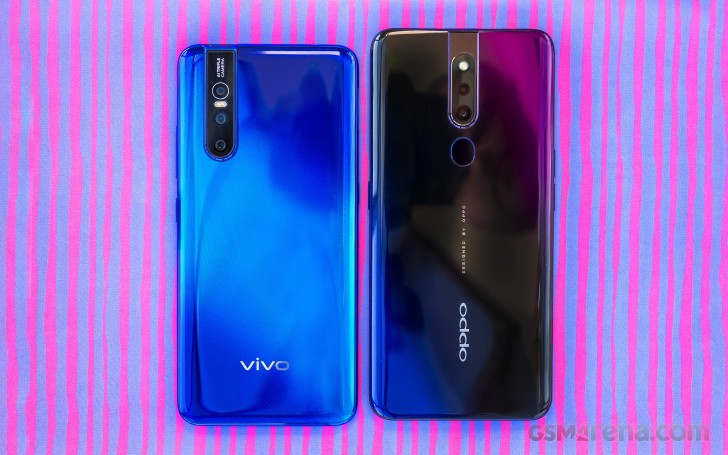 Vivo V15 Pro and Oppo F11 Pro
The 48MP camera sensor is your main camera that will usually save 12MP photos, while there is also a 5MP snapper acting as a depth sensor. A single LED flash completes the camera tools on the back.
The Oppo F11 Pro has an always-on fingerprint sensor on the back, so if you want a more secure unlock, we'd advise to use it instead of the face unlock.
The whole back, as well as the frame, are made of nice-looking plastic, which looks like a glass and feels like a glass.
But plastic or glass, the Thunder Black rear panel is nothing short of stunning. The triple-color gradient is an instant eye-catcher, and it changes under different light conditions. And every time we grab the phone - it feels like we are seeing it for the first time.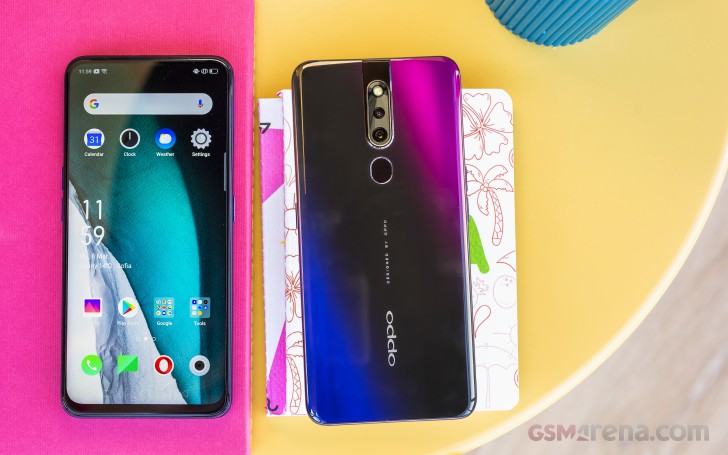 Handling the F11 Pro feels like a premium experience. As we mentioned, the back is indistinguishable from glass and looks as dazzling as they make them. The glossy finish allows fingerprints to stick, but that's expected.
But thanks to the matte frame, we didn't consider the F11 Pro to be as slippery as some other phone we've handled recently. Slippery, yes, but not to extremes.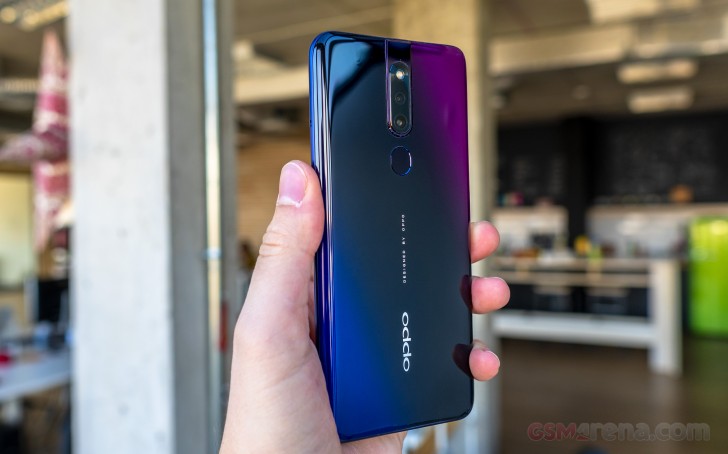 The Oppo F11 Pro measures 161.3 x 76.1 x 8.8 mm, which is 5mm taller than the F9 Pro and 2mm wider. It weighs 190 g - that's 20g up from the F9.
The Oppo F11 Pro uses a dated microUSB port at the bottom, but VOOC charging is available. It also has a 3.5mm audio port, and a hybrid dual-SIM slot meaning you can use a microSD card instead of a second SIM.
Wow very nice phone but I lose case I don't know where I find some
Will you use 4K recording even if this phone is capable to do it? Or have you ever playing 4K video? Do you know 4K will waste more battery, more storage, and more data conenction? Can your PC play 4K video? 4K Video requires new graphic processor to...