Oppo F1s review: A second take
A second take
GSMArena team, 19 August 2016.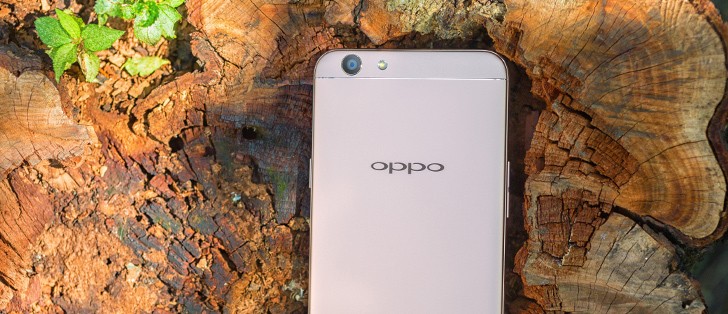 Display
5.5-inches currently seems to be the sweet spot for a smartphone and Oppo has picked up on that. This is one aspect of the best-selling F1 Plus that has been preserved, however, size is only one part of the equation that makes for a good display. To keep costs down, the Chinese OEM has cut back on both technology and resolution.
The Oppo F1s ditches the superior AMOLED panel of the F1 Plus and relies on a much simpler LCD one, just like the original. While there is nothing wrong about that, the 720p resolution is stretched a little thin on the large area making for a noticeable decrease in quality compared to the original. There is still no pixelation or any noticeable fuzziness unless you look close, but there is a slight bump down in sharpness.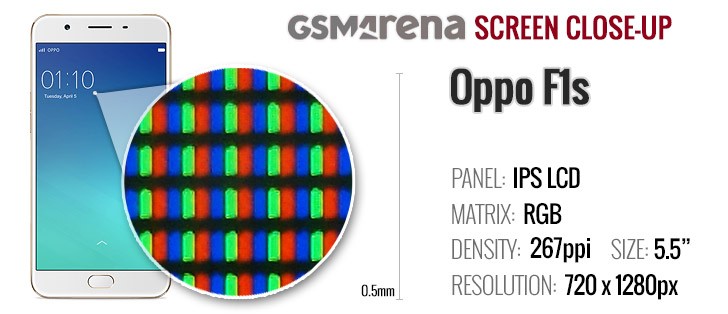 The panel used in the F1s also seems to be pretty close regarding performance to that in the original F1. It gets fairly bright at 420 nits, and the contrast is decent at 933:1. When showing an all black image, there is almost no light bleeding from the backlight either.
So overall, the screen may not be the best one we have seen, but it's still decent with the low resolution being our only serious grudge with it.
Display test
100% brightness
Black, cd/m2
White, cd/m2
Contrast ratio
Oppo F1
0.46
408
897
Oppo F1 Plus
0.00
351
∞
Oppo F1s
0.45
420
933
Xiaomi Mi 4c
0.28
452
1609
Xiaomi Mi 4S
0.49
475
975
OnePlus X
0.00
340
∞
Xiaomi Redmi Note 3 (MediaTek)
0.42
403
953
Huawei P9 Lite
0.42
497
1192
LG Nexus 5X
0.30
455
1542
Meizu MX5
0
346
∞
Huawei Honor 7 Lite / Honor 5c
0.58
416
717
Samsung Galaxy A5 (2016)
0.00
421
∞
Samsung Galaxy A7 (2016)
0.00
425
∞
Lenovo Moto G4
0.32
495
1560
Xiaomi Redmi 3
0.42
520
1238
Xiaomi Redmi 3 Pro
0.49
561
1145
Sony Xperia M5
0.63
527
839
The same goes for sunlight legibility.
Sunlight contrast ratio
Samsung Galaxy S6 edge+
4.615
Samsung Galaxy S7 edge
4.439
OnePlus 3
4.424
Samsung Galaxy S7
4.376
HTC One A9
4.274
Samsung Galaxy A3
4.241
Samsung Galaxy S6 edge
4.124
Samsung Galaxy Note5
4.09
Huawei Nexus 6P
4.019
OnePlus X
3.983
Vivo Xplay5 Elite
3.983
Oppo R7s
3.964
Huawei P9 Plus
3.956
Samsung Galaxy A7 (2016)
3.918
Samsung Galaxy A5
3.895
Samsung Galaxy J7 outdoor
3.879
Samsung Galaxy J2 outdoor
3.873
Samsung Galaxy A8
3.859
Apple iPhone 6
3.838
Samsung Galaxy A9 (2016)
3.817
Motorola Moto X (2014)
3.816
Samsung Galaxy J7 (2016) outdoor mode
3.802
Samsung Galaxy A5 (2016)
3.789
Apple iPhone 6s
3.783
Meizu Pro 5
3.781
Microsoft Lumia 650
3.772
Samsung Galaxy J7 (2016)
3.756
Oppo F1 Plus
3.709
Vivo X5Pro
3.706
Apple iPhone SE
3.681
Samsung Galaxy A7
3.679
Meizu PRO 6
3.659
BlackBerry Priv
3.645
Apple iPhone 6s Plus
3.53
Samsung Galaxy J3 (2016)
3.523
Samsung Galaxy J3 (2016) outdoor mode
3.523
Acer Jade Primo
3.521
Microsoft Lumia 950
3.512
Oppo R7 Plus
3.499
Samsung Galaxy J7
3.422
Meizu MX5
3.416
Oppo R7
3.32
Samsung Galaxy J2
3.235
Sony Xperia X Performance
3.234
Motorola Moto X Play
3.222
Huawei P9
3.195
Lenovo Vibe Shot
3.113
Motorola Moto X Force
3.105
LG Nexus 5X
3.092
Huawei Mate S
3.073
Microsoft Lumia 640 XL
3.065
Apple iPhone 6 Plus
3.023
Sony Xperia X
2.989
Samsung Galaxy Note
2.97
Huawei Mate 8
2.949
Sony Xperia XA Ultra
2.906
LG G5
2.905
HTC One S
2.901
Sony Xperia Z5
2.876
Microsoft Lumia 550
2.851
Xiaomi Redmi 3 Pro
2.803
Sony Xperia Z5 compact
2.784
LG V10
2.744
Xiaomi Redmi 3
2.735
Sony Xperia M5
2.69
Huawei P9 Lite
2.679
Vivo V3Max
2.659
Xiaomi Mi 4i
2.641
Sony Xperia XA
2.609
Xiaomi Mi 4c
2.574
LeEco Le Max 2
2.567
Microsoft Lumia 640
2.563
Lenovo Moto G4
2.544
Oppo F1
2.528
Sony Xperia Z5 Premium
2.525
Huawei Honor 7 Lite / Honor 5c
2.506
Sony Xperia M4 Aqua
2.503
Oppo F1s
2.481
Motorola Moto G
2.477
Lenovo Vibe K5 Plus
2.473
Huawei G8
2.471
Sony Xperia Z
2.462
Lenovo Vibe K5
2.459
Huawei Honor 7
2.406
Sony Xperia E5
2.386
ZUK Z1 by Lenovo
2.382
HTC 10
2.378
Samsung Galaxy J5 (2016)
2.378
HTC One E9+
2.305
Alcatel One Touch Hero
2.272
Lenovo Vibe K4 Note
2.254
Sony Xperia C5 Ultra
2.253
Xiaomi Redmi Note 3 (MediaTek)
2.249
Sony Xperia C4 Dual
2.235
Motorola Moto G (2014)
2.233
LG Nexus 5
2.228
Huawei P8
2.196
Xiaomi Redmi Note 2
2.166
OnePlus Two
2.165
HTC One X
2.158
LG Aka
2.145
Archos 50 Diamond
2.134
Xiaomi Redmi Note
2.119
Xiaomi Mi 4S
2.095
Acer Liquid X2
2.084
Huawei P8lite
2.078
Moto G 3rd gen max manual
2.026
Xiaomi Mi Max
1.996
Sony Xperia E4g
1.972
OnePlus One
1.961
Meizu m3 note
1.923
BlackBerry Leap
1.892
Meizu m2 note
1.892
HTC Butterfly
1.873
ZTE Nubia Z9 mini
1.759
Sony Xperia U
1.758
Asus Zenfone Selfie
1.68
Motorola Moto E (2nd Gen)
1.675
ZTE Nubia Z9
1.659
Jolla Jolla
1.605
Motorola Moto E
1.545
Sony Xperia M
1.473
Xiaomi Redmi 2
1.311
Sony Xperia C
1.283
Meizu MX
1.221
Sony Xperia E
1.215
Color accuracy is also about average, nothing special or impressive. The average deltaE being around 6.9 with the maximum drifting all the way out to 14.8. Overall, the panel on the F1s is about what you would get out of the original F1, only half an inch bigger in diagonal.
Connectivity
As already mentioned, the Oppo F1s conveniently comes with either one or two separate nano SIM card slots, neither of which gets in the way of the microSD. As for speed, you get Cat. 6 LTE with a theoretical maximum of 300 Mbps downstream and HSPA+. Other Internet connectivity options include Wi-Fi a/b/g/n (150Mbps speed, there's no ac).
Local connectivity includes Bluetooth 4.0, sadly not 4.1. You don't get NFC either, but this seems to be the trend with Oppo's devices. This omission may not be a big deal for you but it means you can't use your phone with a contactless payment solution, so this may or may not be an issue depending where you are coming from.
The microUSB 2.0 port handles charging and data, but it also supports USB OTG so you can hook up external hardware to the phone. However, to use this feature, you need to switch its toggle, which is 'hidden' in the Settings menu.
You do get FM radio as well, as a more old-school source of music and entertainment. However, there is no added functionality here such as RDS, broadcast recording or track recognition.
Battery
If we had to point out one aspect in which the Oppo F1s feels like an upgrade over its predecessors it would have to be the battery capacity (oh and the front-facing camera of course, but more on that later).
The new smartphone offers a 3075 mAh battery (sealed in), which is higher than both what the F1 (2,500 mAh) or the F1 Plus (2,850 mAh) have. Also, if there is a silver lining to using a lower resolution screen and an underclocked processor, battery endurance has to be it.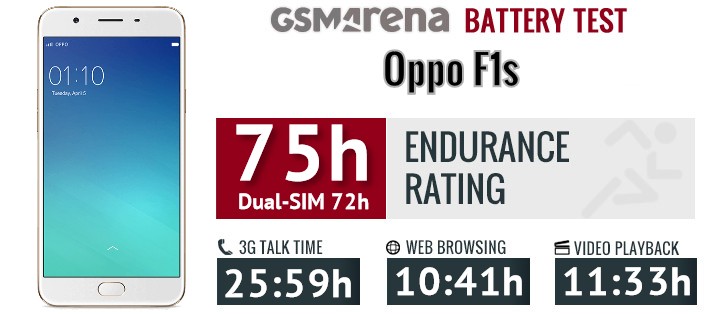 The Oppo F1s managed a respectable 75-hour endurance rating in our battery test, which is marginally better than what the F1 Plus got. The individual call, web browsing and standby times have all been improved compared to the F1 Plus. Video playback, however, appears to be a bit more power-hungry this time around - likely an issue with optimization.
The F1s behaves better with two active SIM cards as well, so the marginally thicker profile needed to accommodate the bigger battery seems to be well worth it. However, we have to admit we expected the difference compared to the F1 Plus to be somewhat bigger.
The battery testing procedure is described in detail in case you're interested in the nitty-gritties. You can also check out our complete battery test table, where you can see how all of the smartphones we've tested will compare under your own typical use.
Best phone ever I'm using this phone since August,2016 same battery same performance till now This model made OPPO basis in market
Oppo f1s android Oreo software update
its a great device it just need updates