Oppo Find 7a review: A-lister
A-lister
GSMArena team, 05 May 2014.
Display
Easily one of the key selling features of the device, the 5.5" screen of the Oppo Find 7a has a resolution of 1920 x 1080 pixels, resulting in around 401ppi. Hardly a surprise for an IPS unit, the side viewing angles are excellent - it's a high-quality screen, no doubt about that. The screen's digitizer is super-sensitive and the phone can be used with gloves (if you turn that on in the settings menu).
The pixel arrangement is standard RGB with an equal amount of green, red and blue pixels in a line. Below you can see it magnified using our trusty microscope.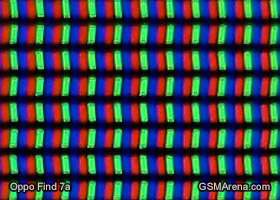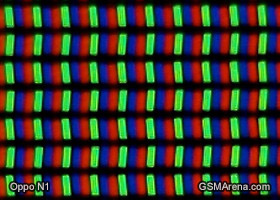 The contrast of the screen is pretty good, color reproduction is great too, all adding up to an excellent image quality screen.
Display test
50% brightness
100% brightness
Black, cd/m2
White, cd/m2
Contrast ratio
Black, cd/m2
White, cd/m2
Contrast ratio
Oppo Find 7a
0.33
280
842
0.68
580
852
Oppo N1
0.25
285
1118
0.47
553
1164
Samsung Galaxy S5
0
274
∞
0
529
∞
Samsung Galaxy S4
0
201
∞
0
404
∞
HTC One (M8)
0.20
245
1219
0.46
577
1256
LG G2
0.10
149
1522
0.45
667
1495
HTC Butterfly S
0.15
165
1117
0.43
451
1044
Oppo Find 5
0.17
176
1123
0.51
565
1107
Apple iPhone 5
0.13
200
1490
0.48
640
1320
Unfortunately, the sunlight legibility is rather mediocre. Oppo has shipped the Find 7a with a factory equipped screen protector. It is quite the finger-print magnet though, very hard to clean and reduces the sunlight legibility as it's quite reflective. We didn't try to remove it on our review unit, but we would have without a doubt done so if it was a personally purchased device. The Gorilla Glass 3 layer on top should be enough to keep the screen in top shape even without a screen protector film.
Sunlight contrast ratio
Nokia 808 PureView
4.698
Apple iPhone 5
3.997
Samsung Galaxy Note 3
3.997
Samsung Galaxy S5
3.549
Samsung I9300 Galaxy S III
3.419
Nokia Lumia 925
3.402
Samsung I9505 Galaxy S4
3.352
Samsung Omnia W
3.301
Samsung Galaxy S
3.155
Samsung Galaxy S4 mini
3.127
Samsung Galaxy S4 zoom
3.118
Nokia N9
3.069
Samsung Galaxy Note
2.970
Sony Xperia Z1
2.950
HTC One S
2.901
BlackBerry Q10
2.856
Samsung Galaxy S II
2.832
Samsung Galaxy S II Plus
2.801
BlackBerry Z30
2.790
Huawei Ascend P1
2.655
Sony Xperia ZR
2.672
Nokia Lumia 900
2.562
HTC One Max
2.537
Nokia Lumia 720
2.512
HTC One
2.504
Sony Xperia Z
2.462
Samsung Galaxy S III mini
2.422
HTC One (M8)
2.371
Motorola RAZR i
2.366
Samsung Galaxy Note II
2.307
Oppo Find 7a
2.279
Apple iPhone 4S
2.269
HTC Desire 600 dual sim
2.262
LG Nexus 5
2.228
HTC One X
2.158
Nokia N8
2.144
Oppo Find 5
2.088
BlackBerry Z10
2.051
Apple iPhone 4
2.016
HTC One mini
2.003
LG G2
1.976
Sony Ericsson Xperia ray
1.955
Samsung Galaxy Camera
1.938
LG G Pro 2
1.922
HTC Butterfly
1.873
Huawei Ascend P6
1.865
Sony Xperia V
1.792
Sony Xperia U
1.758
Meizu MX3
1.754
LG Optimus 4X HD
1.691
HTC One V
1.685
BlackBerry Q5
1.682
LG Optimus Vu
1.680
LG Optimus GJ
1.666
HTC Desire V
1.646
Samsung Galaxy Ace 3
1.622
Sony Xperia Z Ultra
1.578
Samsung Galaxy Core
1.563
LG Optimus G Pro
1.552
LG Optimus 3D
1.542
Samsung Galaxy Core LTE
1.542
Nokia Asha 302
1.537
Sony Xperia M
1.473
Nokia Lumia 610
1.432
Samsung Galaxy Grand Neo
1.393
Gigabyte GSmart G1355
1.361
Samsung Galaxy Grand
1.321
HTC Desire C
1.300
Nokia Asha 501
1.270
LG Optimus L7
1.269
LG Optimus L9
1.227
Meizu MX
1.221
Sony Xperia E dual
1.203
Samsung Galaxy Pocket
1.180
Sony Xperia tipo
1.166
Samsung Galaxy mini 2
1.114
Battery life
The Oppo Find 7a's 2,800mAh battery can be fully charged in about an hour, thanks to the high current fast charger. If in a hurry, a few minutes on the charger will give the Find 7a enough juice to last a couple of hours.
We ran our traditional battery test and the results are in. The Oppo Find 7a pulled an overall rating of 60 hours. The 60-hour rating means the Oppo Find 7a will last two and a half days on a full charge with an hour each of calling, browsing and watching video daily.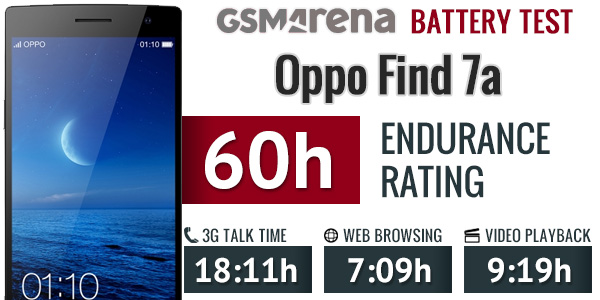 The Oppo Find 7a did pretty well when it comes to talking, web browsing and video playback, but its standby battery performance is rather mediocre. For a more detailed breakdown of the Oppo Find 7a battery performance check out our blogpost.
I just bought new Find7a a week ago for 2.7M IDR previously i used LG G2. I loved the Find7a. Plus 1. The gesture is helping for fast access 2. Sound during calling is very good Minus 1. Still on Jellybean, need service centre to upgrade....
Do consider lenovo P 70 before buying this
Best phone compare to others for the price...