Possible LG G5 prototype leaks online
Victor, 25 January, 2016
As MWC 2016 draws closer and flagship season comes upon us we are already knee deep in rumors about the next line of high-end offers. Seeing how parts of the Samsung Galaxy S7 were recently spotted online, it comes as no surprise that we are starting to see more of the LG G5 as well.
A fresh set of photos claims to depict a hardware-reference LG G5 unit. The OEM made sure to hide as much of the design as it could, but the shot still provides some valuable insight into the upcoming flagship.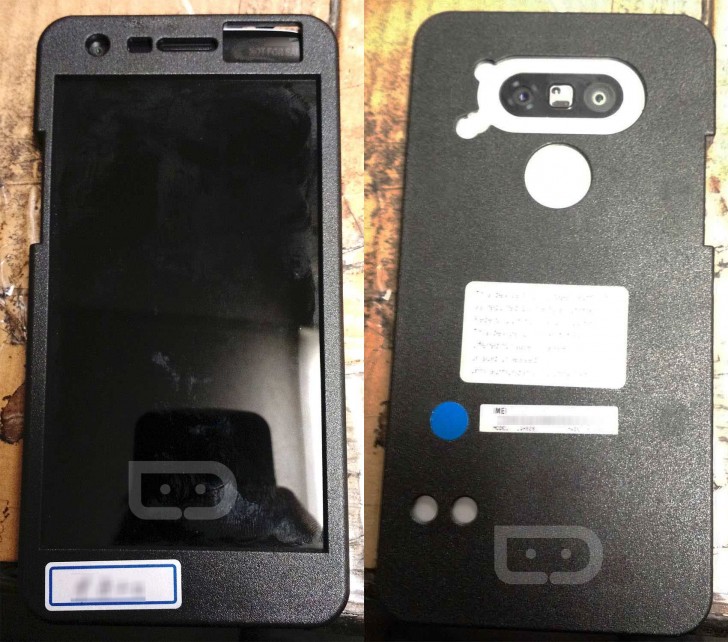 Straight off the bat, we see a double camera setup on the back, just as anticipated by various rumors. The main shooter is reported to be a 16MP one, while the secondary one has a resolution of 8MP. The most-likely usage scenario for the setup is advanced focus modes, although some clever exposure or low-light magic is also in the realm of possibility.
Examining the back further, we find a round fingerprint reader and not much else, which confirms that the back-mounted buttons might be going out of fashion. It would appear that other rumors of a streamlined metal design are also true.

Other controls, visible on the unit, include a tray in the bottom part of the right-hand side, It holds the SIM card and the SD card slots. There is a single speaker visible on the bottom of the phone, flanked by a microphone and a USB Type-C port. As for the other major rumor about the G5 and its alleged detachable bottom part and sliding battery mechanism, it is hard to judge from the pictures at hand. Even if the unit does have said functionality, its added plastic casing definitely prevents its usage.

As for other specs, the G5's dimensions will allegedly be 149.4 x 73.9 x 8.2 mm. These make it taller yet narrower than its predecessor. Past rumors have talked about it featuring a 5.6-inch QHD touchscreen, the Qualcomm Snapdragon 820 SoC and an 8 MP selfie snapper. The expected announcement date for the handset is February 21 at MWC in Barcelona.

Related
Most important is: bezels, battery life. I think LG will disappoint me again. I'm still with G3 because G4 was a joke.
Then get yourself an HTC device.
Then you are not the target market of LG so go ahead and give your money to Apple.
Popular articles
Popular devices