Razer Opus headphones review
Enrique, 25 May 2020
Razer is a gaming brand known for making high-performance gaming PCs, laptops, and accessories for gamers. Its triple snake logo and Chroma platform for customizing RBG LEDs have the kind of loyal following most brands can only dream of. And yet Razer has now released a pair of active-noise cancelling headphones that eschew both.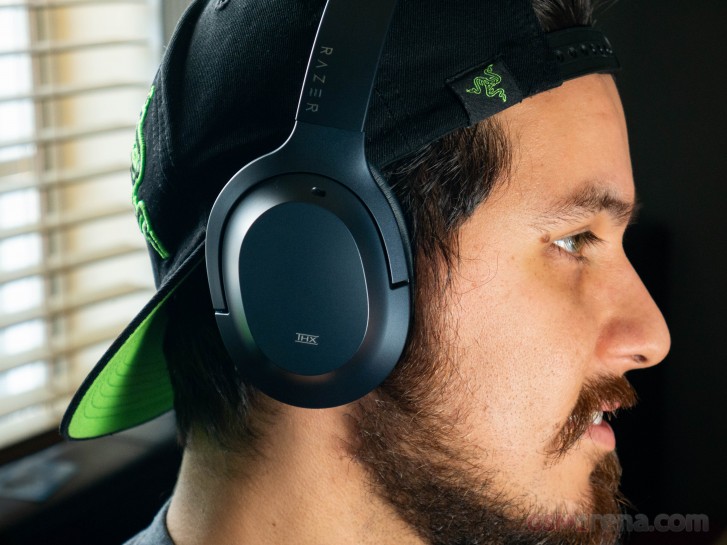 The Razer Opus is a rapid departure from the brand's heritage, aiming to create a lifestyle product that appeals to a much wider audience even at the risk of alienating the core fanbase.
Or perhaps Razer hopes that its fans, many of which have grown up with the brand since its inception in 2005, have grown and are willing looking for a "lifestyle" product that says 'in-world' rather than 'in-game'. These are headphones intended for casual and comfortable listening, ideal for traveling, working, or studying.
Razer Opus features and specs:
Around-ear fit
Faux-leather and memory foam build with foldable design
Faux-leather trim with memory foam earcups and headband
Five-button controls
Balanced 260-gram weight
6 microphones total: 2 for voice, two in earcups (feedback prevention), two on the outside
10Khz to 20Hkz response time
40mm drivers
THX certification
Wear detection (Play/Pause)
Quick Attention mode (Audio passthrough)
USB-C quick charging
3.5mm headphone jack
25-hour battery life with ANC
Razer worked with THX, which promises these headphones deliver awesome listening experience up to the standards of theater-goers. The certification process is a tedious and lengthy one to ensure optimal audio reproduction and is awarded on a pass or fail basis. With the Opus, you can expect a more well-balanced listening experience versus a bass-heavy one.
Razer knows that it is entering a tech space with fierce competitors from Bose, Beats, and Sony with high-end products costing around $350. Razer hopes it can make a splash with its $199 headphones, but what exactly does $199 get you? Let's take a closer look, starting with the design of the Opus.
Design
The headphones don't get points for originality, but it should be praised for simplicity and practical ergonomics. The slanted earcups make for a comfortable fit around my ears and the rear-mounted controls are both simple, and easy to reach. On the left is the power button next to an LED power indicator, and the "NC" (noise cancelling) button. The right cup has up/down volume controls, and a multi-function play/pause key.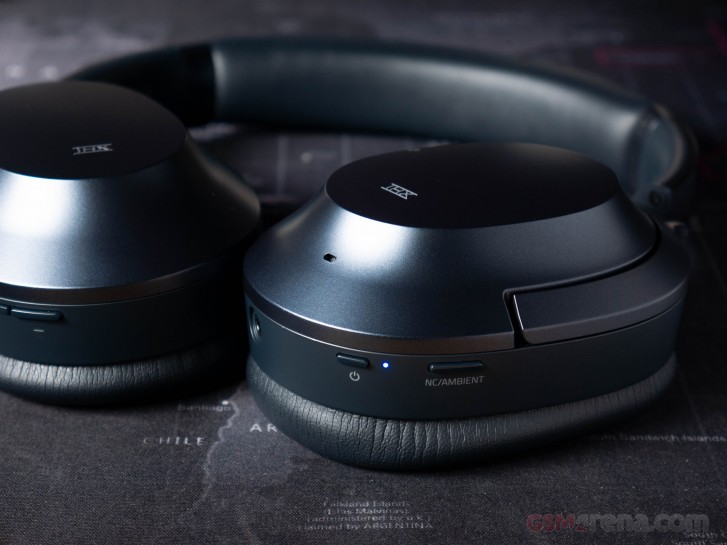 Each earcup has a noise-cancelling microphone on the outside, and the left side has two voice microphones. The left cup also has a USB-C port (for charging only) and a 3.5 mm headphone jack if you prefer to go that way. The earcups themselves use memory foam wrapped in a plush and comfortable faux-leather - these are the Midnight Blue model, but there's also a Black option - which might be a bummer for someone expecting standout colors like white or anything with lime green accents.
There's a small THX logo on each earcup, with the "RAZER" logo placed higher on either side of the adjustable headband. This headband is cushioned like the earcups - with grippy faux leather that won't slide around when you are moving.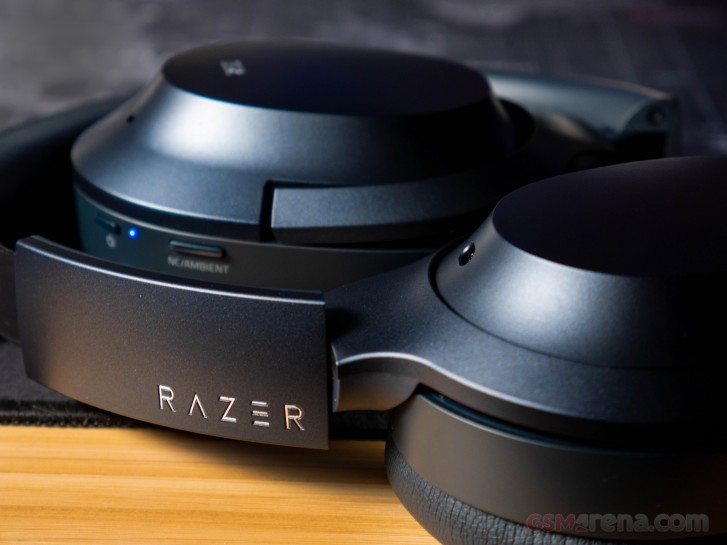 The case it comes with is nice and practical as well. It's made of the same faux leather material, but in black. There's a hand strap with a snap-button, and the zipper makes a (seemingly) weather resistant seal. Although there isn't a pocket, there's a flap that stores the included adapters and cords.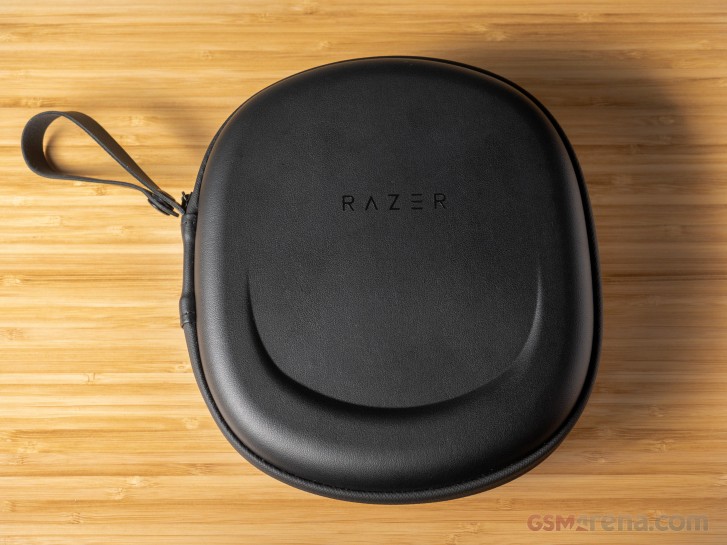 Both ends of the audio cable are conveniently the same size so you can use a standard aux cable. The Opus headphones include a 4 ft audio cable, a 6-inch USB-C to C cable, and a USB-C to USB-A adapter, you know, just in case you haven't completely transitioned to USB-C. Finally, there's even a split adapter for plugging into an airplane's audio jack. The headphones cups turn and fold flat to save space in the case or to wear comfortable around your neck when you're not using them.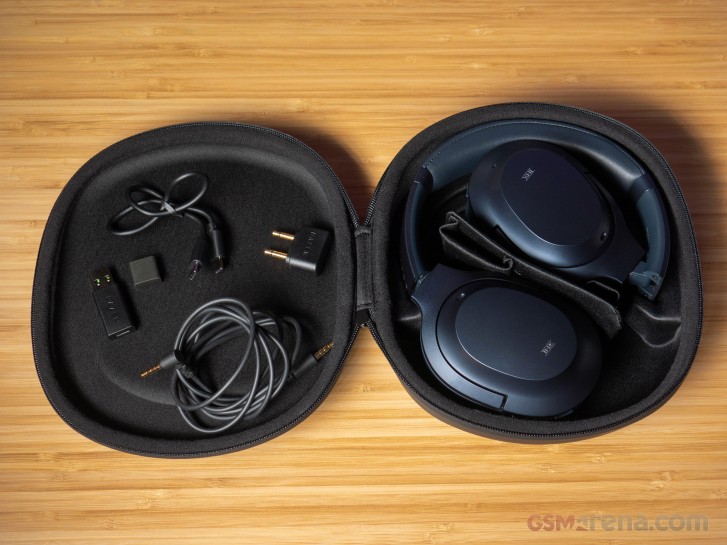 It's worth mentioning that the Opus attract fingerprints... a lot. They get easily smudged and greasy from prints everywhere except for the parts made of the faux-leather - which include the earcup cushions and the bottom portion of the headband. No biggie, though, they clean up easily with a microfiber cloth.
Comfort, controls, software, and battery life
The headband is cushioned like the earcups and the faux-leather material is grippy and keeps them from sliding around. Meanwhile, the memory foam lets the headphones sit comfortably on top and around my ears. I could wear these headphones quite comfortably, even while wearing both glasses and a baseball cap.
I could wear these for a solid three hours before needing a short break to let my ears breathe - if I'm traveling, I might be fine to wear them for the whole duration of the flight.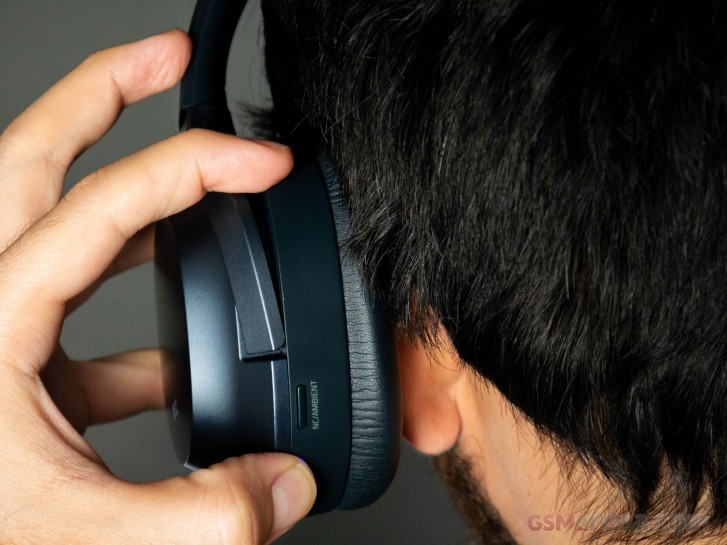 The pressure from the headband is okay - definately not too firm. If you have a round head like me, the official instruction manual suggests to gently pull the band apart a little before putting the headphones on. All in all, I like the fit of the Opus.
I am a firm believer that touch controls don't belong on headphones in this class - I can't tell you how many times I've accidentally brushed my arm by my ear and inadvertently paused or changed the music on a pair of headphones with touch controls, which is especially annoying when traveling.
Thus, physical buttons are my preferred type of controls. The keys are easy to find by touch and they have great tactile feedback. The headphones are turned on/off by holding the power key and pressing the NC button next to it toggles the active noise cancellation.
Holding the NC key will patch outside audio through the speakers so you can hear your surroundings. Razer calls this "Quick Attention Mode" and it will only feed audio through as long as you hold the button. Since there are two exterior NC mics, you can hear the passthrough audio in stereo.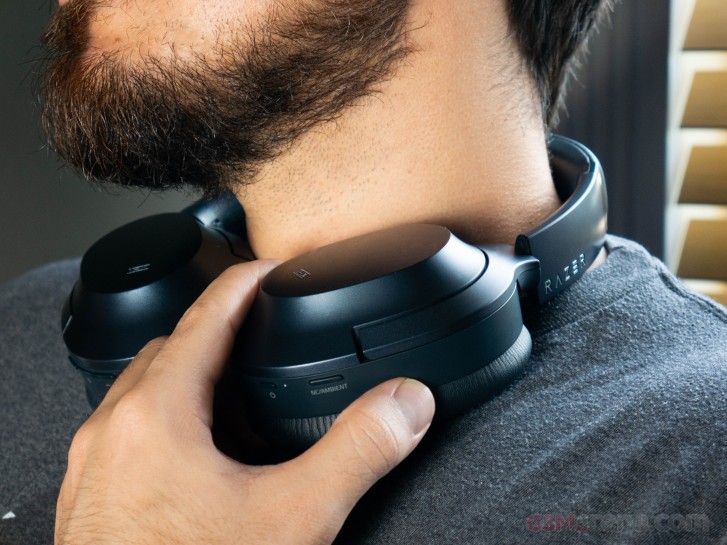 Holding either volume key will continuously adjust the level. The play/pause multifunction key can also be used to skip track (two presses) go back (three presses) or summon Google Assistant/Siri (press-hold).
There are some startup and shutdown sound effects - a pinging sound for pairing, and an audible chime for enabling/disabling the active noise cancelling feature. There's no vocal battery indicator though - all you get is a warning beep that goes off every 5 minutes when the battery is critically low.
There's a dedicated app for the Razer Opus from the Google Play Store or App Store. In the app, you can check the battery level, toggle auto play/pause, and set a time, up to an hour, for the headphones to stay on before automatically shutting down if they aren't being worn. The app also has handy shortcuts to the user manual and FAQs.
Part of the Razer Opus certification with THX requires specific EQ presets to be supported. For this reason, there is no way to manually tune the EQ to your own liking - so you only have these EQ settings to choose from.
App feature requests: I'd like an option to keep a constant notification in the Android notification shade when the headphones are connected so I can switch the EQ profiles on the fly. Also, the app requires location permissions, or it won't do anything, please remove this requirement - or at least only request it for pairing.
The Razer Opus are rated for 25 hours of continuous use and fill up from a dead battery in about 3 and a half to 4 hours. Battery life was great on the Opus. I was using them every day for a few hours while I worked, and they have lasted me the whole week with about 50% left. This should be no problem for a long-haul flight, road trip, or a full work shift.
Audio Quality, ANC, and EQ
The Opus headphones support the most essential codecs including AAC and Qualcomm's AptX. There's no support for the higher bitrate codec LDAC, but regardless, the headphone sound great with good details and clarity.
The sound quality of these headphones is pretty good. They aren't bass-heavy, but aim for accuracy and deliver a natural sound. Since the bass isn't overpowering the other ranges, it won't distract from the other instrumentals and vocals in the track. If you prefer a more mainstream bass-heavy sound, the Enhanced Bass EQ profile can satisfy most, but it probably won't make bass boom as hard or as full as Sony or Bose headphones would.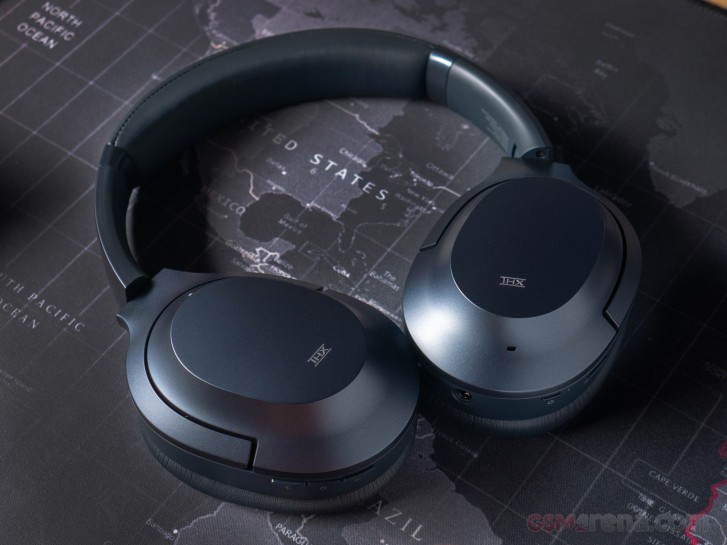 These headphones don't distort at higher volumes, but they do tend to overshoot in the mids, more so in the treble ranges when above 75% volume. This is where the vocals often overpower the track.
I wish the bass were a bit fuller in these headphones. Percussion instruments are clear, but they do hit hard in higher volumes. Instruments like snares and cymbals tend to overshoot in the higher treble parts, which sound almost abrasive.
Quality through the provided 3.5mm cord was great and there was no audible hiss that's apparent with the headphones powered on, whether that's wired or not.
Toggling the noise cancelling feature causes a slight change in the EQ. Bass sounds a bit heavier and it begins to overpower the other tones, which lose a bit of detail in the mids and highs. In other words, sound isn't consistent between NC mode being on or off.
The change isn't too drastic, but I wonder why the inconsistency is there. Switching to the Enhanced Clarity EQ setting with NC turned on seems to offset this and I can hear all the instruments again.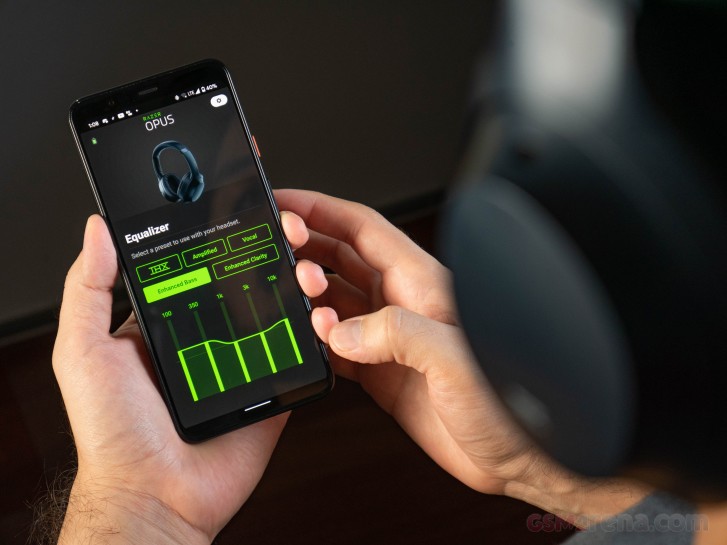 The seal around the earcups does a great deal of noise dampening, but the NC feature does a good enough job of cancelling out noise from fans, running water, rain, and air conditioning noise. It doesn't cancel all noise, but once music is playing, you won't be able to hear much of anything going on around you, even with the NC feature switched off.
The hiss I mentioned isn't terrible - this is normal behavior of many ANC headphones, though some more apparent than others.
The EQ settings available in the app are THX (default, balanced), Amplified, Vocal, Enhanced Bass, and Enhanced Clarity.
Verdict
The Razer Opus headphones are a great pair of cans for the money. They offer a lot of nice features for the price and they don't look half-bad. They offer a comfy fit with a subtle and stylish look. If you have never owned a pair of noise-cancelling earphones and are a longtime fan of the Razer brand, the Opus won't disappoint.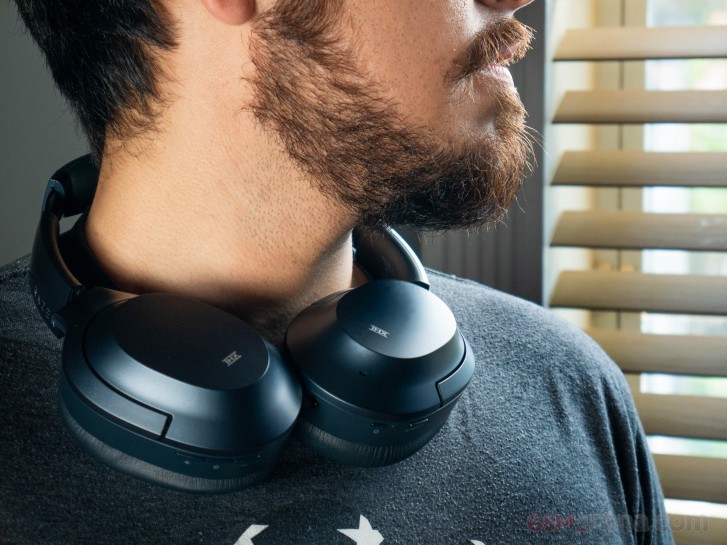 If you're someone who is looking to replace an older pair of Bose, Sony, or even Beats headphones, the Razer Opus might feel like a step down. The sound, although great, isn't at the same caliber as the big guys.
If you are looking for a pair of comfortable headphones for everyday use and/or traveling - these will do great. Those after a more sophisticated pair of headphones with fuller sound and bass that booms might want to look at something in a higher price bracket.
The active noise cancellation of the Razer Opus isn't the best, and these headphones don't support multi-device connections, so if you want to use them with your smartphone and a laptop, you'll need to re-pair them every time you switch between devices.
But all things considered, Razer has made a great pair of headphones for the $200 asking price, and anyone who loves listening to music will enjoy their comfort, features, and battery life.
Pros:
Comfortable fit
Simple and intuitive controls
Charges over USB-C
Includes airplane and USB-A adapters
Sound is great for the price
Cons:
ANC is only okay
App requires location
Can't connect to multiple devices without re-pairing
Can't customize EQ settings
Related
Anonymous
06 Oct 2020
mE0
Looks like Sony's headphones with a Razer logo on it...
I think MS Surface Headphones 2 is a better choice in about the same price range
Anonymous
25 May 2020
gqT
i wouldn't trust any wireless headphones without at least aptX-HD support or similar, preferrably LDAC, personally. i own a pair of Sony's WH1000-XM2, which i first paired with an older device that only supported regular aptX. when i upgraded to a ne...
Popular articles
Popular devices
Electric Vehicles