Ross Young: Galaxy Note20 duo will have larger ultrasonic fingerprint readers
Peter, 14 May 2020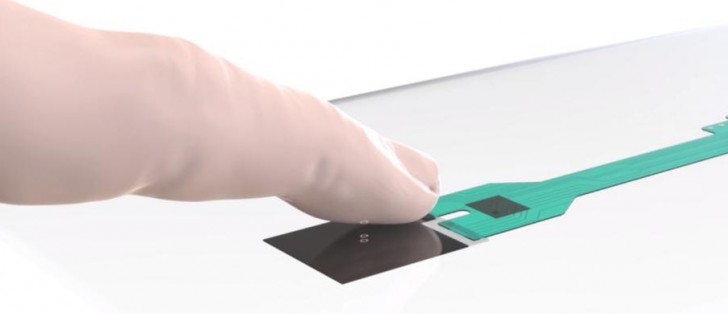 Ross Young is back with more on Samsung's upcoming Galaxy Note20 phones. He already covered some screen details (including the 120Hz refresh rate), now he says that the two Notes may be the first phones to adopt Qualcomm's new 3D Sonic Max fingerprint reading technology.
It creates a sensing area 17x larger than before, covering 20mm x 30mm (a typical reader is only 4mm x 9mm). Max can even scan two fingerprints simultaneously, which increases the level of security offered by the system.
Young and his team believe that Samsung will stick with the center punch hole design for the selfie camera. He explains that the LTPO tech that will be used is good because it saves 5-15% power, but since it requires an extra transistor for each pixel, it's tricky to create high DPI displays (indeed, the first LTPO panels had relatively low resolution and were used on smartwatches).
The Galaxy Note20 will come with 16GB of RAM as standard, according to the analyst, up from 12GB on the previous generation. The battery capacity will be between 4,000mAh and 5,000mAh (so slightly higher than the Note10 generation).
In the previous interview, Young focused on Galaxy Fold 2 rumors. In this video he does touch on that again, saying that other companies will adopt Samsung's approach of having a lower-priced clamshell foldable (like the Z Flip) and a premium tablet-sized model (like the Fold). Huawei is expected to create one of each, but is currently stuck trying to figure out an Ultra Thing Glass solution for the larger device.
Samsung will unveil the Galaxy Note20 and Fold 2 in early August and put them on sale later that same month, that's the prediction anyway.
Related
I wonder if the Exynos version will have the HORRIBLE Optical fingerprint reader instead? This would be a deal breaker for me. Samsung opticlcal fingerprint reader is terrible on my smooth fingers.
prediction
18 May 2020
0Ue
unless Note 20 will have an under display camera in one of the models, sales will not go up for Samsung
Real.Talk
16 May 2020
8kN
What your heart actually meant to say was for Samsung to get enlightened and finally start listening to all its customers instead :)
Popular articles
Popular devices
Electric Vehicles