Samsung Galaxy A22 review
GSMArena Team, 29 December 2021.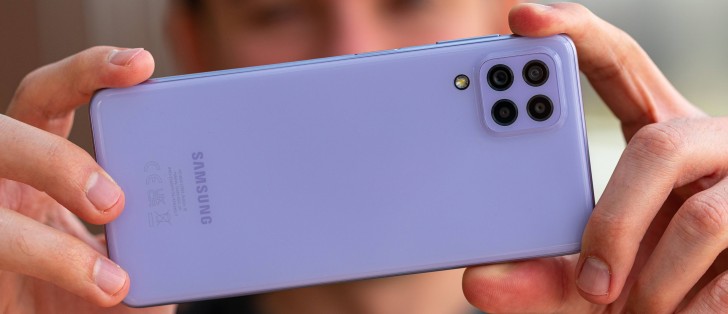 Design
Samsung currently has a few overall designs going. These tend to differ quite a bit in terms of camera island layout and arrangement yet do somehow manage to pull off a mostly consistent overarching design language. We honestly can't quite put our finger on it, but despite their differences, recent Samsungs do all still have a "Samsung" look to them.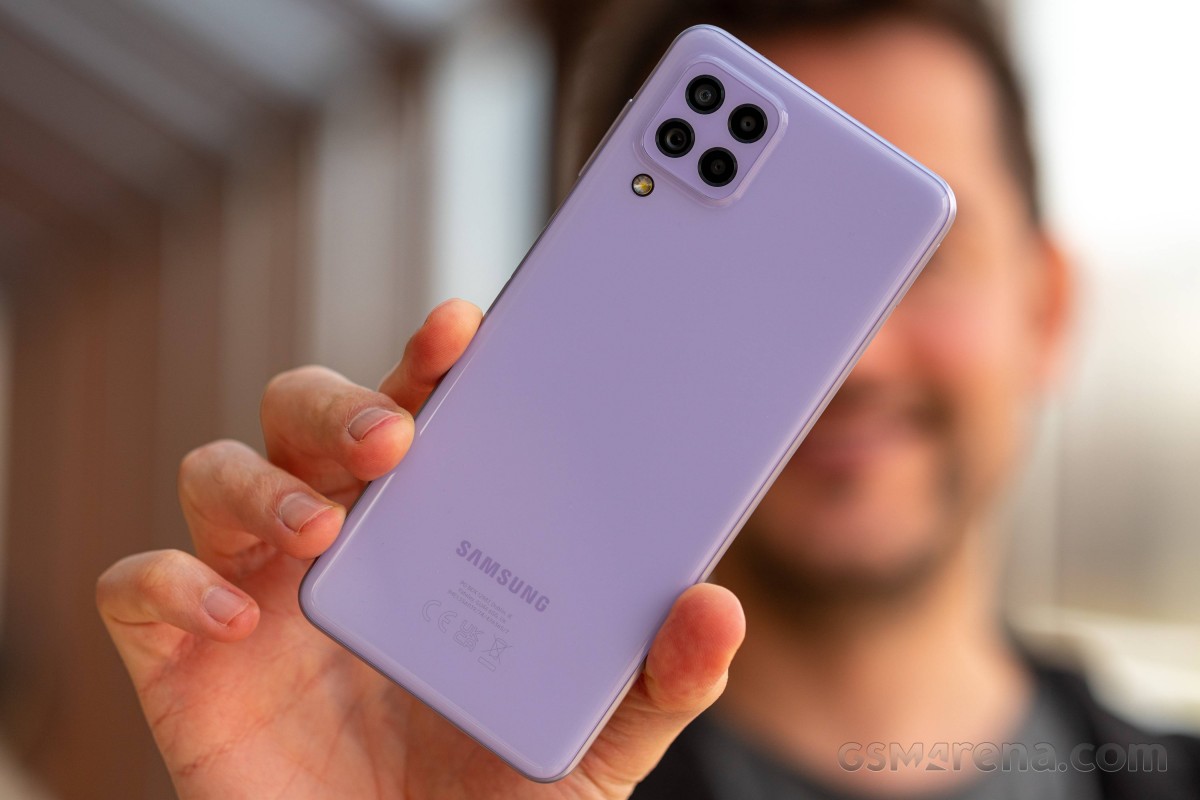 The Galaxy A22 is no exception. If we had to group it together with some of its siblings, it would probably be fair to say that it borrows the "lower-end" design trends from some of its cheaper siblings-notably the square camera island. Though, looking at it in person, the "higher-end" influences from devices like the Galaxy A52 and A72 are also evident, mostly in the gently sloping edges around the camera island, making it sort of gently morph into the back panel, rather than stick out. In that respect, it is much closer in look to the aforementioned models than the Galaxy A22 5G with its sharper angles. We definitely like this look better than Galaxy A32 and its lack of camera island. That much is for sure.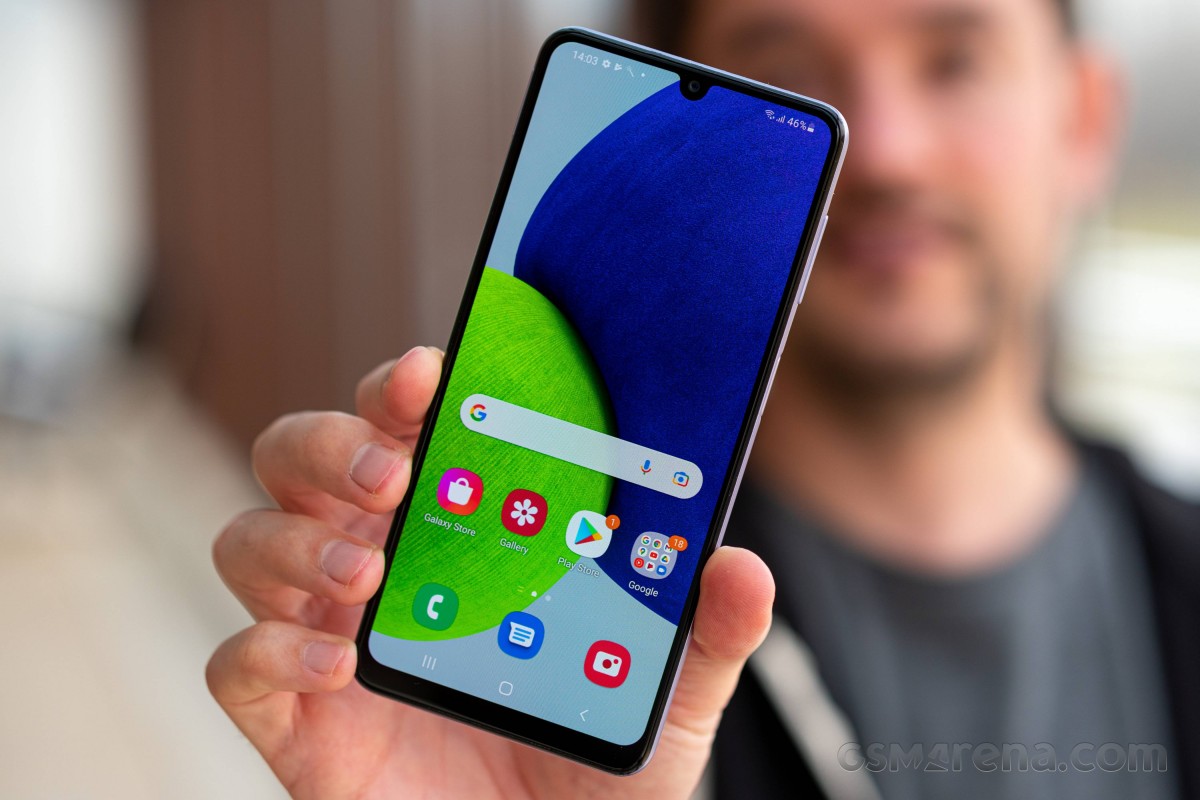 Curves and shapes can go pretty far, but Samsung understandably didn't manage to fit the silky softer velvety finish of the A52 and A72 into the A22 price point. Instead, we get an obviously unapologetically plastic back, which feels sturdy enough, but is a major fingerprint magnet.
One thing that did make the cut here is the awesome colors. Again, these don't look quite as good on smooth plastic as on Samsung's more premium finish, which might be why they lack the "Awesome" moniker in their names. Still, both Mint and the Violet color we have on our review unit really pop in person and are truly eye-catching. And if you prefer not to draw attention, the Black and While look perfectly inconspicuous and blend in anywhere.
Even with its curvy profile, the Galaxy A22 is not slippery and feels great and secure in the hand.
There is nothing remarkable about the front of the Galaxy A22. The display bezels are not thin by modern flagship standards, particularly the chin, yet perfectly reasonable for a budget device.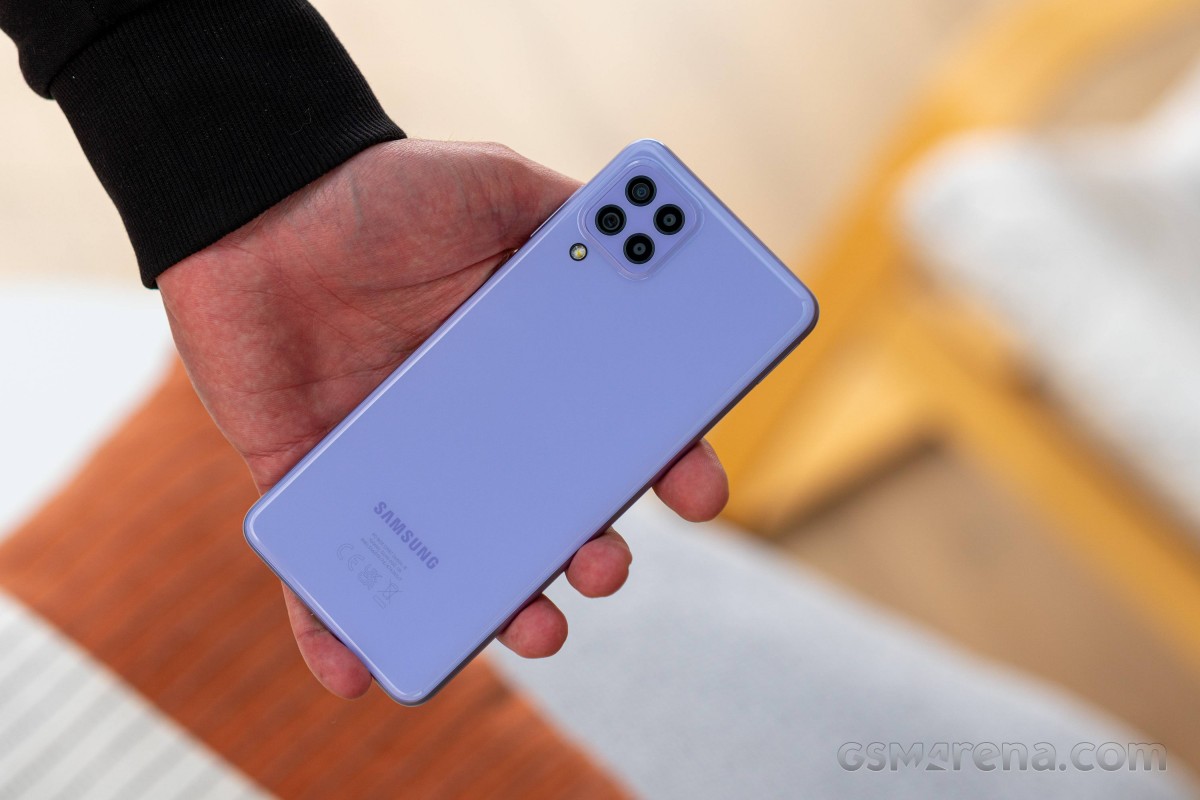 The same goes for the relatively deep selfie notch, or Infinity-U, to use some of Samsung's older naming. Its rounded shape fits in perfectly with the rest of the design, though.
Materials and build quality
The Galaxy A22 is almost entirely made of plastic. It uses a slightly retro three-piece sandwich design for its construction, with a well-defined plastic back panel curving into a plastic middle frame. A display assembly is mounted almost on top of the opposite side of the frame, with a protective glass finish on top of that. We are glad to see that it is not plastic, but we would have still preferred some brand-name designation for the type of glass used. The official Galaxy A22 specs don't go into details.
Plastic isn't intrinsically bad or even worse than metal or glass. It certainly has its benefits, especially on a phone, since it neither dents nor shatters quite like the above two, respectively. It is potentially more prone to chips and scratches, though, but these might not show up quite as bad on fully colored plastic, which is what the Galaxy A22 seems to be made of. Plus, it does make for lighter construction. Measuring 159.3 x 73.6 x 8.4 mm, the A22 tips the scale at 186 grams, which is not bad for a phone of this size with a 5,000 mAh battery. In fact, it is worth noting that this makes the Galaxy A22 slimmer and lighter than the A22 5G and quite closer in footprint to the A32 instead.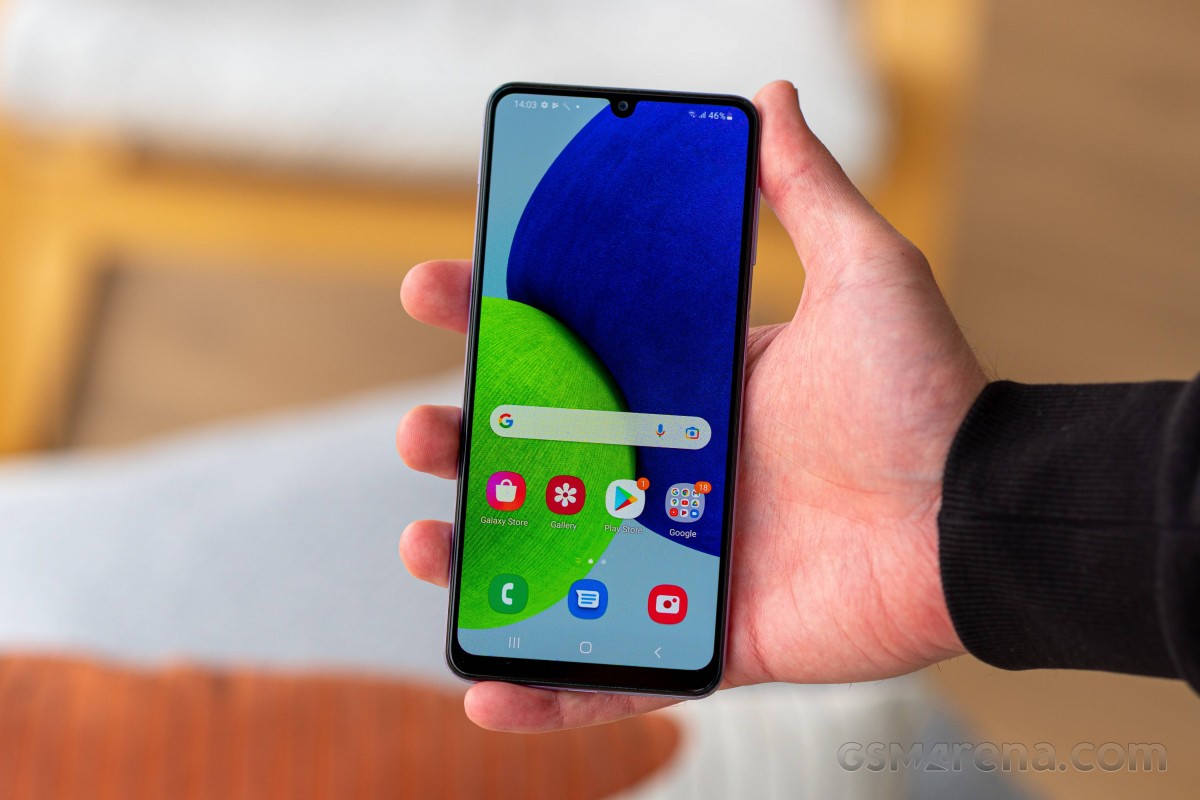 While the A22 feels perfectly solid and has practically no chassis flex, if there is one small complaint we have about the back panel - it does feel a bit hollow when tapping on it. We've seen much worse, though. That and the fact that it's a fingerprint magnet, of course.
Controls
Speaking of fingerprints, the Galaxy A22 has a conventional side-mounted fingerprint reader and power button combo. It is very speedy and accurate, always-on and perfectly convenient in terms of placement. However, we can see how some buyers might be put off by the lack of an under-display unit since the Galaxy A32 does have one at pretty much the same price point.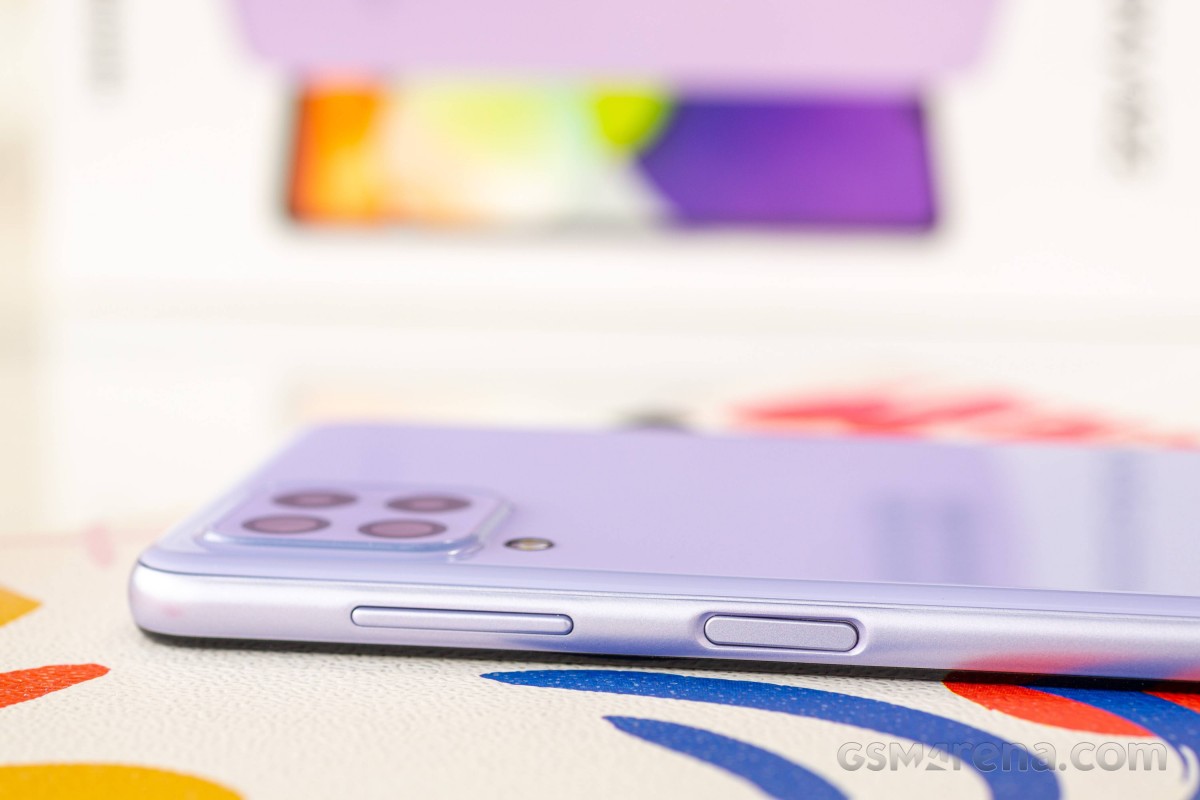 The volume rocker is also perfectly convenient in terms of positioning but falls rather short when it comes to tactile feedback. It feels too stiff and mushy for our taste. Kind of weird since Samsung typically has a good track record in this department. It is not unusable, though and far from a deal-breaker.
There are no buttons on the left side of the Galaxy A22. Just a SIM tray. It is a long one, with two nanoSIM card slots and a separate slot for a microSD card, so you don't have to pick and choose.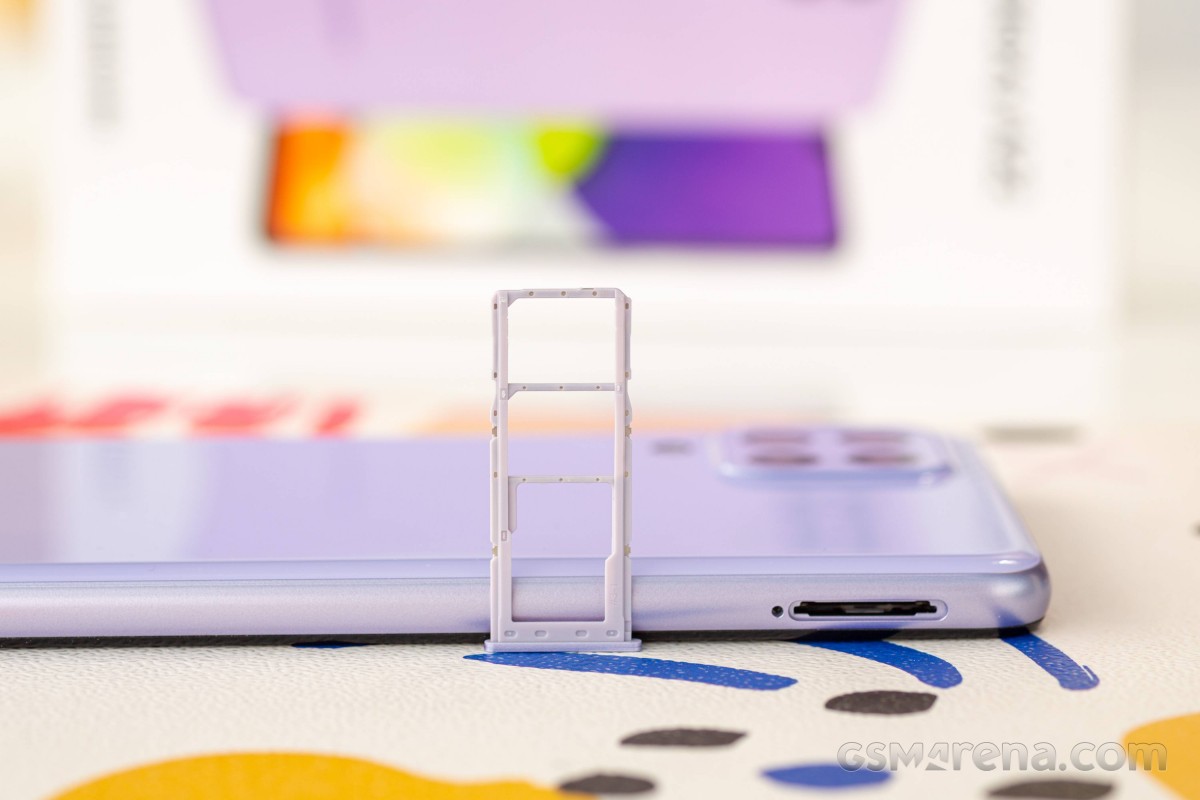 There is just a single hole for the secondary mic on the top of the phone.
The bottom is a lot busier, with a 3.5mm audio jack. The A22 has an FM radio receiver, which requires plugging in some headphones for an antenna.
The USB Type-C port has a basic USB 2.0 connection behind it but does support USB Host mode (OTG). Next to that is the single bottom-firing speaker. There is no stereo setup here, not even a hybrid one.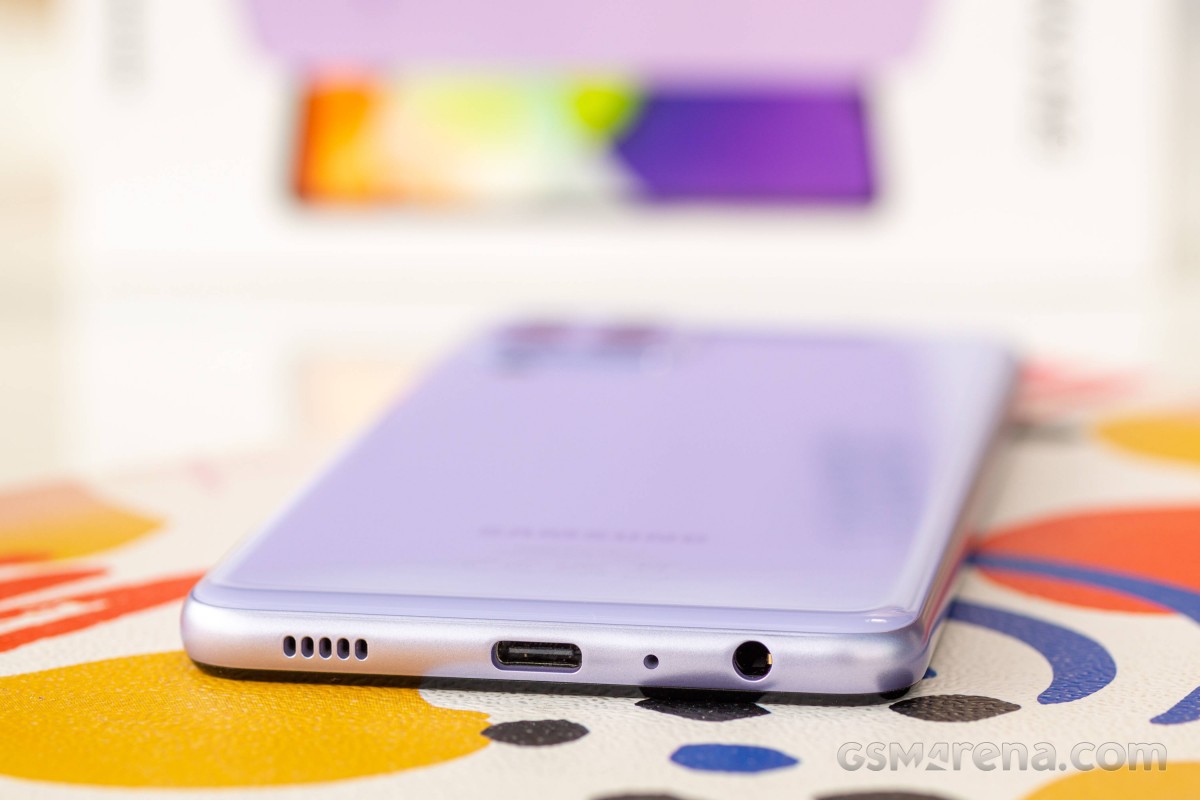 Speaking of things missing on the Galaxy A22 - there is no notification LED, which is not a major surprise. There is also no proper light sensor or proximity sensor on the A22. The A22 uses its selfie cam to do light detection, which works decently well for the purposes of automatic brightness adjustment but is far from perfect. For proximity, the A22 has something Samsung calls an "Ear Hover Proximity Sensor (ProToS)". It is a virtual sensor emulated via software that relies on data from the gyroscope, touchscreen and selfie cam. Also, not ideal at its primary goal - turning off the display during calls. We've seen these omitted on other budget pones as well, particularly Samsung and Xiaomi ones, but that doesn't mean we like the tradeoff in reliability.
wish this was 5.7" phone..
So you don't laugh at people who have these smartphones because not everyone likes Xiaomi smartphones because there are several factors that I can't explain...
Actually there are several factors: One, They might be comfortable with One UI and like the Samsung A22 because it is a bit light compared to Poco X3 Pro (probably)