Samsung Galaxy A33 5G review
GSMArena Team, 18 May 2022.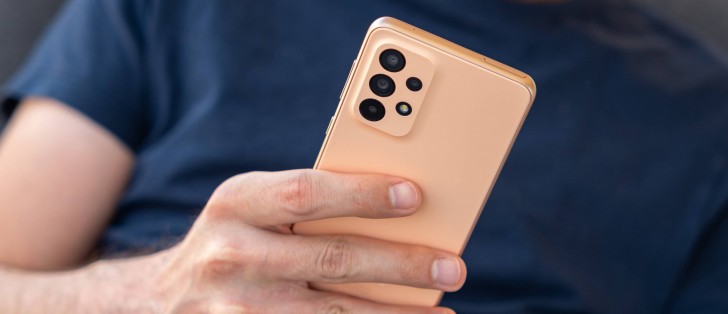 Display
The Samsung Galaxy A33 5G has the same display as the Galaxy A32 from last year - it's a 6.4-inch Super AMOLED of extended 1080p resolution and a refresh rate support up to 90Hz. There is a Gorilla Glass 5 protection on top of it.
The panel's actual resolution is 2,400 x 1,080 px, which makes 411ppi and 20:9 aspect ratio. It has a U-shaped notch to make way for the selfie camera.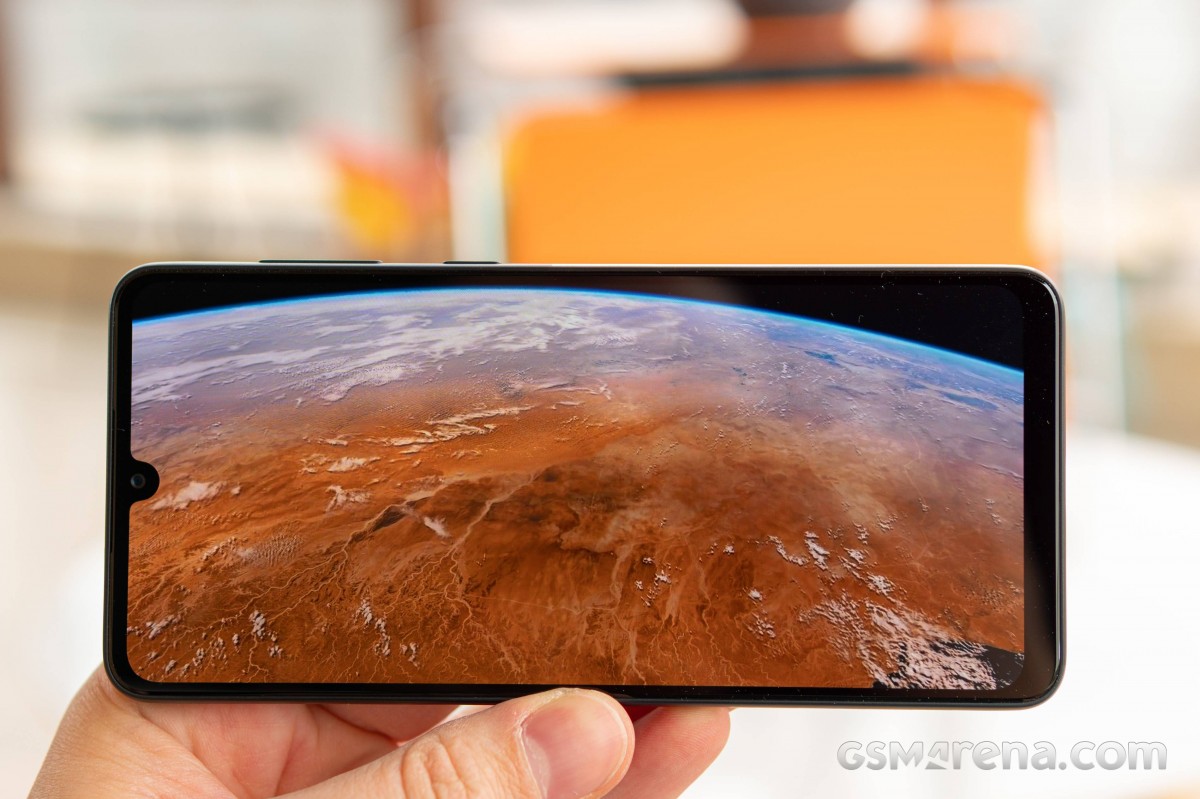 We've completed our traditional measurements, and the AMOLED panel is quite bright on this budget-oriented Galaxy A33. The maximum brightness you can achieve when using manual adjustments is 407 nits, but the screen can be up to 728 nits bright when using the Adaptive Brightness mode.
The minimum brightness at point white we were able to capture is quite impressive - just 1.8 nit.
Display test
100% brightness
Black,cd/m2
White,cd/m2
Contrast ratio
Samsung Galaxy A33 5G
0
407
∞
Samsung Galaxy A33 5G (Max Auto)
0
728
∞
Samsung Galaxy A32
0
393
∞
Samsung Galaxy A32 (Max Auto)
0
814
∞
Samsung Galaxy A32 5G
0.286
426
1490:1
Samsung Galaxy A32 5G (Max Auto)
0.338
497
1470:1
Samsung Galaxy A31
0
423
∞
Samsung Galaxy A31 (Max Auto)
0
635
∞
Samsung Galaxy A52s 5G
0
383
∞
Samsung Galaxy A52s 5G (Max Auto)
0
800
∞
Samsung Galaxy A53 5G
0
427
∞
Samsung Galaxy A53 5G (Max Auto)
0
830
∞
Xiaomi Redmi Note 11 Pro 5G
0
470
∞
Xiaomi Redmi Note 11 Pro 5G (Max Auto)
0
746
∞
Xiaomi Redmi Note 11 Pro+ 5G
0
479
∞
Xiaomi Redmi Note 11 Pro+ 5G (Max Auto)
0
760
∞
Realme 9 Pro+
0
433
∞
Realme 9 Pro+ (Max Auito)
0
613
∞
Realme 9 Pro
0.288
461
1601:1
Realme 9 Pro (Max Auto)
0.385
567
1473:1
Xiaomi Mi 11 Lite 5G
0
514
∞
Xiaomi Mi 11 Lite 5G (Max Auto)
0
846
∞
Sony Xperia 10 IV
0
683
∞
Poco X4 Pro
0
477
∞
Poco X4 Pro (Max Auto)
0
754
∞
Color accuracy
The Galaxy A33 offers the same color options as many other recent Galaxy smartphones - you get Vivid (default) and Natural color presets, which correspond to DCI-P3 and sRGB color spaces, respectively. You can also fine-tune the white balance when using the Vivid option.
We found both modes to be fairly accurate to the corresponding color gamut. When using Vivid, we find the white and gray hues just a little bit bluish, but everything else was great. The Natural mode has an outstanding accuracy to sRGB targets.
Refresh rate
The Galaxy A33 5G has two refresh rate options (called Motion Smoothness) - High (90Hz) and Standard (60Hz). Neither of these is dynamic - content is always shown at the chosen refresh rate.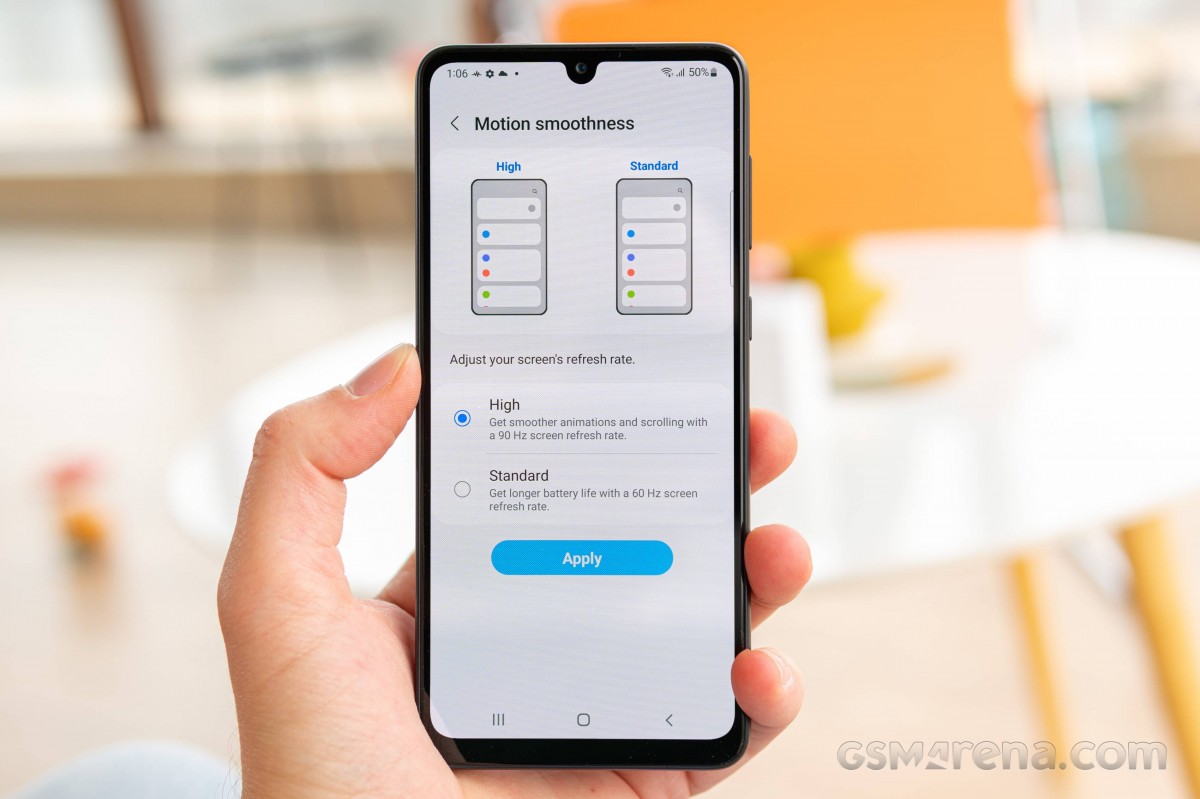 When using 90Hz, static content and video playback always use 90Hz, as we mentioned, and the only exceptions are a few HRR-incompatible apps like Google Maps and the camera viewfinder.
HDR and streaming
Even though some hardware scanning apps read the Galaxy A33 display as HDR10-capable, it is not. There is not a single app out there that recognizes it as such, and Samsung has made no such claims either. The phone does come with Widevine L1 DRM support, and it can stream 1080p content across all popular apps.
Battery life
The Galaxy A33 5G is powered by a 5,000mAh battery - the same capacity as the one inside the Galaxy A53 and Galaxy A32, among other phones. The phone has been updated with a new chipset, and it now supports faster charging.
The Galaxy A33 5G scored a good endurance rating of 104 hours. It did great on the onscreen tests, as well as on the call test. The standby consumption was about the average - not too shy, but not overboard either.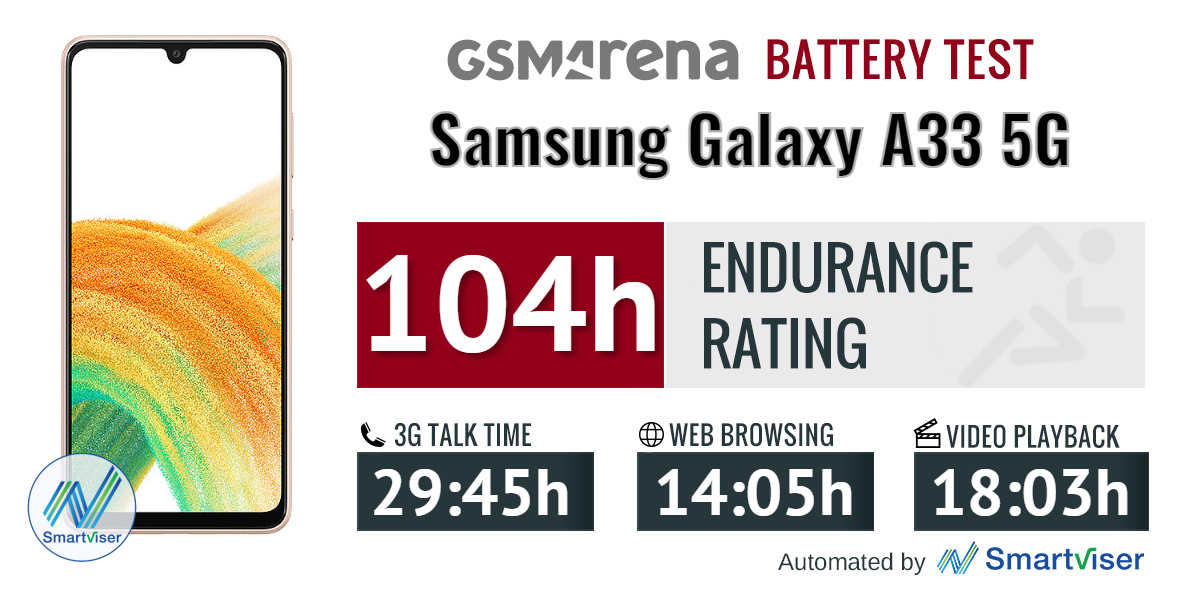 Our battery tests were automated thanks to SmartViser, using its viSerDevice app. The endurance rating denotes how long the battery charge will last you if you use the device for an hour of telephony, web browsing, and video playback daily. More details can be found here.
And here you can compare the battery numbers with a few competitors.
Video test carried out in 60Hz refresh rate mode. Web browsing test done at the display's highest refresh rate whenever possible. Refer to the respective reviews for specifics. To adjust the endurance rating formula to match your own usage patterns check out our all-time battery test results chart where you can also find all phones we've tested.
Charging speed
The Galaxy A33 5G supports up to 25W fast charging, an upgrade over the 15W charging support on the Galaxy A32. Unfortunately, the A33 ships without a charger, so you will need to buy an extra charger. At least Samsung's own 25W power adapter is affordable.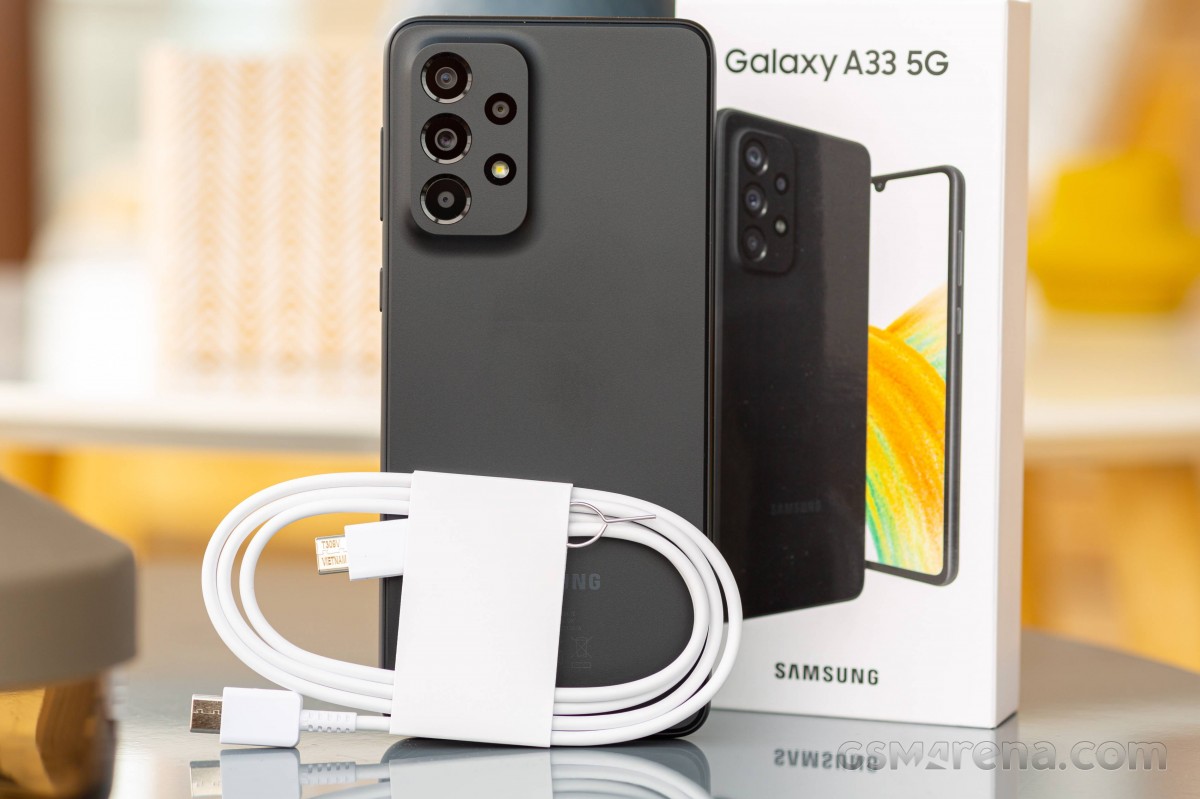 We tested the Galaxy A33 with the said 25W USB-C Samsung charger, and it replenished 50% of the battery in half an hour.
30min charging test (from 0%)
Higher is better
Realme 9 Pro+
77%
Poco X4 Pro 5G
75%
Xiaomi Redmi Note 11 Pro 5G
74%
Xiaomi Mi 11 Lite 5G
58%
OnePlus Nord N20 5G
57%
Samsung Galaxy A52s 5G
53%
Realme 9 Pro
52%
Samsung Galaxy A33 5G
50%
Samsung Galaxy A53 5G
45%
Samsung Galaxy A31
30%
Sony Xperia 10 IV (65W PD)
26%
Samsung Galaxy A32
25%
Samsung Galaxy A32 5G
23%
A full charge took 1 hour and 15 minutes, and in fact, that was the cited expected time to full charge by the software as well.
Time to full charge (from 0%)
Lower is better
Xiaomi Redmi Note 11 Pro 5G
0:45h
Realme 9 Pro+
0:49h
Poco X4 Pro 5G
0:49h
Xiaomi Mi 11 Lite 5G
1:04h
OnePlus Nord N20 5G
1:08h
Realme 9 Pro
1:14h
Samsung Galaxy A33 5G
1:15h
Samsung Galaxy A53 5G
1:24h
Samsung Galaxy A52s 5G
1:28h
Samsung Galaxy A32
2:19h
Samsung Galaxy A32 5G
2:24h
Sony Xperia 10 IV (65W PD)
2:35h
Samsung Galaxy A31
2:48h
There is no wireless charging support on the Galaxy A33 5G.
Speakers - loudness and quality
The Galaxy A33 5G has a stereo speakers setup, an improvement over the single speaker present on the Galaxy A32. There is one dedicated speaker at the bottom of the phone, while the earpiece acts as the second one.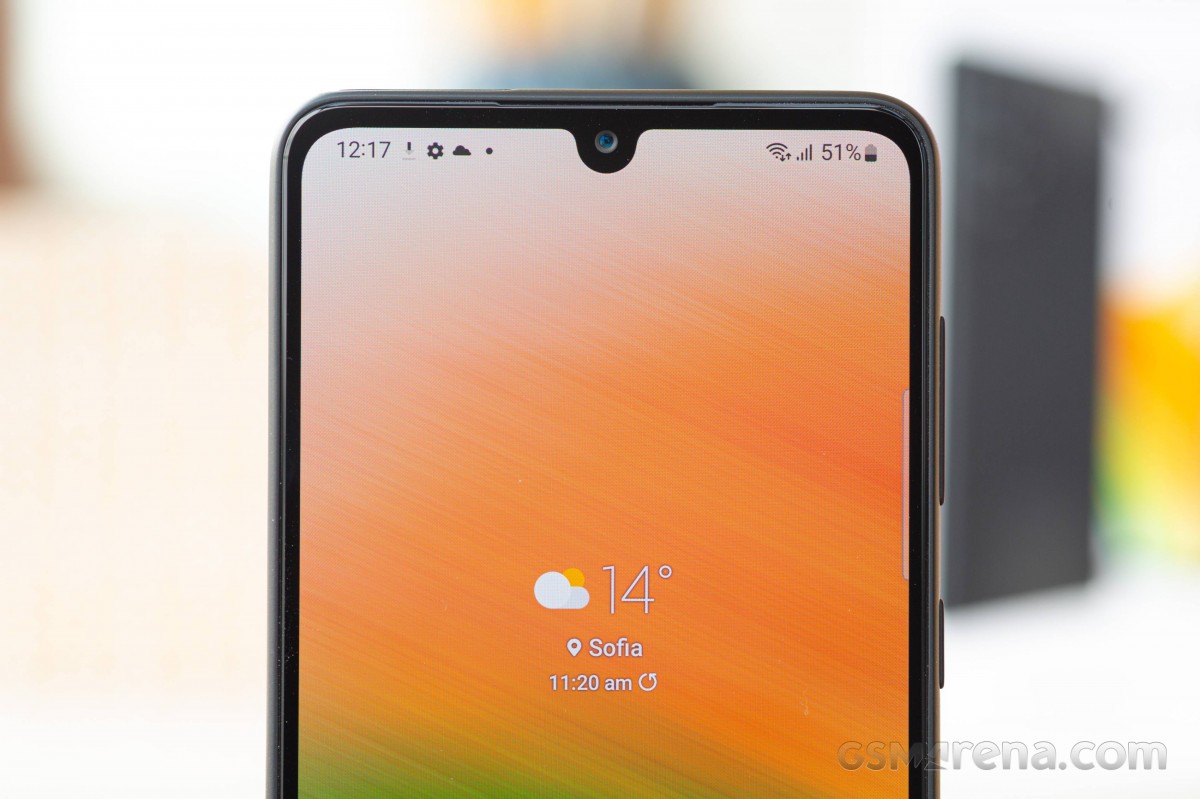 The balance is great even if the loudness is theoretically uneven - the front-facing earpiece is quieter and not as bassy, but when working together, the multimedia experience is satisfying, regardless of the phone's orientation.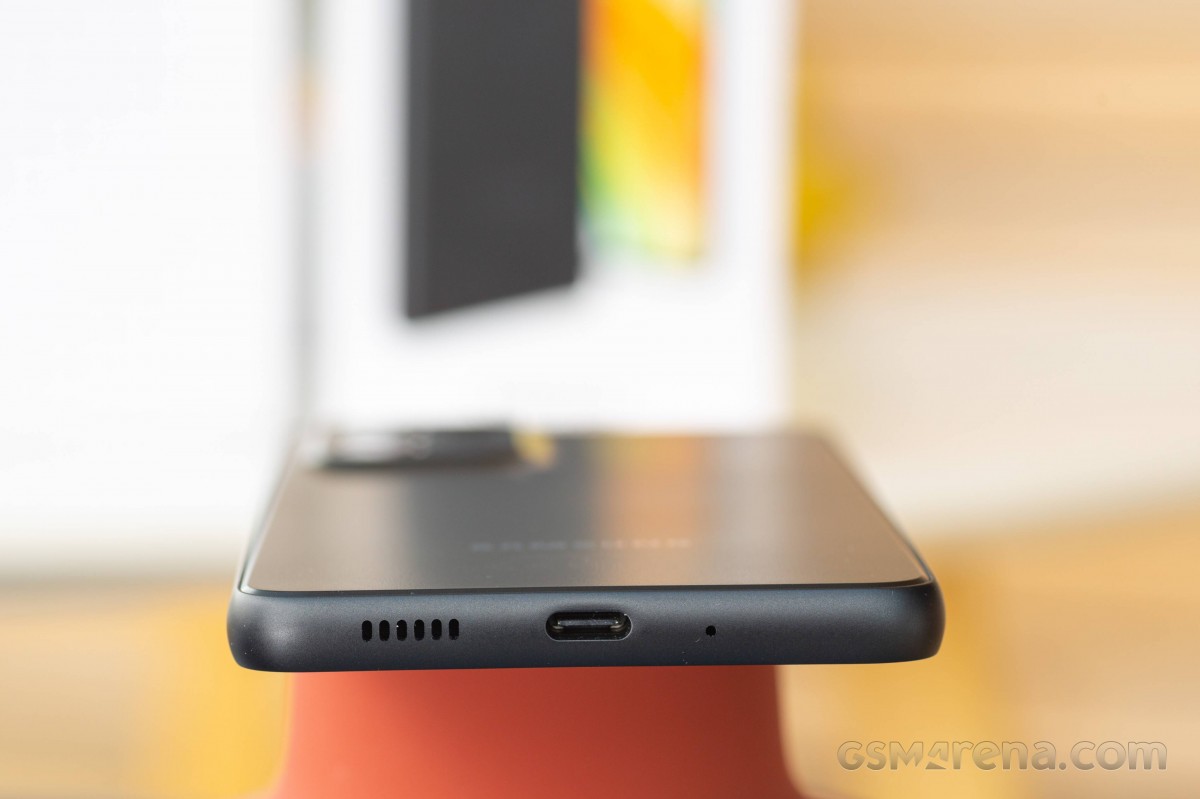 The Galaxy A33 5G speaker setup scored a Good mark for loudness. And we can also grade it Very Good when it comes to quality - the sound is rich and deep, and while the mid-tines could have been a bit more presented, the high notes are great, and we can hear the bass, too.
Use the Playback controls to listen to the phone sample recordings (best use headphones). We measure the average loudness of the speakers in LUFS. A lower absolute value means a louder sound. A look at the frequency response chart will tell you how far off the ideal "0db" flat line is the reproduction of the bass, treble, and mid frequencies. You can add more phones to compare how they differ. The scores and ratings are not comparable with our older loudspeaker test. Learn more about how we test here.
Don't bother with them. After reading the stupid comments on here it is obvious that they are trolls. Probably Chinese. I wouldn't have a Chinses phone if it were the last make of phone on the planet.
There is no way my back panels will come off. You must have a very cheap or very old Samsung phone. :))
When you search for review certainly you will find some good and bad, but believe me in nutshell samsung is not worth buying when it comes for smart phone, you will get Highly disappointed about it's build quality, back cover continuous coming o...