Samsung Galaxy A71 review
GSMArena team, 14 Feb 2020.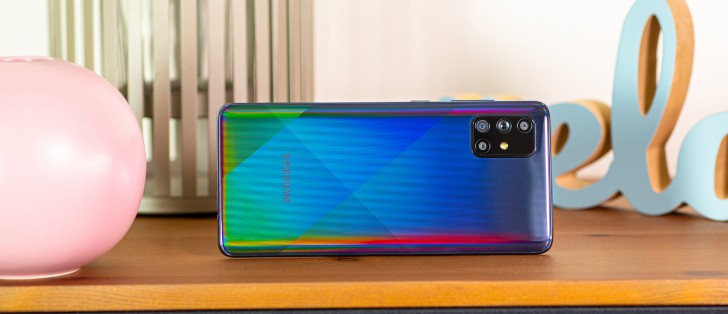 Android 10 and One UI 2
The Galaxy A71 is among the first Samsung smartphones to boot Android 10 out of the box, complete with the latest custom One UI 2.0. It's nice to see that new models are launching with their software already up to date, as opposed to having to wait several months for an OTA.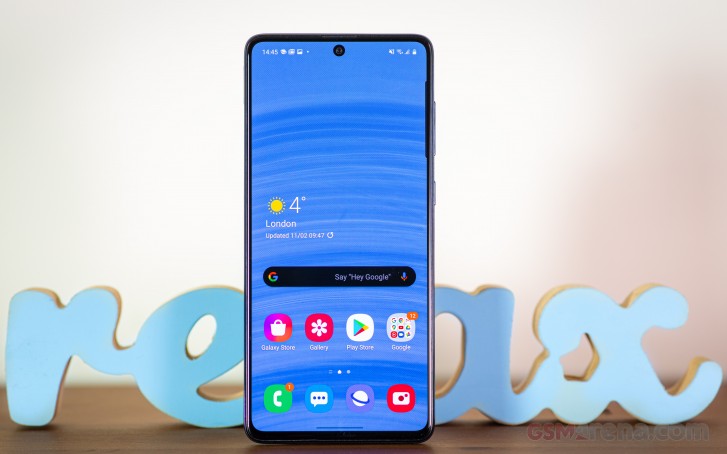 We've already seen the 10/2.0 combo on several flagship Galaxies, where it arrived as an update. On top of that, the second version of One UI isn't all that different from the original, save for the new take on gesture navigation. Even so, the A71's build comes with a small surprise - you get Edge screen.
Previously reserved for the flagships where they would go together with the curved edge displays, the Edge screen set of features have made their way to the mostly flat-screened Galaxy A71. Edge panels is a well-known, long-standing feature that gives you quick access to apps, actions, tools, etc. with a single swipe from the side. You can choose which side the handle is located on, as well as adjust its position along the edge of the phone. In the Edge screen sub-menu, you will also find Edge lighting - it's a feature that can light up different types of peripheral glow for notifications, and as you've probably guessed, there are tons of options and styles to choose from.
Gesture navigation is also available, and you get to pick between the One UI 2 set of actions or go back to the One UI 1 way of doing things. The former is like the current native Android 10 approach with a swipe-in from the sides for 'Back' and swipe-up from the bottom for Home or task switcher. The old way is by swiping up from three separate areas on the bottom that do what the on-screen buttons before them used to do. If you can't be bothered with gestures, the conventional onscreen nav bar remains an option too.
Other cool recent developments have made their way to the A71, including Dark mode. It skins UI elements in black and shades of dark gray and also invokes the dark modes of supported apps, which include the in-house ones as well as the Google suite (not Maps, though, not yet).
Biometrics on the Galaxy A71 include an optical fingerprint reader and basic camera-only face detection. The fingerprint reader experience is trouble-free, with the usual multi-step setup feeling a bit tedious but rewarding when it comes to accuracy afterwards.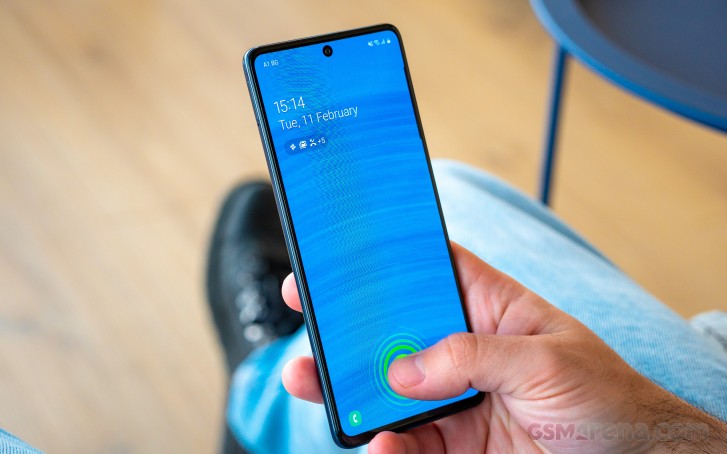 It's not the fastest of sensors and feels more like Samsung's ultra-sonic units in the flagships as opposed to a good, nearly-instant optical one, and the laggy animation doesn't help with perceived speed, but it's mostly a usable reader that doesn't get in the way.
Other than that, the Galaxy A71's UI is One UI as we've come to enjoy. The shift of actionable UI elements towards the bottom for easier reach has been widely praised, and we're also digging the iconography.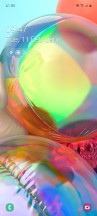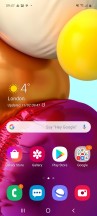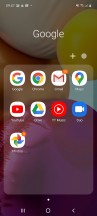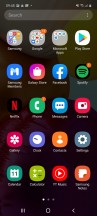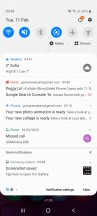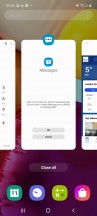 Lockscreen • Homescreen • Folder view • App drawer • Notification shade • Task switcher
Performance and benchmarks
The Samsung Galaxy A71 utilizes the Snapdragon 730 chip (non-G version) - one of the most preferable upper-midrange platforms from Qualcomm. It's an upgrade over the A70's Snapdragon 675 - the 730 has newer CPU cores and GPU, plus it is built on an 8nm LPP node and hence should be more power-efficient.
The Snapdragon 730 offers an octa-core processor with two Kryo 470 Gold (Cortex-A76) cores clocked at 2.2 GHz, and six Kryo 470 Silver (Cortex-A55) ones, working at 1.8 GHz. The Adreno 618 is in charge of graphics, up from Adreno 612 on the A70.
Finally, the Galaxy A71 is available only with 128GB UFS 2.1 storage, but there are two variants with either 6GB or 8GB of RAM. Those could be market-dependent though.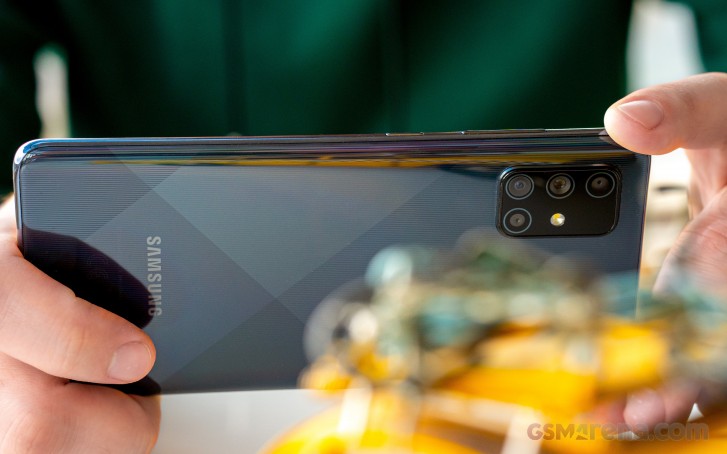 The Snapdragon 730 processor is indeed the best mid-range CPU you can get nowadays and the Galaxy A71 maxes out the Geekbench tests.
GeekBench 4.4 (multi-core)
Higher is better
Samsung Galaxy A71
7039
Xiaomi Redmi K30
7008
Redmi Note 8 Pro
6999
Realme X2
6926
Xiaomi Mi 9T
6863
Samsung Galaxy A70
6584
Xiaomi Mi 9 SE
6017
Samsung Galaxy A51
5401
Samsung Galaxy A50
5396
Honor 9X
5345
GeekBench 4.4 (single-core)
Higher is better
Xiaomi Redmi K30
2558
Xiaomi Mi 9T
2537
Samsung Galaxy A71
2536
Realme X2
2508
Redmi Note 8 Pro
2472
Samsung Galaxy A70
2391
Xiaomi Mi 9 SE
1905
Samsung Galaxy A50
1715
Samsung Galaxy A51
1668
Honor 9X
1559
GeekBench 5.1 (multi-core)
Higher is better
Realme X2
1750
Samsung Galaxy A71
1733
Xiaomi Mi 9T
1703
Xiaomi Redmi K30
1692
Redmi Note 8 Pro
1622
Samsung Galaxy A51
1294
GeekBench 5.1 (single-core)
Higher is better
Xiaomi Redmi K30
548
Realme X2
545
Samsung Galaxy A71
542
Xiaomi Mi 9T
542
Redmi Note 8 Pro
493
Samsung Galaxy A51
347
The Adreno 618 GPU sounds beyond promising on paper and it has proven to be more than adequate to handle all 1080p content. The tests show it doubles the Adreno 612 performance from the previous Galaxy A70 and is among the most potent GPUs in the mid-range.
GFX 3.1 Manhattan (onscreen)
Higher is better
Samsung Galaxy A71
27
Xiaomi Redmi K30
27
Xiaomi Mi 9T
24
Realme X2
24
Redmi Note 8 Pro
24
Xiaomi Mi 9 SE
24
Samsung Galaxy A70
13
Samsung Galaxy A50
13
Honor 9X
12
Samsung Galaxy A51
8.9
GFX 3.1 Car scene (onscreen)
Higher is better
Samsung Galaxy A71
15
Xiaomi Redmi K30
15
Redmi Note 8 Pro
14
Xiaomi Mi 9 SE
14
Xiaomi Mi 9T
13
Realme X2
13
Samsung Galaxy A50
8
Samsung Galaxy A70
7
Honor 9X
6.5
Samsung Galaxy A51
5.6
Aztek Vulkan High (onscreen)
Higher is better
Redmi Note 8 Pro
9.4
Samsung Galaxy A71
9.3
Realme X2
8.9
Samsung Galaxy A51
5.6
Aztek OpenGL ES 3.1 High (onscreen)
Higher is better
Samsung Galaxy A71
10
Redmi Note 8 Pro
10
Realme X2
9.2
Samsung Galaxy A51
5.6
Samsung Galaxy A70
4.7
We, and the people, do love trusting AnTuTu as it tells no lies, and so the Galaxy A71 seems to fall in the cream of the mid-range crop.
AnTuTu 7
Higher is better
Redmi Note 8 Pro
224759
Xiaomi Redmi K30
218200
Realme X2
215578
Xiaomi Mi 9T
211915
Samsung Galaxy A71
192458
Xiaomi Mi 9 SE
180057
Samsung Galaxy A70
167750
Samsung Galaxy A50
144574
Honor 9X
140362
Samsung Galaxy A51
113051
AnTuTu 8
Higher is better
Redmi Note 8 Pro
279355
Xiaomi Redmi K30
272229
Samsung Galaxy A71
263396
Realme X2
257443
Xiaomi Mi 9T
257146
Honor 9X
187528
Samsung Galaxy A51
175363
The benchmarks agree on the superiority of the Galaxy A71 in the mid-range. Its price is a bit hefty at launch though - you can buy a Galaxy S10e for the same cash and get a massive performance boost, but then again size does matter in this case, too.
The Snapdragon 730Gis one very capable chip and it will handle all tasks and games flawlessly. Plus, it will run pretty cool within the A71, so you should expect no heating and hiccups.
Anonymous
17 May 2022
X5u
Same boat Dan..i honestly felt i was d only one...
This phone has the worst network reception (my father gave me due to this problem (reverted back to his Galaxy Note 8), i used Mi 9T Pro currently and had signal from my house but this phone only had "emergency call only". So sad, vry pricy...