Samsung Galaxy Note10+'s 25W charger aces charge speed test, beats OnePlus 7 Pro
Peter, 13 August 2019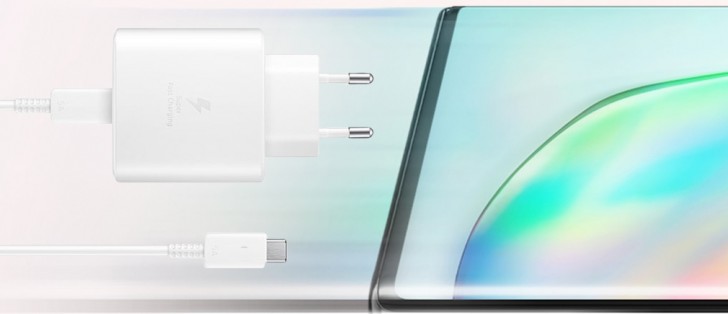 There was some grumbling that Samsung didn't bundle a 45W charger with the Galaxy Note10+, even though the phone supports it. Instead, you get a 25W charger in the box – and as it turns out, this is still enough to beat the competition from 0% to 100% battery charge.
YouTube channel Gadgets Portal pitted the Galaxy Note10+ (4,300mAh) against the Note9 (4,000mAh, 15W charger in box), OnePlus 7 Pro (4,000mAh, 30W charger) and Apple iPhone XS Max (3,174mAh, 5W charger). You can watch the video first or read on below it for spoilers.
The Galaxy Note10+ finished charging in 1 hour and 5 minutes – that's 20 minutes faster than the OnePlus 7 Pro, despite having a larger battery. How does that work? Simple – the maximum power of the charger can only be used when the battery is relatively empty.
And sure enough, the 30W Warp Charger of the OnePlus 7 Pro gets an early lead slows down significantly near the end – down to 10W. Meanwhile, the 25W charger that comes with the Note10+ only drops to 15W when the battery is nearly full.
You can see a graph of the battery charge of the four phones at the 9:30 mark in the video. The Samsung phone charges at a constant rate until just over 60% while the OnePlus charger slows a bit at 20% and 40% (and several times more before it hits 100%).
Samsung claims that charging the Note10+ for 30 minutes is enough to last you through the day. And looking back at that charge, that's good enough for a 60% charge if you start with a dead battery.
Now one question remains – how much faster will the Galaxy Note10+ charge with a 45W charger?
Related
False... PD charging is the way to go...
Anonymous
17 Aug 2019
vV5
way to go to deadly battery soon ...cheers
fast charger kills the battery faster !!! the better way is the slow mode... Because creating more heat means more combution !!!
Popular articles
Popular devices
Electric Vehicles