Samsung Galaxy Note5 review: Time-saver edition
Time-saver edition
GSMArena team, 10 March, 2016.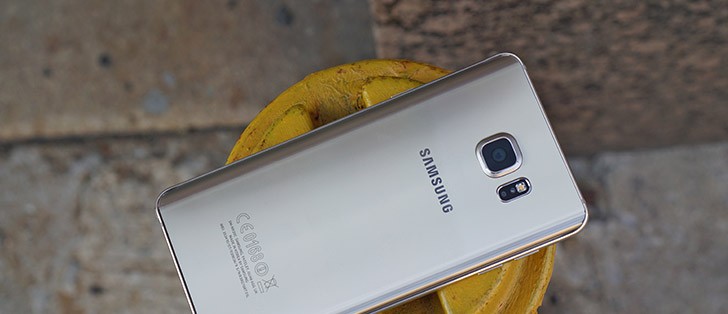 Introduction
The Samsung Galaxy Note5 is the latest in the line that introduced us to the concept of a phablet in the first place. Following the Galaxy S-line's adoption of glass and metal, Samsung's taken the premium build to the Note series.
Key specifications

5.7"1440x2560 pixels

16MP 2160p

2.1GHz Exynos 7420 Octa

4GB RAM 32/64/128GB memory

3000mAhLi-Po
All is not great, and productivity features have been scrapped, just like the in the mainstream lineup - the Note no longer offers replaceable battery and microSD expansion. The S-Pen is still here though, and big-screen lovers will appreciate the beautiful AMOLED display, multi-window or otherwise.
Design and build quality
The Galaxy Note5 may have kept the screen size of the Note 4, but Samsung engineers have managed to fit it in a smaller body. Most impressive is the reduction in width - 2.5mm may not sound like much, but the side bezels are as thin as they come.
The Samsung Galaxy Note5 is the first generation Note to come after Samsung parted with plastic as the main body material. The phablet adopts the overall design of the S6, but thanks to size and a few minor tweaks it's a Note through and through.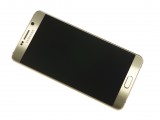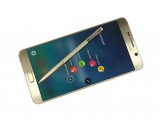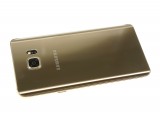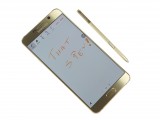 Samsung Galaxy Note5 in the flesh
Build quality is simply superb. The innards are sandwiched between two Gorilla Glass 4 panels and an aluminum frame runs along the sides, creating a truly premium look and feel, befitting a flagship. Fingerprints are inevitable though, and glass does shatter more easily than plastic, so perhaps you should invest in some sort of protection.
A major downside to the new design is that the battery is now sealed, which may put off those used to swapping batteries. You don't get microSD storage expansion and the IR emitter is gone as well - all changes familiar from the Galaxy S6.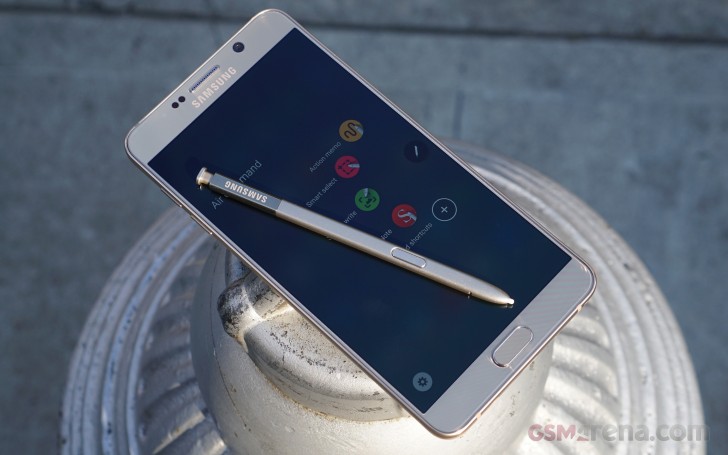 The S-Pen has gotten a brand new design too - it now requires a click on the top to extract it from its silo. The click serves no other function though, and we feel like it should have.
The fingerprint sensor is the improved type from the S6, meaning it doesn't require swiping, but works just by tapping. It's fast and reliable, but isn't always on, you have to wake the screen up first. It does enable Samsung Pay, if you're in the regions where the service is supported.
Display
The Samsung Galaxy Note5 comes with a 5.7-inch AMOLED display, with a 1,440 x 2,560 pixels resolution. That comes down to 518ppi, far past the point where individual pixels can be seen with the naked eye.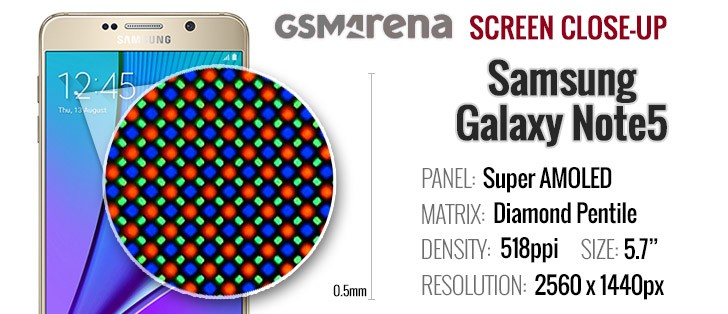 An inherent property of the display technology is the infinite contrast - a result of black pixels not being lit up at all. Maximum brightness in regular surroundings is a little over average for AMOLED panels, but when you set it to Auto and expose the phone to bright light, it pushes it a lot higher, and easily into LCD territory.
Sunlight legibility benefits from the infinite contrast and low reflectivity, which coupled with the boost in brightness makes the Galaxy Note5 among the best performers in direct sunlight.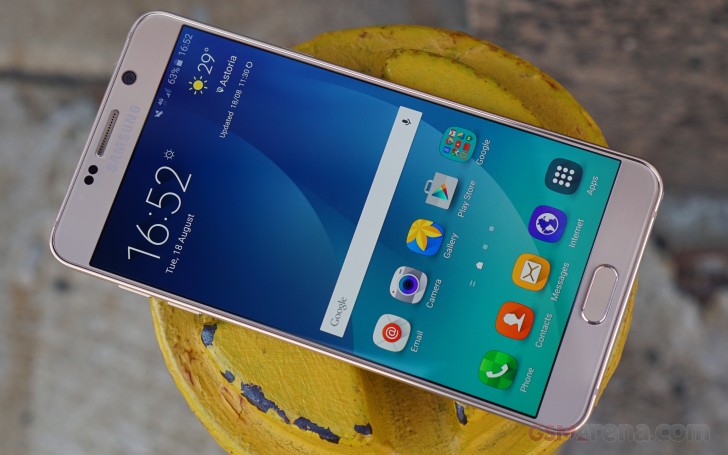 Color accuracy was a problem with initial AMOLED displays, but that's no longer the case. There are several settings, and Basic gets you possibly the most accurate color reproduction we've seen with a DeltaE of 1.1 (the threshold to call a display calibrated being 4.0). The other modes bring about minor drops in accuracy, to the benefit of more punchy output.
Battery life
The Samsung Galaxy Note 5 comes with a 3,000mAh battery capacity, a downgrade from the previous generation's 3,220mAh, and the fact that it's now non-removable is another red flag.
The reality is, however, that Samsung's latest phablet is a frugal spender and lasts nearly as long as the Note 4. Virtually identical numbers in 3G call times and web browsing, but 4 hours less in video playback mean the Note5 scores an 85h endurance rating in our test - 5 hours shorter than the model it replaces.
The endurance rating is an estimation of how long the phone would last if you use it for an hour each of calling, browsing and video playback a day. Such usage pattern may not be relevant to your own usage scenario, but we've established it so our battery results are comparable across devices. You can adjust the formula to better match your own usage pattern, by visiting our dedicated battery test results page.
The Note5 comes with fast charging capabilities - flat to 100% takes about 90 minutes, and there's also fast wireless charging tech built-in, which tops it up in 2 hours. The charging speed is almost enough to make up for not being able to pop in a fresh battery. When you're in a pinch, a two-tiered power-saving mode can help by turning off less essential features.
Audio
The speaker of the Note5 managed an Average score in our loudness test, but what it lacks in decibels, it makes up for in sound quality. It's still a single driver, though, when a lot of competitors have switched to front-facing stereo speakers.
Audio output through the 3.5mm jack is spotless, and very loud at that, when connected to an external amp. Forcing the Note5 to drive a pair of headphones hardly brings about any distortion, while stereo crosstalk takes only a minor hit, nearly unnoticeable.
Overall, it's an good showing from the latest Samsung phablet, excellent if you don't care as much about the loudspeaker.
Photo camera
Imaging on the Galaxy Note5 is handled by a 16MP primary camera with a Sony IMX240 sensor behind an f/1.9 lens - a setup borrowed from the Galaxy S6 and S6 edge released a few months back. It also has optical image stabilization and an LED flash to assist in the dark.
Double-press on the Home button to launch the camera works here too, and once you're in the app, it's the familiar simple interface with shortcuts to basic functions. If you want more control, you can launch the Pro mode, which gives you access to manual exposure settings. RAW capture is available too.
Image quality is exemplary. Photos are sharp and detailed, colors are rendered nicely and dynamic range is a chart-topper. Low-light photos add up to the great impression, too.
Up front you get a 5MP selfie shooter coupled with an f/1.9 lens too, but more importantly, it has a wide 120-degree field of view helping for group selfies. The rear-mounted heart rate sensor can be used as a shutter release button, which comes in handy.
Video camera
The Note5 can capture video up to 2160p (4K), but it can also do 1440p (to match the display resolution), 1080p at 30 and 60fps and 720p slow motion clips at 120fps. HDR video and digital stabilization is available, but not in 4K. The front camera tops out at 1440p/30fps.
Videos are packed with detail, and overall quality is on par with the stills - that is to say excellent.
Software
The Galaxy Note5 runs on the latest Android 5.1.1 Lollipop build, but with a proprietary TouchWiz layer on top. Historically a bloated (if feature-rich) overlay, Samsung's Android skin has been trimmed down and refined to the point where it's now arguably one of the most balanced around.
The lockscreen gives you notifications at a glance plus a couple of shortcuts, but you may be skipping past those if you use fingerprint unlock. Homescreens have the usual dock with everpresent shortcuts, folders and widgets are supported too.
The icon grid size can be adjusted, but the biggest news of the year is that Samsung now lets you apply themes to the interface - a few are pre-installed, but plenty are available online. The app drawer gives access to all your apps, where you choose between a custom arrangement and alphabetical order.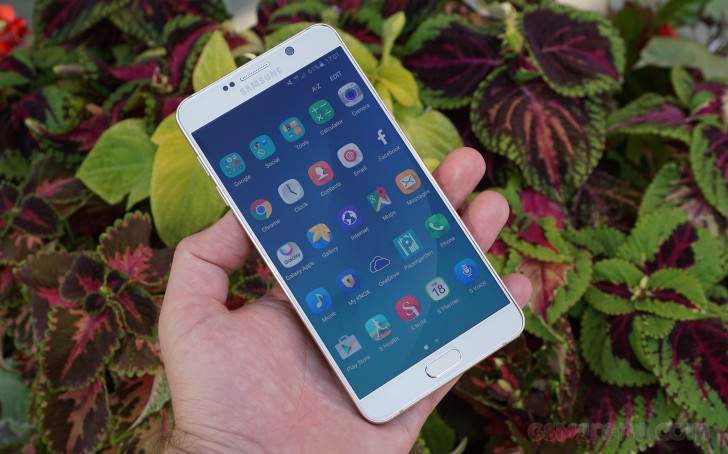 Samsung's take on split-screen multitasking is probably the best there is. The two windows can be resized and swapped and plenty of apps are supported. Alternatively, you can shrink just about any app to a smaller windowed view by swiping diagonally from one of the top corners.
The Note5, however, like all previous Notes is all about the S-Pen. The stylus has gotten a brand new (though potentially harmful) design this year and now requires the click of a button to pull out. Just make sure you don't insert it backwards because you're pretty much guaranteed to break the switch inside, rendering pen detection and consequently stylus use impossible.
If you refrain from such inadvisable experiments, you'd be able to enjoy a redesigned Air command menu, now with the option to add your own shortcuts there. The usual Action Memo, Smart Select and Screen Write are at your disposal too, but Samsung has also added a new feature - you can now write on the Note5 with the display off immediately upon ejecting the S-Pen.
Update, Mar 12: We would like to make it clear that the score in this section is based on a number of factors such as how recent the version of Android is, how likely the phone is to get frequent updates to future major versions, how well the built-in biometric security feature works for unlocking the phone, as well as on the amount of meaningful extra features and customization options offered by the manufacturer on top of the vanilla Android. This comes to clarify that if you consider yourself to be an Android purist who likes their clean stock Android, the scores in this section most probably won't be completely relevant to your preferences. A Nexus device is unlike to score the highest here.
Benchmark performance
The homegrown 14nm Exynos 7420 powers the Galaxy Note5, just like all of the Samsung flagships in 2015. This means 2.1 GHz quad-core Cortex-A57 and 1.5 GHz quad-core Cortex-A53 CPU, Mali-T760MP8 GPU, and 4GB of RAM - a gig more than the S6 and S6 edge.
Benchmarks consistently put the Note5 in the top of the charts, a position, which it typically shares with its similarly equipped siblings. On occasion, the Note5 edges ahead in compound benchmarks, but in graphics tests record framerates are out of the question due to the high resolution. Overall, one of the fastest phones of 2015.
Wrap-up
With the Galaxy Note5 Samsung continues the tradion of offering the most powerful phablet on the market, rightfully so as the company came up with the concept of the large-screened smartphone. The fifth generation comes with the newly adopted design, with materials and build to finally match its price and market position.
There's really not much to complain about Samsung's latest phablet - battery life is superb, the AMOLED screen is bright and accurate, camera output is great. It is the S-Pen that sets the Notes apart from the rest, and in this new iteration it's good as ever, now clicks too.
Samsung Galaxy Note5
Pros
Cons

Premium design, supreme build
Beautiful 5.7-inch AMOLED display
Powerful chipset, S-Pen
Impressive camera output both stills and video
Excellent battery life, fast charging, both wired and wireless

Glass accumulates fingerprints, fragile
Non-removable battery, no storage expansion, no IR blaster
Also consider
Customizable, more affordable, microSD and stereo speakers, but not as powerful and no fingerprint sensor.

Removable battery and expandable storage, leather backs, less powerful and lacks fingerprint reader.
The Galaxy Note5 does lack key features the lineup has offered from the get go, but makes up for it with solid performance in all truly important areas. Big-screen lovers on the market for the best phone need not look any further.
Samsung Galaxy Note5
Total GSMArena score
4.5 / 5
| | | |
| --- | --- | --- |
| Design and build quality | | 4.0 |
| Display | | 5.0 |
| Battery life | | 5.0 |
| Audio | | 3.5 |
| Photo camera | | 4.5 |
| Video camera | | 4.5 |
| Software | | 4.5 |
| Benchmark performance | | 5.0 |
| Coolness | | 4.5 |
Techfanboy
07 Oct 2021
y6V
Samsung Galaxy note 5 bettter battery life guide After having this smartphone for 6 years. I learned alot in this phone's battery, how it drains faster and how good the performance is, and how this phone handles gaming and RAM. I'll tr...
Anonymous
25 Apr 2019
IbI
How do i open my phone i need the model info