Samsung Galaxy Note9 review
GSMArena team, 20 August 2018.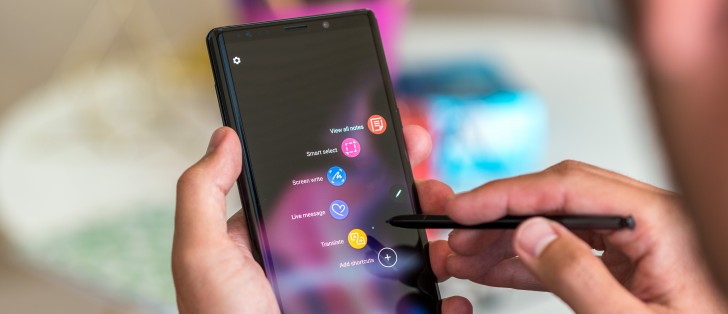 Assorted software
Game Launcher is available on the Note9 as well - it groups all your games in one place, so they stay handy instead of being scattered in the app drawer, and then makes sure your gaming sessions remain as uninterrupted as possible. The in-play Game tools can disable notifications during a game and disable touch sensitivity around the edges, as well as the pressure sensitive Home area. You can grab screenshots, and record gameplay too, up to 1080p resolution.
Samsung still insists on using its own Gallery app, and it's quite full-featured. Stories are still here, though we're yet to hear of someone using them. The Albums pane gives you a sorted view of your images by origin - camera, screenshots, downloaded images by default, but you can also create your own. The Pictures pane is effectively a timeline - it aggregates all of your images and arranges them chronologically.
Several image editing tools are available - from basic cropping, to collage making, to a more capable editor (which supports image correction, effects, and drawing).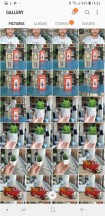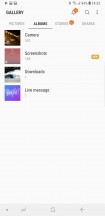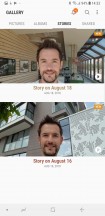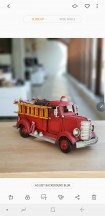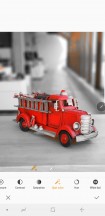 Gallery: Pictures (Timeline) • Albums • Stories • Single image • Editor
Unlike the in-house Gallery, music playback is left in the hands of Google's own Play Music. The player and service is ubiquitous, and it can play your local files, as well as stream music from the cloud.
Samsung's extensive sound enhancements do come as standard, and they include the SoundAlive tool - essentially an equalizer with either two simple dials for more general use or a manual 9-band equalizer for more advanced tweaking. UHQ sound resolution enhancer is available as well - this one upscales compressed audio. There are also features such as Surround sound emulation and Tube Amp Pro simulator. Adapt Sound tunes the EQ to your hearing and your particular pair of ears and headphones by playing multiple frequencies and asking how well you hear them.
Dolby Atmos is the new bit here, with sound optimizations for movie, music, and voices, plus an Auto mode that does the selection for you.
Bixby
One thing that's still here, which no one wanted from day one, (and likely still doesn't) is Bixby - Samsung's personal assistant. On the version, we have running on our review unit you can't even turn off the button - an option that was eventually made available on previous models. You can always pull the button cap off entirely, but we imagine that won't be ideal.
If you keep an open mind and choose to give Bixby a chance, it'll do stuff around the phone for you with a decent level of proficiency. Bixby Home is one of the assistant's alter-egos - a homescreen pane similar to the older Google Now experience. It's the leftmost homescreen pane (though you can disable that), but you can also evoke it with a triple press on the Bixby button, and it delivers a feed of contextually relevant information.
Cards can be hidden, pinned to the top or turned off. There is no apparent rearrangement option beyond that. As for the cards themselves, they actually come courtesy of various apps which are installed on the phone.
Bixby Vision is there for you to recognize stuff you point your camera at and help you out accordingly. The food recognition feature seems to have been dropped and we miss that. No, not really. Wine recognition, on the other hand, is still here.
Image recognition hasn't gotten much better - our fire extinguisher still gets recognized as a bottle of shampoo.
The Google Translate-powered translation is very hit and miss too often failing to recognize the text and being generally bad at superimposing the translation on top of reality.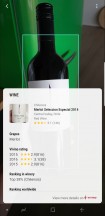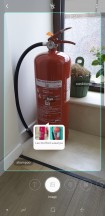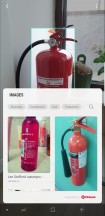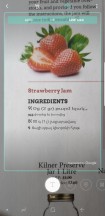 Bixby Vision: Wine • Image recognition • Translation
Bixby Voice is the third major use of the assistant and it's perhaps the one that makes the most sense. It can access all the in-house apps and execute commands within them so, for example, you don't need to fumble through settings to find the settings of the current Wi-Fi network. We can see that making sense when you're driving, for example.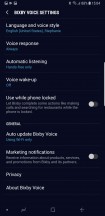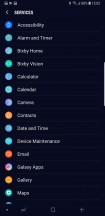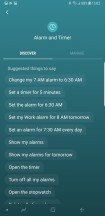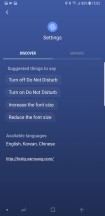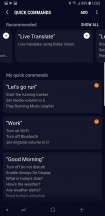 Bixby Voice: Settings • Services • Quick commands • Commands examples
Hi, when can samsung officially update note 9 to one ui3.0? Does anyone tried rooting the device to this new update if so please share me the link for downloading. Thanks in advance
Well, mine is Exynos version and I don't know about snapdragon. Let me give my honest review. The phone tends to get laggy and slow, especially when I take the S-pen for taking notes when the screen is off. I have to wait for a few seconds until...
On the video preview she mention something about FM-Radio as it's missing?! Well, I'm sorry to disappoint you my lady, but the Note9 Exynus have FM-Radio and the DVB-TV built in Exynos, it just have to be activated and installed the softw...