Samsung Galaxy Note 10.1 2014 review: Flying first class
Flying first class
GSMArena team, 23 October 2013.
Design and build quality
The Samsung Galaxy Note 10.1 2014 Edition takes after this year's flagship phablet and isn't keen on experimenting. The tablet is a scaled-up near replica of the Note 3, featuring the same faux-leather-like finish at the rear. It is offered in the same black and white paint jobs as the Note 3.
At 243.1 x 171.4 x 7.9 mm, the Galaxy Note 10.1 2014 is near 2cm narrower and a millimeter slimmer than the predecessor while offering the same screen real estate and a more robust battery. The Wi-Fi-only version weighs 540g, which is 60g less than the original Note 10.1.
The screen bezels are notably slimmer, which is probably the main reason for the relocation of the stereo speakers to the sides (in landscape position). We liked the front-facing speakers on the original better, but their position on the 2014 edition is sufficiently high to not get covered by hands holding the device and are quite loud too.





Samsung Galaxy Note 10.1 2014 Edition
The Samsung Galaxy Note 10.1 2014 insists on having the hardware controls at the front. Beneath the display we find the usual combo of a hardware Home button between capacitive Menu and Back keys. We don't think this is the best solution as those get in the way once you start using the tablet in portrait mode. Those occasions are rather rare but once you decide to use it that way, accidental taps on the Back key are likely.



The hardware controls below and the 2MP camera above the display
At the top (in landscape) we find an IR blaster, the Power/Lock button and the slim volume rocker next to it.




The top side houses IR emitter, the volume rocker and the power/lock key
The microphone is at the bottom, which is something to consider if you're going to make Skype or Viber calls in loudspeaker mode (the mic can get muffled depending on where you place the tablet). That, by the way, applies to calls over the cellular network too, which the other versions are perfectly capable of. Our unit though is the Wi-Fi-only version with no GSM, 3G or LTE radios on board. A standard microUSB port is also around and used for charging . We are happy to see Samsung has dropped the proprietary 30-pin connector.



The microphone and the microUSB port at the bottom
The left side of the Galaxy Note 10.1 2014 Edition has the 3.5mm audio jack and one of the stereo speakers, under a subtle metallic grille. On the right we find the S-Pen compartment, the other speaker and the microSD slot, covered by a small plastic lid.





The 3.5mm audio jack is on the left • The other speaker and the microSD slot on the right
The S Pen is the same that comes with the Galaxy Note 3 phablet. It can now be used on the capacitive buttons too, so you can navigate the Galaxy Note 10.1 2014 with the stylus only. The new S Pen enables several great shortcuts, so using the stylus might actually be faster for certain tasks.
The S Pen can be placed back into its compartment either side up, the button facing up or down. The stylus is made of matte plastic, with a finely grooved top part that matches the sides of the Note 10.1. The flat sides of the stylus actually allow an even more comfortable grip. The button is positioned on one of those flat sides and is easy to reach. We found it a bit unusual that the S Pen compartment is actually in the tablet's long side but it's quite comfortable - for right-handed users obviously, being in the top right corner.
At the back of the Galaxy Note 10.1 2014 we find an upgraded 8MP camera with an LED flash next to it. The camera is quite capable of shooting the occasional photos and 1080p videos.



The back of the Galaxy Note 10.1 • A close-up of the camera
The tablet has lost a bit of weight, which can definitely be felt, and is more space-efficient. The bezels have been trimmed down as well. Edges appear sharper on the latest Note 10.1 and, coupled with the slimmer body and feel of leather, lend a more conservative, businesslike quality to the package as a whole.


Handling the Galaxy Note 10.1 2014 Edition
The Samsung Galaxy Note 10.1 can be held with one hand and operated with the other, but at about half a kilo you will soon need to find some kind of support. The build is excellent though, and the leather-like rear not only adds a touch of sophistication but also nicely enhances the grip. We had fears the finish wouldn't works as well on a bigger scale, but the ten-inch Note looks and feels great.
Display
The 10.1" Super Clear LCD now has four times the resolution of the original Galaxy Note 10.1 at 2560 x 1600 pixels. This adds up to 299ppi, which is the highest available on a tablet at this screen size. In fact, the iPad's Retina has long been outstripped by no other than Samsung themselves with the Nexus 10. The screen of the latter could actually have been used on the 2014 Edition Note 10.1, but Samsung claim they're different.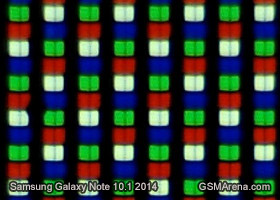 Samsung Galaxy Note 10.1 2014 Edition display matrix
Samsung lets you select between four display modes for your Galaxy Note 10.1 2014 - adaptive, dynamic, normal and movie. Naturally, those that are fond of the extra punchy colors should opt for the dynamic setting.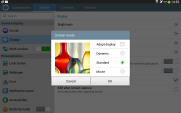 The Galaxy Note 10.1 screen mode manager
Numbers aside, the image quality is excellent. Viewing angles are very good and blacks look reasonably deep. The outdoor visibility has been greatly improved too. We ran our usual display tests on the Galaxy Note 10.1 2014 and here are the results:
Display test
50% brightness
100% brightness
Black, cd/m2
White, cd/m2
Contrast ratio
Black, cd/m2
White, cd/m2
Contrast ratio
Samsung Galaxy Note 10.1 2014
0.27
221
831
0.53
440
821
Google Nexus 10
0.26
223
859
0.50
443
878
Sony Xperia Tablet Z
-
-
-
0.53
531
996
Sony Xperia Tablet S
0.35
334
947
0.67
526
783
Samsung Galaxy Note 3
0
149
∞
0
379
∞
Apple iPad mini
0.25
208
838
0.51
458
812
Apple iPad 3
0.21
167
809
0.6
477
779
Apple iPad 4
0.21
163
797
0.63
476
762
Samsung Galaxy Tab 7.7
0
200
∞
0
328
∞
Asus Google Nexus 7
0.25
244
954
0.36
327
908
Samsung Galaxy Note 10.1
0.27
223
832
0.49
406
821
Samsung Galaxy Tab 10.1
0.31
257
826
0.55
502
915
Samsung Galaxy Tab 7.0 Plus
0.17
196
1141
0.34
424
1236
Battery life
The Samsung Galaxy Note 10.1 is powered by a massive 8220 mAh Li-Po battery. By Samsung's estimates, it should give you 2230 hours of standby and 98 hours of music playback. We did our own tests too, and the tablet managed 9 hours of video playback and 7 hours and 39 minutes of web browsing.
Web browsing
Acer Liquid E2
12:39
LG G2
11:22
Sony Xperia ZR
11:20
Samsung Galaxy S4 mini duos
10:10
BlackBerry Q5
10:04
HTC One
9:58
Apple iPhone 5s
9:58
Apple iPhone 5
9:56
Samsung Galaxy S4 mini
9:47
Motorola RAZR MAXX (ICS)
9:12
Apple iPad mini
9:05
Apple iPhone 5c
9:05
Samsung Galaxy Note 3
9:04
ASUS Nexus 7 (2013)
9:03
Samsung Galaxy S4 zoom
8:51
Samsung Galaxy Note II N7100
8:48
BlackBerry Q10
8:42
Nokia Lumia 810
8:20
Asus Padfone 2
8:20
Moto X
8:17
Huawei Ascend Mate
8:17
Samsung Galaxy Mega 6.3
8:17
HTC One mini
8:12
Nokia Lumia 610
8:01
HTC One X+
7:56
Sony Xperia E dual
7:42
Galaxy Note 10.1 2014 Edition
7:39
Samsung Galaxy S III mini
7:38
Nokia Lumia 720
7:37
Samsung Galaxy S4 Active
7:35
Samsung Galaxy S4 (S600)
7:24
Huawei MediaPad 7 Vogue
7:23
Motorola DROID RAZR MAXX
7:23
HTC Radar
7:17
Nokia Lumia 520
7:15
Samsung Galaxy S4 GPE
7:13
LG Optimus GJ
7:11
Gigabyte GSmart Maya M1 v2
7:10
Samsung Galaxy Grand Duos
7:09
Samsung Galaxy Express
7:09
Nokia Lumia 625
7:07
Motorola RAZR i
7:06
Samsung Galaxy S4 (Octa)
6:58
Apple iPhone 4S
6:56
Samsung I8262 Galaxy Core
6:54
HTC One V
6:49
LG Optimus G Pro
6:40
Samsung I9105 Galaxy S II Plus
6:40
Sony Xperia L
6:40
HTC Droid DNA
6:40
Samsung Galaxy Premier
6:40
Motorola Atrix HD
6:40
BlackBerry Curve 9380
6:40
Sony Xperia Z
6:37
Samsung Galaxy Xcover 2
6:35
HTC Desire 600 dual sim
6:34
HTC Desire 500
6:31
Huawei Ascend P6
6:30
BlackBerry Z10
6:27
Samsung I9300 Galaxy S III (JB)
6:27
HTC Butterfly
6:24
Sony Xperia SP
6:18
Samsung i937 Focus S
6:15
Nokia Lumia 510
6:13
Sony Xperia ZL
6:04
HTC Windows Phone 8X
6:01
Sony Xperia Z1
5:59
Sony Xperia ion LTE
5:56
Samsung Galaxy Fame
5:55
Samsung Rugby Smart I847
5:53
Pantech Burst
5:51
Nokia Lumia 1020
5:50
Samsung Galaxy S Blaze 4G
5:45
HTC Desire V
5:44
HTC Evo 4G LTE
5:41
Nokia Lumia 920
5:40
Samsung Wave 3 S8600
5:34
Oppo Find 5
5:33
Sony Xperia T
5:33
Samsung Captivate Glide
5:33
Samsung I8530 Galaxy Beam
5:28
Samsung Galaxy Note LTE
5:24
Sony Xperia Z Ultra
5:23
Samsung Galaxy S Duos
5:23
HTC Sensation XL
5:20
Meizu MX 4-core
5:19
Samsung I9300 Galaxy S III
5:17
Sony Xperia acro S
5:16
HTC Rezound
5:16
HTC Desire X
5:16
LG Optimus G
5:15
HTC Rhyme
5:08
Samsung I9103 Galaxy R
5:07
HTC One X (AT&T)
5:03
Sony Ericsson Xperia Pro
4:50
LG Optimus Vu
4:49
HTC Vivid
4:46
Samsung Galaxy Ace Duos
4:45
Meizu MX
4:35
Google Nexus 4
4:34
Nokia N9
4:33
Acer CloudMobile S500
4:32
Nokia Lumia 820
4:24
Samsung Galaxy S II
4:24
Sony Ericsson Xperia neo V
4:20
HTC One X
4:18
Nokia 808 PureView
4:14
LG Optimus 3D Max P720
4:10
Nokia Lumia 900 for AT&T
4:10
Nokia Lumia 800
4:07
HTC Titan II (LTE)
4:05
HTC One S
4:03
BlackBerry Bold 9790
4:02
LG Nitro HD
4:00
LG Optimus 4X HD
3:59
Sony Xperia P
3:59
Nokia Lumia 710
3:51
Nokia Lumia 620
3:50
Samsung Galaxy Pocket
3:47
Samsung Galaxy Note
3:35
Huawei Ascend P1
3:23
Samsung Galaxy Nexus
3:01
Video playback
Motorola RAZR MAXX (ICS)
16:35
Motorola DROID RAZR MAXX
14:17
Samsung Galaxy Note 3
13:32
Nokia Lumia 1020
13:12
Samsung Galaxy S4 mini
13:12
Samsung Galaxy S4 mini duos
12:52
Apple iPad mini
12:51
Samsung Galaxy Premier
12:51
Samsung Galaxy S4 GPE
12:32
Samsung Galaxy S4 (S600)
12:30
BlackBerry Q5
12:28
Huawei Ascend Mate
12:18
LG G2
11:51
Samsung Galaxy S4 (Octa)
11:29
Samsung Galaxy Note II N7100
11:27
BlackBerry Q10
11:15
Apple iPhone 5s
10:31
Apple iPhone 5
10:12
HTC One
10:02
Moto X
10:01
Samsung Galaxy Express
10:00
Samsung I9105 Galaxy S II Plus
10:00
Nokia 808 PureView
9:53
Samsung I8530 Galaxy Beam
9:42
Samsung Rugby Smart I847
9:34
Samsung Galaxy S4 zoom
9:30
HTC One S
9:28
Samsung I9300 Galaxy S III (JB)
9:27
Apple iPhone 4S
9:24
HTC Evo 4G LTE
9:07
Galaxy Note 10.1 2014 Edition
9:02
Sony Xperia Z Ultra
8:45
BlackBerry Z10
8:44
LG Optimus G Pro
8:40
Nokia N9
8:40
Samsung Galaxy Mega 6.3
8:34
HTC Butterfly
8:28
Samsung Galaxy Note
8:25
LG Optimus GJ
8:15
Samsung Galaxy Grand Duos
8:11
HTC One X+
8:11
Motorola RAZR i
8:11
Samsung Galaxy S II
8:00
Samsung i937 Focus S
7:55
Samsung Wave 3 S8600
7:52
HTC Desire 500
7:50
Samsung Galaxy S III mini
7:46
Sony Ericsson Xperia neo V
7:45
Apple iPhone 5c
7:41
Asus Padfone 2
7:38
Huawei Ascend P1
7:38
Samsung Galaxy S Blaze 4G
7:33
Acer Liquid E2
7:30
Samsung I8262 Galaxy Core
7:30
Sony Xperia ZR
7:30
HTC Droid DNA
7:30
Samsung Galaxy Note LTE
7:30
Samsung Galaxy Xcover 2
7:30
Sony Xperia SP
7:27
HTC One mini
7:23
Nokia Lumia 610
7:23
LG Optimus G
7:16
Samsung Galaxy S4 Active
7:03
ASUS Nexus 7 (2013)
7:03
Huawei Ascend P6
6:55
HTC Desire 600 dual sim
6:49
Nokia Lumia 720
6:43
Huawei MediaPad 7 Vogue
6:40
Meizu MX 4-core
6:33
Nokia Lumia 620
6:32
Nokia Lumia 625
6:29
HTC Windows Phone 8X
6:27
Sony Xperia E dual
6:27
Nokia Lumia 810
6:27
HTC Desire V
6:26
HTC One X (AT&T)
6:26
Nokia Lumia 820
6:25
Samsung Galaxy Ace Duos
6:25
Gigabyte GSmart Maya M1 v2
6:24
Nokia Lumia 510
6:23
LG Optimus Vu
6:23
Samsung I9103 Galaxy R
6:21
Nokia Lumia 920
6:19
Sony Xperia Z1
6:12
HTC Sensation XL
6:12
Samsung Galaxy Pocket
6:06
Samsung Captivate Glide
6:04
Sony Xperia ion LTE
6:03
Samsung Galaxy Nexus
6:02
Sony Xperia T
6:01
Motorola Atrix HD
6:01
HTC Vivid
6:00
HTC Radar
5:54
Nokia Lumia 800
5:52
Nokia Lumia 520
5:50
HTC Titan II
5:50
BlackBerry Bold 9790
5:47
HTC One X
5:45
Sony Ericsson Xperia Pro
5:44
Sony Xperia Z
5:39
Sony Xperia acro S
5:38
HTC Desire X
5:38
Pantech Burst
5:38
Sony Xperia ZL
5:28
Meizu MX
5:27
HTC Rhyme
5:23
HTC One V
5:20
Acer CloudMobile S500
5:18
Oppo Find 5
5:18
Nokia Lumia 900 for AT&T
5:18
BlackBerry Curve 9380
5:09
HTC Rezound
5:03
Samsung Galaxy Fame
5:02
Google Nexus 4
4:55
Sony Xperia L
4:44
Samsung Galaxy S Duos
4:30
Sony Xperia P
4:30
LG Nitro HD
4:17
LG Optimus 4X HD
4:14
LG Optimus 3D Max P720
3:28
Nokia Lumia 710
3:27
udochukwu
28 Oct 2021
Nue
Bought it (LTE version) back then in 2014. Still usable in it's 7th year. Can still handle my Real Racing 3 game like a champ. Still gives me a full day of normal usage (phone calls & web browsing) from it's battery. Have fallen almost ...
Will it support 4G pls comment below
Anonymous
22 Jan 2021
fC8
I have a note 3 bought in 2014 but used less than a dozen times. Does the jelly bean OS support OTT applications and streaming?