Samsung Galaxy Note 3 Neo review: Neoclassic
Neoclassic
GSMArena team, 31 January 2014.
Controls
Above the 5.5" display you'll spot the earpiece, a 2MP front-facing camera capable of 1080p video recording, the proximity sensor, and the ambient light sensor. There is no motion sensor, which means no Air Gestures on the Note 3 Neo.
Under the display, we find the typical Samsung three button layout consisting of a physical Home button with capacitive Back and Menu keys each side. As usual the home button has an aluminum frame for a subtle accent.
The sides of the Galaxy Note 3 Neo has a bunch of familiar controls placed exactly where we found them on the Note 3. There's the power/lock button on the right hand side on which the thumb nicely rests and the volume rocker on the left.
The top features another mic and the 3.5mm audio jack, plus the IR blaster that Samsung has been putting on lots of Galaxy devices lately.
The bottom has the microUSB 2.0 port for connectivity and charging purposes, the primary microphone, the loudspeaker grille and the S-Pen compartment. The Galaxy Note 3 Neo will do without microUSB 3.0, which is obviously flagship-grade equipment.
The faux-leather finish has made its way into the entire new tablet lineup. We like it way more than any glossy alternative. The Note 3 Neo's back features the 8MP camera lens and a single LED flash.
You can pop the back cover open to reveal the 3,100mAh battery (just 100 mAh less capacity compared to the Galaxy Note 3) along with the microSIM and microSD card slots. The slots are stacked on top of each other like they are on the Galaxy Note 3.




The back panel emulates leather
The bottom slot holds the microSIM card, which is blocked by the battery, while the top slot is for the microSD card, which can be removed even with the battery in place.
Display
The display of the Samsung Galaxy Note 3 Neo is just 0.2" smaller than the Galaxy Note 3's, keeps the Super AMOLED matrix but takes the resolution down to 720 x 1280. The 267ppi is below Retina quality, but we can confirm the screen still looks pretty good.
The matrix has the full number of sub-pixels in the same unorthodox arrangement as the screen on the Samsung Galaxy Note II. This means that the screen is exactly as sharp as the ppi number suggests with no PenTile to bring down the perceivable sharpness further.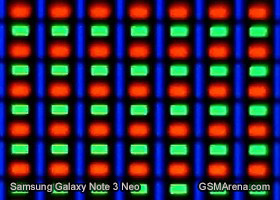 The display matrix under a microscope
The good news is that, much like the other recent Samsung smartphones, the Galaxy Note 3 Neo comes with four different screen mode presets, so you can tune the saturation to your liking. You can either go for the full AMOLED bang or opt for realistic color representation. This really is the best of both worlds and we can't imagine anyone being unhappy with the presets available.
The contrast is, as is the norm for AMOLED panels, virtually infinite and the viewing angles are excellent. There's some contrast loss at an angle, but everything remains perfectly legible.
The Super AMOLED panel on the Galaxy Note 3 Neo isn't the brightest around, but unless you plan to use the screen as a torch (and you better stick to the LED flash for that), that's hardly a big deal. The surface over the display is pretty low on reflections, so contrast remains high.
Display test
50% brightness
100% brightness
Black, cd/m2
White, cd/m2
Contrast ratio
Black, cd/m2
White, cd/m2
Contrast ratio
Samsung Galaxy Note 3
0
149
∞
0
379
∞
Samsung Galaxy Note 3 Neo
0
142
∞
0
389
∞
Samsung Galaxy S4
0
201
∞
0
404
∞
Apple iPhone 5s
0.14
163
1145
0.49
596
1219
Nokia Lumia 1520
0.22
263
1174
0.43
522
1207
Sony Xperia Z Ultra
-
-
-
0.47
467
1001
Samsung Galaxy Mega 6.3
0.12
160
1364
0.32
440
1379
Sony Xperia Z1 Compact
-
-
-
0.34
626
1819
Sony Xperia Z1
-
-
-
0.38
580
1513
HTC One
0.13
205
1580
0.42
647
1541
Under direct sunlight the Galaxy Note 3 Note is able to retain excellent contrast and stay legible even in the most brightly lit environments.
Sunlight contrast ratio
Nokia 808 PureView
4.698
Apple iPhone 5
3.997
Samsung Galaxy Note 3
3.997
Samsung Galaxy Note 3 Neo
3.487
Samsung I9300 Galaxy S III
3.419
Nokia Lumia 925
3.402
Samsung I9505 Galaxy S4
3.352
Samsung Omnia W
3.301
Samsung Galaxy S
3.155
Samsung Galaxy S4 mini
3.127
Samsung Galaxy S4 zoom
3.118
Nokia N9
3.069
Samsung Galaxy Note
2.970
Sony Xperia Z1
2.950
HTC One S
2.901
BlackBerry Q10
2.856
Samsung Galaxy S II
2.832
Samsung Galaxy S II Plus
2.801
BlackBerry Z30
2.790
Huawei Ascend P1
2.655
Sony Xperia ZR
2.672
Nokia Lumia 900
2.562
HTC One Max
2.537
Nokia Lumia 720
2.512
HTC One
2.504
Sony Xperia Z
2.462
Samsung Galaxy S III mini
2.422
Motorola RAZR i
2.366
Samsung Galaxy Note II
2.307
Alcatel One Touch Hero
2.272
Apple iPhone 4S
2.269
HTC Desire 600 dual sim
2.262
LG Nexus 5
2.228
HTC One X
2.158
Nokia N8
2.144
Oppo Find 5
2.088
BlackBerry Z10
2.051
Apple iPhone 4
2.016
HTC One mini
2.003
LG G2
1.976
Sony Ericsson Xperia ray
1.955
Samsung Galaxy Camera
1.938
HTC Butterfly
1.873
Huawei Ascend P6
1.865
Nokia Lumia 1520
1.813
Sony Xperia V
1.792
Sony Xperia Z1 Compact
1.772
Sony Xperia U
1.758
Meizu MX3
1.754
LG Optimus 4X HD
1.691
HTC One V
1.685
BlackBerry Q5
1.682
LG Optimus Vu
1.680
LG Optimus GJ
1.666
HTC Desire V
1.646
Sony Xperia Z Ultra
1.578
Samsung Galaxy Core
1.563
LG Optimus G Pro
1.552
LG Optimus 3D
1.542
Nokia Asha 302
1.537
Sony Xperia M
1.473
Oppo N1
1.470
Nokia Lumia 610
1.432
Gigabyte GSmart G1355
1.361
HTC Desire C
1.300
Nokia Asha 503
1.281
Nokia Asha 501
1.270
LG Optimus L7
1.269
LG Optimus L9
1.227
Meizu MX
1.221
Sony Xperia E dual
1.203
Samsung Galaxy Pocket
1.180
Sony Xperia tipo
1.166
Samsung Galaxy mini 2
1.114
You can find all about our display testing routines here.
Battery life
The Galaxy Note 3 Neo battery has the reasonably big capacity of 3,100mAh, just 100mAh less than the original Note 3 phablet. This is the first time we see in action Samsung's hexa-core Exynos 5260 chipset though, so we didn't know what to expect. Fortunately Note 3 Neo's battery life turned out to be great.
The lightweight Cortex-A7 cores and the energy-efficient Super AMOLED HD screen surely helped the Note 3 Neo to achieve indeed an impressive result even though it isn't on par with the Note 3 flagship. The endurance rating of 74 hours means the Galaxy Note 3 Neo should manage just over three days on a single charge if used for one hour each of calls, web browsing and video playback daily.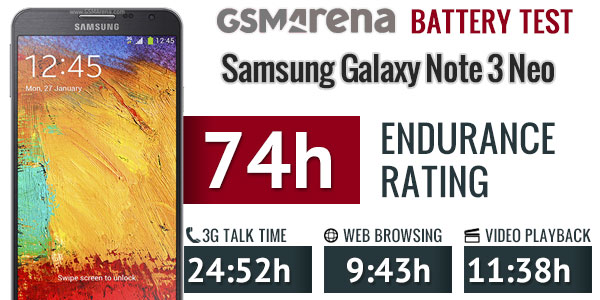 You can find the complete test breakdown over here in our blog.
S Pen
The S Pen is the signatory feature of any Note device, phablet or tablet, and the on the Galaxy Note 3 Neo is basically identical to the one found on the regular Galaxy Note 3. It can be placed back into its compartment either side up, the button facing up or down. The stylus is made of matte plastic, with a finely grooved top part. Its sides are flattened for better grip, while the button is positioned on one of those flat sides and is easy to reach.
Anonymous
10 Feb 2023
N3D
Gosh that phone 📱 Black Friday deals on wheels
Beakal Tsegaye
21 Nov 2020
NgR
I have a problem with a battery. Any solution for my mobile to update the battery ? I don't remember how many times it failed from my desk.