Samsung Galaxy Note 4 review: Four of a kind
Four of a kind
GSMArena team, 10 October 2014.
Phonebook is great
The dialer is the familiar TouchWiz app and features all the basics - smart dial, quick dial and even a video call button.
The Galaxy Note 4 features auto call rejection - it can reject all calls, only calls from specific numbers, all unknown numbers and so on. Blocking mode is even more restrictive - it blocks incoming calls and silences notifications and alarms. Only contacts on the priority list will be able to get a call or a message through. Blocking mode can be set to turn on and off automatically during a certain time period (e.g. at night).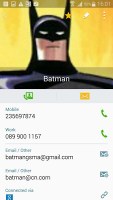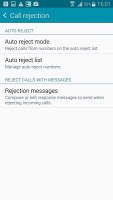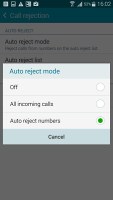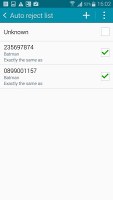 Contact window • Auto reject settings
You can create custom vibrations for different callers (similarly to the way it's done on iOS).
Stellar telephony
We had no issues with the Samsung Galaxy Note 4 when it came to reception or call quality. Sounds came out loud and clear in the earpiece and callers on the other end said they hear us without issue. The noise-cancelling microphone on the Samsung Galaxy Note 4 also seems to do a great job of eliminating the cacophony of the outside world.
Samsung went with a back-facing single speaker on the Samsung Galaxy Note 4. Given the extra space on the phone we would've preferred stereo speakers anywhere but on the back. At least the quality and loudness of the speaker is up to scratch - it came out with an excellent score and is among the loudest phones we've tested. Things don't stop at loudness though - the sound was clear and of great quality.
| | | | | |
| --- | --- | --- | --- | --- |
| Speakerphone test | Voice, dB | Pink noise/ Music, dB | Ringing phone, dB | Overall score |
| Apple iPhone 6 Plus | 67.3 | 65.7 | 66.5 | Below Average |
| Sony Xperia Z3 | 69.7 | 66.6 | 67.2 | Average |
| Samsung Galaxy Alpha | 66.6 | 61.7 | 75.7 | Average |
| Apple iPhone 6 | 66.6 | 65.7 | 72.8 | Average |
| HTC One (M8) | 66.3 | 66.3 | 75.7 | Good |
| Samsung Galaxy Note 3 N9005 | 70.5 | 66.6 | 78.0 | Good |
| Samsung Galaxy S5 mini | 73.5 | 67.7 | 78.7 | Very Good |
| OnePlus One | 74.8 | 73.5 | 80.2 | Excellent |
| Samsung Galaxy Note 4 | 79.5 | 74.4 | 89.3 | Excellent |
Feature-rich messaging
The Messages app has a row of shortcuts for the contacts you message most often and below that is the list of all conversation threads. Threads feels like a standard IM app and you can customize font size, the shape of the bubbles and the background.
This app handles both SMS and MMS and features a wide variety of smilies. Note that using smilies greatly reduces the number of symbols in a message - it drops to 70 and each smiley counts for two symbols (that's because they use the Unicode format rather than the GSM alphabet).
The Messages app has some cool features too - you can delay dispatch by 3 seconds (or up to 30), so you can cancel a message before it goes out. You can also schedule messages to be sent automatically (say, congratulations for a birthday).
The app also features spam protection - messages from specific numbers or containing specific phrases can be blocked. Safe mode will disable the feature that automatically makes links clickable and will scan them for potential threats.
You can set an Emergency message to go out to primary contacts when you hit the Power button three times fast. The phone can optionally take a photo (without making a sound) and send it along with the message.
The Samsung Galaxy Note 4 has two email clients - the Email and Gmail apps. Both are well familiar by now and work just as ever. You can use them side by side via Multi window as well and use the drag and drop functionality for text.
The all-purpose keyboard
The Samsung QWERTY keyboard really shines on the ample, high-res canvas of the Samsung Galaxy Note 4. It features a row of numbers above the letters and a rich set of features. You can enter text by swipe-typing (like Swype and others), as well as move the cursor or view all alternative symbols for a key (which can be great if you use special symbols a lot).
The button row has a quick dial-like feature where you press and hold a number to enter a preset phrase. This can be used for standard messages like "okay", "can't talk now" and so on.
A small floating keyboard is also available, which comes in handy with Multi Window as you can move it out of the way (and it takes up less space to begin with).
Naturally there's Voice input but also handwriting recognition. You can type things using S Pen and then the software converts them into better-looking text using a handwritten font.
Mine is reaching 7 years, and I was thinking about the same replacement. I have always had other phones after 4 years with this sweet Note, but I couldn't replace it. Is the X60's camera better? Because for sure my 11T pro's 108mp ...
Anonymous
19 Feb 2022
KZK
Recently changed from Note 4 to LG V60 after 6 years of service. Really satisfied with V60's battery life.
Anonymous
02 Jan 2022
6cn
Yeah many and cheap BUT still not the original, even many of cheap battery are fake, such as have not NFC and last much shorter than original, even the worst part is the hologram placing on battery body tells that battery is completely fake The ...