Samsung Galaxy S21 5G review
GSMArena Team, 21 January 2021.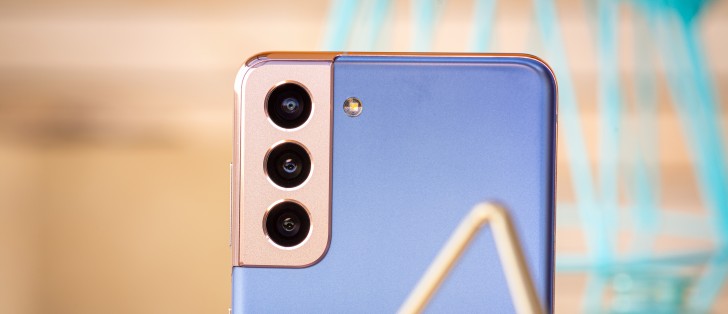 OneUI 3.1 and Android 11 right out of the box
The Galaxy S21 launches straight on Android 11, and with Samsung's recent promise for 3 major OS updates, that means your new Galaxy should be eligible to receive Android 14 in 2023 (presuming we make it that far as a species). The Samsung layer on top of Google's OS is OneUI 3.1 - that's 0.1 more than what we got with the recent updates to Android 11 on last year's Galaxies. The 0.1 increment makes for a subtle difference, not to mention that going from 2.5 to 3 wasn't strictly a leap either, but let's still have a look at the software on the Galaxy S21 family here.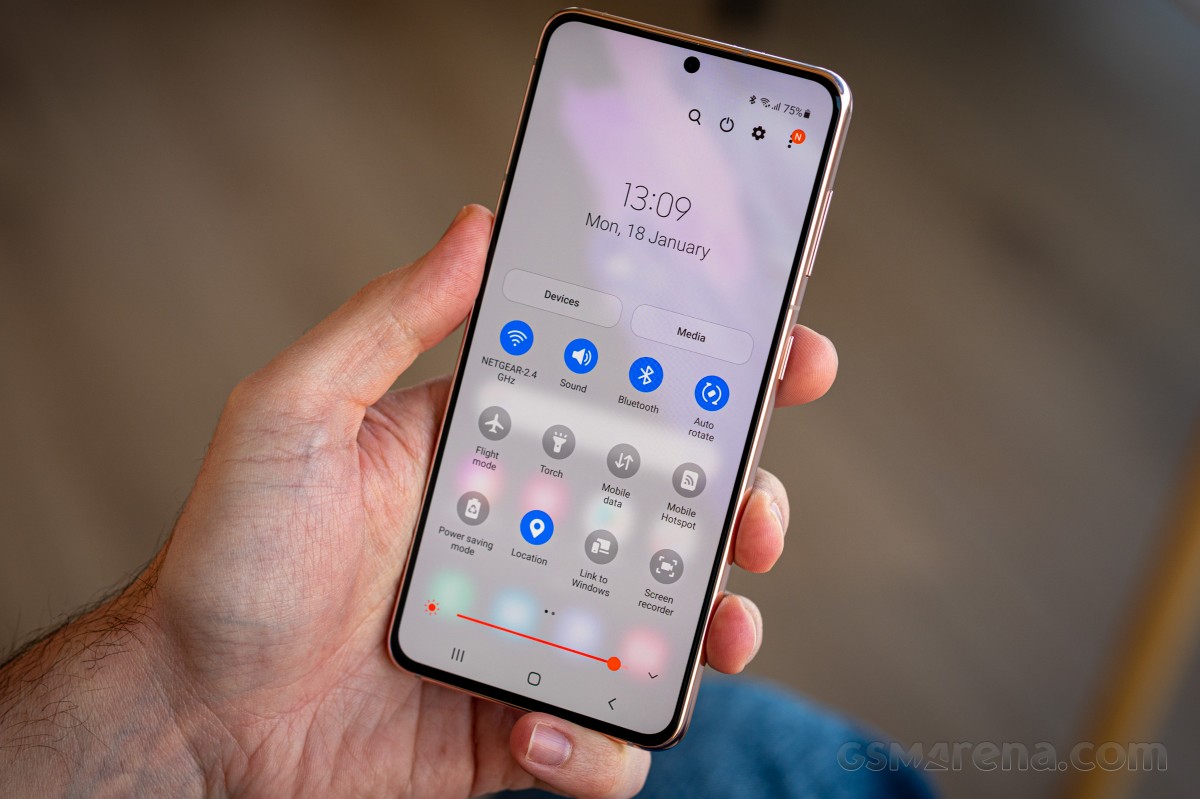 The UI basics are generally similar to previous iterations though you can spot the occasional change here or there. For example, the default lockscreen shortcuts - dialer and camera, are now monochrome - they used to match the respective apps' colors. Oddly enough, if you pick different apps, they will keep their colors - it's not really a first-party vs. third-party type of differentiation either.
Among the functional changes on the lockscreen is the added wellbeing widget - you can now keep track of how much time you spend on your phone without even unlocking it. Meanwhile, the always-on display settings have been simplified.
Unlocking the phone is best done using the fingerprint reader embedded in the display, and we did mention its improved performance already. With the new-gen hardware, the software needs fewer taps to register a print, and that's welcome if minor refinement. The option is there if you want to use face unlock - it can be more convenient in certain situations, if generally less secure since it's just based on the selfie camera.
Another notable change is that pulling the notification shade covers the entire screen underneath, even if there's just one notification card or none at all. Previously, the portion of the screen below the last notification would remain visible if darkened. While we're here, the quick toggles can now be edited directly from the plus button at the end of the list instead of going into the menu.
Coming courtesy of Android 11, there is now Notification history, too. It's accessed from the Settings menu, so it's not within immediate reach, but it's there for those occasions when you dismissed a notification too quickly and you can't seem to find what it was about. Just make sure to enable it, because it's off out of the box.
Android 11 has a new way of handling notifications for instant messenger apps called Bubbles, and One UI 3 adopts it, too. That's in addition to a previously available similar feature offered by Samsung by the name of Smart pop-up view. You'll find these settings under the 'Floating notifications' submenu, where you can alternatively turn both of them off and opt for the old-school cards only interface.
Bubbles is an extension of the Conversations feature, another new development. You tap on an icon in the initial incoming message notification. It turns into a conversation that you can then minimize to a bubble, or what was known as a 'chat head' - originally Facebook Messenger's default way of dealing with chats.
Smart pop-up view is one of One UI's lesser-known proprietary features. In the pre-Bubbles days, it used to add the chat head functionality to any application of your choosing. Tapping the hovering 'head' icon opens the app in a floating window, which you can further maximize to fullscreen or minimize it again to an icon. Sort of like Bubbles, only slightly different.
Introduced with Google's latest OS version, the new media controls have been implemented in One UI as well. You get a stack of the active audio playback apps right below the quick toggles and swiping to the side switches between the apps.
The Media screen was already available on One UI 2.5 pre-Android 11, and it offers similar functionality for picking the output device or using Samsung's Music share feature.
The volume control panel has gotten a makeover too, and now the four sliders are vertical instead of the horizontal ones of OneUIs past.
Yet another of the native Android 11 improvements that Samsung also includes in OneUI 3 is the ability to pin apps to the top of the sheet with Share options. It's one of those things that make you wonder how come it had to wait until v11 for us to get there. Things are much better now, but still, we'd like to remove options too, because that list could sure use some decluttering.
One more thing that Google tweaked in this year's release is the permission handling, and Samsung's implemented it in One UI 3. With this version, you will now see a new prompt for permissions every time an app requests it, letting you deny permission, allow it only while using the app, or just for this one time. If an app requires constant access to permission, you also get a fourth option that takes you to a setting page where you can provide it. This is done prevents the user from accidentally selecting this option while blazing through the permission dialogs.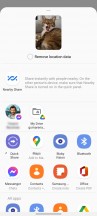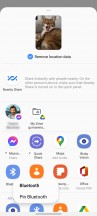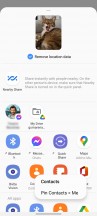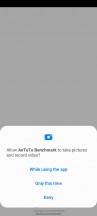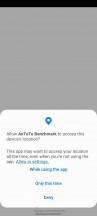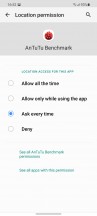 Share options pinning • Permissions handling
The settings menu has seen a subtle but meaningful makeover. Subcategories are made more legible by using a dot separator and extra intervals, while recent searches are now shown as bubbles instead of a list. Additionally, there's a newly added feature to search settings by hashtags - for conceptually related things but found in different places in the menu.
The dialer comes with a bunch of cosmetic changes itself. You get to pick one of two layouts for the in-call screen. You can also set up a background image or video for that screen, though it's going to be all the same for all of your calls - you can't have a different one on a per-person basis.
You get a whole bunch of options for using your Galaxy with other devices to enable various use cases. DeX is the proprietary feature that lets you use the phone as the 'computer' and add a monitor and a keyboard for added productivity - it works wirelessly or over HDMI.
Alternatively, the Link to Windows feature provides you with an interface to your phone from your computer so you can copy images to and fro, manage notifications on your PC or even make calls from it.
Another option along those lines but with more limited potential is Continue apps on other devices. This requires you to be logged in to your Samsung account on both devices, hook them up to the same Wi-Fi network with Bluetooth enabled and use Samsung Internet browser or Samsung Notes. You'll then be able to copy and paste text and images across and open the same tabs in the browser.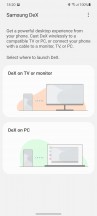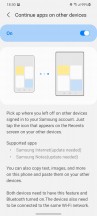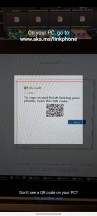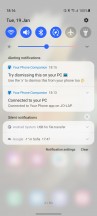 DeX • Continue apps on other devices • Link to Windows
Other staples of proprietary Samsung software include the Edge panels - the panes that show up when you swipe in from the side and provide tools and shortcuts to apps and contacts. Game launcher, the hub for all your games, which also provides options for limiting distraction when gaming is here to stay as well.
Synthetic benchmarks
In typical Samsung fashion, the Galaxy S21 family's phones exist in 2 chipset variants with specific regions getting one or the other. North America and China receive the Snapdragon 888 from Qualcomm, while handsets for the rest of the world are equipped with Samsung's own Exynos 2100 SoC.
This divide has exposed Samsung to criticism in the past because of certain disparities between the performance and battery life of the two versions. These have often resulted in academic disputes and comment section wars with little bearing on real-life. Still, objectively measurable data has shown top-end Snapdragons are slightly better than Exynoses in recent years. That shouldn't be the case with the 2021 models with Samsung dropping their custom CPU designs (supposedly what held Exynos back) in favor of Arm's and the two platforms converging in architecture.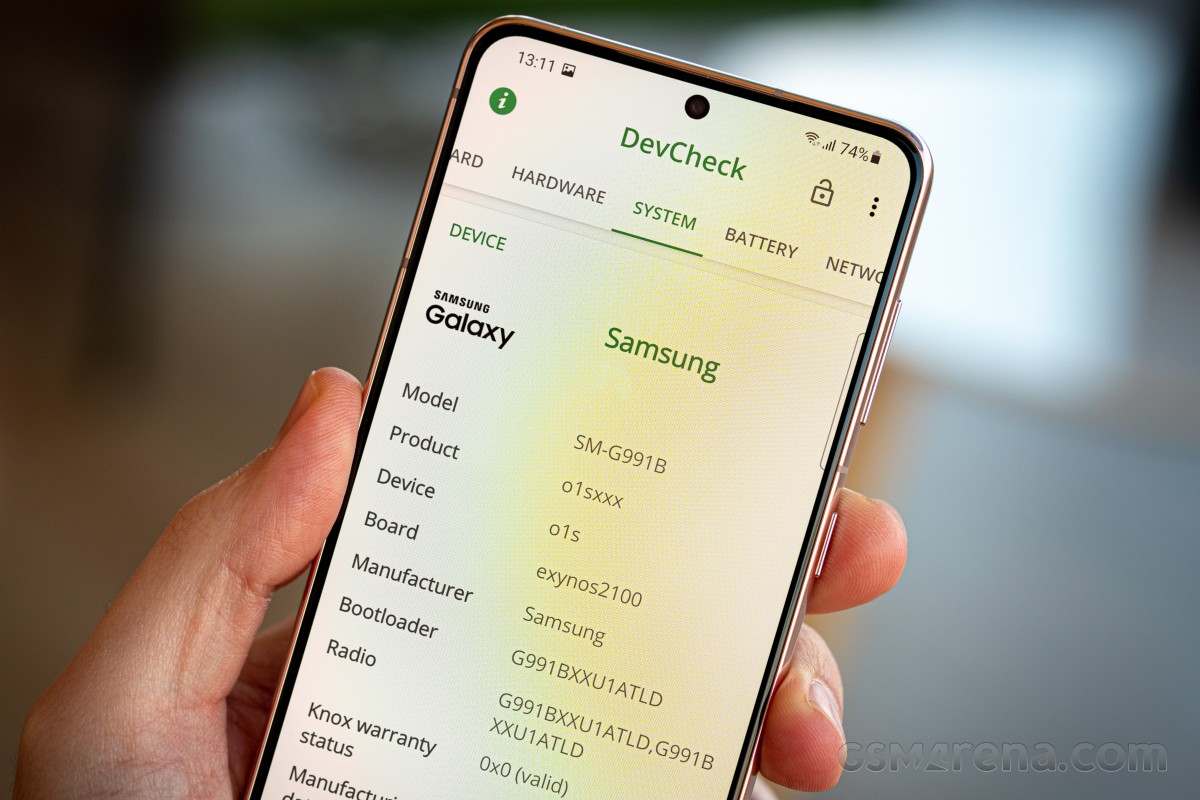 The CPUs in both chips have a tri-cluster arrangement and use the same cores (nominally, that is - Qualcomm is said to have tweaked things in the prime core). Headlining these processors is Arm's Cortex-X1, a no-compromise performance-focused design based on the Cortex-A78. Next up is a trio of Cortex-A78s, regular ones, while four Cortex-A55s for more mundane tasks take the total core count to eight.
For all the sameness in the setup, there is a difference in the clock rates, which is somewhat significant. The Exynos numbers read 1x2.9GHz + 3x2.8GHz + 4x2.2GHz, while the Snapdragon spec sheet says 1x2.8GHz + 3x2.4GHz + 4x1.8GHz, and the higher rates may give the Samsung chip advantage for applications that can make good use of multiple cores. For comparison, the Kirin 9000 uses the older Cortex-A77 cores in the performance cluster, but its prime core is ticking higher than either the SD888's or the E2100's (1x3.13GHz Cortex-A77 + 3x2.54GHz Cortex-A77 + 4x2.05GHz Cortex-A55).
On the GPU front, the Snapdragon comes with the Adreno 660 GPU, which Qualcomm says is 35% faster and 20% more energy-efficient than last year, and while it does list some other key improvements, it doesn't disclose core count or clock speeds.
The Exynos 2100, on the other hand, employs a Mali-G78 GPU with 14 cores and promises 46% improvement over the last generation. The GPU in the Kirin 9000 has the same Mali GPU but in a maxed-out 24-core configuration, though at a lower clock rate, we're speculating. Not that anyone is listing GPU clock rates anywhere! Urgh.
Both the SD888 and the E2100 are manufactured by Samsung on a 5nm fabrication line - Qualcomm switched from TSMC to Korean foundries for this year's chips' production.
RAM is LPDDR5 on either version, and all S21 and S21+ units have 8GB of it. If you specifically want more, you need to step up to the S21 Ultra. Storage is UFS 3.1, and two options are available - 128GB or 256GB.
Our Galaxy S21 review unit has the Exynos chipset inside and has 256GB of storage.
Under single-core CPU load in GeekBench, the S21 proved superior to the Mate 40 Pro, the one current-gen Android we've tested - no Snapdragon 888s have stepped through our doors. Cross-platform comparisons are frowned upon, but the iPhone 12 does pump out much higher figures in this test.
GeekBench 5 (single-core)
Higher is better
Apple iPhone 12 Pro
1611
Apple iPhone 12
1605
Galaxy S21 5G
1032
Galaxy S20 (60Hz, 1440p)
931
Huawei Mate 40 Pro
920
OnePlus 8T
893
Galaxy Note20 Ultra 5G
880
Under multi-core loads, the Mate 40 Pro inches ahead of our S21, with a slightly wider gap ahead of the OnePlus 8T with last year's Snapdragon 865. SD865+ handsets, on the other hand, rank even higher, while the iPhones remain in the lead here as well.
GeekBench 5 (multi-core)
Higher is better
Apple iPhone 12
4067
Apple iPhone 12 Pro
4056
Asus ROG Phone 3 (144Hz)
3357
Asus Zenfone 7 Pro
3302
Huawei Mate 40 Pro
3275
Galaxy S21 5G
3238
OnePlus 8T
3126
Galaxy S20 (60Hz, 1440p)
2750
Galaxy Note20 Ultra 5G
2603
The S21's Antutu result is more or less in the ballpark of what we've gotten from Snapdragon 865 devices and a bit lower than SD865+ one - so it's not amazing if you're expecting the Exynos to wipe the floor with the competition in 2021. It is a bit of an increase compared to last year's model, so there's that.
AnTuTu 8
Higher is better
Asus Zenfone 7 Pro
602934
Asus ROG Phone 3 (144Hz)
601858
Apple iPhone 12 Pro
596244
Galaxy S21 5G
584055
Apple iPhone 12
579048
OnePlus 8T
576625
Huawei Mate 40 Pro
531270
Galaxy S20 (120Hz, 1080p)
525029
Galaxy S20 (60Hz, 1440p)
515538
Galaxy Note20 Ultra 5G
508760
One area that the S21 does excel in is the onscreen tests in GFXBench. Admittedly, in the absence of any SD888 competition, it's consistently on top of the charts, and no SD865+ or Kirin 9000 can match it.
GFX Manhattan ES 3.0 (onscreen)
Higher is better
Galaxy S21 5G
118
Asus ROG Phone 3 (144Hz)
111
Galaxy S20 (120Hz, 1080p)
93
Asus Zenfone 7 Pro
89
Galaxy Note20 Ultra 5G
88
Huawei Mate 40 Pro
78
OnePlus 8T
60
Apple iPhone 12
60
Apple iPhone 12 Pro
60
Galaxy S20 (60Hz, 1440p)
58
GFX Manhattan ES 3.1 (onscreen)
Higher is better
Galaxy S21 5G
95
Asus ROG Phone 3 (144Hz)
82
Galaxy S20 (120Hz, 1080p)
79
Asus Zenfone 7 Pro
78
Galaxy Note20 Ultra 5G
76
Huawei Mate 40 Pro
64
OnePlus 8T
60
Apple iPhone 12
60
Apple iPhone 12 Pro
60
Galaxy S20 (60Hz, 1440p)
45
GFX Car Chase ES 3.1 (onscreen)
Higher is better
Galaxy S21 5G
60
Apple iPhone 12
58
Apple iPhone 12 Pro
58
Asus ROG Phone 3 (144Hz)
48
OnePlus 8T
46
Asus Zenfone 7 Pro
46
Galaxy S20 (120Hz, 1080p)
44
Galaxy Note20 Ultra 5G
42
Galaxy S20 (60Hz, 1440p)
26
Huawei Mate 40 Pro
25
That's half the truth, however, for a couple of reasons. Number one, iPhones don's do go above 60Hz (and who's responsible for that), so whatever raw power their GPUs have, and it's a lot, goes to waste - as the offscreen results show. Number two, the 1080p resolution of the S21 does it a favor against higher-res competitors like the ROG Phone 3, and the Huawei Mate 40 Pro and those two show they're as capable as the Exynos Galaxy when it comes to raw performance at a level playing field.
GFX Manhattan ES 3.0 (offscreen 1080p)
Higher is better
Apple iPhone 12 Pro
199
Apple iPhone 12
195
Galaxy S21 5G
143
Huawei Mate 40 Pro
135
Asus Zenfone 7 Pro
128
OnePlus 8T
127
Galaxy S20 (60Hz, 1440p)
126
Galaxy S20 (120Hz, 1080p)
125
Asus ROG Phone 3 (144Hz)
123
Galaxy Note20 Ultra 5G
116
GFX Manhattan ES 3.1 (offscreen 1080p)
Higher is better
Apple iPhone 12
132
Apple iPhone 12 Pro
132
Galaxy S21 5G
97
Huawei Mate 40 Pro
97
Asus ROG Phone 3 (144Hz)
92
Asus Zenfone 7 Pro
90
OnePlus 8T
88
Galaxy S20 (60Hz, 1440p)
87
Galaxy S20 (120Hz, 1080p)
86
Galaxy Note20 Ultra 5G
80
GFX Car Chase ES 3.1 (offscreen 1080p)
Higher is better
Apple iPhone 12 Pro
64
Huawei Mate 40 Pro
56
Asus ROG Phone 3 (144Hz)
56
Galaxy S21 5G
54
Asus Zenfone 7 Pro
54
OnePlus 8T
53
Apple iPhone 12
53
Galaxy S20 (60Hz, 1440p)
51
Galaxy S20 (120Hz, 1080p)
51
Galaxy Note20 Ultra 5G
50
Moving on, in 3DMark, the Galaxy S21 showed a middling performance. While it did outscore the Mate 40 Pro, its results were around the ones we got of the Note20 Ultra and substantially lower than the SD865+ bunch, with even the non-pluses being ahead.
3DMark SSE ES 3.1 (offscreen 1440p)
Higher is better
Asus Zenfone 7 Pro
7687
Asus ROG Phone 3 (144Hz)
7645
OnePlus 8T
7194
Galaxy S20 (60Hz, 1440p)
6723
Galaxy S20 (120Hz, 1080p)
6610
Galaxy S21 5G
6569
Galaxy Note20 Ultra 5G
6543
Huawei Mate 40 Pro
5377
3DMark SSE Vulkan 1.0 (offscreen 1440p)
Higher is better
Asus Zenfone 7 Pro
7002
OnePlus 8T
6632
Galaxy S20 (120Hz, 1080p)
6398
Galaxy S20 (60Hz, 1440p)
6248
Galaxy Note20 Ultra 5G
6248
Galaxy S21 5G
6132
Huawei Mate 40 Pro
4782
Overall, the Galaxy S21 we've reviewed in Exynos trim is a powerful but, ultimately, unimpressive performer. Benchmark scores show a significant generational improvement for the E2100 over the E990, but the SD865s held their ground, so we can assume the SD888 will comfortably outperform the new Exynos.
Now, a case could be made that the smallest of the high-end Galaxies is more thermally constrained than what a larger volume handset would be, and the S21+ or S21 Ultra could score higher. The phone did get warm after repeated benchmark runs, but not really hot, so maybe it's a matter of the plastic back not dissipating heat efficiently. Or, and that's not entirely inconceivable either, our review unit isn't strictly final - the S21 Ultra that arrived together with the S21 got a 1GB update when we took it out of the box, the plain S21 didn't, and we're looking at a December 1 security patch on it.
We don't mean to negate the S21's comparatively... dispirited benchmark results, but in practice, using it was nothing short of pure pleasure. Coupled with the high refresh rate, the top-of-the-shelf silicon allows for nicely fluid interaction with the phone. Still, it's not looking good if the phone that's just been released is bested by last year's hardware.
Hahaha. You mustn't have a nightmare taking screen shots! Or being unable to turn the piece of crap off! Or the short battery life! Or the constant never ending "up down grades"! Or the virus that is Samsung itself. Then there is...
Hoggaforfan
09 Sep 2022
MNS
IP68 so dustproof and waterproof
Anonymous
11 Jul 2022
fuf
,👍💯