Samsung Galaxy S22, S22+, and S22 Ultra hands-on review
GSMArena Team, 09 February 2022.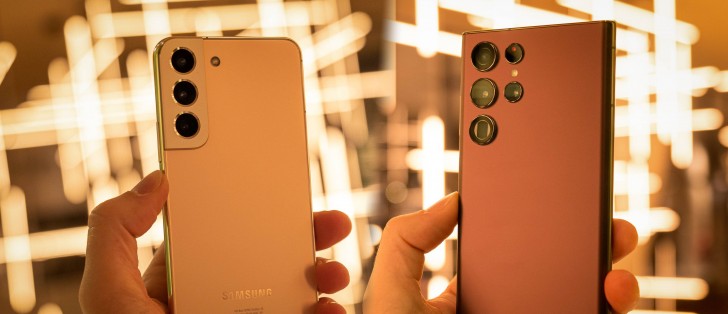 Galaxy S22 and S22+ hands-on
The Galaxy S22 and S22+ are brand new, yet so very familiar. Following up on last year's Contour cut design, the 2022 models adopt the same basic principle for the camera island - the one area left where phones can have any personality, only draw a little bit less attention to it.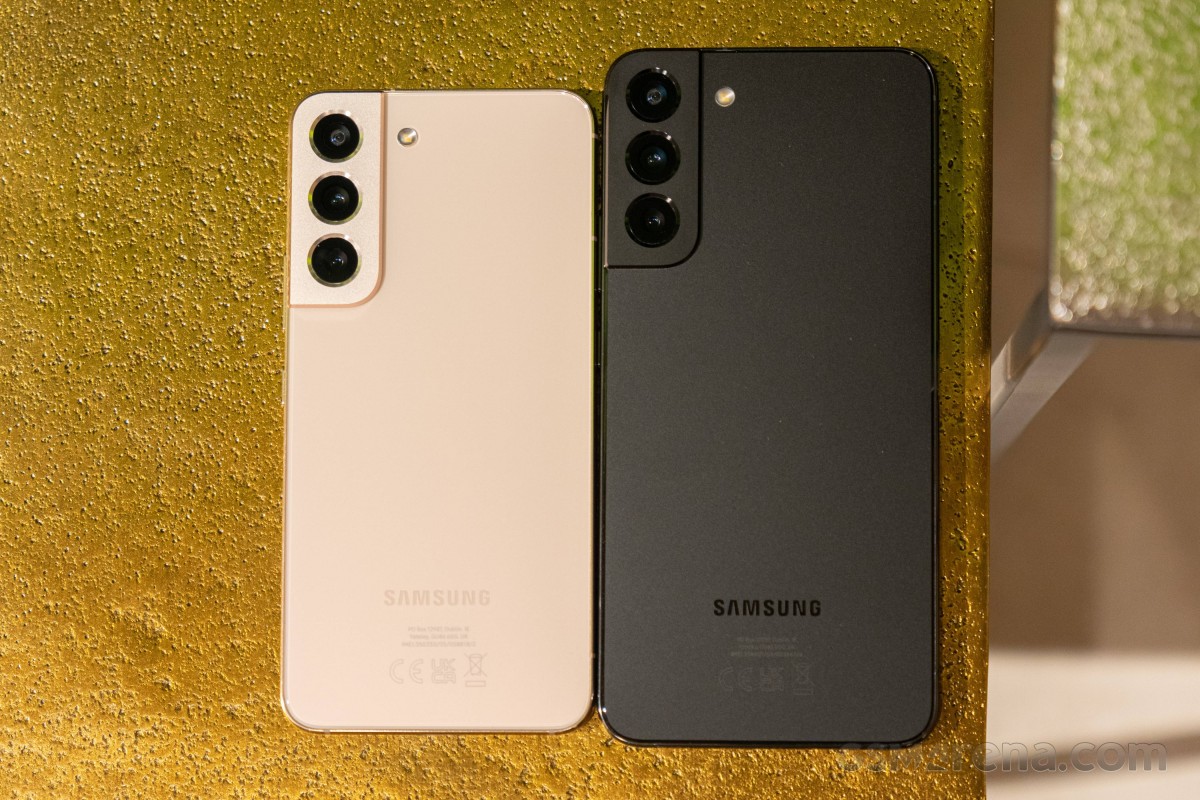 Samsung Galaxy S22 and S22+
Last year's hero color, Phantom Violet, which had contrasting colors for the frame and back panel, is now gone. Out of the standard 4 colors for this year, only the Phantom White has traces of contrast between frame and panel, the silver-ish finish of the metal somewhat sticking out against the matte white back - it's more or less the same as last year's white version. The other colorways available at launch include Phantom Black, Green and Pink Gold and all have frames to match the color of the handset's back panel.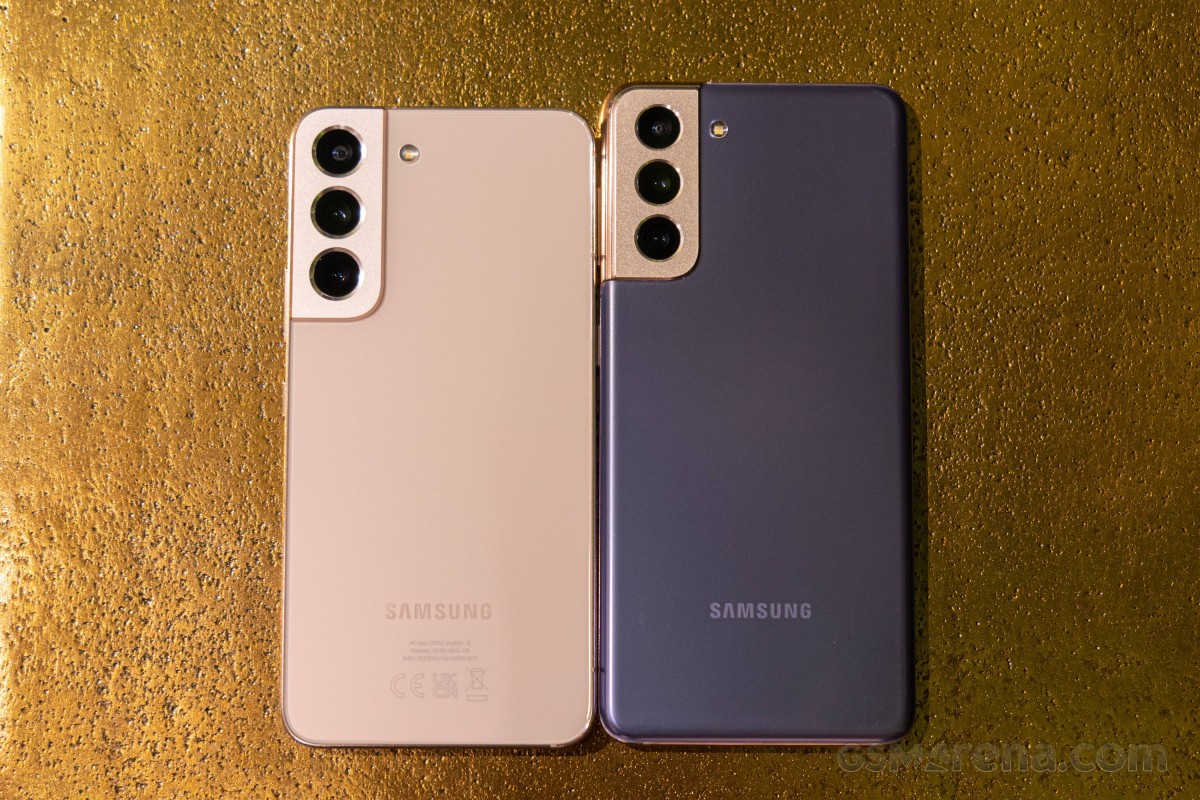 Samsung Galaxy S22 next to S21
There's a wider selection of colors available on Samsung.com - Graphite, Cream, Sky Blue and Violet.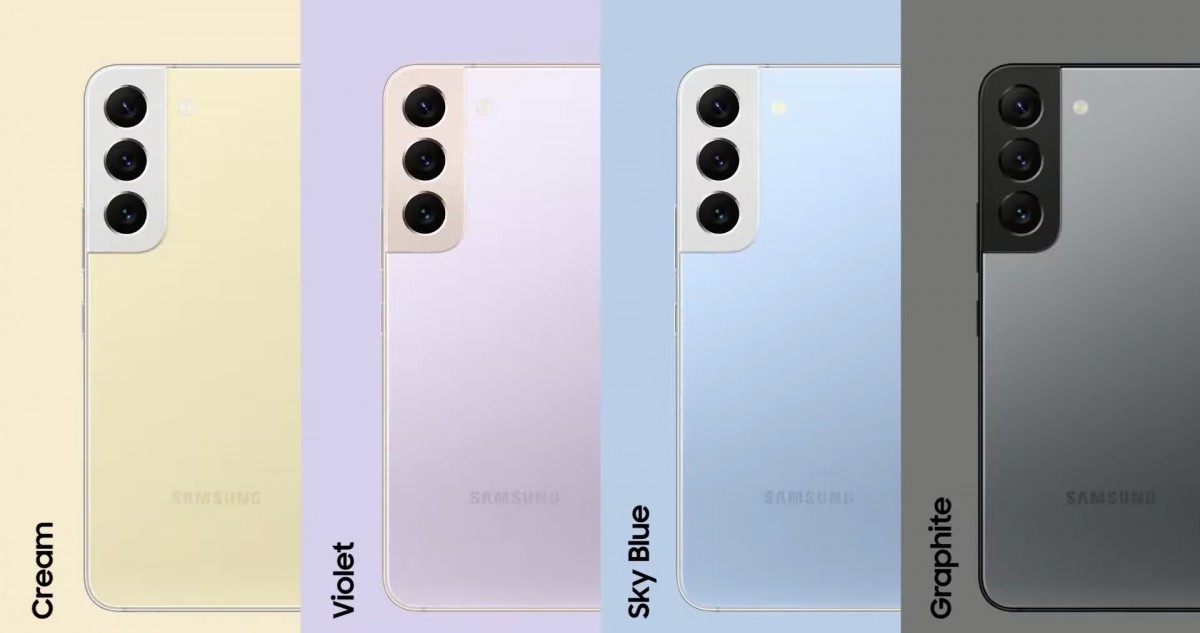 Speaking of that back, it's important to point out that the vanilla S22 model now too has glass covering its internals, replacing the plastic of last year. We ourselves complained a bunch about the 'flagship' S21 having plastic touching your fingertips, on principle more than out of real dislike for the material. Other outlets expressed... disagreement with Samsung's choice, too. Whether this public outcry was entirely responsible or there were other reasons behind the change, but now all three phones have Gorilla Glass Victus+ front and back.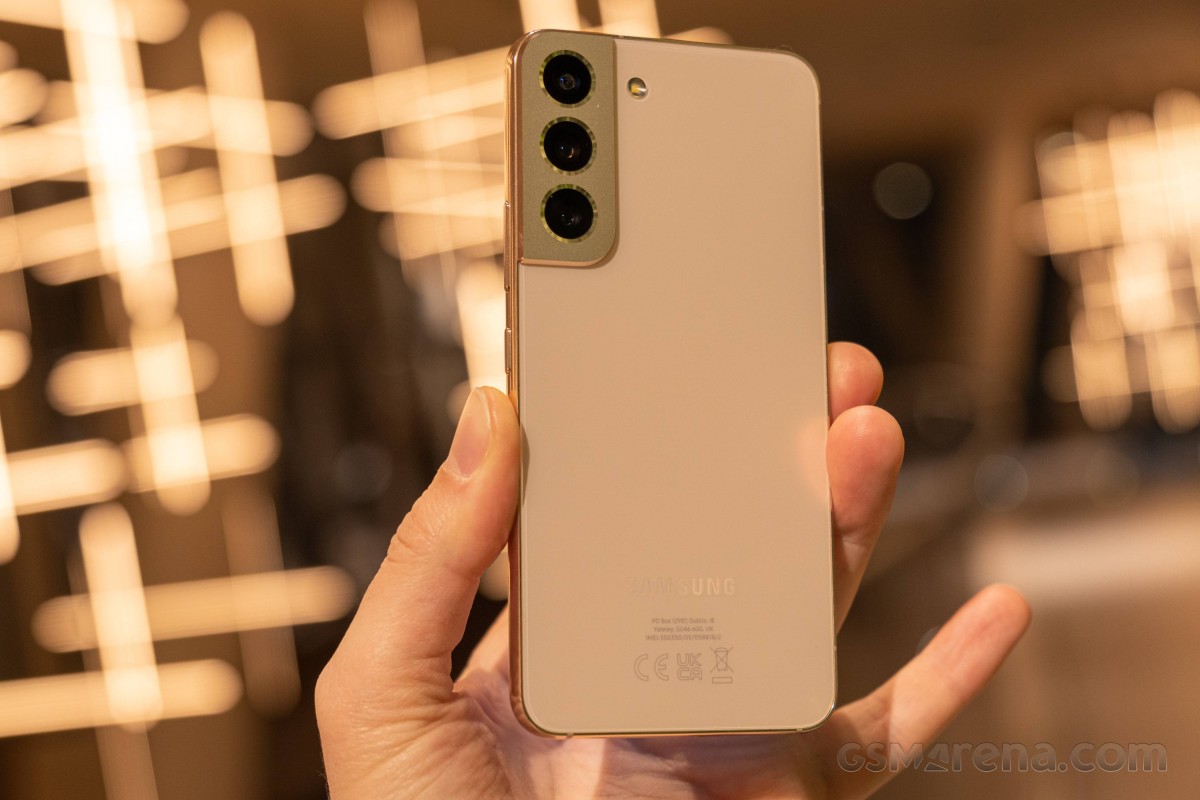 Samsung Galaxy S22
Another subtle change for this generation is the way the camera surround meets the frame. It's less fluid, less 'contour'-y, but sharper and chiseled instead. It still almost looks like the camera island is part of the frame, but there's less continuity between the two elements than on the previous models.
The island itself remains essentially unchanged and pokes out some - not too much, not a little.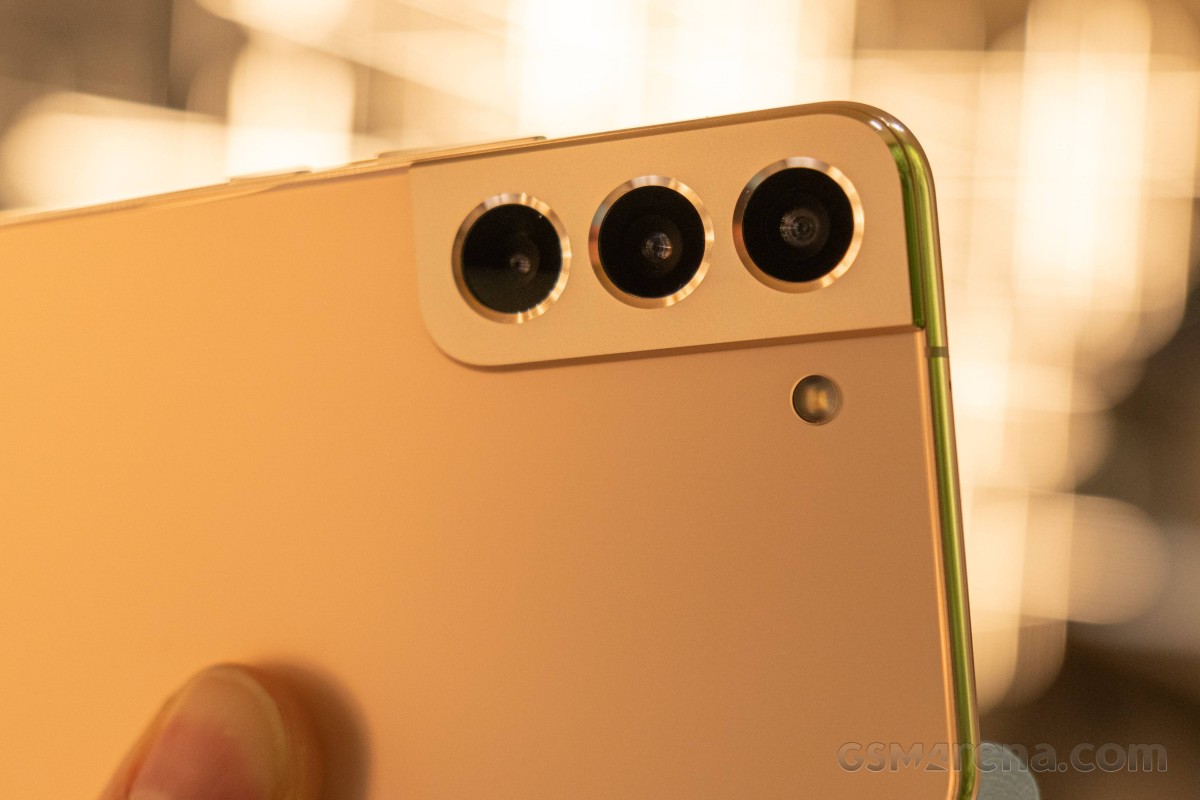 Samsung Galaxy S22 camera island
What's contained inside it is different, though. A new 50MP primary camera utilizing the in-house ISOCELL GN5 sensor (1/1.53", 1.0µm, Tetrapixel color filter) replaces the 12MP 1/1.76", 1.8µm unit found on the S21.
The telephoto is now more of a real telephoto, delivering 3x optical zoom to a 10MP sensor (1/3.94", 1,0µm), as opposed to the hybrid/lossless 1.1x 64MP unit on the outgoing model - this will certainly make for an interesting comparison. Oddly enough, it's not the same unit as the Ultra's short telephoto.
There'll be little to compare on the ultrawide end, where the hardware remains the same (and that means no autofocus, which... should we even bother complaining about?).
This whole comparison thing is for future us to deal with, however, since we neither had the time, nor were we actually allowed to do one at this point.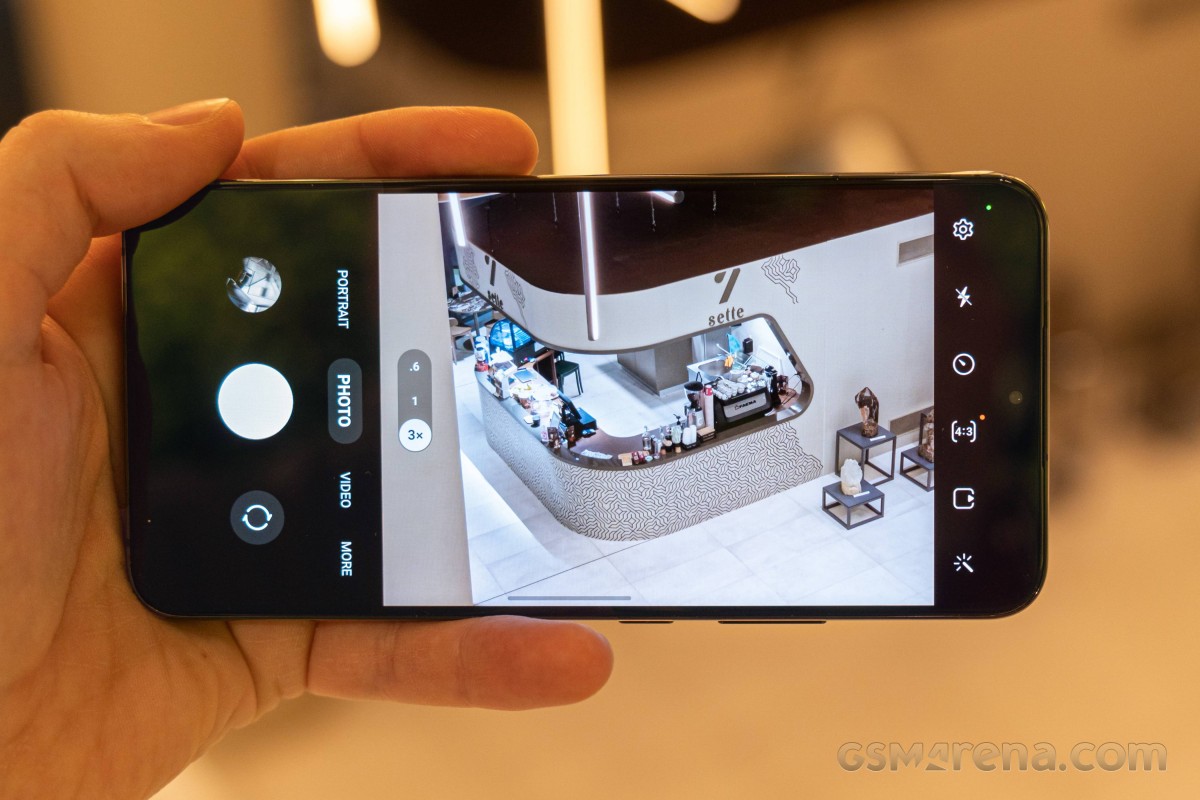 Samsung Galaxy S22 and S22+ now have 'real' zoom
Circling back to topics that are more tangible, the S22's reduced display diagonal by a mere 0.1-inch makes what was already a reasonably compact phone even more pocket-friendly. The smallest of the three S22s is 0.6mm narrower than last year's model, but more importantly, it's nearly 6mm shorter. And at 146x70.6mm in footprint, it's just barely smaller than an iPhone 13 or 13 Pro. Its 168g are also noticeably less than the 13 Pro's 204-gram heft, though the difference of 7g against the 13 is more or less negligible.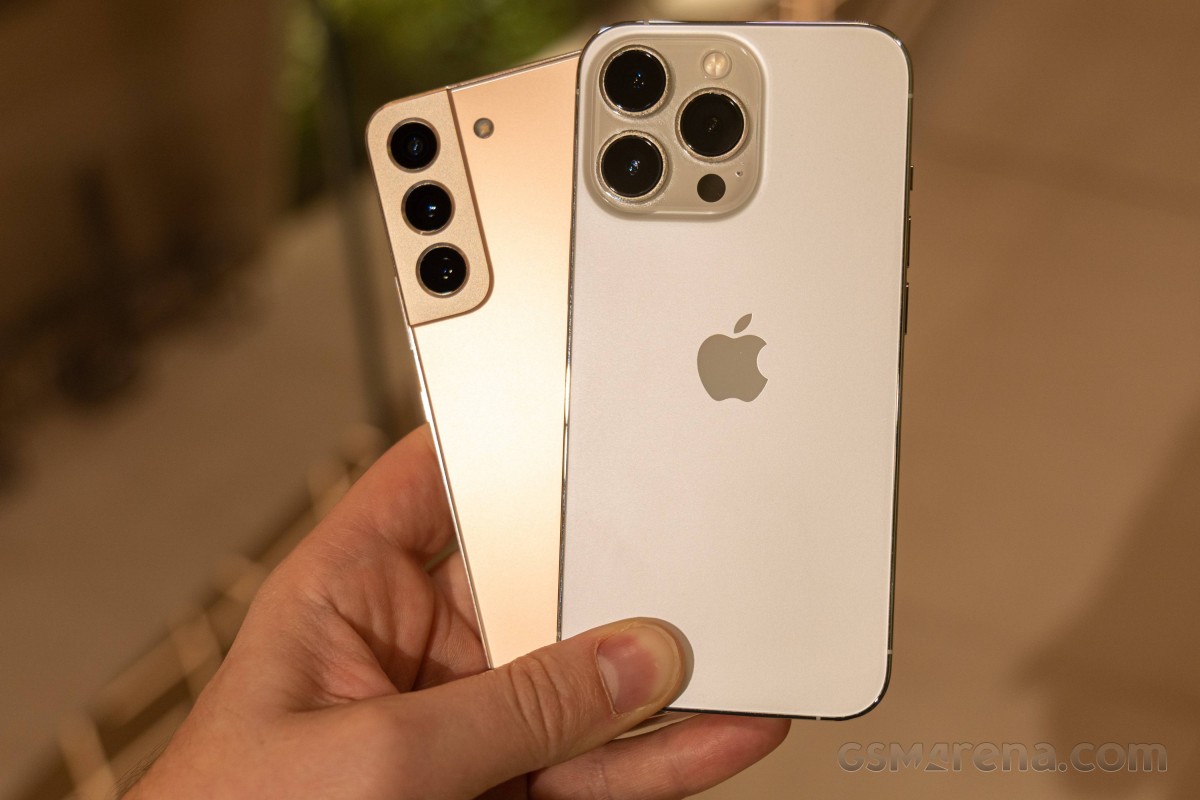 Samsung Galaxy S22 vs. iPhone 13Pro
What we're getting at here is that the Galaxy S22 is now as premium as the premium-est Galaxy thanks to the all-glass build, but is also even more pocketable than last year's model - an unfortunate combination of circumstances for someone who recently defended the iPhone 13 Pro as the ultimate premium compact.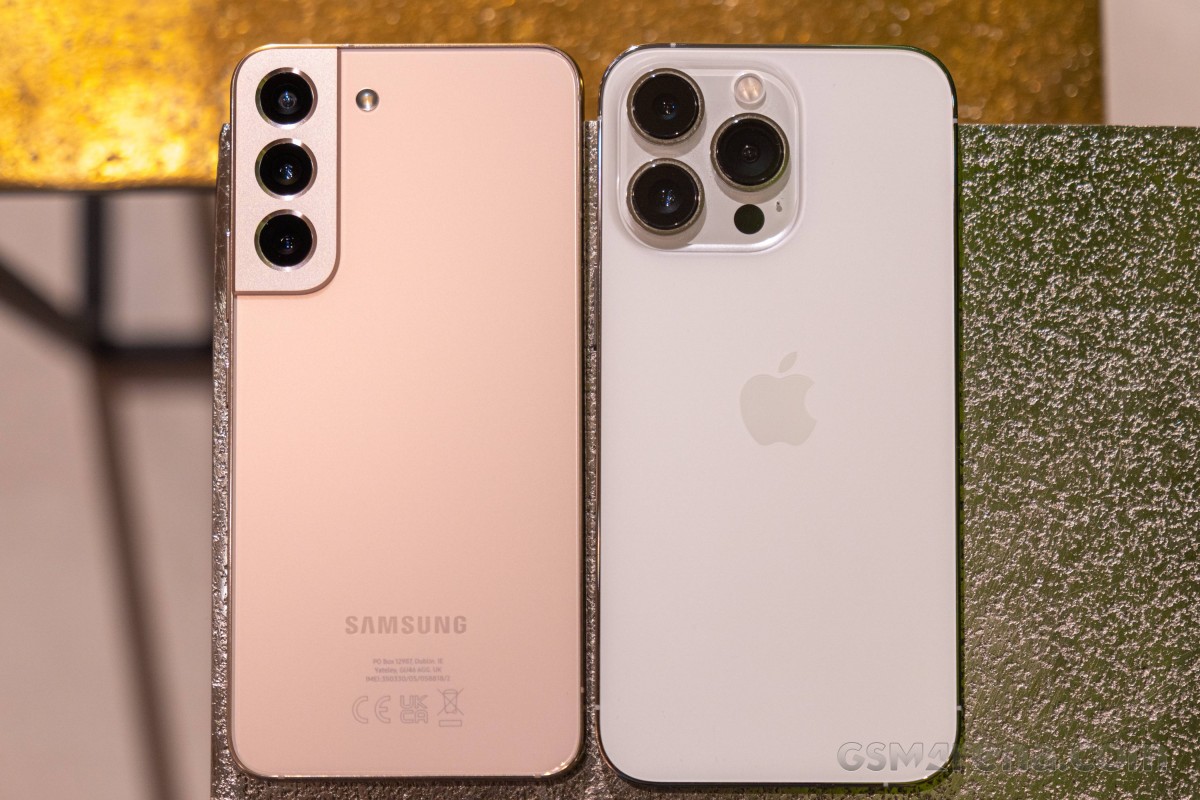 Same size, very different weight
The Galaxy S22+, on the other hand, is a full-size handset at 157.4x75.8x7.6mm. Having said that, Samsung has shaved off 0.1 inches from its diagonal as well, and that's made it a little shorter too, though the 4mm here are less noticeable than the 6mm on the smaller handset.
The Plus has also gotten marginally lighter, though it's not really 'light' at 196g. An iPhone 13 Pro Max is still way chunkier at 240g.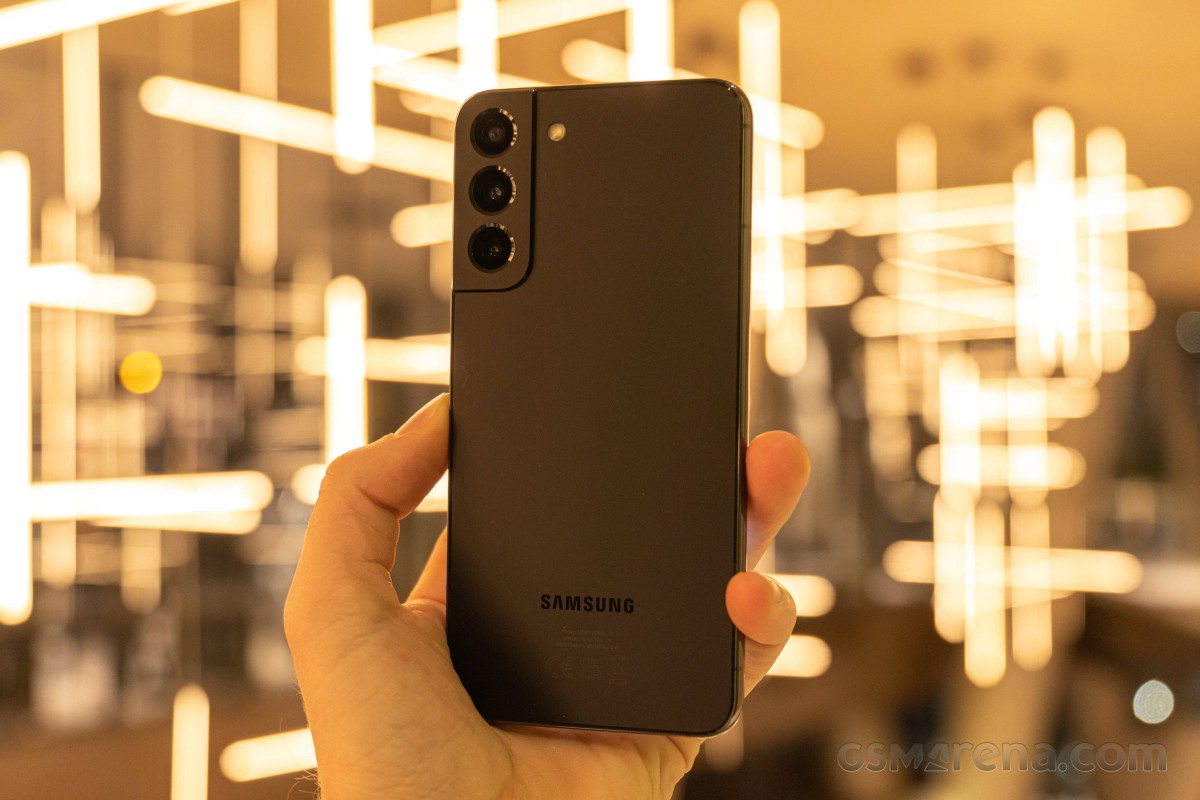 Samsung Galaxy S22+
Over on the front both phones have gorgeous OLED displays, Dynamic AMOLED 2X if you insist on using Samsung's nomenclature. They support refresh rates up to 120Hz, and Samsung has extended their adaptive behavior to what the Ultra could do last year - they can go as low as 10Hz, compared to the S21s' 48Hz minimum. This year's Ultra, meanwhile, can drop to 1Hz, they say, so the non-Ultras are still a notch below in adaptive refresh rate capabilities.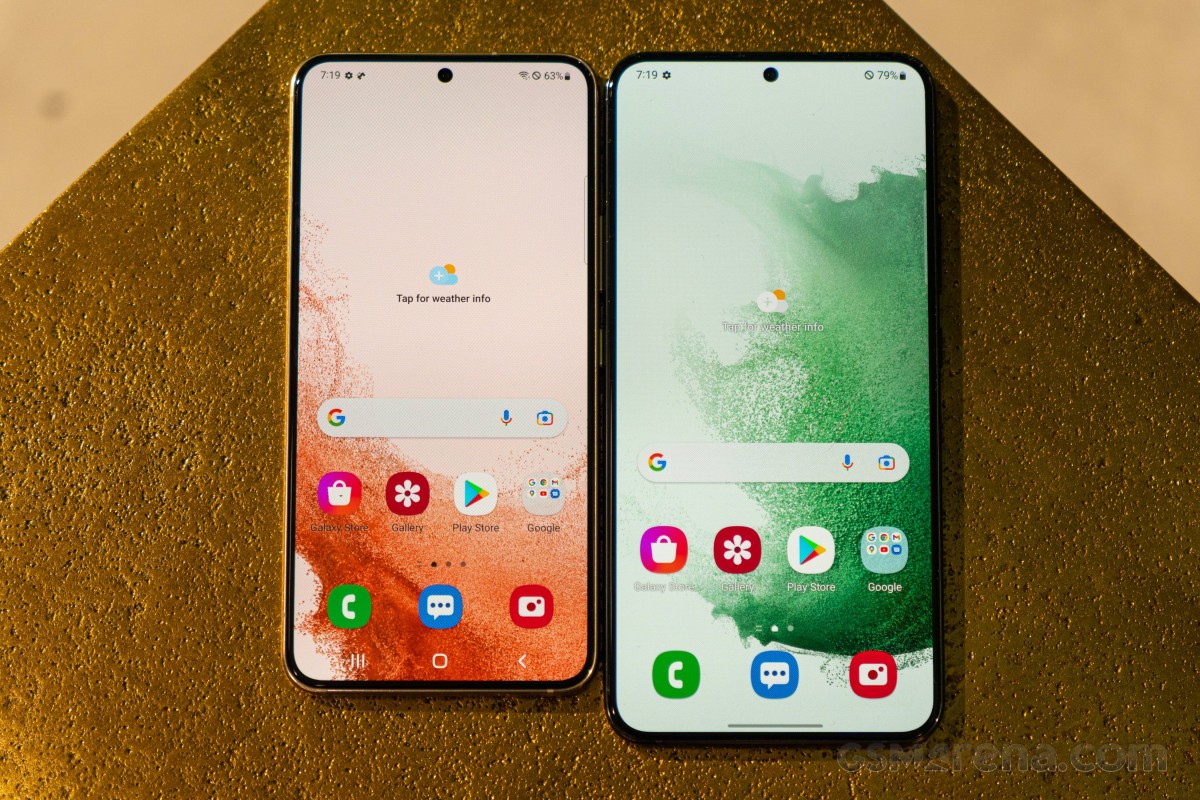 Samsung Galaxy S22 (left) can't go quite as bright as the S22+
The Plus matches the Ultra for peak brightness, there's some parity on that front at least, and the number is a crazy high 1750nits peak (for HDR use) or 1200nits in 'high brightness' mode (general use in bright ambient conditions). The vanilla S22 peaks at 1300nits, and we didn't get its high brightness mode number, but whatever it is, we're certain that outside of numerical comparisons the phone will be plenty good enough.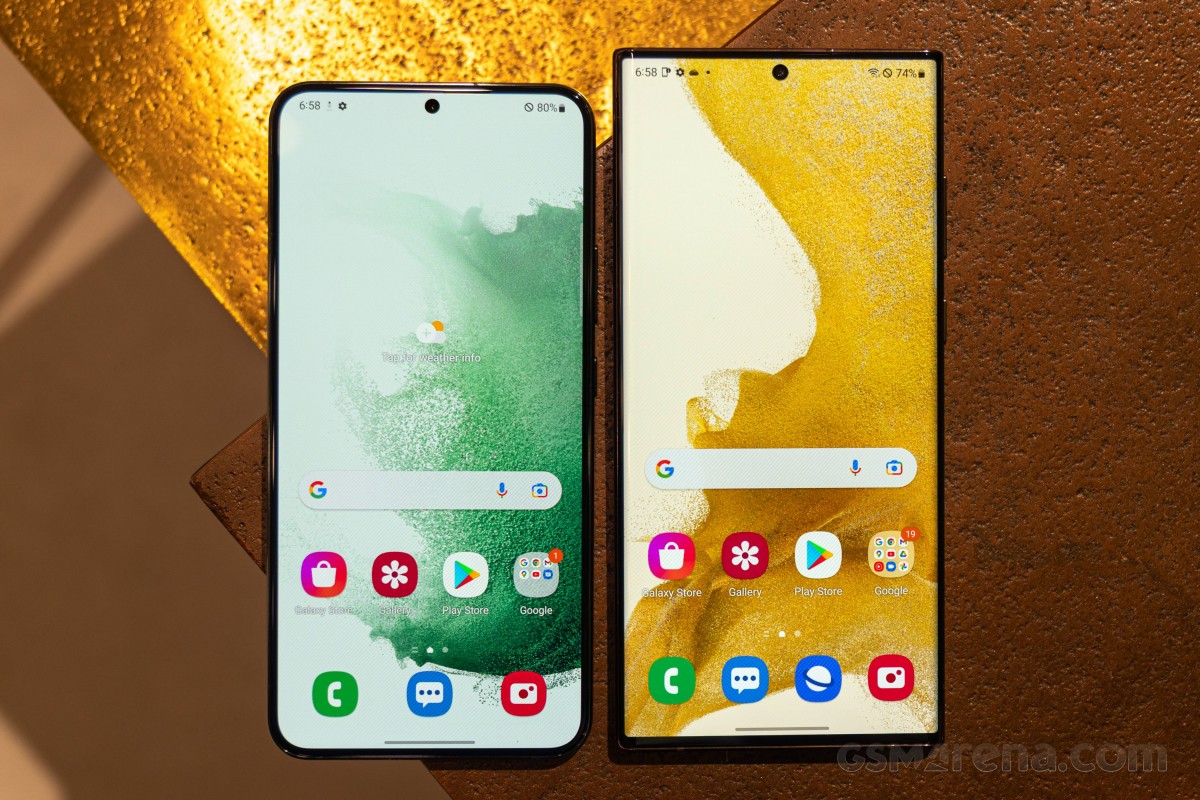 The Galaxy S22+ (left) does match the S22 Ultra for peak brightness
Samsung is also advertising a new feature called Vision Booster, which aims to further improve outdoor visibility by tonal remapping and tweaking brightness, contrast, and color. That's going to require more of a subjective evaluation because we can imagine colors will be all out of whack to the eyes of the measuring equipment.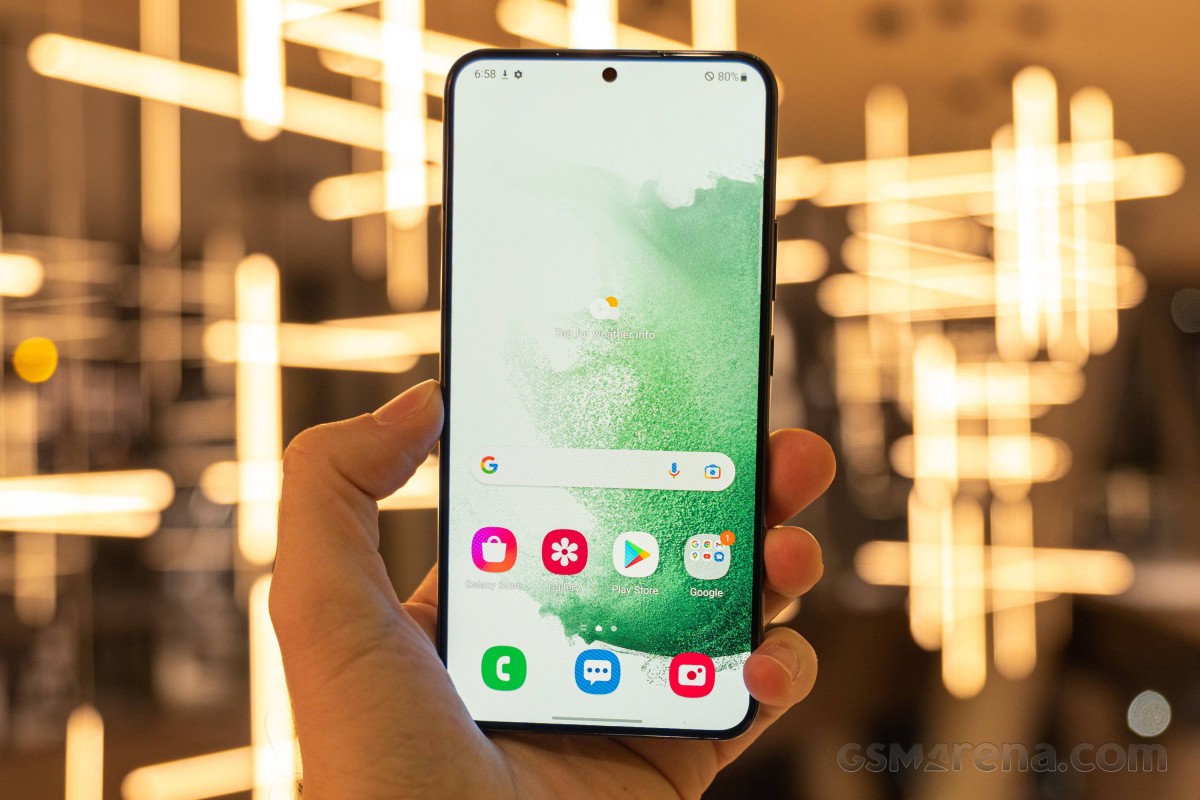 Samsung Galaxy S22+
As usual, the S22 and S22+ are IP68-rated for dust and water protection, but Samsung only covers the standard's mandatory 1.5m for 30mins requirements, unlike Apple which has been outspeccing the minimum since the iPhone XS and the latest models are rated for up to 6m submersion.
Anonymous
09 Jul 2022
4Q%
Agreed. Why are people's so passive about paying MORE and getting LESS?? There should be an outcry by the masses and boycott of these stupid smart phones that can't do what the OLD phones can do. But I don't see it. I suppose p...