Samsung Galaxy S22, S22+, and S22 Ultra hands-on review
GSMArena Team, 09 February 2022.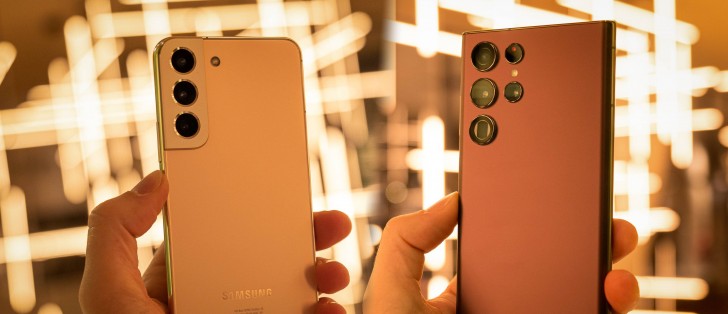 Galaxy S22 Ultra hands-on
Isn't this obviously the Galaxy Note21 Ultra that never happened? With a last-minute update to 2022-appropriate chipsets, naturally. Wild speculation on our part, of course, because this in front of you is obviously the Galaxy S22 Ultra.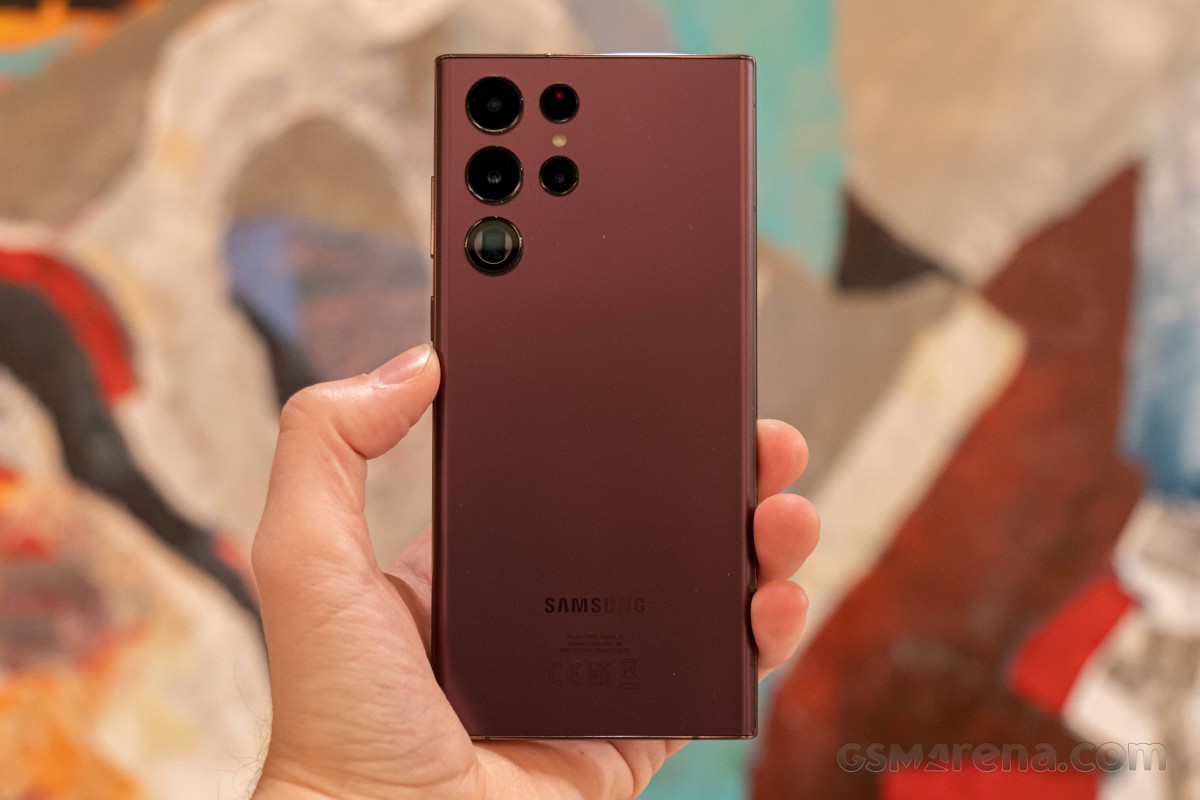 But for a Galaxy S, it sure looks a lot like a Galaxy N. It's got the blocky rectangular shape of the latest (last?) Note, the 20 Ultra, and it's more or less that exact size too. It measures 163.3x77.9x8.9mm so it's just 1.5mm shorter and actually 0.7mm wider and 0.8mm thicker than that last model to bear the Note moniker. In all fairness, the Galaxy S21 Ultra is actually taller than the new generation handset - this new one is some 2mm shorter, but 2.3mm wider. So it's as big as a Note, and is shaped like one too.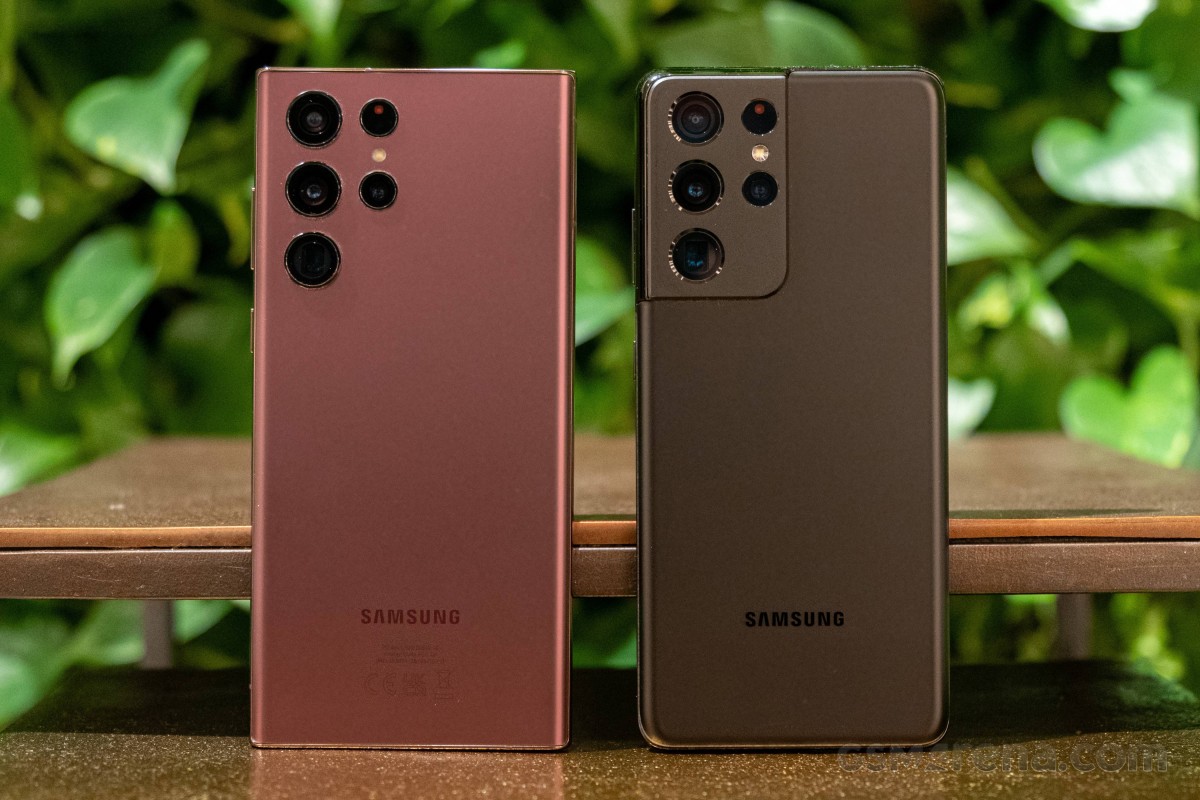 With the more angular shape and different proportions, this one would certainly appeal more easily to folks with previous Note experience. It's a slab with a commanding presence that's anything but compact. Slip it in a case and not a lot of jeans pockets will comfortably accommodate it. But that's precisely the form factor Note-loving die-hards appreciate so at least that group should be happy.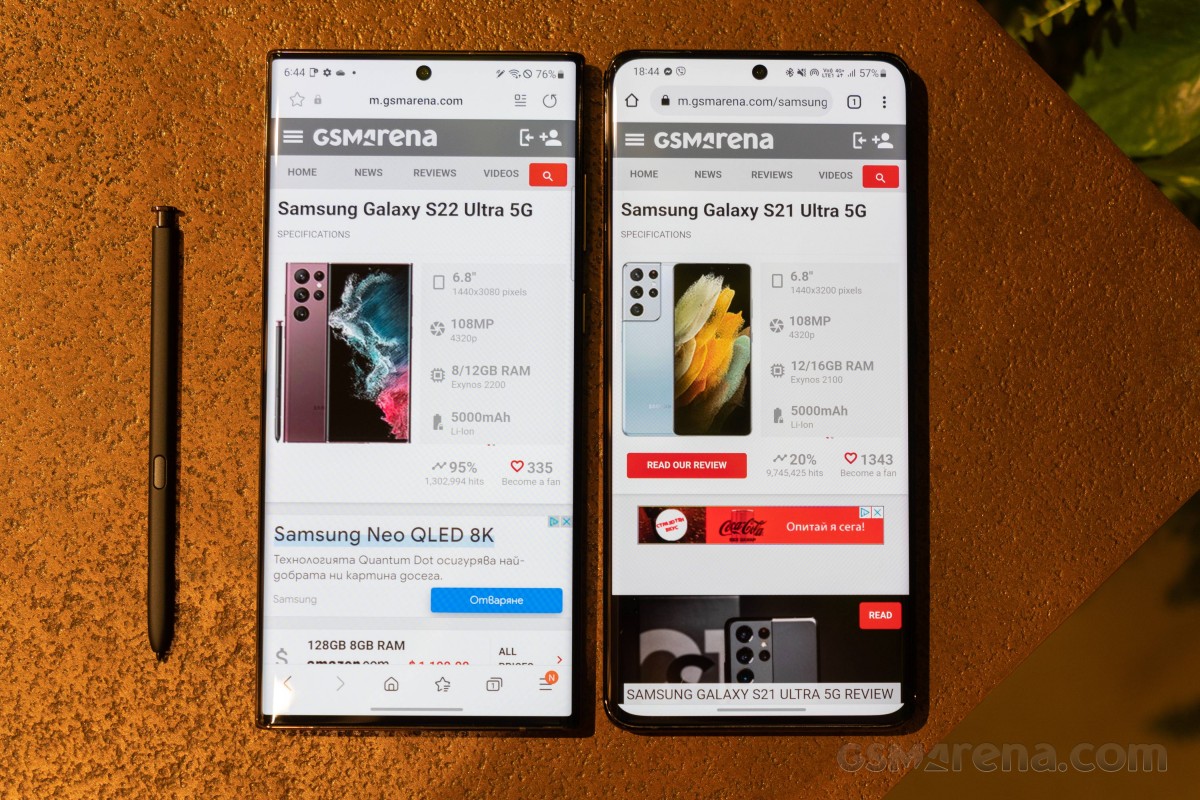 The Galaxy S22 Ultra comes in a selection of 4 colors in retail channels and 3 more online-exclusive options. The standard ones are called Burgundy, Green, Phantom White, and Phantom Black, while the ones you can only get on Samsung.com are Graphite, Sky Blue, and Red.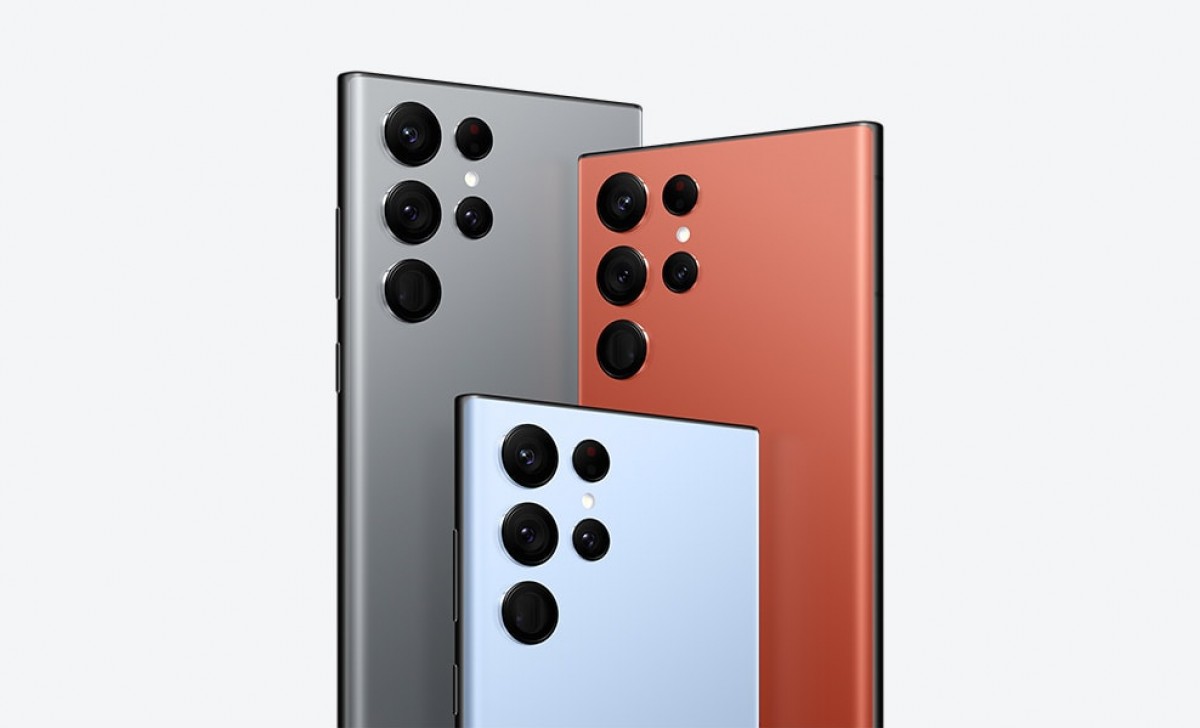 There's no single common camera 'island' to speak of, which is a departure from pretty much every Samsung we've seen as of late. Instead, each camera gets its own separate circular protrusion, and so does the laser AF window. This unusual aesthetic seems well in line with the already different and more technical Note-inspired looks, so we're on board.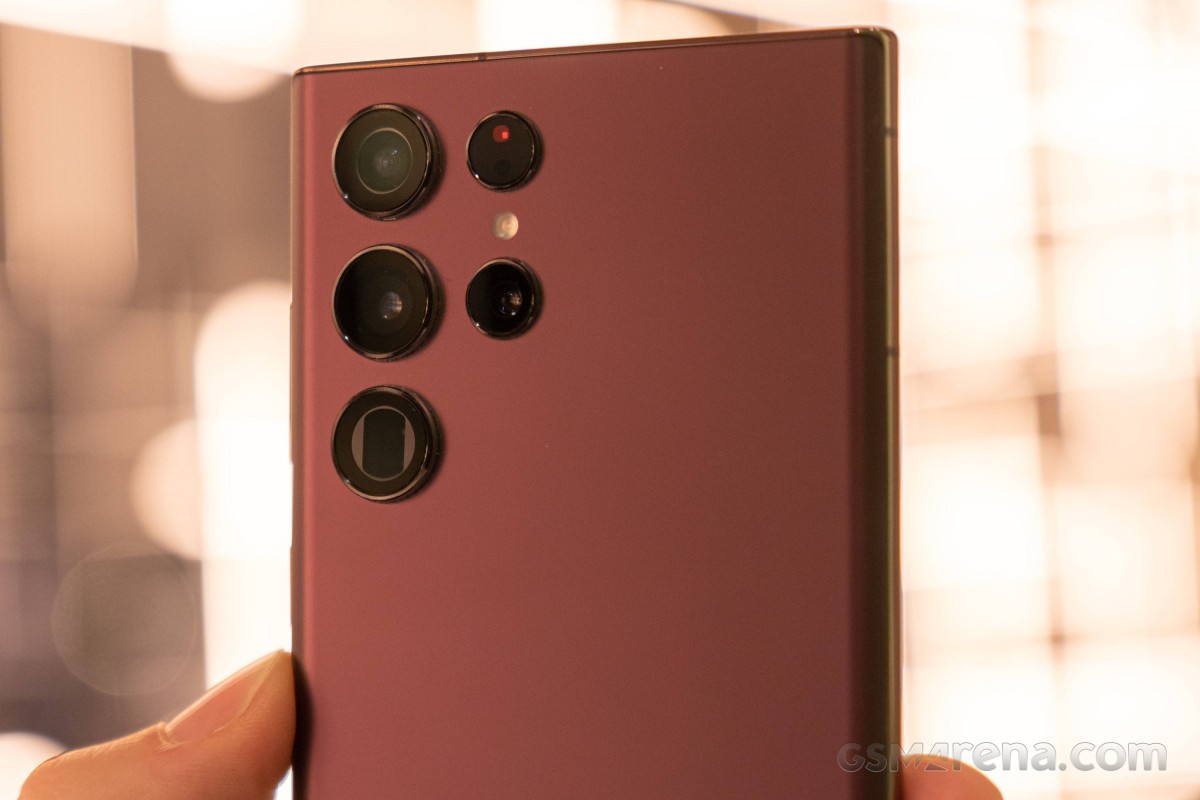 The display of the Galaxy S22 Ultra measures 6.8 inches in diagonal and even though it's nominally smaller than the S21 Ultra's, it's in fact ever so slightly bigger in area thanks to the more squarish aspect.
We've reached a point where Samsung's moved away from curved screens on more mainstream devices and it's only the Ultra that gets this polarizing design this year, much like in 2021. It has its pros and cons with the former rooted mostly in looks and premium-ness and the latter related to handling and possibly palm rejection mishaps.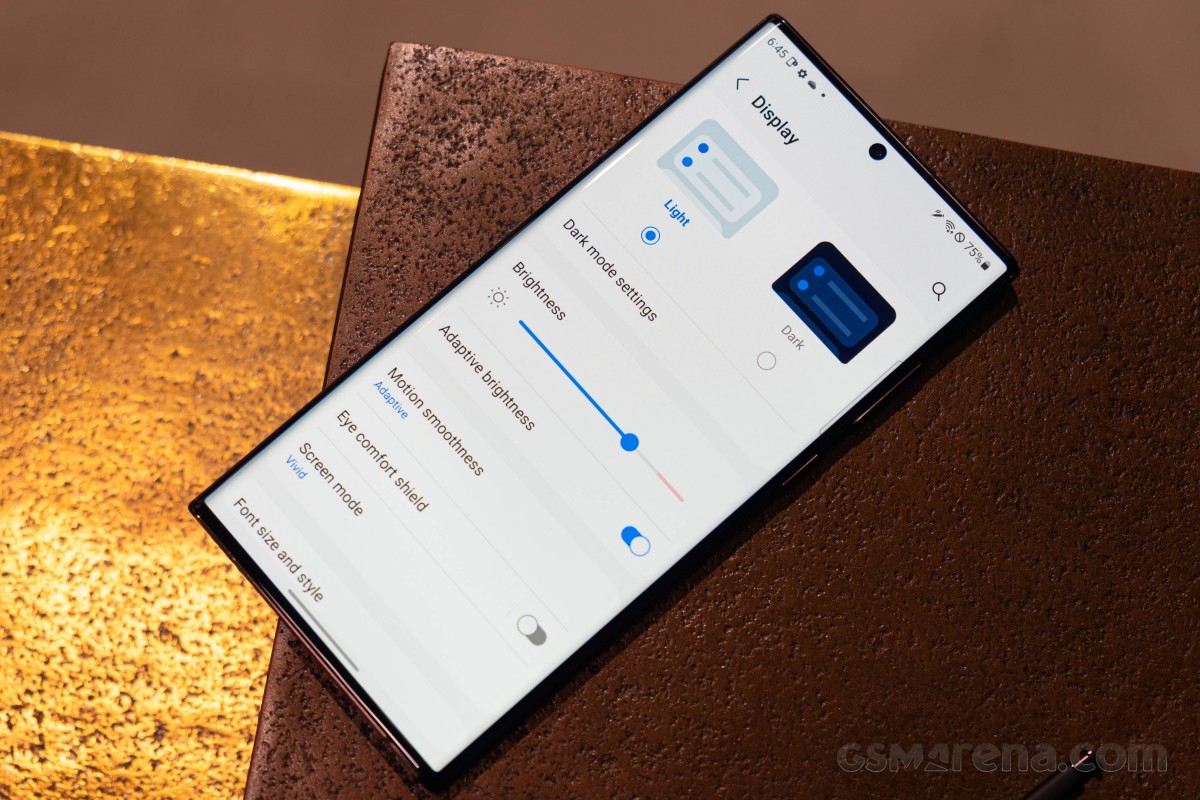 It's the only one of the trio with QHD+ resolution (the others are FullHD+) and it's also the only one to get the most advanced adaptive refresh rate behavior that lets it go all the way down to 1Hz from its 120Hz maximum. The 1750nits of peak brightness (for smaller areas in HDR scenarios) and 1200nits in high brightness mode (larger lit areas, bright ambient light) are industry-leading numbers too.
It's a spectacular display, no doubt about that.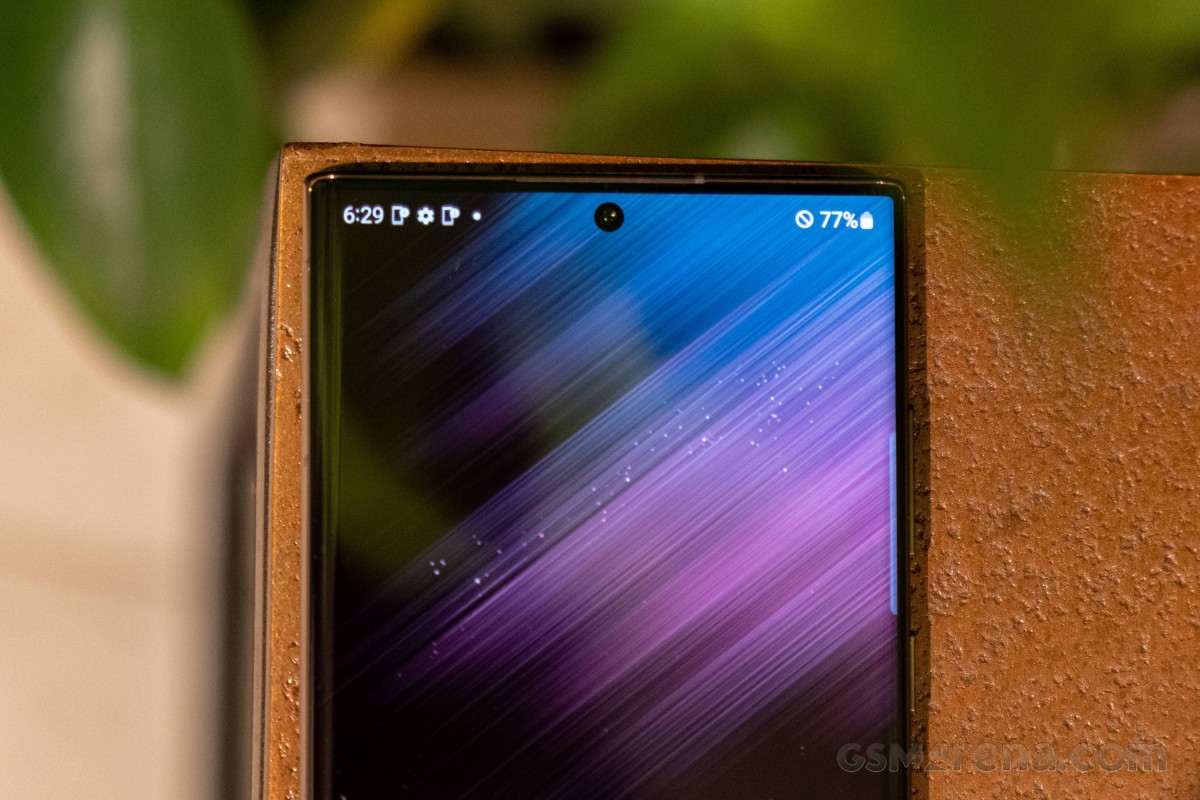 But, this being a Note(-like handset), other specs can be more important. S Pen input latency has been dramatically reduced - Samsung quotes a 2.8ms number compared to the 9ms on the S21U and the Note20U. That should make for an even more natural writing experience and it's been achieved through improved AI-based coordinate prediction in conjunction with upgraded Wacom hardware. The fine print does say that the 2.8s are measured in the Samsung Notes app, though, so you may have to settle for more milliseconds in other apps.
By the way, the number of supported languages for handwriting recognition has been increased to 88 (12 more than before).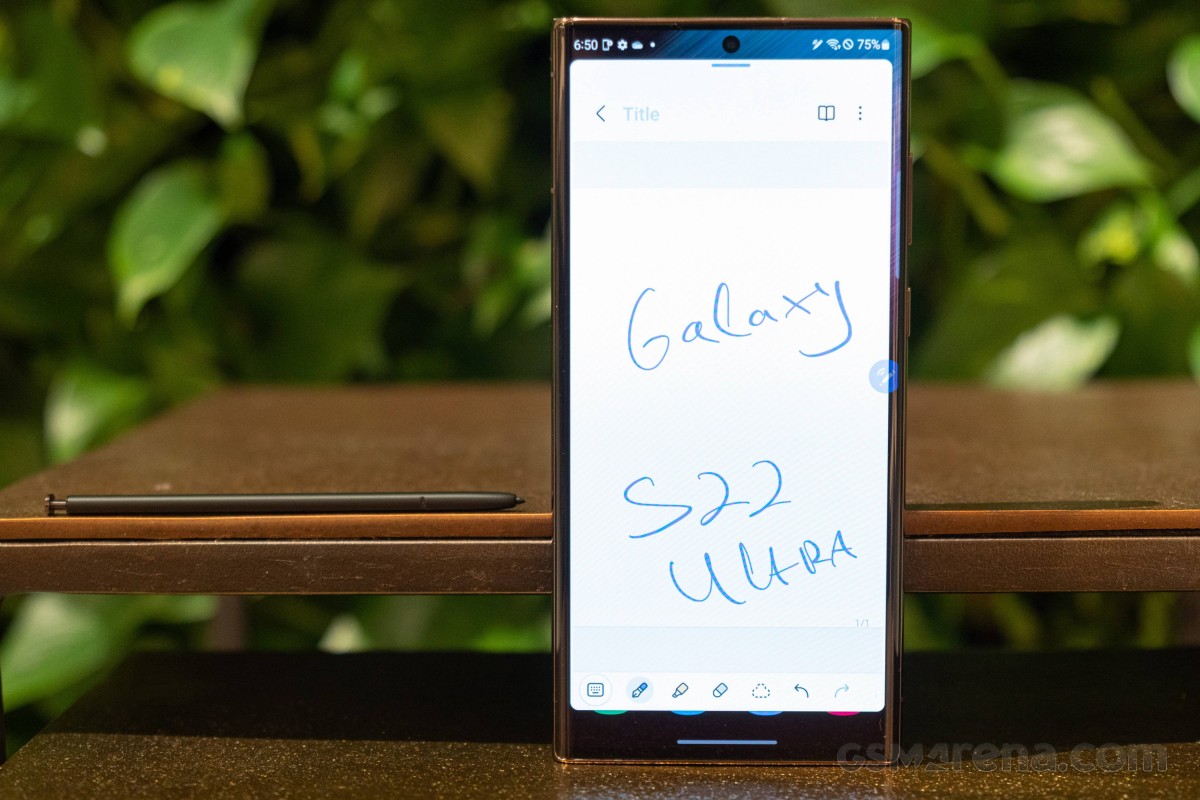 Speaking of the S Pen, it's essentially the same unit as the one on the Note20 Ultra, complete with a super capacitor, gyro and accelerometer, enabling active input (Anywhere actions, camera and gallery operation from a distance, music controls, and whatnot).
Unlike the S21 Ultra, which sort of supported an S Pen, but you had to carry it separately, the one on the S22 Ultra can be tucked away inside the phone, so it's always there when you need it and you're way less likely to misplace it after use.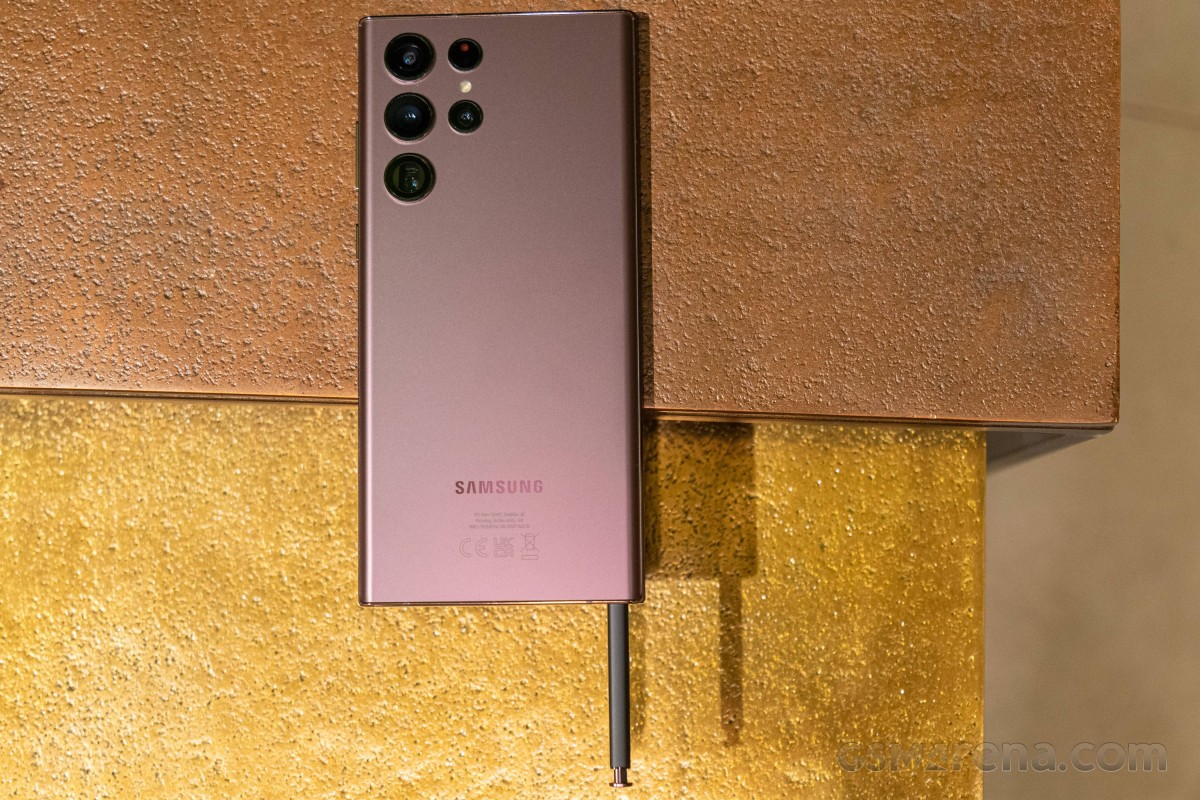 A neat new feature this year called Collaboration View lets you use the S22 Ultra together with a Tab S8 - you connect the two and the phone becomes your tool palette while the tablet is just your canvas. It's a not the most affordable of setups though, starting at roughly €2200 for a base model S22 Ultra and a non-OLED vanilla Tab S8.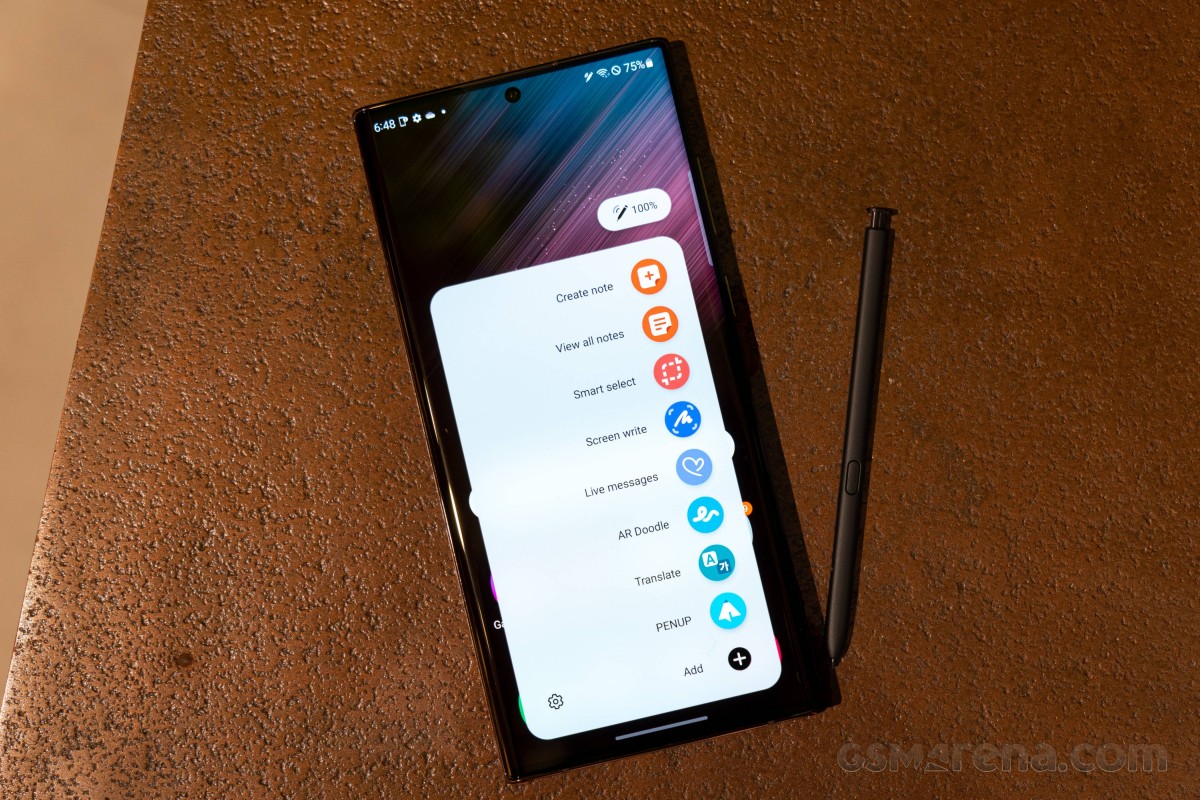 The other pillar of the S22 Ultra's feature set is the camera and that's more intrinsic to the S series of Galaxies. So the Ultra comes with a competent quad camera that's based on a 108MP Nonapixel main unit and includes two telephotos (3x and 10x) and an ultrawide unit with autofocus - a feature, which remains exclusive to the S22 Ultra and S21 Ultra in the company's lineup.
The primary camera has new processing tricks up its sleeve and is able to blend 12MP nonabinned images with full-res ones for improvement in both light capture and detail. It's otherwise essentially the same hardware - a 1/1.33" sensor with 0.8µm pixels behind a stabilized lens with an f/1.8 aperture.
The ultrawide, too, is unchanged. You'd be getting a 1/2.55" sensor with 1.4µm pixels and an f/2.2 aperture lens that covers a 120-degree field of view. The S22 Ultra will be the Samsung to get, if you want an ultrawide that can focus on near objects, the lesser ones get a fixed-focus unit.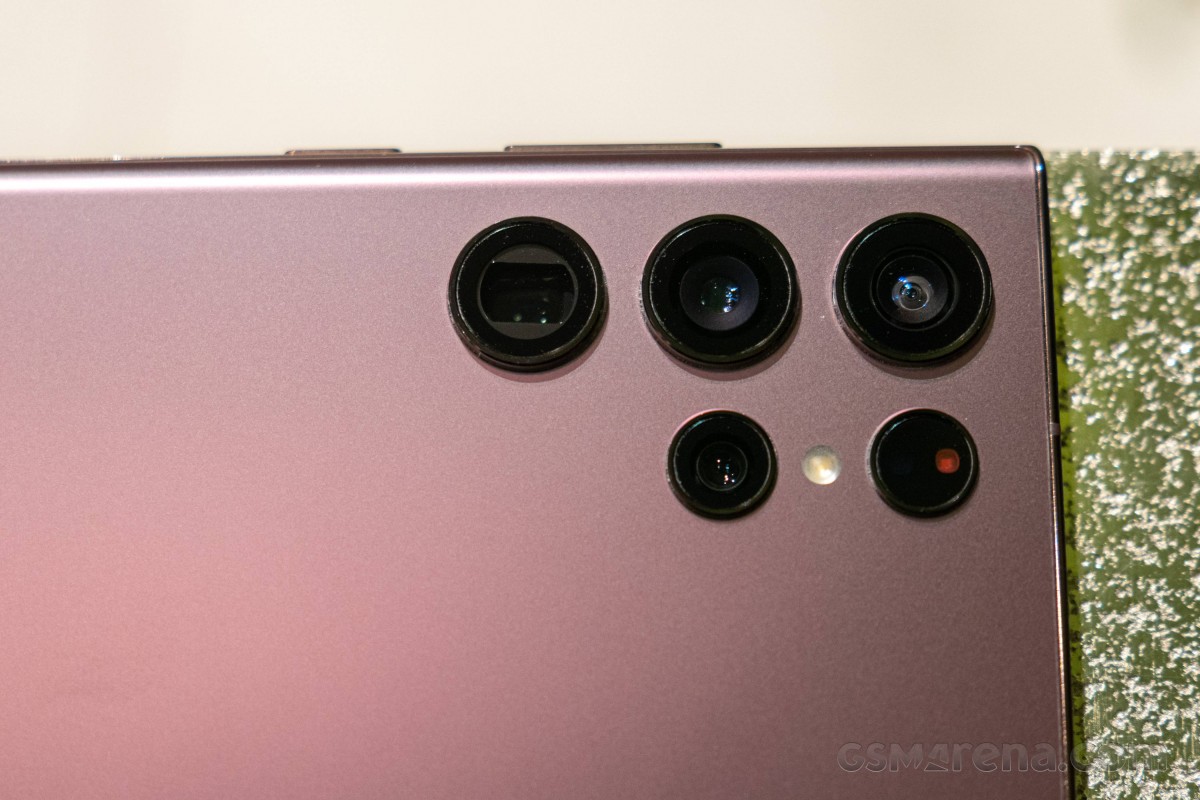 While the above cameras have the same specs as last year, the telephotos have seen somewhat of a downgrade. Both the 3x and 10x modules remain at 10MP, but sensor and pixel size have been reduced (1/3.52" vs. 1/3.24" and 1.12µm vs. 1.22µm). Lens aperture remains at f/2.4 and f/4.9 respectively and both lenses feature OIS. We'll need to test just how much of an impact the smaller sensors will have on image quality - perhaps improved processing will make up for it.
There were talks of a new AI stereo depth map, driven by deep learning, which should make for some more precise subject detection in Portrait mode. Portraits were indeed a major subject in the presentation, and we'll now be getting Night Portrait mode for those darker scenes (even on the front camera), as well as Pet portrait mode - not strictly a mode in itself, but improved recognition of pets in Portrait mode.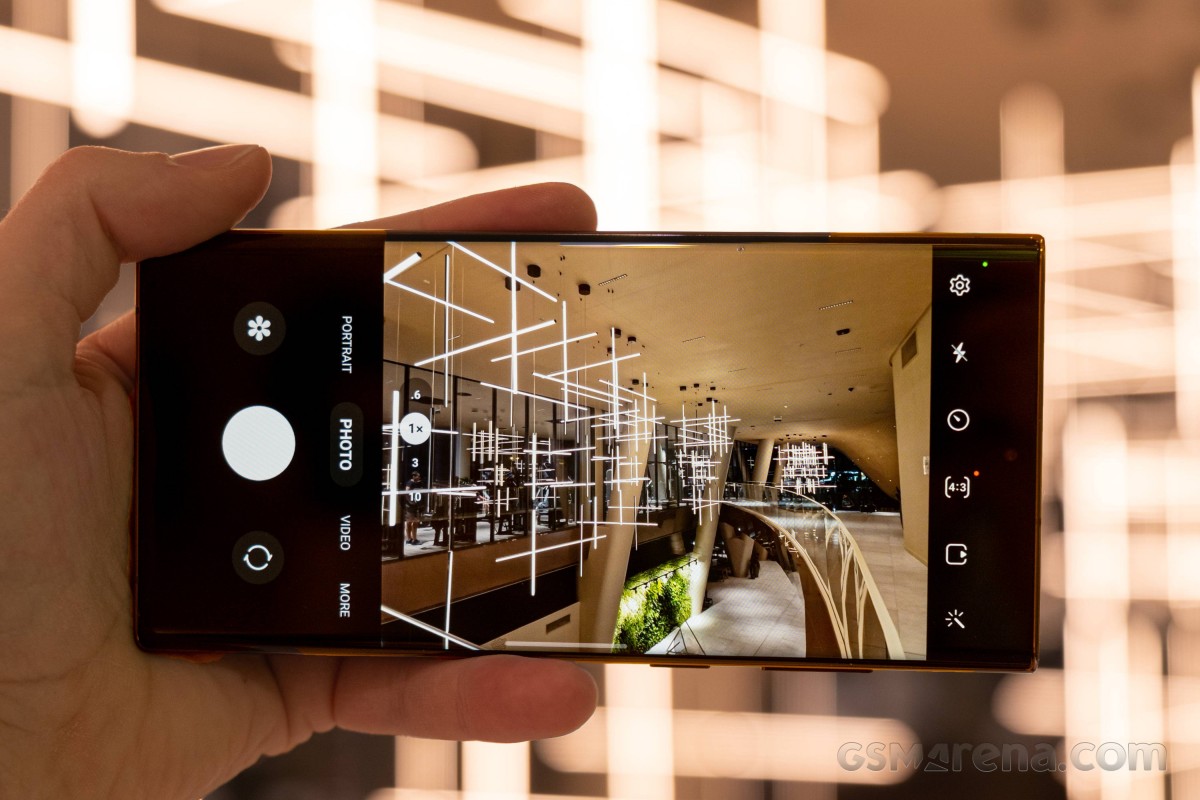 Expert RAW is a new optional camera app that's now being made available alongside the S22 Ultra. It offers much the same functionality as Pro mode in the main camera app, including exposure, white balance and focus controls, but saves multi-frame DNG RAW files with extra wide dynamic range that give you more latitude to edit in post.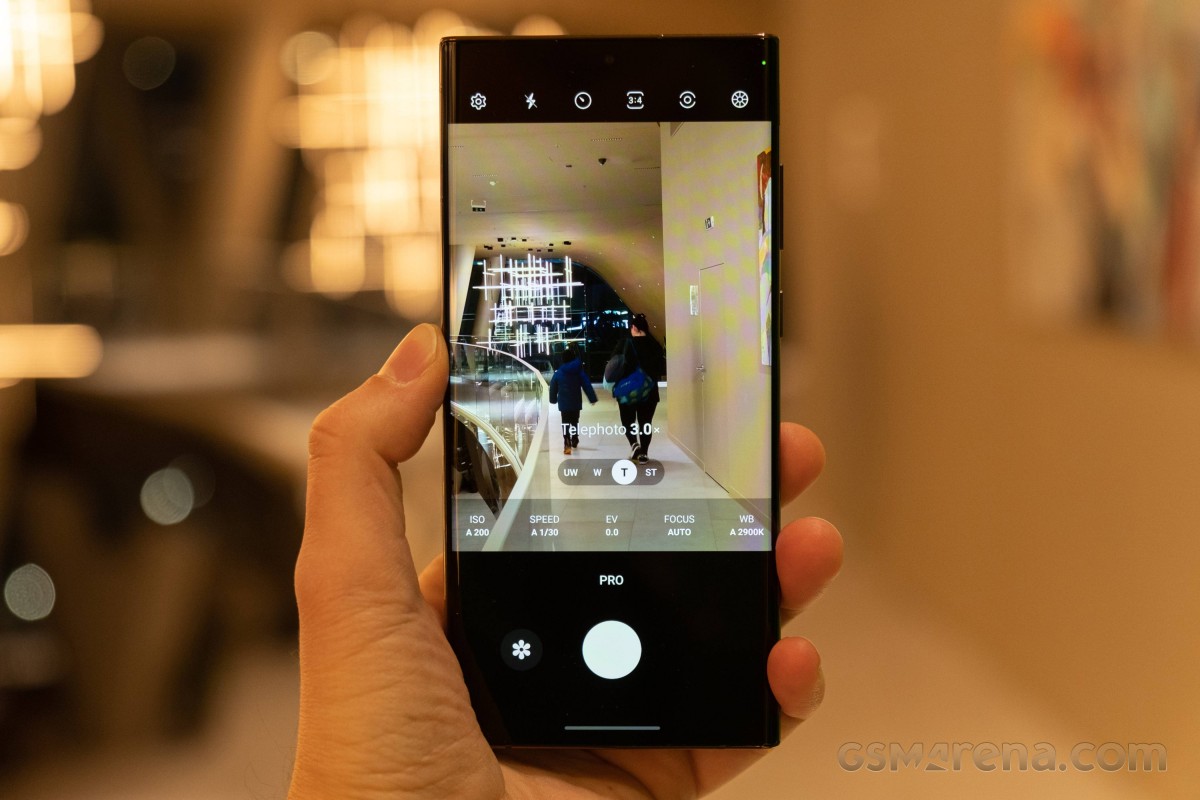 Most of these software features will be available on the non-Ultras as well. Again, we can't wait for real review units to show up at our doorstep so we can see the magnitude of all the improvements in the real world.
Anonymous
09 Jul 2022
4Q%
Agreed. Why are people's so passive about paying MORE and getting LESS?? There should be an outcry by the masses and boycott of these stupid smart phones that can't do what the OLD phones can do. But I don't see it. I suppose p...