Samsung Galaxy S7 edge battery life on Android 7.0 Nougat
George, 05 February 2017
The Android 7.0 Nougat update for the Samsung Galaxy S7 edge is here and we've covered the software changes at length. We've also promptly retested battery life since the update is a relatively major change. All tests were performed on the international Exynos 8890 version.
We observed a significant drop in Wi-Fi browsing longevity, to the tune of 3 full hours. The new result on Nougat (again, on the Exynos version of the handset) is close to what the Snapdragon 820 version could achieve on Marshmallow. Still, what was a truly excellent web browsing endurance before, is now just a 'good score' after the update.
Web browsing
S7 edge (E8890, Marshmallow)
13:32h
S7 edge (E8890, Nougat)
10:35h
S7 edge (S820, Marshmallow)
10:09h
It's not a spectacular showing in video playback either, where the drop in endurance is a whopping 5 hours. The thing is, the S7 edge's original 20+ hours of looping videos were so amazing, that even 5 hours less makes for a pretty great number. But we don't quite understand what has caused the change.
Video playback
S7 edge (E8890, Marshmallow)
20:08h
S7 edge (S820, Marshmallow)
16:54h
S7 edge (E8890, Nougat)
15:12h
On a more positive note, the 3G voice call endurance has been improved by an extra 1:45h.
Talk time
S7 edge (E8890, Nougat)
26:13h
S7 edge (E8890, Marshmallow)
24:29h
S7 edge (S820, Marshmallow)
22:32h
All this makes for a slightly lower overall endurance rating of 92 hours (6h down from the Marshmallow firmware).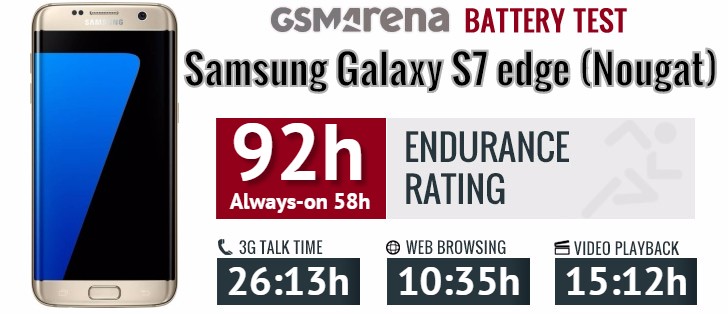 We also tested if selecting a lower display resolution (a new feature introduced by Android 7 Nougat) would have a positive impact on the battery life. We compared the battery performance using the native 1440p setting as well as the lowest available setting of 720p.
The short answer is - the change in resolution didn't affect any aspect of the battery life - not in our testing routine. The minor differences we recorded were in the minutes, and are well within the margin of error of the tests. Perhaps an alternative usage pattern might lead to some meaningful advantages of going low-res, but our experience doesn't point in that direction. One such potential scenario is gaming, but then again you already had the option to limit resolution within Game launcher.
Related
Same here. Was forced to update by the network provider, has lost 3% in the last 5 minutes alone. Tried clearing the cache and resetting app preferences to no avail. Really disappointed as my battery was a beast before. Would no longer recommend gett...
So far battery is still good.
Popular articles
Popular devices
Electric Vehicles