Samsung Galaxy S9 Exynos vs. Snapdragon speed test emerges
Vlad, 28 March 2018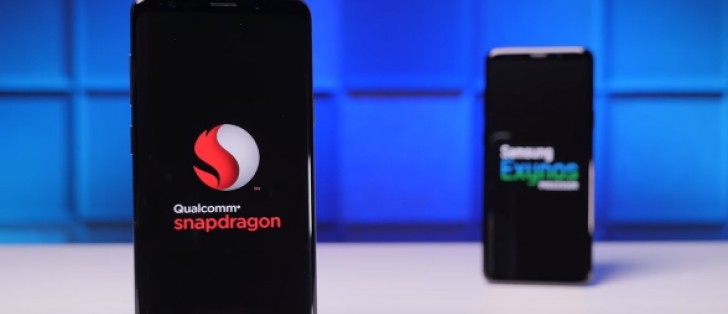 As usual, Samsung has launched not one but two Galaxy S9 versions. Most of the world gets the one with Samsung's own Exynos 9810, while for North America and China the phone is powered by Qualcomm's Snapdragon 845.
If you've been wondering how these two would fare in a classic YouTube speed test, here's your answer.
The video starts off with the launch of a set selection of apps - one by one. As soon as one has fully loaded, the Home button is pressed and then it's on to the next app (or game).
The first "lap" is won by the Snapdragon version, which outdid the Exynos model by around 11 seconds. The results were consistent across dozens of runs. After the second "lap" the Snapdragon handset is still the winner. That's interesting because last year the two different chipsets used for the S8 were pretty much neck and neck, while a couple of years back the Exynos variant won.
It's hard to say whether this has more to do with hardware differences between the two chips, or if software plays a part too - though in that case you'd expect Samsung's own Exynos SoC to receive more optimizations since it's developed in-house.
Related
So let me explain it in race car way so you could understand WTF is wrong with exynos! As you said exynos have much more top speed but less acceleration and snapdragon in the opposite way! Most of time our need to cell phone is like a drag race wh...
Exactly, emulating shows real capabilities of devices, not reloading apps from RAM memory
Speed test has nothing to do with CPU or you speed, so before crying about chipset learn facts, it's mostly software optimisation and memory management and speeds comes to speed test. I bet with few patches Samsung will fix optimizations with Exynos ...
Popular articles
Popular devices
Electric Vehicles