Samsung Galaxy Z Flip hands-on review
GSMArena team, 12 Feb 2020.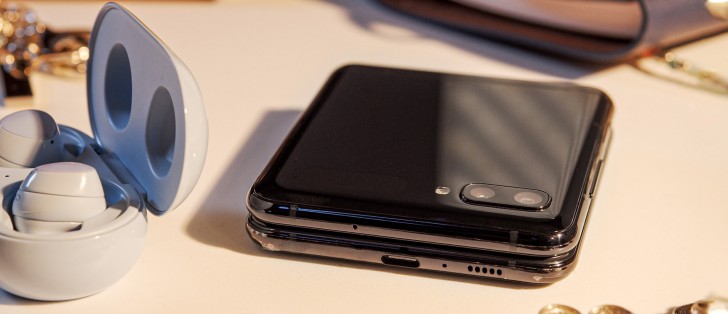 Design
In short, the Galaxy Z Flip is gorgeous. No doubt about that. Even if you don't find its form factor particularly useful, its charms are hard to deny. Folded-down, the Z Flip could be mistaken for a compact. Definitely an extremely expensive one, but our point still stands. It just comes down to the combination of premium glass finish, rounded edges, and an impressively flat closed state, thanks to the new sophisticated hinge design. All this, combined with a few other bits and pieces, like the Z Flip's ability to take selfies with its external camera, as well as sitting on a table while doing the same with its selfie snapper, will likely garner plenty of attention from female buyers.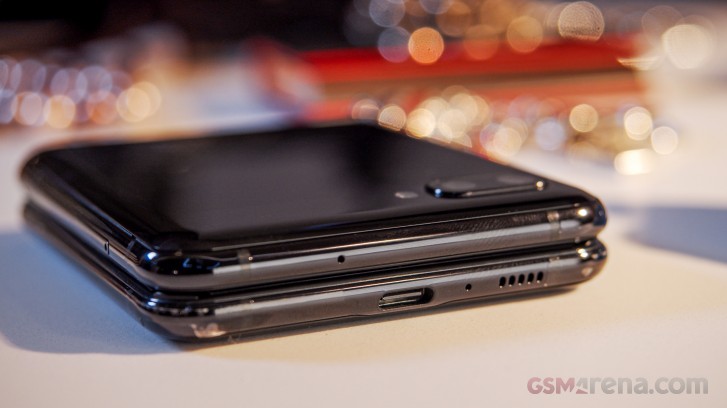 But that doesn't mean that the Z Flip lacks universal appeal. On the contrary. Looking at its overall design, there are clearly a lot of similarities to the Galaxy Fold. However, the refinement is really tangible all-around. The hinge, in particular, feels like an entire generational leap ahead. It lacks that dreaded air gap, while also providing a smooth, linear opening and closing motion.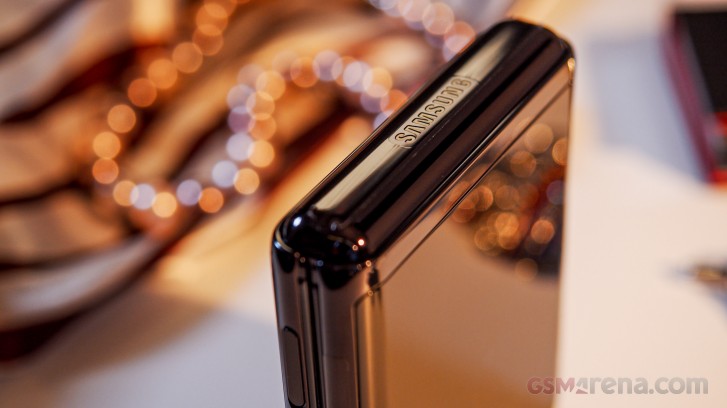 Again, comparing it to the Galaxy Fold, the hinge on the Z Flip behaves a lot more like a laptop. It lacks the magnetic "latching" effect when closed and the "snapping" into place while unfolded. Instead, you get a constant amount of friction throughout the entire motion. To be clear, though, the phone still feels "fixed in place" pretty well in both its fully folded and unfolded states. All the while, that linear motion allows the Z Flip to stay firmly in a half-open position. A state that Samsung actually accounted for in software, with things like dedicated controls on the bottom half and UI on the top one. But, more on that in the usability section.
The hinge feels quite stiff. With enough practice, you can still burrow your thumb in-between the two halves and open the phone one-handed. Samsung has nailed the resistance bit of the equation but it remains to be seen how consistent that stays with prolonged daily use. From a durability point of view, Samsung did boast 200,000 unfolding motions during the presentation.
As for general durability, otherwise, the Z Flip feels quite solid and confidence-inspiring. Unlike the Galaxy Fold with its air-gap, the constant urge to "flatten the whole thing down" is no more. So is the threat of small lint and particles getting to the folded display and potentially taking advantage of its soft surface. You can read more about that unfortunate side effect of daily-driving the Galaxy Fold in our long-term review.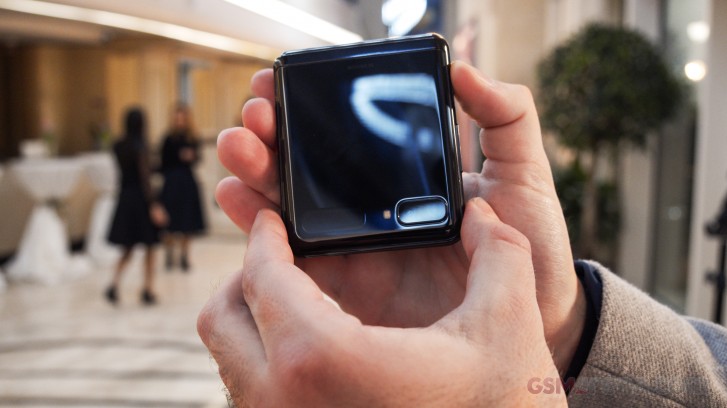 Of course, a glass surface is still a glass surface, so a pouch of some sorts will be a good idea to carry the closed Z Flip around. That being said, though, there is also an argument to be made about confidently pocketing the Z Flip, with its all-round Gorilla Glass 6 surface. Plus, out of the box, at least, its hinge shows little possibility of side flex, meaning you can probably push down on it fairly confidently while sitting as well as sideways while walking. And speaking about the durability of the hinge, in particular, we can't help but mention Samsung's small extra line of defense in the form of tiny brushes that should protect against tiny particles getting into the hinge itself while folding and unfolding. Just one example of accelerated learning and refinement of hinge design on Samsung's end.
Overall, despite what initial impressions and notions might dictate, the Z Flip looks and feels like a very durable phone.
Controls
If you still find yourself worried about the longevity of the hinge, there is a bit of saving grace to potentially consider in the shape of the tiny Super AMOLED display, Samsung positioned right next to the main camera module of the Z Flip.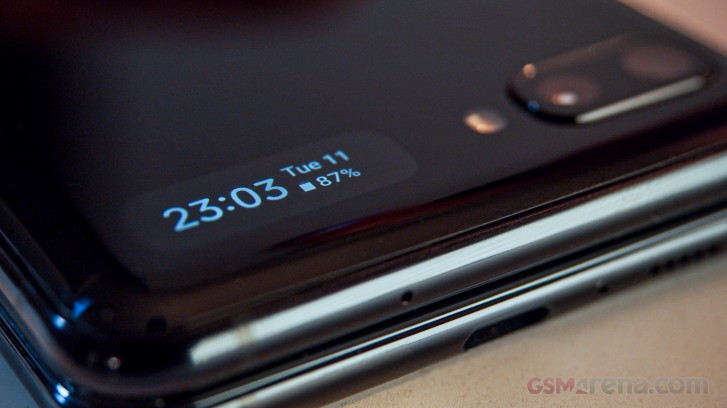 Although the latter is fully-featured, in the sense that it is a color unit, complete with touch input, it is still the definition of a "ticker display". Its advertised 1.1-inch size is, technically, a bit generous and closer to 1.06 inches, with all the rounded corners. Not that makes such a difference in the experience. The particular oval shape was a great choice on Samsung's end since it makes the tine OLED fit right in with the rest of the Z Flip's design. When lit up, it almost looks symmetrical, in a sense, to the main dual camera module next to in.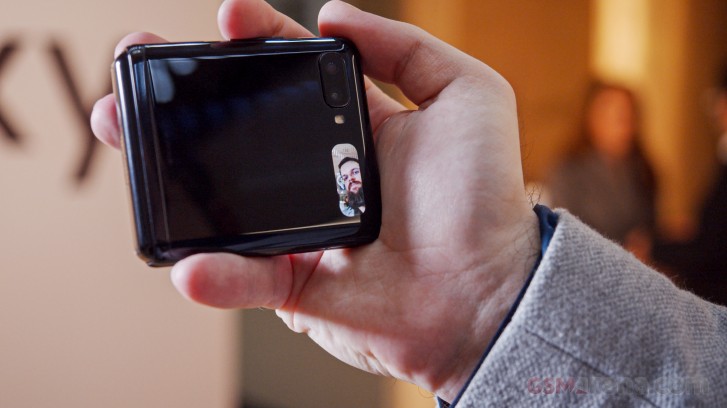 And that is actually one of the best party tricks the little display can pull-off. Double-tapping the power button/fingerprint reader on the side of the phone fires up the main camera and puts a tine viewfinder on the screen. Despite size and resolution limitations (112 x 300 pixels), it is still surprisingly usable for framing purposes. Plus, capturing selfies this way offers the added benefit of using the full main-camera array. The other less obvious bonus is that you don't have to open your phone to take the selfie.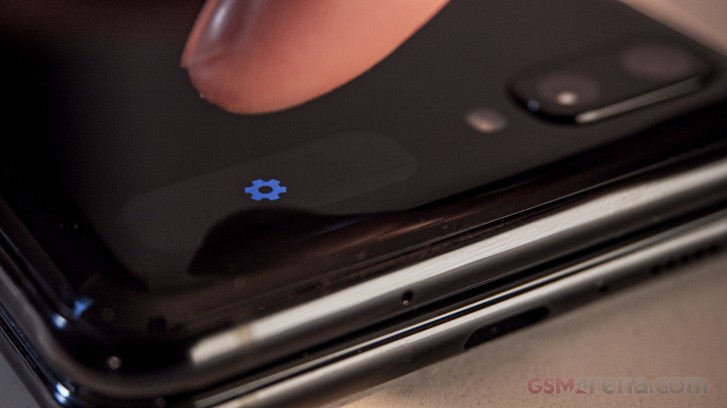 Aside from that, the small display can also save you an opening a closing motion if you are interested in the time, or want to get a general idea of what notifications you currently have. You can't read the actual text of said notifications, though. Or at least, we didn't manage to pull them up on the demo unit. Even so, app icons are often good enough to judge whether to open the phone or not. We expect that Samsung will provide a few other sensible tiny widgets in this space as well, like a weather forecast.
Samsung does offer what it calls "transitional continuity" for the external display. This basically means that if you tap a notification on the small screen and then open the Z Flip, the right app will be automatically opened. That's kind of neat. You can also see who is calling you on the tiny OLED. Though, unfortunately, there is no feasible way to take that call without unfolding the handset.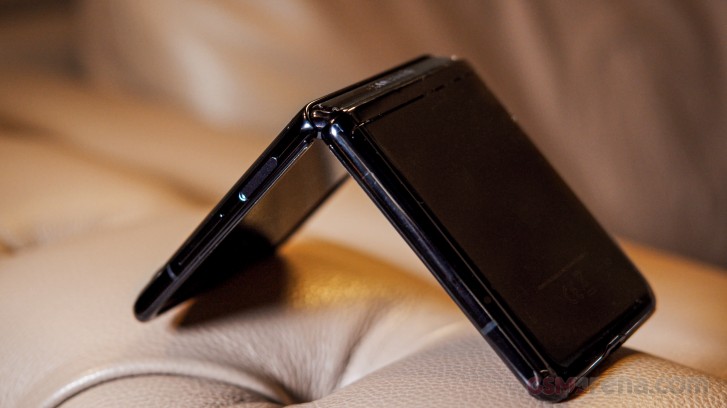 Circling back to the subject of actual controls, Samsung has those very neatly positioned on the right-hand side of the top half of the Z Flip. A power button, which also doubles as a fingerprint reader - convenient, snappy and positioned just right. Also, probably a combo that is going to stick around on such form factor devices.
Beyond that, controls look surprisingly familiar - Type-C on the bottom, along with a speaker and main mic. No stereo speaker setup on this one. A lonely secondary mic on the top and a single nanoSIM tray on the left. The tray lacks a microSD card slot, which is not ideal. As per official specs, the Z Flip does come with an eSIM support as well. So, there is at least a way to get two mobile numbers working on the handset.
100% true, it's very misleading that they used glass as a word for marketing. It's equally as fragile as motorola razr, even a soft touch with your nail can leave a permanent marking on the screen.
Don't buy it. The screen is plastic, not glass. Scratches from contact with any ordinary household object. Shame on Samsung for trying to get away with claiming this is "glass".
You clearly haven't used a Razr yet.