Samsung Galaxy Z Fold3 long-term review
GSMArena Team, 17 June 2022.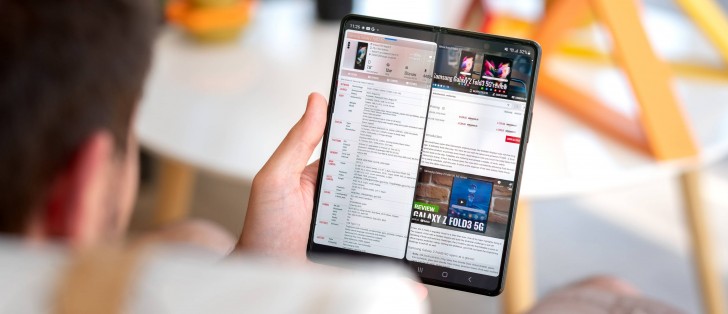 Performance, smoothness
The Galaxy Z Fold3's Snapdragon 888 chipset may not be Qualcomm's latest and greatest anymore, but you'd be hard pressed to tell from using this device. Unless you're a heavy-duty gamer or someone who runs benchmarks for a living all day, you can't actually notice any difference in normal usage between the 888 and the newer Snapdragon 8 Gen 1. Even the aging 870 can play this game for most use cases, and you'd still not be able to figure out which is which in a blind test.
So don't worry about performance; the Fold3 has plenty of that to deliver whenever you need it. Then again, the cooling at work here, given the folding case constraints, will definitely be inferior to any dedicated gaming phone's - so if it's gaming you're after, you're probably not looking at the Fold3 (or any other foldable, for that matter) anyway.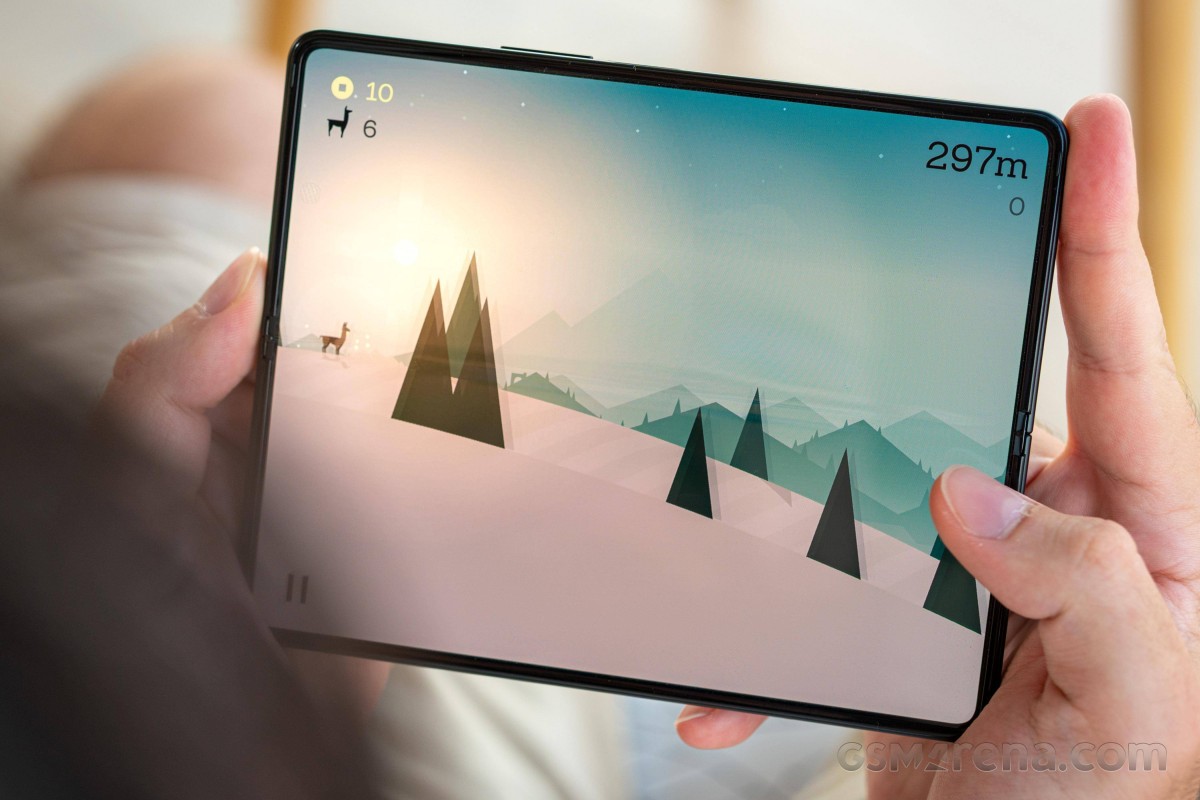 That said, it can of course, take casual gaming sessions without a hitch, but for everything more, you should be looking at proper top of the line devices that don't fold, as well as those aforementioned gaming phones with their active cooling solutions and the likes.
For 'normal people', the Fold3 always feels like a top notch handset, and it never leaves you wanting in the performance department. It's always fast, and the performance is very reliably delivered too.
When it comes to everyone's favorite subjective assessment of smoothness, this is undoubtedly the smoothest Samsung we've ever tested for a long-term review. It's very close to the Flip3 we've looked at previously, but manages to be ever so slightly smoother than that one. In fact, it's getting hard to notice any smoothness delta between the Fold3 and any other top of the line device out there. This still doesn't feel to us to be the smoothest model we've ever tested, but it's incredibly close.
And we need to commend Samsung because only a couple or so years ago, its high-end smartphones were no match for competitors in terms of smoothness, exhibiting countless random lag and stutters throughout the UI. The company kept iterating its Android skin, One UI, and now, with One UI 4.1, it's finally catching up to the champs. It definitely took some time, but we're happy to see Samsung where it belongs - in the top tier when it comes to smoothness too, not just raw performance.
Battery life, charging
The Fold3 has been a solid one-day phone for us throughout our time with it, for our use case. Nothing more, but also nothing less, and that was refreshing to see because we didn't know what to expect going into this review. The 4,400 mAh battery isn't very big, for this day and age at least, but the phone's inner screen is larger than any other in a mainstream form factor.
Thankfully, we could always finish one 12-16 hour day without the need for a midday top-up, but keep in mind that our days are spent primarily on Wi-Fi, so if you are out and about a lot and use mobile data more than we do (about an hour per day), especially in areas with bad signal, things will go downhill quickly.
The screen on times you can see in the screenshots above were achieved with Bluetooth always on and connected to TWS earbuds for around an hour or so per day for music or podcast listening, another hour or two of phone calls, and with location always on (with about 30 minutes or so of daily navigation using Waze or Google Maps).
Based on the cold hard numbers at work here, we didn't expect the Fold3 to impress us with its battery life, and indeed it hasn't. But it's managed to turn up a very adequate performance given the capacity of the cell it has to work with. This phone is already chunky as it is, when closed, so we understand why Samsung didn't think it a good idea to up the capacity further. Maybe it should look into that for the future, however, or better yet - do something about charging speeds.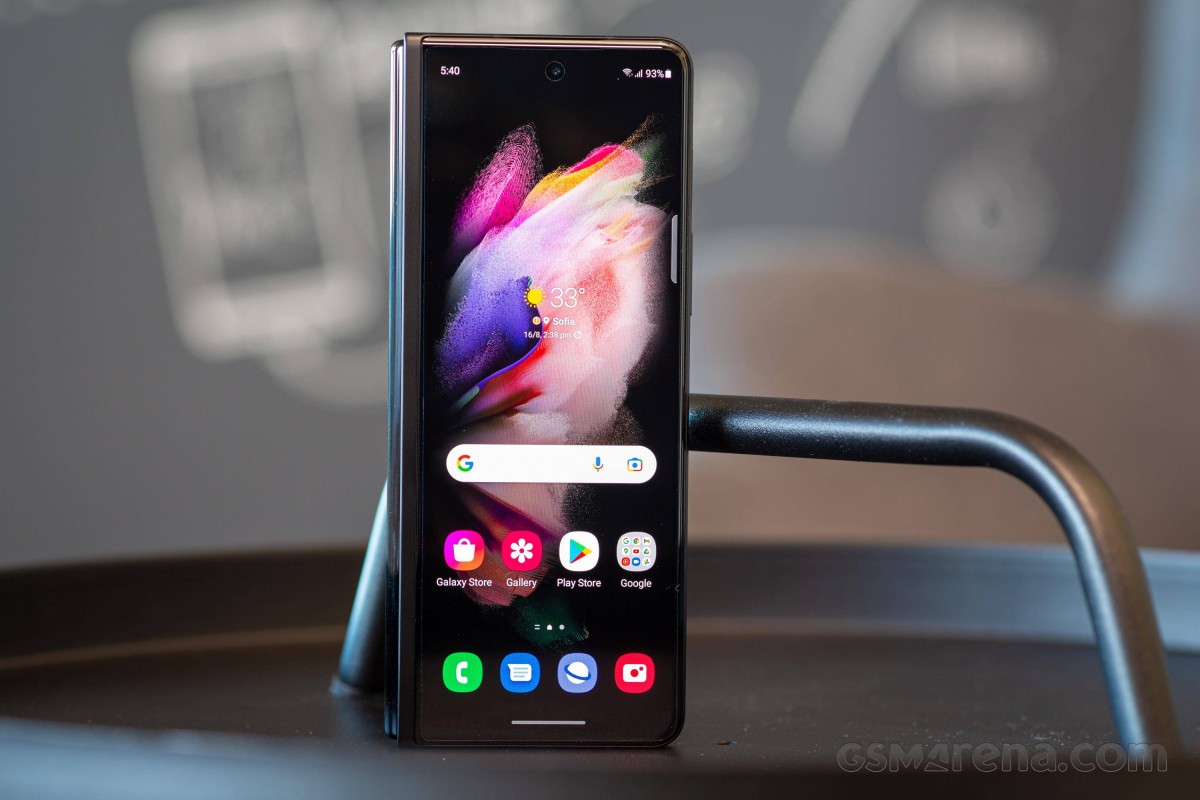 Like all Samsungs, this too is laughably slow to charge compared to even $250 competitors right now, and it's getting ridiculous. Normally here we'd whine about the fact that such an expensive phone ships without a charger, but given how slow that would be, maybe it doesn't actually matter? Certain other Android makers have managed to charge batteries about as big as this one in around 35-45 minutes for a few years now, and yet the Fold3 needs one hour and 46 minutes. That's just unacceptable in 2022, plain and simple.
The presence of wireless charging is welcome but also expected at this price, and of course, in true Samsung fashion, that's very slow too - 11W compared to 15W on even Samsung's mainstream flagships. Clearly, charging is the next area in which the Korean company needs to get its act together. So far, it's managed to vastly improve software quality, as well as smoothness, so we're confident that it has what it takes to overcome this newest obstacle too.
when is apple going to cum out with something like this?
Anonymous
30 Jun 2022
7k0
That should the essence and hallmark of a vertical fold phone ie to be used as a nice handy Tab and take over the functions of a Tab in unfolded form. More sliming needs to be done , more Ram and editing softwares of a Tab requirements would definite...
Anonymous
28 Jun 2022
TRV
Like the phone except for the fact the motherboard died in less than 6 months of use. Overheated and froze and all Samsung service could do is leave me without a phone for over a week while they fixed it. A replacement would have been the decent thin...