Samsung officially relaunches the Galaxy Fold with improved design and construction
Yordan, 05 September 2019
Samsung announced the Galaxy Fold earlier this year, then realized the product was not consumer-ready, redesigned it, and now it is officially on the market again. The new phone comes with "improved design and construction", but Samsung also "took the time to rethink the entire consumer journey" which includes 5G-ready devices and 24/7 one-on-one access to Samsung support.
While the overall design of the Galaxy Fold remains unchanged from the original version - 7.3" Infinity Flex Display and a 4.6" Super AMOLED panel on the outside, Samsung finally fixed the hinge and the protective layer of the flexible screen.
To protect it from dust and other particles getting in the mechanism through the foldable part, it is now hidden behind a rubbery protection. In addition, the layer on top that protects the digitizer from scratches now goes beyond the edges, so you can't accidentally peel it.
The redesigned Galaxy Fold is the same in size as the original Galaxy Fold on this picture
The Samsung Galaxy Fold has a total of six cameras, and the manufacturer kept them unchanged since everything was fine with them - in our initial review they were on par with the setup on the Galaxy S10+ flagship. The hardware is still the same - Snapdragon 855, coupled with 12 GB RAM and 512 gigs of storage.
The battery was initially introduced with a 4,380 mAh capacity, but the 5G model has slightly less, due to the internal architecture - it is just 4,235 mAh. Samsung boasts it has two cells on the inside, and our tests reached 90 hours of endurance rating, which is pretty similar to the company's current flagships like Galaxy S10+ and Galaxy Note10.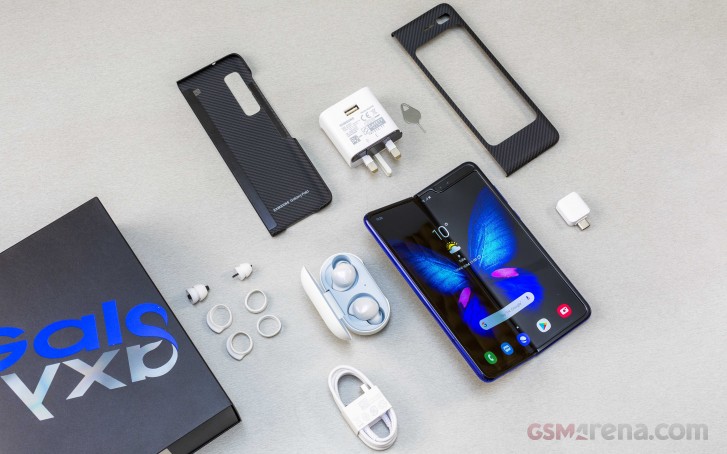 The Galaxy Fold will arrive in South Korea tomorrow and will be followed by select countries, including France, Germany, Singapore, the United Kingdom, and the United States. The official press release says nothing about the price, but we expect it will remain €2,000. If you think that is too much, check our quick analysis of what else can you get for this amount of money.
Related
Don't deny, huawei is too far more beautiful elegant, excellent on craftsmanship every part got a excellent symmetry that sets in very tightly. Kudos to Huawei.
Colombian trigger
25 Sep 2019
LEi
this sound pretty awesome dude.....
Apple's cash cow is the iPhone. It's such a substantial part of their revenue. You not understanding this is the funny part. A few million watches at a few hundred dollars vs 150 million phones at a thousand per phone. They'd have to sell over half a...
Popular articles
Popular devices
Electric Vehicles