Samsung S5230 Star review: Hot starlet
Hot starlet
GSMArena team, 06 July 2009.
It's all about the touch
The latest implementation of the TouchWiz user interface is old news already with the Samsung S5230 Star. Lively, colorful and pleasantly thumbable - this TouchWiz reincarnation has inherited all the virtues of its predecessors and adds some interesting new stuff, all of which we've had the chance to experience on a number of recent Samsung touchscreens.
With the Star you get three different non-scrollable homescreens that you can alternate by sideways sweeps. The current selection is indicated by three small boxes at the bottom of the screen.
You can fill up each of those homescreens with as many widgets as you like. Also you get three separate wallpapers that are actually three parts of one single panoramic one, just like on the Samsung S8000 Jet.
In case some of you have missed it, widgets are nifty mini-apps that reside on your home screen. Some of them seem to have more purpose, such as the calendar and world clock, image gallery or the mp3/radio players, while others range from fun to pointless.
Traditionally, all the widgets are stored in a vertical tray running down the side of the screen, and you can roll them in and out as needed using the small arrow in the lower left corner.
You can pick which widgets to display by simply dragging them onto the display and placing them where you want. If any need to be removed, you simply drag them back to the tray. The nice accelerometer-based option to auto-align widgets by shaking the handset is at your disposal too.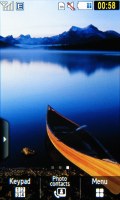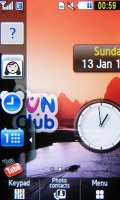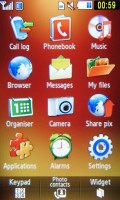 The new TouchWiz UI o the main menu
The homescreen and the new icon graphics aside, the rest of the Star interface hasn't been greatly modified. You have a tab at the bottom of the display which holds the three contextual keys with varying functionality according to the currently active menu. There are also some nice animations and transition effects throughout the interface.
Unfortunately, much like with Samsung S8300, the interface can be quite laggy at times - it's just not as responsive as you would generally expect it to be and it tends to get on your nerves. However, the situation here - at least in comparison with the S8300 - has improved and the lags are not quite as serious and common as they were.
The main menu displays as a 3 x 4 grid of icons, while sub-menus appear as lists.
The Samsung S5230 Star also supports multitasking, which means that Java applications can be minimized to continue to run in the background. However, there is no hardware key to allow you to switch between the apps. That certainly makes multitasking much less of treat.
Samsung have also enabled the S5230 Star with the Smart unlock feature, previously known as Gesture lock. Smart unlock allows users to simultaneously unlock the phone and open a menu item, application - even dial a contact - just by drawing an alphabet letter on the unlock screen.
Phonebook leaves no stone unturned
The phonebook of the Samsung S5230 Star has it all. Up to 2000 contacts can be stored with multiple fields. It can display the names from the SIM card, the phone memory or both at once. Searching is done by gradual typing of the desired contact's name.
Quite a number of different information fields are available for each contact. You can store up to 5 numbers, 4 email addresses, URLs and so on. Each contact can also be assigned a specific ringtone and picture, as well as a note. You can even set a video as "caller's image" - a feature that is now becoming pretty common.
While the dialer itself is not very interesting, there's a flashier way to dial. The Photo Contacts are shown as a stack of pictures and are a touch away from the homescreen where you can find a dedicated button leading to them.
Each face in each photo can be tagged and linked to a contact in the phonebook. Tapping on a tagged photo brings up a menu with options to start a voice call or send a message.
Where the Photo Contacts really come alive is when you have a whole group of contacts on one shot - suddenly all of them are just a tap away from dialing. You can have all your old classmates on one photo and all your office mates on another, for instance. The possibilities are endless. It is perhaps not the fastest way to search your contacts but it can be quite fun.
When adding a photo, faces are detected automatically but tagging is manual, even if you've already tagged that contact in a previous shot.
Well, that's certainly how Photo Contacts work normally. However, our unit's Photo contacts didn't work so we can't share any further impressions of them.
Telephony is great
The Samsung S5230 Star is excellent at its main job - making calls.
There's not much to say about the dialer. You dial just like you would on any touch phone. There are three virtual buttons - phonebook, more and back. When you type a number or look it up in the contact list, by tapping More you access options like voice call, send message or add to phonebook. Of course you have the hardware call buttons too.
Unfortunately the handset has no smart dialing, which could have saved the users some digging in the phonebook.
When using the built-in speakerphone you have to take care to point the mic towards you (it is on the bottom so it's a little inconvenient) or the other party will have trouble hearing you.
As for loudspeaker performance, here is how the S5230 Star ranks alongside some of the other devices we have tested. The inbuilt speaker is among the loudest we've tested so far. You can find more details about the test itself as well as the full list of tested devices here.
| | | | | |
| --- | --- | --- | --- | --- |
| Speakerphone test | Voice, dB | Pink noise/ Music, dB | Ringing phone, dB | Overall score |
| Apple iPhone 3G | 66.1 | 62.1 | 71.7 | Below Average |
| Nokia 5800 XpressMusic | 75.7 | 66.5 | 68.5 | Good |
| Samsung S8300 UltraTOUCH | 70.1 | 66.7 | 75.8 | Good |
| LG KF700 | 72.8 | 71.7 | 79.2 | Very Good |
| LG KP500 Cookie | 78.1 | 75.7 | 82.7 | Excellent |
| Samsung S5230 Star | 77.1 | 75.7 | 82.0 | Excellent |
You can find more information about the test itself and the whole list of tested devices here.
It's from 2009 for god sake!
Sweet kind kid
13 Sep 2013
NwF
It doen't suport whatsapp
your nikname(optione
18 Mar 2013
a3x
Your Comment