Samsung S5260 Star II review: In the making
In the making
Stefan Vazharov, 25 February 2011.
Telephony is good, but smart dialing is limited
The Samsung S5260 Star II is very good at its main job – making calls. We tested it in a location with very poor coverage and even though there were drops in the audio, the Star II is good at holding onto signal. The in-call sound is clear but not as loud as we would have liked.
There's not much to say about the dialer. You dial just like you would on any touch phone. There are both hardware and on-screen buttons to handle calls. Annoyingly, the on-screen End call button requires a press and hold to work. The Hash key can mute the call sound and can also activate the Silent profile upon a long press.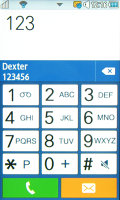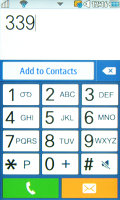 The virtual keypad • Smart dialing is limited
Samsung S5260 Star II supports Smart dialing – type in the first few digits of the number and a suggested contact will pop up. It will look only at the numbers and won't try to match contact names, which in our opinion would have been the better option.
As for loudspeaker performance, the S5260 Star II scored an Average mark, doing slightly worse than our preview unit. You can find more details about the test itself as well as the full list of tested devices here.
| | | | | |
| --- | --- | --- | --- | --- |
| Speakerphone test | Voice, dB | Pink noise/ Music, dB | Ringing phone, dB | Overall score |
| Nokia 5230 | 65.8 | 60.3 | 66.7 | Below Average |
| Samsung S5260 Star II | 68.3 | 66.7 | 70.7 | Average |
| LG GT400 Viewty Smile | 72.6 | 66.2 | 77.9 | Good |
| Nokia C6-01 | 75.0 | 66.3 | 77.8 | Very Good |
| LG Cookie 3G T320 | 75.2 | 70.5 | 79.9 | Very Good |
| LG GD510 Pop | 76.6 | 76.2 | 85.0 | Excellent |
| Samsung S5230 Star | 82.7 | 76.0 | 80.2 | Excellent |
Messaging and email ward off spam
The Samsung S5260 Star II can handle all common message types. The handset has a shared editor for SMS and MMS and a separate one for emails. Text messages are viewed in conversation mode, which uses contact photos and speech bubbles in an IM chat layout.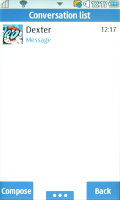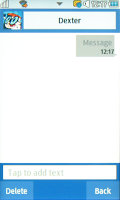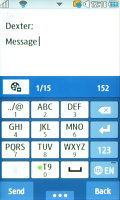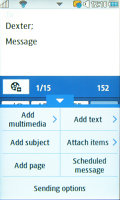 Conversation mode • composing an SMS
An interesting feature is the scheduled message – you can set a time and date for the message to be sent automatically.
Another cool feature is the Spambox – spam has crept into SMS too, it's no longer limited to email. You can create rules to filter certain messages – based on the sender's number or subject (if it's an MMS).
The rules can either match the field exactly or parts of the number (e.g. block numbers which start with a common prefix, like country codes or special operator numbers that send automatic messages).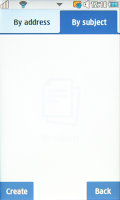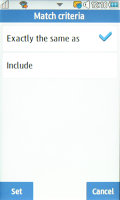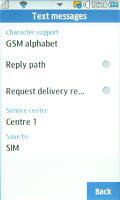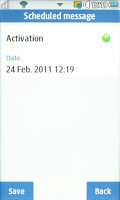 Spam filter • Delivery reports • Scheduled messages
The native email client automatically retrieved the correct settings for our test Gmail account. The email client also supports push messaging and you can add multiple accounts too (but there's no combined inbox).
The attachment limit for sending is 10MB, which is enough for most file types. If you receive an office document as an attachment, you will be able to view it as well thanks to the integrated office document viewer.
Text input is handled by a portrait phone keypad (with T9 prediction) and a landscape QWERTY keyboard (activated automatically, thanks to the accelerometer). The phone keypad is OK for punching in a word or two but the keys are too small for anything longer.
The keys on the landscape keyboard are not much bigger so you might want to enable the predictive input here too – it will reduce the number of thumbos.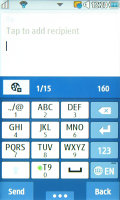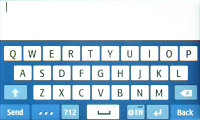 The portrait phone keypad and landscape QWERTY keyboards
The Gallery is built into the file browser
The S5260 Star II gallery is an inherent part of the file manager and launching it is as simple as opening any folder that contains images. You'll want to switch to Thumbnail view though (it aligns the thumbnails to a grid).
Once you've opened a picture to view, you can browse the complete collection by finger sweeps across the screen without having to return to the image list. The accelerometer-based tilt browsing is enabled too.
Browsing the images is fast and responsive and zooming into 3MP images is no problem.
There's no pinch zooming despite the fact the Star II has a capacitive display. Instead, you have the one-finger zoom.
Browsing images in landscape mode is also available and the rotation is automatic thanks to the built-in accelerometer.
Anonymous
26 Nov 2021
fmL
Type 0000 to open
It was my first phone, basic, small and sleek, loved to charge it once every two days. Got it almost new from my mom, she was very careful with it, nice touch screen, with that camera the photos were not that bad on daylight time, I managed myself to...
My sister is using SG 5260 now it is requesting for a pin no when it is switched on pls how do I go about it even if it is to hard boot it thanks in advance.