GSMArena smartphone buyer's guide: 2016 Holiday edition
2016 Holiday edition
GSMArena team, 22 October 2016.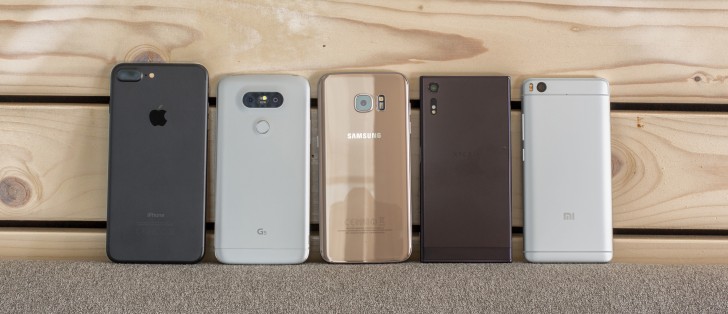 Under €100
There's a bit of an anti-smartphone movement going on - people install the apps they need at the initial setup and rarely visit the app store again. Unfortunately, the days of the featurephone with WhatsApp are gone (they were barely there to begin with).
The point still stands, though - you need Android because apps available for it give you access to your social circle. You may not care particularly about the latest game craze, just that you can chat over Viber and send Instagrams. iOS is obviously too pricey for this price range, but can Windows Phone step up? There's also Samsung's Tizen, which found success in its niche.
If you do care about the full smartphone experience, then €120 buys you a phone miles ahead of what's available here. We think it's well worth it to spend that little bit extra, the sub-€100 options are not very exciting.
And you may need to go through resellers as the best cheap phones hail from China. You can find ways to get the Meizu m3s in Europe or the US and it's a phone that really sets the benchmark.
The Meizu m3s has an attractive, if unoriginal, metal shell and a sharp IPS display. IPS means good viewing angles (not a given at this price range), while the 720p resolution makes for a very good 294ppi pixel density.
It even comes with a reasonably powerful chipset with 8x Cortex-A53 and capable of 1080p video recording through the 13MP camera. Even the selfie camera is good, 5MP, and you get a fingerprint reader, something that won't be seen again until the next price category.
The m3s is quite flexible, it's a dual-SIM phone with a 3,020mAh battery that will last a long while. The Android is a bit old (5.1 Lollipop), but is fully-featured thanks to extensive customization. More importantly, you can install any Android app you wish.
LG has a bigger mind share in the West, but here's what you get for the same cash as the m3s. The LG K4 has a plastic body, a smaller 4.5" with lower resolution. Apps won't run as well on the entry-level chipset with 1GB of RAM and little built-in storage. Even the battery is kind of small.
The Huawei Y3 II is in many ways the same phone as the K4, so let's look at the Huawei Y5 II instead. It brings a bigger, sharper screen (5" 720p), better camera (8MP) and a few other improvements. This gets it closer to the Meizu, but you still get a quad-core processor with 1 gig of RAM.
Samsung released a new Tizen phone in August, but honestly we still prefer the one from late last year - the Samsung Z3. It has a 5" 720p screen, a Super AMOLED at that. As fans of AMOLED that tickles us, but also the 8MP/720p camera sounds sweet and you get a decent battery. The chipset is nothing to write home about, but it's enough to offer an okay experience.
The question then becomes - does it have all the apps you need? Here's a quick list of available apps: WhatsApp, Facebook Messenger, Instagram, Plants vs. Zombies, AccuWeather, MX Player. Viber and Snapchat are not available as native apps, so you have to rely on the Android emulation if you need those.
We have doubts about the survival of the Lumia line, Microsoft even outsourced the customer support for it. Worse, software updates are slow to come (if they do at all). Microsoft has been slashing prices (it's starting to smell of a fire sale), making the Lumias a great deal in the US, pricier in Europe and elsewhere.
Still, a sub-€100 Microsoft Lumia 550 is a decent purchase. It has a decent 4.7" 720p screen, decent camera, decent performance. "Decent" is not much of a compliment, but it's the truth. If you're interested, wait about a month for a price cut and jump on the 550.
Let's ask again - does it have all the apps you need? The Windows Store offers: WhatsApp, Facebook (+ Messenger), Skype, Viber, Twitter, LINE, WeChat and more. Better than Tizen, but then Windows can't fall back on Android apps.
Hello folks, I know it's not really updated but please give your input on deciding what phone to buy: My LG G flex 2 died recently warranty is over, so need a new one, I'm thinking about one of these, their prices are in EUR: redmi note 4 X: 16...
i cant freaking believe the huawei nova is not on this list, firstly you HAVE to see the core processor itself work, its so FREAKING EFFICIENT,secondly that display and the design makes it look posh, thirdly,that camera is capable of being a 16mp , i...
Alright after the comments fighting i came to conclude some points about smartphones. first, i was looking for a phone at the 400$ price range and i came to choose the Honor 8 here's why .. maybe i can make you feel better buying it .. before ev...