GSMArena smartphone buyer's guide: 2016 Holiday edition
2016 Holiday edition
GSMArena team, 22 October 2016.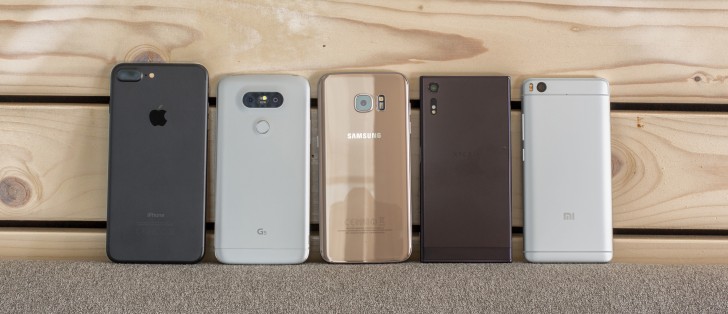 €100-€200
We think this is the most exciting category. Boastful "flagship killers" occupy the €400 region, but over here are phones that will make you question why you ever paid more than €200 for a phone. These aren't fully featured - maybe the screen is 720p instead of 1080p, maybe it lacks Gorilla Glass, maybe the storage is a little limited. So with a bit of smart shopping and you can find an excellent phone.
Let's kick off with a familiar brand. The Moto G4 bumps its head against the €200 ceiling, but it's a great deal for a roomy screen and fresh Android. The G4 model has a 5.5" 1080p screen, guarded by Gorilla Glass 3, runs Android 6.0 Marshmallow with 7.0 Nougat already in the works. Its 13MP camera does 1080p video to boot.
There's a Moto G4 Plus version, which adds a fingerprint reader and upgrades the camera to 16MP. That is a €50-€60 increase in price and you must be sure you want these features. There are versions with 3GB or 4GB of RAM and up to 64GB of built-in storage, but then the price delta becomes even greater.
Moto has the 5" G4 Play, which also offers a fresh serving of Android (Marshmallow now, Nougat soon). It has a 1080p-capable 8MP camera, which is also impressive, our only complaint is that the quad-core CPU doesn't cut it for this price range.
Let's go for something unusual LG X screen. Some people fell in love with the second screen of the V10 (and now V20) and this is a chance to get it at a much lower price. The main screen measures 4.93" (720p resolution), above it is a 1.76" one line display.
Like the Motos above, you get a recent Android 6.0 Marshmallow and a good camera - 13MP/1080p, not to mention 8MP selfie. And again like the Motos, the chipset is less than impressive. The battery on this one is kind of small too, considering it has to support the Always on secondary screen.
By the way, LG's X series specializes in bringing one flagship feature to a very affordable phone. For example, the LG X cam has dual-cameras on the back, similar to the LG G5 or V20. We'll visit it in the next chapter.
The Xiaomi Mi 4c quietly became a killer deal. For under €150 you can get some high-end performance thanks to the Snapdragon 808 chipset (used by LG for the G4, V10 and Nexus 5X). That's not the only advantage over the pricier Moto G4 Play - the 5" screen has 1080p resolution, you can get up to 3GB of RAM and a USB Type-C port. As with other Xiaomis, this one isn't available on Amazon, but it's fairly easy to find in the West.
A similar, but newer phone is the Huawei Honor 5c. It has a metal body that houses a 5.2" 1080p screen and a solid 13MP/1080p camera plus an 8MP selfie shooter. It runs a newer Android 6.0 Marshmallow with Emotion UI skin.
Note that this device can be found under the name Honor 7 Lite, the differences are that the 7 Lite has a fingerprint reader and the 5c does not. This is also very similar to the Huawei P9 lite, except without the price and pretense.
The Huawei P9 lite is perhaps the prettier device (a subjective opinion) and definitely comes with a fingerprint reader (unlike the Honor 5c/7 Lite uncertainty). It uses higher-quality components too, P9 lite's display is brighter and offers better contrast. Still, we'd be hard pressed to tell you that you're actually getting €80 more value for your money.
The Xiaomi Redmi 3 sacrifices the screen a bit, though at 5" even 720p is good. We're looking not so much the original 3, but one of its variants whose availability differs by region - Redmi 3 Pro, Redmi 3s, Redmi 3 Prime. They share a metal body with a 5" 720p screen, 13MP camera with 1080p video, long-lasting 4,100mAh battery and yes, a microSD slot.
The 3 Pro and 3s Prime offer a fingerprint reader on the back and have 3GB of RAM. Note that the 3 Pro runs Android 5.1 while the 3s models are at 6.0.
Its sibling, the Redmi Note 3 is a popular choice but it has already been superseded. Still, it's slightly cheaper with a slightly better camera and battery life (traded for a slower chipset).
We'd like to direct your attention to the LeEco Le 2, from a that recently entered the US phone and TV market (it's readily available in China, India and other markets too). For not much over €100, you get a 5.5" 1080p screen and a 16MP camera capable of 2160p video capture. In that respect, the Le 2 stands alone on this page. This video prowess is thanks to the surprisingly good chipset - either Snapdragon 652 or Helio X20. The Redmi Note 3 comes with S650 or X20, for comparison. Note that the battery on the LeEco is smaller (3,000mAh vs. 4,050mAh), but that's not its biggest issue - there's no microSD slot, so you'll have to fit in the 32GB of built-in storage.
The leatherette back of the Asus Zenfone Max ZC550KL (the 2016 model) conceals a big secret - 5,000mAh big. Sure, the large battery makes the phone thicker (10.6mm) and heavier (206g) than we're used to for a 5.5" phone, but it promises amazing battery life. The screen resolution is on the low side (just 720p), but if you look at it in terms of battery, we don't mind. The chipset is, shall we say, not power hungry. We would have really liked a Snapdragon 625 (like the Zenfone 3 has) - the 14nm build (vs. the 28nm of this chipset) would have saved a good deal of energy.
Note that this model seems limited to India. There's a Zenfone Max ZC550KL (yes, the same name) in Europe, but that's with the old Snapdragon 410 chipset.
Hello folks, I know it's not really updated but please give your input on deciding what phone to buy: My LG G flex 2 died recently warranty is over, so need a new one, I'm thinking about one of these, their prices are in EUR: redmi note 4 X: 16...
i cant freaking believe the huawei nova is not on this list, firstly you HAVE to see the core processor itself work, its so FREAKING EFFICIENT,secondly that display and the design makes it look posh, thirdly,that camera is capable of being a 16mp , i...
Alright after the comments fighting i came to conclude some points about smartphones. first, i was looking for a phone at the 400$ price range and i came to choose the Honor 8 here's why .. maybe i can make you feel better buying it .. before ev...