GSMArena smartphone buyer's guide: 2016 Holiday edition
2016 Holiday edition
GSMArena team, 22 October 2016.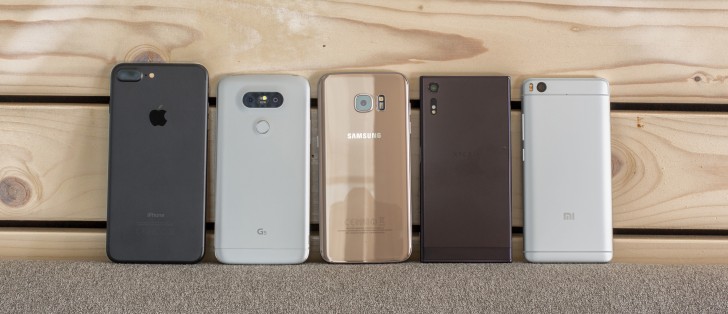 €200-€300
In this price range, it's important to pick a side. There are devices ranging from minis to slabs, some close to flagship devices too. In the previous chapter, you had to know what you want to prioritize that feature (perhaps) at the expense of others. In this chapter, you have to know what you want simply because there's so much choice you can lose hours browsing and comparing stuff.
To save you time, we'll try to keep things organized. We start off with what we'll call "mainstream devices" - 5" or so screen, good camera and performance. Then we'll dig into the large slabs (5.5" to over 6") and finally contrast that with the petite offerings.
Be warned, though - even at similar prices, phones with a larger screen get the better specs. So be prepared to pay extra if you want a certain spec sheet in a compact body.
Mainstream: 5" or so
The Samsung Galaxy A5 (2016) launched as something of a more affordable S6 option. It has a metal frame (like S6 and S7) sandwiched between two panes of Gorilla Glass 4. On the front is a 5.2" Super AMOLED of 1080p resolution.
Unlike the S6, the Galaxy A5 (2016) does have a microSD slot (either dedicated or shared with SIM2, it changes by country). You also get a solid camera - 13MP sensor with a bright f/1.9 aperture and Optical Image Stabilization (OIS), plus a 5MP f/1.9 shooter on the front. Samsung Pay is supported too, complete with a fingerprint reader.
Only the chipset is a letdown, it's not the most powerful phone you can buy in this segment.
Back when Sony was more committed to water-resistant phones, it released the Xperia M5. It bears the high IP68 rating (1.5m underwater for over half an hour) and an impressive camera setup - 21.2MP on the back and a 13MP selfie cam on the front. The chipset doesn't quite belong in this price range and we didn't love the battery life, but the M5 is a strong alternative to the pricier Xperia X (which isn't even waterproof).
Did you know that you can get a flagship phone under €300? No, really, the Xiaomi Mi 5 is that phone - a Snapdragon 820 chipset, impressive camera, fancy curved glass, this phone has it all! Well, almost - to slip under the €300 limit we had to choose the 3GB RAM/32GB storage model and there's no microSD slot. Going up to 64GB pushes the price closer to €350 and you go over €400 if you want the top 4GB/128GB model. And that's still quite cheap for what the phone offers.
The chipset is used in flagships like the LG V20 or Galaxy S7 and the curved Gorilla Glass 4 on the back also says "premium." The 16MP camera features a 4-axis OIS and records 2160p video. The selfie camera uses an UltraPixel sensor - 4MP with 2µm pixels.
Note that Xiaomi released a mid-season upgrade, the Mi 5s which also comes in Plus size - we'll check it out in the next chapter.
As promised, here's the LG X cam. It launched with a dual-camera setup right after the LG G5 (and before the V20 or the iPhone 7 Plus). The 13MP camera captures a 78° view, while the 5MP shooter sees 120°, similar to an action cam. Besides capturing much more of the scene, the wide camera can be used for some fun effects in combination with the regular camera. You get a solid 8MP selfie camera as well (just one).
The LG X cam has a 5.2" 1080p screen and a chipset similar to the Galaxy A5 (2016), it runs Android 6.0 Marshmallow as well. But that doesn't matter as much - the wide-angle camera is (pardon the pun) an eye opener.
The Nexus line may be dead, but the Pixels are so expensive that the LG Nexus 5X sounds like an awesome deal. You get clean Android updates for a little while longer (not forever, though) and one of the best cameras on the market (especially for low-light shooting). And it can shoot 2160p video, something few sub-€300 phones can do.
Beware of the limited storage, though, there's no microSD slot. The trusty Snapdragon 808 is very fast in this price range, its GPU especially.
5.5" and above
If an interesting camera is what drew you to the LG X Cam, we suggest you take a gander at the Xiaomi Redmi Pro - this metal phone is equipped with a dual-camera as well, but used for bokeh and other depth effects. It has an AMOLED screen too, manufactured in China (as the country ramps up its factory capacity in this respect).
We think the bokeh effects are a bit of a gimmick and a much better value for money is offered by the Xiaomi Redmi Note 4.
Its metal body was carved out of a solid aluminum ingot, similar to how HTC and Sony made their best. The result is tangibly better than the Redmi Note 3 (cheaper, also metal). The 5.5" 1080p screen offers improved brightness and color accuracy than Note 3's display. And the chipset, oh my, the MediaTek Helio X20 blows most other phones on this page out of the water, mostly on CPU performance. It also has an excellent GPU match for Huawei's flagship P9 (not the P9 lite, the full-fat P9!).
Couple that with the excellent battery life from the 4,100mAh battery and we should have a masterpiece. Well, not quite. The camera is not very good - it wouldn't be very good for a sub-€200 phone either. The audio quality was a big letdown too.
Speaking of, the Redmi Note 4 falls in this category, because we picked the 3GB/64GB model, which just crosses the €200 mark when you pay for shipping. There's a ~€160 model too, but it only has 2GB of RAM and 16GB storage - not worth it with a hybrid card slot.
The Huawei Honor 5X provides healthy competition to the Redmi Note 4. It doesn't have an impressive chipset, but it covers all other bases - a metal build, a 5.5" 1080p screen, 13MP/1080p camera and Marshmallow. Here the microSD card slot is dedicated, so the 16GB storage aren't such an issue. And did we mention the stereo speakers?
In the higher ranges of the €200-€300 segment is the Huawei Mate S - another metal phone with a 5.5" 1080p screen. This one is an AMOLED though and you get a solid 13MP camera - large 1/2.6" sensor, f/2.0 aperture and OIS. Not to mention the 8MP selfie camera which has its own flash. The phone can't record 2160p video, though, Huawei took a while to learn how to make such chipsets and that was after the Mate S launched.
LeTV is trying to launch in the US market with TVs (some of the most affordable 4K TVs around) and phones. The LeEco Le Pro3 recently launched in the US for $299, the lowest price for a Snapdragon 821 chipset yet. This is for the 4GB/64GB model, the 6GB/128GB version doesn't seem available in the US yet (note that there's no microSD slot). The phone also boasts a 4,070mAh battery, much better than what the Mate S has, with Quick Charge 3.0 to boot. Also, it has stereo speakers (with Dolby Atmos), putting it against the ZTE Axon 7.
That sounds like a great deal, but the phone targets the US. LeEco's traditional markets get the LeMax 2 instead - it has a bigger, sharper screen (5.7" QHD) and a 21MP camera with OIS (and 2160p video, naturally). Sure, it uses the Snapdragon 820 but we're quite okay with that. No stereo speakers, though, and the battery is smaller.
Note about both LeEcos: neither one of them has a headphone jack, you'll need to use the USB Type-C for that.
If you want to go really honking big, the Xiaomi Mi Max is hard to match - a massive 6.44" screen spans its front, a metal plate the back and one of Qualcomm's best chipsets in the middle. Let us repeat again - this phone is huge - owning a Galaxy Note or iPhone Plus does not prepare you for the Mi Max, not even close.
Anyway, the screen is reasonably bright with decent color accuracy, but we do wish its sunlight legibility was better. Behind the screen is a Snapdragon 650 chipset (or a 652 on the top model) - you get excellent GPU performance (to match the Redmi Note 4) and strong CPU performance. The S652 model comes with 4GB RAM, the more common model has 3GB.
The camera impresses too - 16MP sensor with 2160p video (and 720p @ 120fps). An appropriately huge 4,850mAh battery offers days of endurance too.
You can have a look at the Meizu m3 Max as well, it has a more manageable 6" screen. It's the Helio P10 chipset that stopped us from recommending it, though, it's no match for the Snapdragon. The camera isn't as good either.
Compact phones
Well, compact compared to the hulking giants a few paragraphs up, anyway. These two devices are "mini" versions of more premium offerings by their parent companies. We did warn you that screen size is proportional to features, but we think these have some unique qualities to offer.
The Sony Xperia XA, for example, is the narrowest 5" phone - even narrower than the "bezel-less" Sharp Aquos! It's thin and light too (7.9mm, 137g) and until the XZ rolled around, the XA was our favorite of the new X-series - it's the most affordable, but built with quality in mind.
If you objected to the 5" XA being a mini, prepare to scoff even more - the ZTE Axon 7 mini has a 5.2" screen. It's a "mini" in the sense that it's a lite version of the big Axon 7 (which we look forward to in the next chapter).
The AMOLED screen has 1080p resolution and is flanked by two of the loudest stereo speakers we've heard on a phone. The Axon 7 mini has a snazzy camera too - 16MP f/1.6 on the back, 8MP on the front. The chipset is closer to the Xperia XA than it is to the Xiaomi Mi 5s, though.
Hello folks, I know it's not really updated but please give your input on deciding what phone to buy: My LG G flex 2 died recently warranty is over, so need a new one, I'm thinking about one of these, their prices are in EUR: redmi note 4 X: 16...
i cant freaking believe the huawei nova is not on this list, firstly you HAVE to see the core processor itself work, its so FREAKING EFFICIENT,secondly that display and the design makes it look posh, thirdly,that camera is capable of being a 16mp , i...
Alright after the comments fighting i came to conclude some points about smartphones. first, i was looking for a phone at the 400$ price range and i came to choose the Honor 8 here's why .. maybe i can make you feel better buying it .. before ev...