GSMArena smartphone buyer's guide: 2016 Holiday edition
2016 Holiday edition
GSMArena team, 22 October 2016.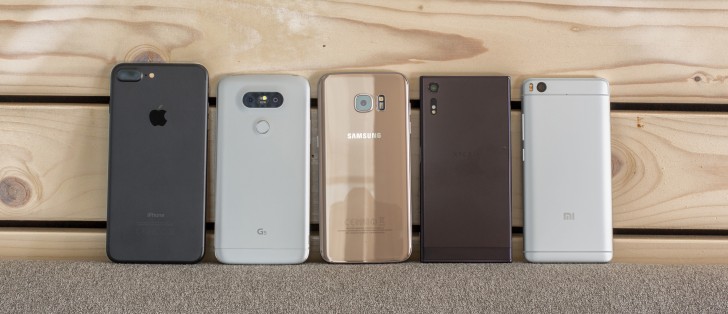 €300-€400
The €200-€300 chapter got so long, we had to split it into parts. This price range is equally exciting but much easier to navigate - there are several quality devices, each of which will serve you as well as any flagship.
The OnePlus 3 is the exemplar of the €400 flagship. Wrapped in an aluminum shroud is a bright and accurate AMOLED - 5.5" 1080p, made by Samsung - inside is a flagship chipset, the camera boasts premium quality and features and the custom Oxygen OS follows vanilla Android closely (Nougat is in the works). It's not quite a Nexus, but compared to MIUI it might as well be.
We should compare the OnePlus 3 to the Xiaomi Mi 5, which offered the same Snapdragon 820 at just south of €300. Well, the OnePlus comes with 64GB storage, which already wipes out most of the price difference (there's no microSD slot or other storage options).
It comes with a whopping 6GB of RAM (does your laptop have that much?) and the bigger screen has spectacular sunlight legibility (compared to Mi 5's excellent mark). The main cameras are fairly similar - 16MP sensors (1.12µm pixels), f/2.0, OIS, 2160p video. The OnePlus has an 8MP selfie camera, though, double the resolution while keeping pixels fairly large (1.4µm vs. 2µm).
The Pixel XL may be outside your budget, but luckily the Huawei Nexus 6P is an excellent device - the greatest Nexus ever and also the last one.
Nostalgia aside, it is truly a premium Android phone with a metal body, a sharp 5.7" AMOLED display (QHD) flanked by powerful stereo speakers. The camera is properly impressive - its 1/2.3" sensor does great in low-light (thanks in part to the 1.55µm pixels).
Sure, the Snapdragon 810 chipset isn't as cool as the 820 (literally) but the clean Android 7.0 Nougat flies.
Alternatively, the new Xiaomi Mi 5s Plus has a 5.7" screen (IPS not AMOLED, also 1080p not QHD). Like its smaller sibling (more on it in a minute), it is powered by the latest Snapdragon 821 - just like the Pixel XL!
Xiaomi went all out with the imaging department with a two 13MP cameras on the back (one color, one black and white). The phone can record 2160p video and boasts a 4MP UltraPixel selfie camera with big pixels (2µm). Don't forget the nice and chunky 3,800mAh battery in a phone that weighs 168g (not bad for its size).
Vloggers will get a kick out of the Sony Xperia XA Ultra. The sizeable phone (with a 6" screen) is one of the very few that has a selfie camera with Optical Image Stabilization. It's a very impressive camera, as good as the main camera on many phones - 16MP 1/2.6" sensor, LED flash, 1080p video. The main camera impresses too, 21.5MP 1/2.4" sensor with 1080p video (but no OIS).
The cameras, especially the selfie cam, are hard to match, but two major factors can stop you from buying an XA Ultra. The Helio P10 chipset is entry-level stuff, while the 2,700mAh battery feels out of place in a phone this size.
So far we've been pointing to metal phones as "premium" but LG went another way with the LG G4 - fine grain leather. Third parties are selling wood backs too, the G4 is from the glorious era when the back wasn't nailed down. And the body of the phone is slightly bent - a trend that did not catch on, but at least that makes it rare.
The phone is a year and a half old, but still has a lot to offer. Like a 5.5" QHD screen or a high-quality 16MP camera (1/2.6" sensor, f/1.8 aperture) with OIS. This camera has served as the basis for the half of G5/V20's camera (the 16MP half, obviously).
The Snapdragon 808 chipset was a necessary compromise - the 810 had issues. Now that we've seen cheaper S820 chipsets, this one feels a bit slow but it can still handle anything you can throw at it.
The Asus Zenfone 3 ZE552KL drew us in with its Snapdragon 625 chipset - it's not fast, but it's the first of the 6xx series to be built on a 14nm process. That matches the flagship chipsets (like Snapdragon 820) and much better than the 28nm of the Snapdragon 650. With a 3,000mAh battery and a restrained 1080p resolution, we consistently got 6 hours of screen on time with medium use.
We wish it supported fast charging, though, the basic 10W charger kind of spoils our battery-focused fun. Asus isn't stingy with the memory, we picked the 4GB/64GB model as it's easier to find in Europe and you won't save too much by going for the 3GB/32GB model (keep in mind that the microSD goes in a hybrid slot).
It's a year old, but the Samsung Galaxy S6 holds its own against newcomers - good news for those hoping to keep theirs for an extra year, but also for those looking to buy it a year later at a discount.
The quality of the screen and camera are top notch and the Exynos chipset ruled all of last year. Sure, you can have most of that in the cheaper and bigger Galaxy A8 (2016), but if you want a compact device, this is it. As long as you're ready to forgo the microSD slot, of course.
It's no secret the Galaxy S6 is a good phone - Samsung sold it by the bucket load. But can we do better?
The new Xiaomi Mi 5s is even better than its already excellent predecessor. It keeps the 5.15" 1080p screen, but adds 3D Touch. Also, the curved back is now (satin or brushed) metal rather than glass. And it's one of the first phones to use Snapdragon 821 - matching the Google Pixel and being ahead of even the Galaxy S7.
The camera sounds very much like the Pixel camera - a large 12MP sensor (1/2.3", 1.55µm pixels) and 2160p video capture plus a 120fps mode at 1080p (most phones do it at 720p). The selfie camera uses an UltraPixel sensor - 4MP (2µm).
Xiaomi didn't add a microSD slot, at least you start off with 64GB (and if that's not enough, you can get 128GB). We'll also visit the bigger Mi 5s Plus in the next chapter.
Rival Meizu has the Meizu Pro 6, which combines a metal body with a 5.2" AMOLED screen with 3D touch. The 21MP camera has a large sensor (1/2.4" sensor) with 2160p video capture. The phone has a unique ring-shaped flash.
The Pro 6 is powered by a MediaTek Helio X25, which is no match for the Snapdragon 820/821 and even the Exynos 7420 Octa in the S6, especially in the GPU department. You do get 4GB as standard, but you start at 32GB storage and can only go up to 64GB (there's no microSD slot).
Instead, let's look at the young brand ZUK (owned by Lenovo nonetheless). Its second device is the ZUK Z2 Pro (the non-Pro Z2 launched later, believe it or not). Anyway, it has a 5.2" AMOLED (1080p) and is powered by Snapdragon 820 with up to 6GB of RAM (if you get the 128GB model, the base model is 4GB/64GB).
You get a 13MP ISOCELL camera with a bright f/1.8 aperture and relatively big sensor (1/2.6", 1.34µm pixels) and 2160p video capture. The selfie camera is no slouch either, 8MP f/2.0 1.4µm.
For less cash, you can have the regular ZUK Z2. You'll be giving away the 5.2" AMOLED screen for a 5" IPS LCD, and the camera shrinks the aperture to f/2.2. On the plus side, the battery capacity grows from 3,100mAh to 3,500mAh. Other differences include no 6GB/128GB version and the USB Type-C port runs at 2.0 speeds, not 3.1. Nothing critical (especially the extra camera juice), but we believe the price premium is worth what you get.
Huawei also has a contender in this field - the Honor 8. It is a slightly relaxed version of the P9 flagship - the premium metal exterior is gone, but the blue color looks amazing in person. Surprisingly, the Honor has some advantages over the pricier P9.
Take the 5.2" 1080p screen - it is slightly dimmer, but with better contrast and sunlight legibility. The base model comes with 4GB of RAM, while there's a 3GB version of the P9. Okay, the Honor 8 uses an older chipset - Kirin 950 instead of 955 - which reduces performance a bit and eats 5 hours of Endurance.
But it has the same dual 12MP camera with 1.25µm pixels and 1080p @ 60fps (it took Huawei a while to jump on the 2160p train). Same 8MP 1.4µm selfie camera as well.
Hello folks, I know it's not really updated but please give your input on deciding what phone to buy: My LG G flex 2 died recently warranty is over, so need a new one, I'm thinking about one of these, their prices are in EUR: redmi note 4 X: 16...
i cant freaking believe the huawei nova is not on this list, firstly you HAVE to see the core processor itself work, its so FREAKING EFFICIENT,secondly that display and the design makes it look posh, thirdly,that camera is capable of being a 16mp , i...
Alright after the comments fighting i came to conclude some points about smartphones. first, i was looking for a phone at the 400$ price range and i came to choose the Honor 8 here's why .. maybe i can make you feel better buying it .. before ev...