GSMArena smartphone buyer's guide: 2016 Holiday edition
2016 Holiday edition
GSMArena team, 22 October 2016.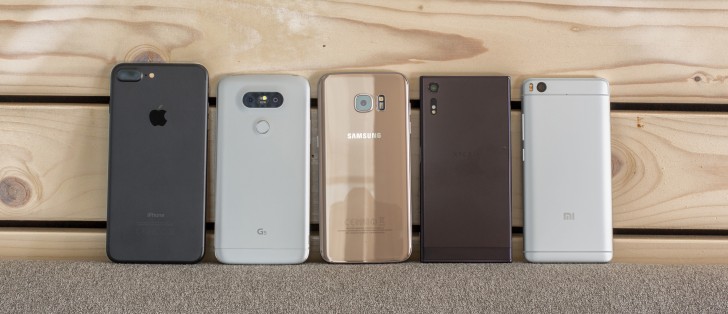 €400-€500
If you are reading this guide page by page, this one would be the last stop before Flagship Central. Well, the most recent flagships - early 2016 entries are already below the €500 mark.
Like the LG G5, for example. This is the phone that kicked off the dual-camera craze (well, the V10 had dual selfie cams but that wasn't nearly as useful) and tried to launch a modular phone revolution (half a year later, we have to say it failed).
Still, the main 16MP camera produces lovely shots, the 135° camera is truly eye-opening, the 5.3" screen has always on functionality. There are downsides - the metal body is painted, which robs it of its metal feel, the battery life is not very impressive either.
Not long after the G5, the Huawei P9 came out with a different dual camera setup - the Leica-branded cam has two 12MP sensors, one of which is dedicated to Black & White shooting. This lets more light in, improving low-light performance (plus, native B&W shots look better than desaturated color shots).
The 8MP selfie cam is pretty solid too, but none of the three cameras can record 2160p. The rest of the phone is a lovely metal (or ceramic) body with a good 5.2" 1080p screen.
The good news is that we've finally reached a price point where small phones don't lag behind their bigger siblings (at least not by that much).
After some recent price cuts, the Xperia X is finally cheaper than the older Xperia Z5. Still, there are arguments to pick the veteran - it has a more powerful chipset (S810 vs. S650), waterproofing and a very similar camera.
Even so, the newly discounted Xperia X counters with a slightly better screen - 5" vs. 5.2" but with better contrast, sunlight legibility and color accuracy. It offers better battery life too, Z5's sub-50h result doesn't impress. And Sony did add some improvements to the camera (Predictive Hybrid AF being the big ticket item). You do lose 2160p video capture, but gain a serious selfie cam with a 13MP 1/3" sensor. Beware US buyers - the fingerprint reader is disabled on your side of the pond.
We think things swing the other way in the lower size category - we'd pick the Sony Xperia Z5 Compact over the X Compact. The Z5C gets the better endurance, it keeps the metal frame (XC is plastic) plus the waterproofing and the 2160p video capture. Its screen is brighter (but posts worse sunlight legibility) to boot.
Apple resisted the large-screen craze for the longest time, then killed its traditional 4" phone and now it's back again! This roller coaster of emotion is called the iPhone SE and is something of a revamped iPhone 5s.
It boasts a well calibrated screen, which is bright and legible under bright light (contrast is harmed by poor black levels, though). The SE boasts much improved camera (12MP! 2160p!) than the 5s and a much better chipset (with double the RAM to boot). The battery endurance rating grew by a healthy margin too.
Better still, the iPhone SE is smaller than the Xperia Z5 Compact - you don't see that every day. Compared to the larger iPhone 6s, you do lose the 5MP selfie cam, next gen fingerprint reader and 3D touch, though.
Let's do a 180° turn and look at bigger phones. We already mentioned the mini variant, but the full-blown ZTE Axon 7 is so much better. It has a sharp 5.5" AMOLED screen - QHD resolution, compared to OnePlus 3's 1080p - and some of the most powerful stereo speakers we've ever heard.
It uses a Snapdragon 820 chipset like the other big boys and a 20MP camera with a bright f/1.8 aperture and OIS. Unlike the OnePlus, you get "only" 4GB of RAM, but we'll take that and the microSD slot. (note: in China, the phone comes with 6GB RAM and 128GB storage, but that's not available worldwide).
The Samsung Galaxy A9 (2016) goes even bigger - 6" AMOLED - but with only 1080p resolution, which isn't perfect. Still, the metal housing of the phone contains the still-great chipset from the Galaxy S6/Note5.
You get a 13MP camera (f/1.9) with OIS and an 8MP selfie camera, plus a big 4,000mAh battery. The Galaxy A9 Pro (2016) ups those to 16MP main camera and 5,000mAh, but it's not as widely available.
A similar phone is the Huawei Mate 8. Also with a 6" 1080p screen (but IPS) and an OIS-enabled camera that lacks 2160p capabilities. A large battery - 4,000mAh - is on board as well. We think it's a question of where you stand in the IPS vs. AMOLED argument and whether you prefer Samsung's custom software or Huawei's (both do split screen multitasking, which is nice for a big-screen phone).
Hello folks, I know it's not really updated but please give your input on deciding what phone to buy: My LG G flex 2 died recently warranty is over, so need a new one, I'm thinking about one of these, their prices are in EUR: redmi note 4 X: 16...
i cant freaking believe the huawei nova is not on this list, firstly you HAVE to see the core processor itself work, its so FREAKING EFFICIENT,secondly that display and the design makes it look posh, thirdly,that camera is capable of being a 16mp , i...
Alright after the comments fighting i came to conclude some points about smartphones. first, i was looking for a phone at the 400$ price range and i came to choose the Honor 8 here's why .. maybe i can make you feel better buying it .. before ev...