Sony Ericsson XPERIA Pureness review: I see through you
I see through you
GSMArena team, 09 March 2010.
A transparent interface
The XPERIA Pureness interface is the regular Sony Ericsson feature phone UI stripped to the bone. Or dressed to match the Pureness if you wish – in monochrome. The luxury XPERIA offers nothing more over the standard Sony Ericsson UI.
The standby screen is arranged in the usual manner with information on top indicating signal strength, the currently used data carrier and battery status. At the bottom of the display you can see the labels for context keys.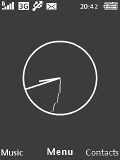 The well-known Sony Ericsson home screen
The options for the menu layout are the standard trio - theme-dependent, grid of icons and single icon view.
The well-known Activity menu offers quick access to a user-defined list of favorite features, recent events and, of course, the Running Apps tab that takes care of multitasking. The web tab is missing so you won't be able to store quick links and bookmarks here.
Traditional phonebook
The phonebook has storage for 1000 contacts and 7000 numbers. You can choose to view contacts in the phone memory or on SIM, but not both. Either way you can set up the phone to autosave to SIM all contacts that are being saved to the phone memory.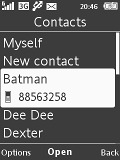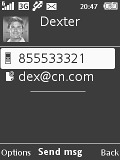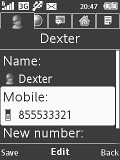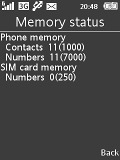 The Sony Ericsson XPERIA Pureness phonebook
Editing a contact employs a tabbed interface that's well known to anyone who have used a Sony Ericsson handset in the past couple of years.
There are five tabs that group related contact details. The first tab is for names and numbers, next up is web addresses such as e-mails and URLs. The third tab is for storing a picture, a custom ringtone, group, message tone and voice command, the fourth is for postal details and finally the fifth has fields for a note and a birthday (which you can add to the Calendar too).
The names of the contact is stored in a single field, but you still have the option to order contacts by first or last name.
Naturally, you can search through the contacts list by gradual typing.
Good telephony, sweet concierge service
Handling of calls is excellent and we didn't experience any voice quality or reception problems with the Sony Ericsson XPERIA Pureness. Call clarity is great both through the earpiece and speakerphone.
The Sony Ericsson XPERIA Pureness offers fast 3G connectivity, but has no camera so videocalls are a no go.
Smart dialing or "Smart Search" as Sony Ericsson call it, is a great boost to usability. It looks up contacts whose numbers contain the digits you have typed or whose names begin with the corresponding letters.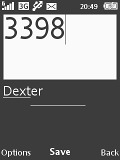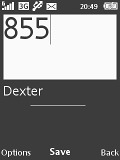 Smart dialing makes life easier
The Sony Ericsson XPERIA Pureness comes with a 12-month subscription to the Pureness concierge service. The service is available 24/7 via phone or email and it can get you perks like room upgrades in hotels, a VIP welcome, free champagne, discounts, tickets with better seating and so on. The service is country dependent, so make sure to check the list of benefits to see what they have to offer for your locale.
While conducting our traditional speakerphone test with Sony Ericsson XPERIA Pureness we discovered some disturbing differences between the ringtone and music player performance. The maximum ringing volume was subjectively on the low side, but the device still scored well. Playing back music with the music player however hit the bottom of our chart with a Below Average mark.
But since this test is most about telephony and ringing volume and the difference is obviously a software glitch, we'll publish the higher results here. Here is how it compares to some of the other handsets we have tested. You can find information on the actual testing process, along with the full list of tested devices here.
| | | | | |
| --- | --- | --- | --- | --- |
| Speakerphone test | Voice, dB | Pink noise/ Music, dB | Ringing phone, dB | Overal score |
| Apple iPhone 3G | 66.1 | 62.1 | 71.7 | Below average |
| Nokia 8800 Gold Arte | 70.8 | 69.9 | 66.9 | Average |
| Samsung Armani | 69.7 | 64.6 | 71.0 | Average |
| Samsung M7500 Emporio Armani | 73.7 | 66.6 | 75.7 | Good |
| Sony Ericsson XPERIA Pureness | 69.9 | 66.6 | 78.0 | Good |
| LG KF750 Secret | 75.6 | 72.7 | 82.8 | Excellent |
Sonny e phone glassic screen find in india in which stats.....
AnonD-333978
24 Mar 2015
t}A
"It's a phone like no other: the point of its screen is to be transparent, not legible."