Sony Xperia X, X Performance and XA: Sony at MWC 2016
Sony at MWC 2016
GSMArena team, 20 February, 2016.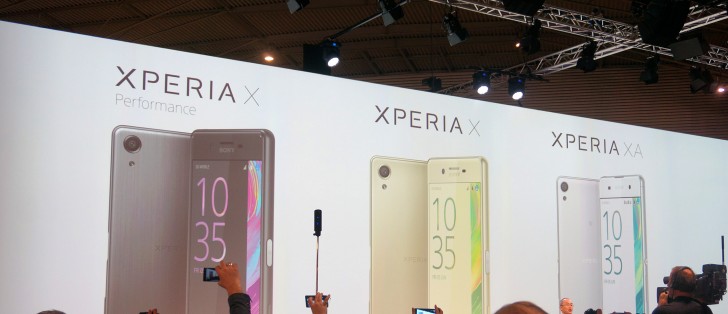 Sony Xperia X Performance hands-on
Our favorite in the lineup and the one with the best credentials. The top dog status of the Sony Xperia X Performance affords it some premium features the other two miss out on.
The X series follows the Z-design, but the glass back is gone in favor of a seamless metal shell. Some of the X Performance's paint jobs have a brushed metal finish, making it that much cooler.
Another Performance-exclusive feature is the IP68 rating - waterproofed to sustain immersion beyond 1m of water for 30 minutes or more (the other two are not IP-certified).
On the front, the glass is beveled and smoothly flows into the metal frame. Below the glass is a 5" Triluminos display, which looks pretty cool.
Unfortunately, Sony didn't have a retail Xperia X Performance for us to handle, so we can't say more about the screen quality. Also, the launch dates are not clear yet, be prepared for the Performance to launch after the other two X-phones.
Re the issue of phone screen going dark during call, is your phones light sensor at the top of screen blocked? I had the same issue when I used a camera cover on the selfie camera (I don't take selfies), which accidentally covered the light sens...
please help me, my Sony Xperia X Performance goes dark on every call and i don`t know how to rectify this and it is frustrating because sometimes the person on the call asks me a to press a digit but then the phone is dark, please assist!
My Sony Xperia X F5122 released in 2016. It's version, 6.1which I updated from the Sony website and its version 7.0 naught. It is very latest and best. I am very pleased with this product.