Sony Xperia 1 review
GSMArena team, 08 June 2019.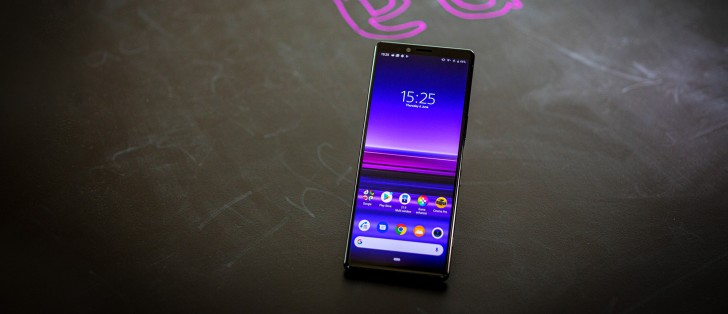 A 4K HDR OLED screen, notch-free
The 6.5", 4K OLED HDR panel on the Xperia 1 looks as amazing as it sounds. Sony has managed to claim a "world first" here by combining 4K resolution and OLED. All the other tech sprinkled on top beyond that only sweetens the deal further and makes for an even more one-of-a-kind offer. Sony has even coined a marketing brand for this high-end panel, referring to it as Cinema Wide.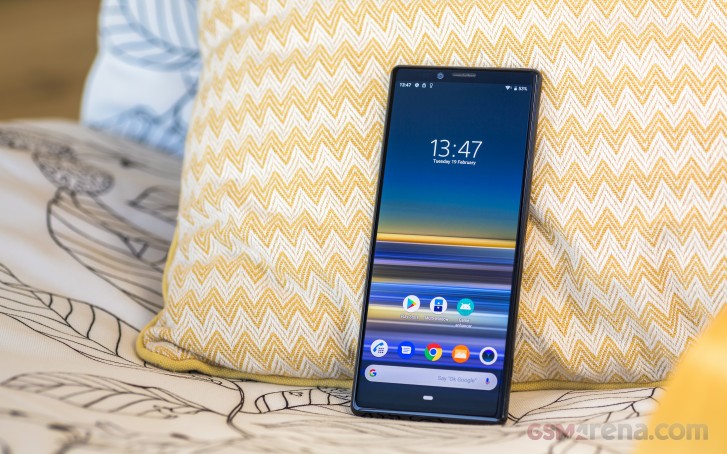 The actual panel resolution is 1644 x 3840 pixels, which is 4K even though it's not the 4K you know and probably have on your home TV due to the different aspect ratio.
Regardless, the 6.5" diagonal makes for a jaw-dropping 643ppi density rating. And unlike previous Xperia Premium phones, the 4K output is always on, and not just when compatible content is visualized.
Update: We've done some more tests about the 4K resolution support in different apps. Тhe updated text follows bellow.
Keep in mind that for good practical and especially battery endurance reasons, you are not going to get the full native panel resolution in most regular use cases throughout the UI. That only triggers automatically when compatible content is displayed on screen, just as on the previous Xperia Premium phones.
We were misled to believe that the 4K resolution is always forced, which frankly doesn't make much sense as this would drain the battery quickly. And indeed, after some further testing we found out that from the native apps only Album and Videos are displaying content in 4K. Netflix and Amazon Videos from the third-party apps we've tested also use 4K resolution and can stream 4K HDR movies. Everything else we tried runs at 2/3 of the panel resolution or 1,096 x 2,560 px.
But this is not due to some restrictions applied by Sony. Most of the apps and games available in the Play Store just doesn't come with 4K UI support or 4K textures. If an app or game was made to support 4K, it will run in native 4K on the Xperia 1, of course.
Then there are these concerns that just like an ultra-wide PC monitor or a cinema screen, this aspect works great for watching movies but often comes as too "short" for productivity in landscape mode. And there is some truth to this on the Xperia 1 - it works great for multimedia consumption and side-by-side multitasking, but there are times where a lot of the screen space is wasted.
Luckily, though, the benefits of 21:9 seem to outweigh its shortcomings. After all, most of what we tend to do on a smartphone is scroll through long vertical content - lists or otherwise. On such a tall display that's a great experience.
And in 2019, there is already plenty of 21:9 content out there. YouTube has a bunch, and so do streaming services like Amazon's video offerings and Netflix. The latter, especially, has a vast library of movies and Sony has partnered with Netflix for some exceptional 4K HDR experience on the Xperia 1.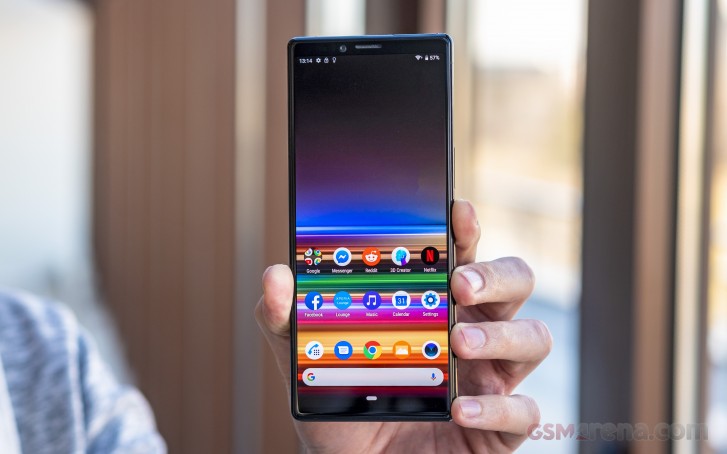 And speaking of having the right content and properly viewing and enjoying it, there is yet another interesting "sprinkle" on top of the Xperia 1's gorgeous panel, which Sony calls "Creator mode". It's a display setting, and while it's on, the Xperia X1 should display as accurate colors as possible with any HDR video (it's the ITU-R BT.2020 color space in particular). It will also upconvert any SDR stream to HDR all while making sure the stream's color gamut is converted too. Of course, your best bet for making the most of the feature is watching appropriate HDR video content.
And while the panel is not truly 10-bit, but rather the more typical 8+2 bit variety - it still provides awesome contrast, local dimming, and gradients all look spectacular, given the right content.
You can either switch the Creator mode permanently or have it activate automatically when you are playing back appropriate content.
The Xperia 1 also has the proprietary X1 for mobile engine running in the background, optimizing video content that is not natively created for the high contrast and color palette of the panel. It is tech borrowed from the company's BRAVIA TV line and even works dynamically on streamed content.
In its Standard mode, we found the Xperia 1's screen to conform mostly to the DCI P3 color space and it was rather color accurate in this regard.
In this standard mode the Xperia 1 screen can go as bright as 390 nits at the far-right end of the brightness slider.
The Auto Brightness mode would give you a further boost in bright sunlight but only if you are watching video or browsing photos. In these cases, the screen brightness goes as high as 665 nits, or that's at least the maximum we measured with our white target taking up around 75% of the screen surface. It can probably go even higher with smaller targets as this is how OLEDs work.
Display test
100% brightness
Black, cd/m2
White, cd/m2
Contrast ratio
Sony Xperia 1
0
391
∞
Sony Xperia 1 (Max Auto)
0
665
∞
Samsung Galaxy S10+
0
385
∞
Samsung Galaxy S10+ (Max Auto)
0
793
∞
Nokia 9 PureView
0
531
∞
Apple iPhone XS Max
0
653
∞
Huawei P30 Pro
0
571
∞
Huawei P30 Pro (Max Auto)
0
605
∞
Xiaomi Mi 9
0
428
∞
Xiaomi Mi 9 (Max Auto)
0
620
∞
LG G8 ThinQ
0
391
∞
LG G8 ThinQ (Max Auto)
0
655
Sony Xperia XZ2 Premium
0.367
518
1411
Sony Xperia XZ3
0
442
∞
Sony Xperia XZ3 (Max Auto)
0
620
∞
Oppo Reno 10x zoom
0
440
∞
OnePlus 7 Pro
0
436
∞
OnePlus 7 Pro (Max Auto)
0
616
∞
As we already mentioned, in Standard mode the display is reasonably accurate to the DCI-P3 color space with an average deltaE of 4.3 and a maximum deviation of 10 at point White. Sony promises an excellent color accuracy for the BT2020 color gamut with the Creator mode ON, but we weren't able to test it so that we will take their word on that.
Battery life
The Sony Xperia 1 is powered by a 3,300 mAh battery, which does leave us somewhat wanting - especially with such a large display, clearly geared towards heavy multimedia usage. That said, Sony has a slew of extra battery features, like Smart STAMINA and Battery Care to extend both battery life and battery longevity in the long run.
It is good to see that Sony is sticking to its transition to the USB Power Delivery standard for its charging. An 18W USB-PD charger is provided with the phone and it recharges 50% of a depleted battery in 30 mins. A full charge takes about 1 hour and 45 mins, though.
In our testing, the Xperia 1 didn't impress with its battery life - much like the previous Premium iteration. We clocked 11 hours of video playback (some improvement over the XZ2 Premium) and about 9 hours of web browsing over Wi-Fi (about half an hour less than the predecessor) - we could call these numbers decent, but far from the best-in-class. The 25 hours we measured in 3G voice calls are in line with what we expected from a 3,300 mAh battery and the Snapdragon 855 modem.
Factoring in the standby performance in addition to the above numbers for the Xperia 1, we've calculated an overall Endurance rating of 79 hours. Overall, that's definitely a dependable battery score, but we've seen better screen-on performance from other phones in the class.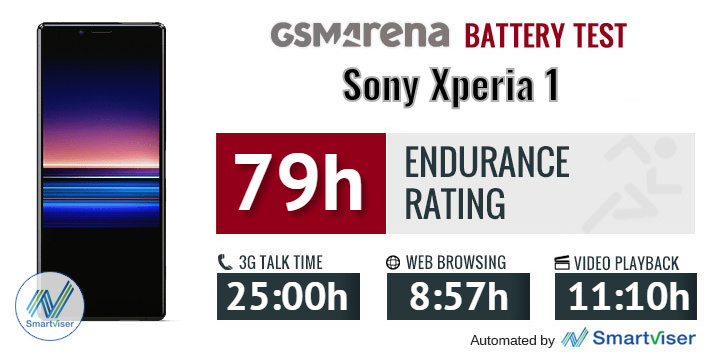 Our battery tests were automated thanks to SmartViser, using its viSerDevice app. The endurance rating above denotes how long a single battery charge will last you if you use the Sony Xperia 1 for an hour each of telephony, web browsing, and video playback daily. We've established this usage pattern so that our battery results are comparable across devices in these basic day-to-day tasks. The battery testing procedure is described in detail in case you're interested in the nitty-gritty. You can check out our complete battery test table, where you can see how all of the smartphones we've tested will compare under your own typical use by adjusting the ratio of the three types of usage as you prefer.
Speaker test (old, new one below)
The Xperia 1 borrows its audio setup entirely from the Xperia XZ3 and XZ2. That, of course, entails some great things, like the impressive stereo speaker setup and the intriguing Dynamic vibration system. But, also, some less than ideal choices, as far as most fans are concerned, namely the refusal to bring back the 3.5mm audio jack.
The two speakers sound well balanced in volume and scored a Very Good mark in our loudness test, just three decibels short of Excellent. The audio output is impressive with very rich and crisp sound. Watching movies on listening to YouTube songs is a pure joy on the Xperia 1.
| | | | | |
| --- | --- | --- | --- | --- |
| Speakerphone test | Voice, dB | Pink noise/ Music, dB | Ringing phone, dB | Overall score |
| Sony Xperia XZ2 Premium | 68.1 | 73.2 | 73.7 | Good |
| Nokia 9 PureView | 68.9 | 71.8 | 81.1 | Very Good |
| Sony Xperia 1 | 69.8 | 74.5 | 81.0 | Very Good |
| Xiaomi Mi 9 | 70.1 | 74.2 | 81.6 | Very Good |
| Sony Xperia XZ3 (ClearAudio+) | 68.0 | 75.3 | 84.0 | Very Good |
| Sony Xperia XZ3 | 71.0 | 75.4 | 82.9 | Excellent |
| Samsung Galaxy S10+ | 74.4 | 74.2 | 83.6 | Excellent |
| Sony Xperia 10 Plus | 68.5 | 73.2 | 90.7 | Excellent |
| Huawei P30 Pro | 70.9 | 73.8 | 90.9 | Excellent |
| Huawei Mate 20 X | 71.4 | 73.5 | 91.1 | Excellent |
| OnePlus 7 Pro | 79.6 | 77.7 | 87.2 | Excellent |
We are less than thrilled by the Dynamic vibration system. It's supposed to vibrate in tune with deep, bass sounds that come from the video or track you are listening to. However, the implementation bears improvement - especially in the quality of vibration the phone emits. It's an exciting and unique feature which sounds great on paper, but none of us around the office enjoyed using it for a reason we can't quite put our fingers on. So yes, for now, we'll keep that one classified as a gimmick. Here's hoping it might see an improvement in the future.
Speaker test (new)
Use the Playback controls to listen to the phone sample recordings (best use headphones). We measure the average loudness of the speakers in LUFS. A lower absolute value means a louder sound. A look at the frequency response chart will tell you how far off the ideal "0db" flat line is the reproduction of the bass, treble, and mid frequencies. You can add more phones to compare how they differ. The scores and ratings are not comparable with our older loudspeaker test. Learn more about how we test here.
Audio quality
The Sony Xperia 1 did as expected when hooked up to an active external amplifier - it delivered audio of perfect clarity as is befitting to a modern-day flagship. Its volume was above average too - a welcome departure from most recent Sony flagships, which weren't able to go that high.
Plugging in a pair of headphones caused more damage than we would have liked. Frequency response got slightly shaky, some intermodulation distortion crept in, while the stereo crosstalk rose notably. The volume also went down to being only average. While none of those issues is too major on its own, adding them up leaves the Xperia 1 with only a Good mark in audio output quality, which puts it behind most of its direct rivals.
| | | | | | | |
| --- | --- | --- | --- | --- | --- | --- |
| Test | Frequency response | Noise level | Dynamic range | THD | IMD + Noise | Stereo crosstalk |
| Sony Xperia 1 | +0.02, -0.01 | -93.6 | 93.5 | 0.0010 | 0.007 | -85.2 |
| Sony Xperia 1 (headphones) | +0.31, -0.26 | -92.1 | 91.9 | 0.0060 | 0.302 | -55.1 |
| OnePlus 7 Pro | +0.03, -0.01 | -93.0 | 92.6 | 0.0023 | 0.021 | -89.6 |
| OnePlus 7 Pro (headphones) | +0.10, -0.05 | -92.0 | 91.4 | 0.0034 | 0.106 | -74.8 |
| Huawei P30 Pro | +0.04, -0.02 | -90.5 | 90.4 | 0.0014 | 0.013 | -93.0 |
| Huawei P30 Pro (headphones) | +0.14, -0.23 | -90.4 | 90.3 | 0.0046 | 0.211 | -47.0 |
| Samsung Galaxy S10 | +0.03, -0.04 | -92.2 | 92.0 | 0.0015 | 0.0079 | -92.7 |
| Samsung Galaxy S10 (headphones) | +0.06, -0.03 | -91.9 | 91.7 | 0.0020 | 0.037 | -77.0 |
| LG G8 ThinQ | +0.01, -0.03 | -94.1 | 93.5 | 0.0013 | 0.0069 | -87.6 |
| LG G8 ThinQ (headphones) | +0.05, -0.05 | -93.8 | 93.1 | 0.0041 | 0.063 | -61.8 |
| LG G8 ThinQ (headphones, QuadDAC) | +0.03, -0.02 | -93.7 | 93.1 | 0.0014 | 0.030 | -67.4 |
| Xiaomi Mi 9 | +0.02, -0.01 | -93.9 | 93.1 | 0.0015 | 0.0066 | -91.9 |
| Xiaomi Mi 9 (headphones) | +0.05, -0.04 | -92.6 | 93.5 | 0.0026 | 0.072 | -58.7 |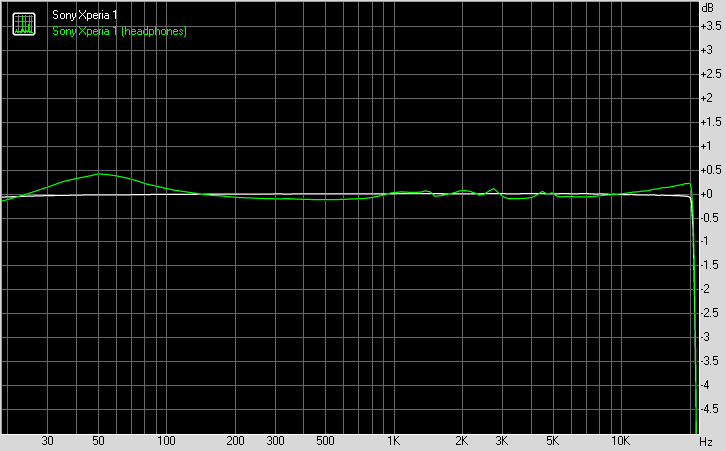 Sony Xperia 1 frequency response
You can learn more about the tested parameters and the whole testing process here.
Anonymous
26 Jan 2023
IW1
tf you means by 5G lacking?? Only special version of SD855 phone have 5G like S10 5G at that time. Tbh wireless charging isn't that great. Other complaint are just you being nitpicky. 4K screen with 3300mah, anyone with brain can know that the b...
Had Sony Xperia 1 never again think phone over heats etc Think Sony Xperia 5 was the best battery life on that was for very long compare to 1 not haveing Xperia has to be Samsung 💯
after two and a half years, my phone still has 88% battery capacity. the battery is small but of very good quality.