Sony Xperia Pro-I review
GSMArena Team, 02 December 2021.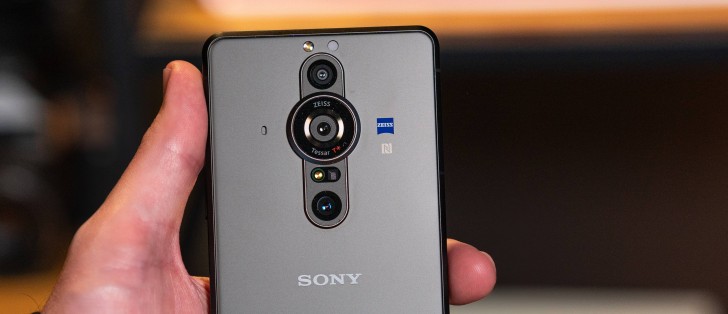 App overview
The Xperia Pro-I adds another camera app to the already existing Photo Pro and Cinema Pro - there's now Video Pro too. It slots in between Cinema Pro and the 'default' app in complexity and capabilities - it still allows you to tweak shooting parameters. Still, it is geared more towards shoot-and-send scenarios with no post-production involved.
Cinema Pro has been around since the Xperia 1 (I), and it got a few refinements over the years to get to where we are now, though we still wouldn't call it perfect. Co-developed with the CineAlta branch of the Japanese company, this one is for more advanced users and requires a certain workflow and post-processing to get to a finished product.
Photo Pro is the 'default' camera app though its name is somewhat misleading. While there is the Pro section, where you get advanced photographic controls, the Basic mode is for point and shoot scenarios, and it can also record video. Let's start here.
Photo Pro
With the Xperia 1 III, the Photo Pro app was expanded to take over the features of the original basic Xperia camera app - the two were separate entities until that point. It's more or less the same experience here, with an added extra toggle for aperture on the main camera.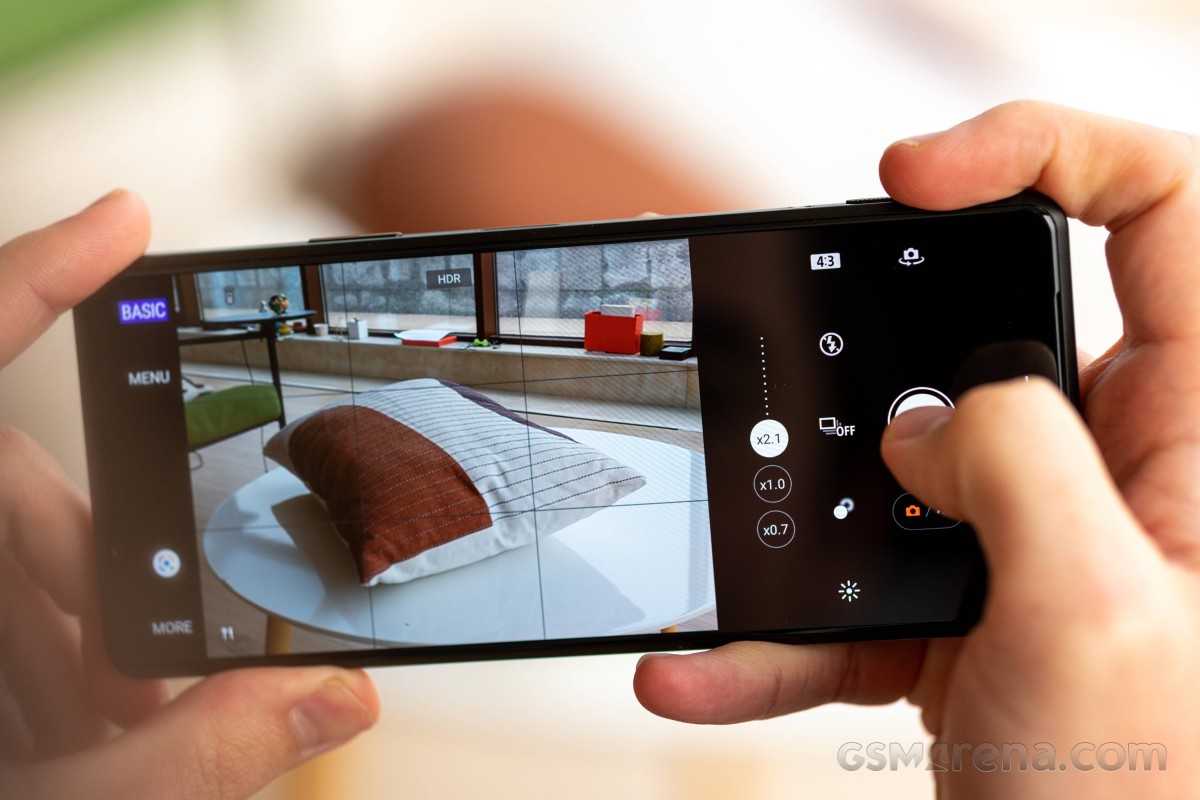 Basic mode is the heir of the old app and likely where you'll spend most of your point-and-shooting time when you don't much care about creative control. The sliders for (implied) white balance and exposure compensation, bokeh mode, drive mode, flash and aspect ratio are placed immediately next to the shutter release. The zoom selector is nearby, too, as is that aperture switch, so pretty much everything can be operated with a single thumb without having to use your other hand. In this scenario, however, your right index finger ends up on the hardware shutter button making for not strictly intentional presses.
At the opposite end of the viewfinder, and for these you'll need your other hand, you'll find a More button, a shortcut to Google Lens, a Menu button to access the (rather lengthy) Settings menu, and the button that lets you switch between this Basic mode/app and its Pro alter ego.
When in the Pro section of Photography Pro, you get an Auto mode, as well as the classic Program, Shutter priority and Manual modes, plus a Memory Recall option where you can store a pre-set state of settings to be able to come back to quickly.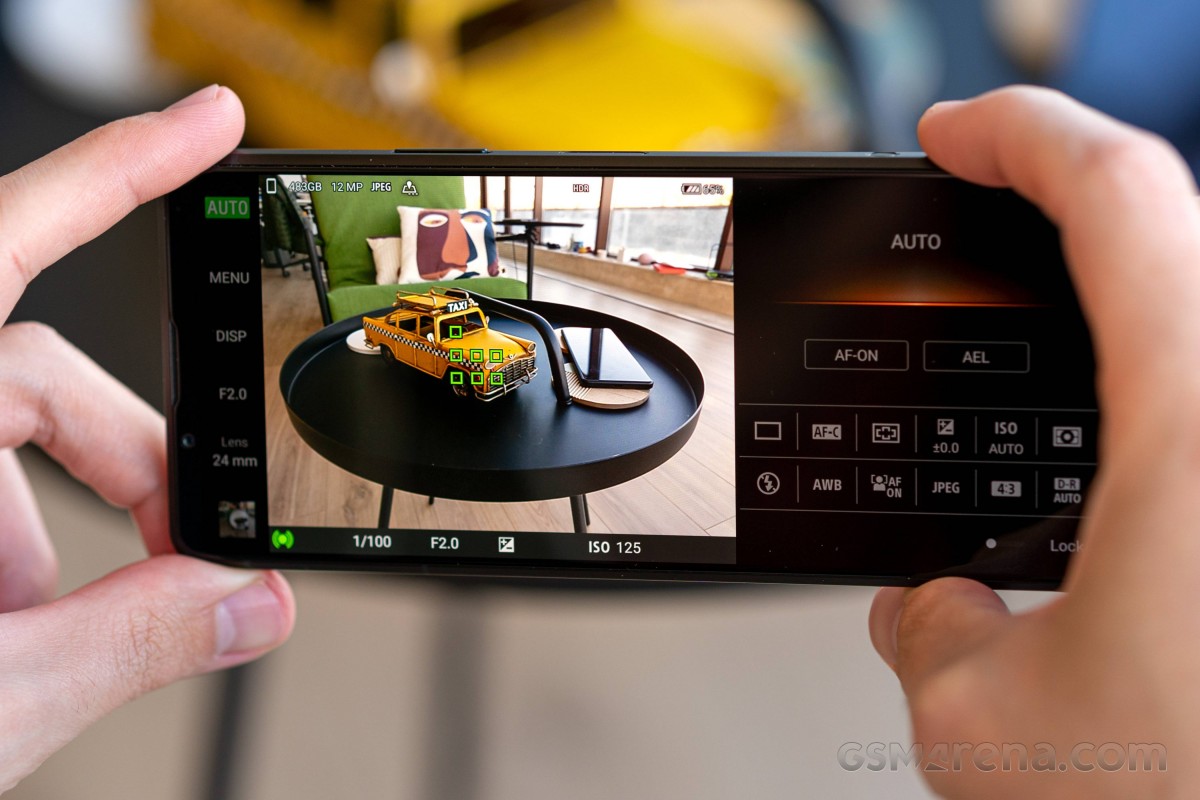 The Photo Pro interface is reminiscent of a dedicated Sony Alpha camera, only adapted for smartphone use. On the right, you get to change photographic settings like focus mode and area, white balance and ISO, but it's exposure compensation that's apparently the most important control since it gets about a third of the screen area.
There's still no touch-based way to engage the shutter release, which seems like a stubborn refusal to accept that smartphones take pictures with a tap. The dedicated mechanical button is the default way, and the volume rocker is also an option, but that's that. If you like the Photography Pro interface, but you're not too keen on having to squeeze the phone to take a picture, you're out of luck. We reckon there's ample space for virtual shutter button around/ under/instead of that exposure compensation dial.
Another somewhat annoying bit is that you need your left hand to switch cameras/zoom levels in this UI mode. We get that serious photographers use serious cameras with both hands, but it's unwise to directly apply that logic to smartphones, which have entirely different use cases. We get how this could be more difficult to arrange on the near end, though.
We covered Photography Pro in-depth last year in the Xperia 1 II review and you can head over there for more details - it's essentially unchanged. Then again, you'll probably know your way around it simply by looking at the icons.
Cinema Pro
Sony first introduced the Cinema Pro app on the Xperia 1 (Mk 1), and we've been trying to explore what it offers every time we've had the chance. Last time was about a month ago on the Xperia Pro-I itself, when there was still color around us - here's some footage from back then.
Cinema Pro is the most advanced app that Sony has and offers nuanced control over all aspects of the shooting process. Having said that, there aren't any major differences in the version we find on the Xperia Pro-I, compared to what we had on the latest non-so-Pro Xperias, other than the added provision for switching the aperture on the main camera and the addition of the mic mode in the viewfinder.
Cinema Pro unlocks frame rates and resolutions not available in the basic app, including 4K up to 120fps, albeit in 21:9 aspect ratio - that's really the only ratio in this app. You get the final say on the shutter speed (which you pick by shutter angle), ISO and f-stop (where applicable), as well as white balance and 'look' - sort of like a color profile of which there are a bunch (Venice CS, Opaque/BU60YE60, Bright/BU20YE60, and so on). A -2 to +2EV indicator scale in the bottom left of the viewfinder will tell you how far off you are from the metered exposure level.
One of Cinema Pro's most useful features is the ability to rack focus between pre-set focus distances (A-B) with control over the duration of the transition. There's also tap to focus functionality, but there's no tracking, so if your subject moves within the frame, the phone won't follow it - instead, it will focus on whatever is in the box where you tapped.
One major omission when it comes to focusing aids, and it's a persisting one, is focus peaking. Manual focus would benefit greatly from it, but as it stands, it's a hit-and-miss affair.
There's no change in the availability of Eye AF in Cinema Pro either - it's limited to the other two apps.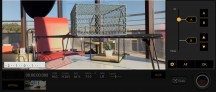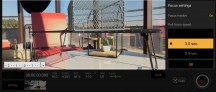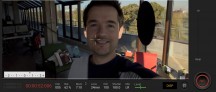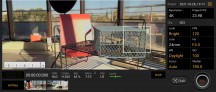 Focusing: A-B racking • Focus pull 'speed' (more like duration) • No eye AF • Tap to focus
You get the option to set a white balance by pointing the phone at a gray card. Additionally, you get sliders for tweaking the WB along the Blue-Amber and Green Magenta axis.
Filed under 'missing' are exposure aids beyond the -2 to +2 EV scale - zebras, for example, would be nice. Some options for metering modes wouldn't hurt either.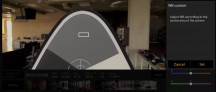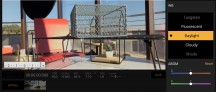 Custom white balance • Sliders for WB too (but no light temperature setting)
The largely unchanged state of the Cinema Pro app and certain seemingly obvious flaws that Sony refuses to address are leaving us a bit disheartened. The app is very feature-rich and has plenty of potential left to tap into, but Sony doesn't see it that way, apparently.
Video Pro
Which brings us to the newest addition to the Sony imaging apps suite, Video Pro. Similar to Cinema Pro, this app offers granular exposure controls and extra frame rates on top of the basic app but saves you the hassle of color-grading the footage afterwards. That makes it more suitable for direct out-of-camera(phone) uploads to your favorite video-sharing platforms.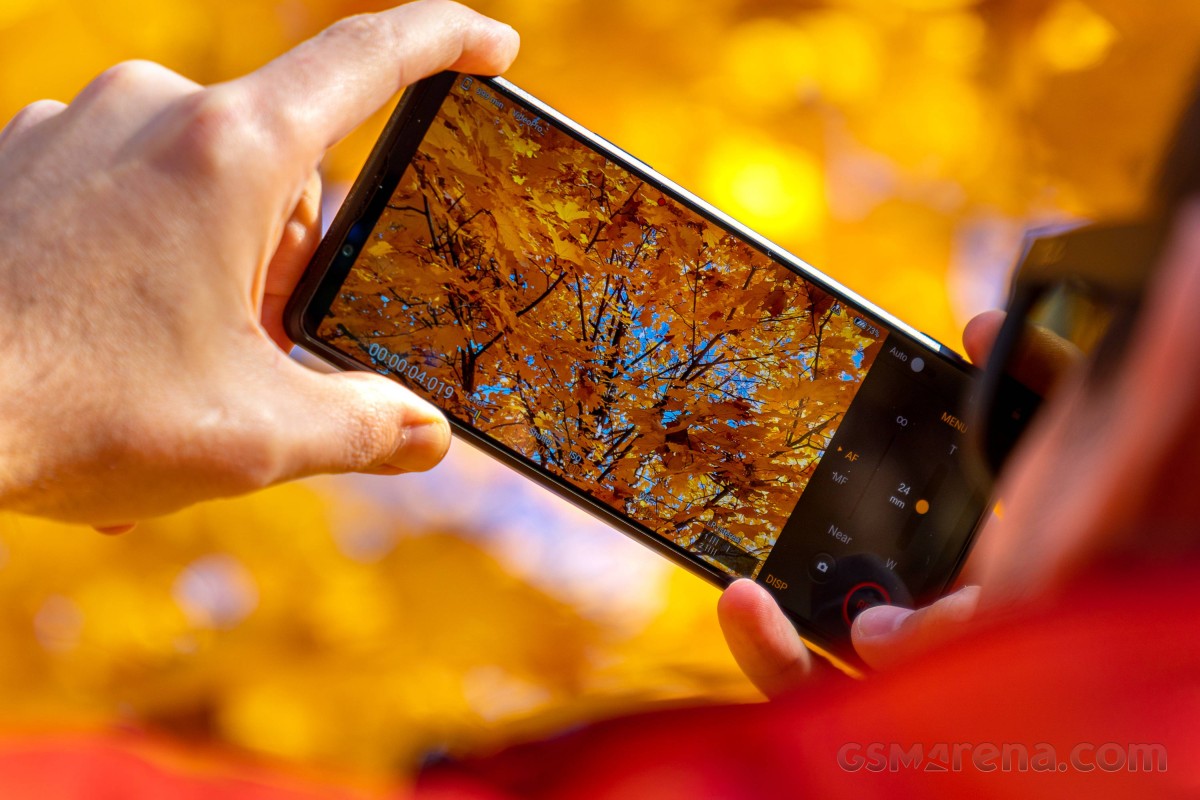 The interface of Video Pro features a similar split with a large viewfinder on the left and controls on the right. Always available are two sliders, one for focus and another one for zoom. There's an Auto switch up top, which frees the phone to take care of everything for you, and a lock button to disable all controls, so you don't accidentally press something.
The exposure controls and other shooting parameters are accessed from the Menu button. Mind you, it's a separate button from the hamburger [menu] button - a bit of a confusing UI choice, which took us a while to figure out.
The first tab of the Menu menu is where you pick the lens (camera), and on the main camera, that also lets you set the iris (aperture in video terms). Unlike in Cinema Pro, here you can only set the shutter speed by fractions of a second and not shutter angles - if we're calling the aperture 'iris', perhaps shutter angles are fitting too.
You can record at up to 4K120 here, and it's the regular 16:9 4K too, so 3840x2160px as opposed to the 3840x1644px in Cinema Pro. A small caveat is that it's encoded at 120fps, so it plays back at real-life speed, and not in slow motion, though if that's what you're after, you can slow it down to 1/4 or 1/5 in post. There's a 'slow motion' setting too, but that's only up to 60fps, and those clips play back at 30fps, so half-speed.
The second tab has the white balance and ISO settings. Oddly enough, in this app, you can set up to three custom white balance presets, unlike the single one in Cinema Pro, though here you're not getting the Blue-Amber and Green Magenta sliders.
The hamburger menu, on the other hand, holds less immediately used settings like ISO limits, codecs, mic mode and controls.
Ultimately, if you're not coming from a cinema background and you're doing a simpler project, yet you appreciate finer control over the shooting process, Video Pro seems like the way to go.
I'm sorry but... if you're not a PRO photographer and you buy this for the camera.... again I don't understand who would ever buy this mediocrity. Is there such a thing as under processed? Cause if it is, then this is it. Sony thought,...
chiropter
12 May 2023
PD@
Ultimately, it is because Korea, which manufactures Galaxy, and Japan, which owns Sony, are on extremely bad terms.
What ? how :D, I had Xperia sola for 5 years, and now its been couple of years that my sister is using it as a music player, so I think it really depends on how well you keep it, you need a Doogee or something, I don't think any other phone can ...