Sony Xperia 1 II review
GSMArena team, 29 May 2020.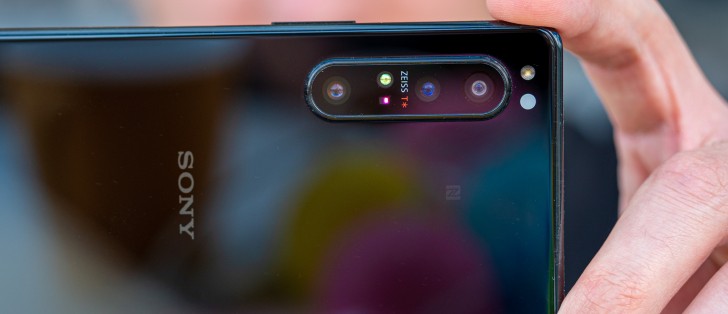 Speed, speed, speed
The Sony Xperia 1 II is big on camera hardware and features with a lot of inspiration drawn from the company's A9 series of mirrorless cameras. The main theme there is speed, and speed is what the Xperia's camera has been optimized for.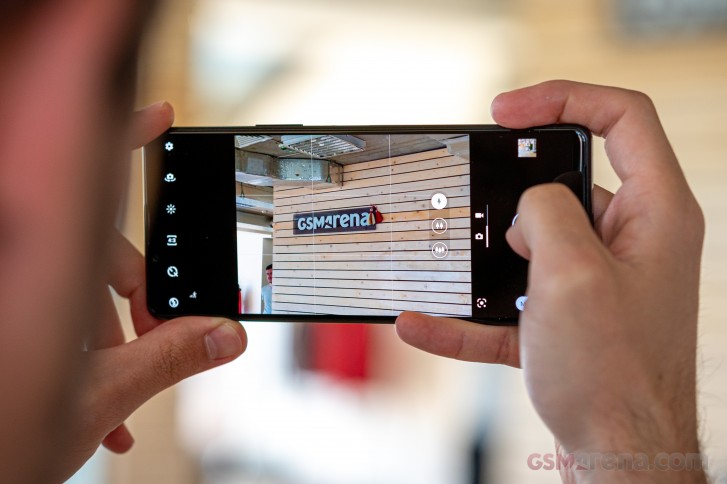 Sensor readout speed in particular is what motivated Sony to pick a slightly smaller conventional sensor for the Xperia 1 II's main cam as opposed to the 108MP units some competitors are opting for. According to the press materials, they can get a full sensor readout from their imager in 10ms, as opposed to the 30ms required to get a 12MP shot from the 108MP modules, or the 100ms for 108MP capture. Fast sensor readout means reduced rolling shutter with moving subjects and, more quantifiably, a 20fps burst shooting speed.
Now, when we're saying smaller, we don't mean small. The Xperia 1 II's main cam has a properly big 12MP 1/1.7" sensor with 1.8µm pixels - a significant step up from the Xperia 1's 1/2.6" imager with a 1.4µm pixel pitch. Even so, it is smaller than what you can get on a Galaxy S20 Ultra or a Mi 10 Pro (1/1.33"), though similar to the one in the non-ultra Galaxy S20s' main cams.
Sony calls it a Dual Photo Diode Sensor which rings like Dual Pixel but then they go on to detail that it uses 247 focus points with a 70% frame coverage, as opposed to every pixel being used for phase detection, and we're not entirely certain how to interpret the two statements.
In any case the Xperia1 II has more focusing aids, so the dual-pixel-or-not conundrum's importance fades. From a hardware perspective the phone has a 3D ToF camera with a 43200pt resolution. It works at distances up to 5m and feeds data into the AI algorithms helping them determine what is the actual subject so the phone can focus on that regardless of where it's positioned in the frame.
The autofocus calculations are performed up to 60 times each second, meaning those 20fps bursts should be able to give you consistently sharp results - and with proper exposure, too.
Straight from the mirrorless Alphas comes Real-time Eye AF too, for humans and animals alike.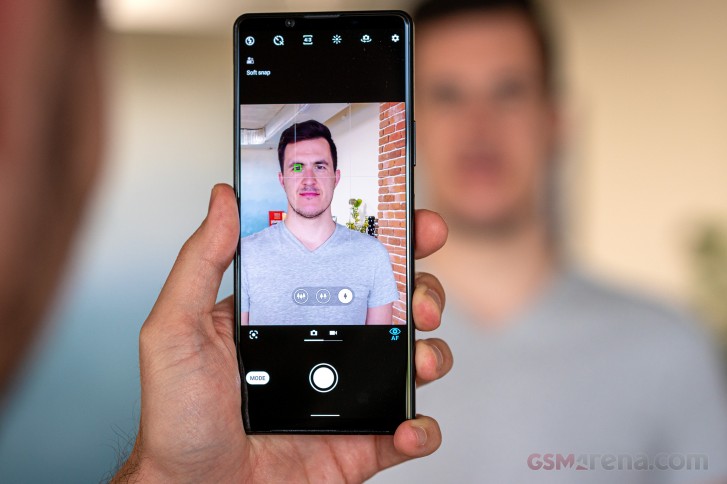 Sony has chosen the focal lengths of its three main cameras so that they match the short end of the company's Holy trinity of mirrorless camera lenses the 16-35mm, 24-70mm, and 70-200mm - staples in most pro photographers' camera bags.
The main cam has a 24mm equivalent lens with an f/1.7 aperture and features optical image stabilization. The ultra wide cam's 16mm equivalent lens has an f/2.2 aperture while the telephoto is specified at 70mm focal length equivalent and has an f/2.4 aperture. You do get the option for intermediate zoom levels, but they come by digitally zooming in from the nearest wider angle cam - so the 50mm equivalent, for example, is captured by the main 24mm cam with no input from the others.
The ultra wide angle cam has a 12MP 1/2.55" sensor with 1.4µm pixels - formerly flagship main cam numbers. This too is a Dual Photo Diode sensor so this camera has phase detection autofocus as well - we're liking this ongoing trend for autofocusing ultra wides.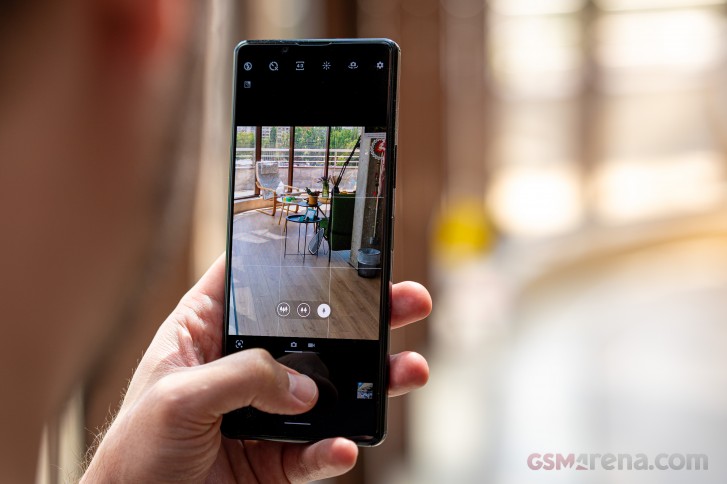 The telephoto cam with the 70mm equivalent focal length is having us a bit confused. The phone reports it's using the Samsung S5K3T2 sensor for this one and that's a 1/3.4" 20MP imager, while the Xperia creates 12MP photos with all of its cameras, telephoto included. Samsung makes this one with either a conventional Bayer RGB filter array or a Tetracell (or Quad Bayer) one and we're thinking Sony got the RGB one and is cropping from its center while having a natively shorter lens. We can't be entirely certain of it, of course. The lens is stabilized, that much is clear.
All lenses have Zeiss T* coating, which should help manage flaring handsomly.
Over at the front, nothing's really changed from a hardware perspective when comparing with the previous generation. The selfie camera is the same 8MP unit with a 24mm equivalent lens with an f/2.0 aperture and fixed focus.
A whole bunch of camera apps
The Xperia 1 II has no less than three camera apps pre-installed. There's the plain Camera app that's best for casual snaps and no-fuss video recording. Then there's the Cinema(tography) Pro app we're familiar with from the previous Xperia 1, for when you want to get creative with your video capture. Brand new this year is the Photo(graphy) Pro app that tries to bring the best of the experience from the mirrorless camera lineup to the smartphone.
The basic Camera app is almost the same as on previous Sonys with a small but notable tweak - the camera selector now adopts the widely used tree designation with three trees for the ultra wide, two trees for the main cam a single tree for telephoto. Whether it's trees or a 0.7x-1x-3x designation is immaterial, but what's important is that the selector now gives you direct access to each cam as opposed to cycling through them like it did on the previous Xperia.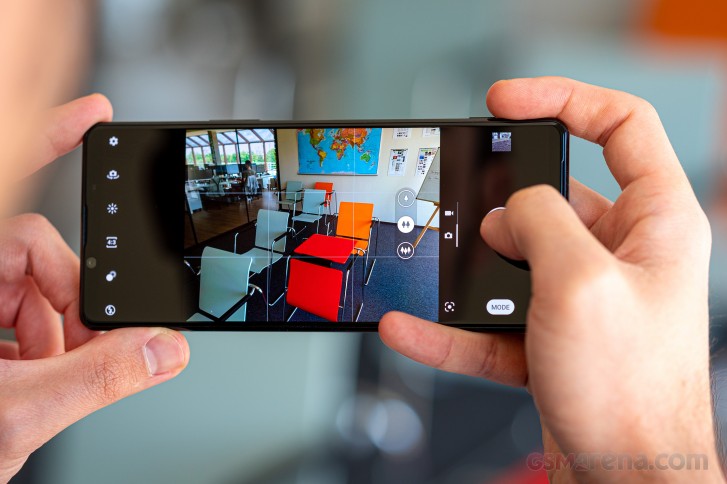 Side swipes switch between stills and video, while swiping down (but not up) toggles between front and rear cams. The far end of the viewfinder has controls for flash, bokeh mode, aspect ratio, implicit white balance and exposure compensation adjustment, an extra toggle for switching between front and rear cams and a cog wheel to take you to settings.
A Mode button in the vicinity of the shutter release gives access to extra modes like Panorama, and Creative effect (a.k.a. filters) and the last mode you pick from here gets promoted to a sticky position for quick access from the viewfinder. There is no Manual mode on the Xperia 1 II.
There is the Photography Pro app, however, and that's better than a Manual mode. Accessible from the extra modes button in the plain app or straight from its own icon on the homescreen, Photo Pro offers a powerful interface with plenty of manual controls.
Let's first mention that the overly prominent EV compensation dial is overly prominent even for people who use EV on a regular basis, plus having analog-looking dials in a touch-operated interface is a bit dated as a concept. Then again, Sony's mirrorless cameras aren't known for their touch operation.
The other bit we're conflicted about is the shutter release button operation, which is the default way to take a picture in Photo Pro - the alternative is by using the volume buttons. The point we're trying to make is that there's no touch-based way to take a photo.
The dedicated button itself does have a well-defined half press and a reasonable full press action, but pressing a tiny button that requires some force to trigger while holding a flat glossy rectangle means shake. It's inconsequential in bright daylight, but for any remotely longer exposure, it's a recipe for blurred images. It's simply a vastly different combination of grip, button placement, force of actuation and whatnot when compared to an actual camera and what works there doesn't necessarily work here.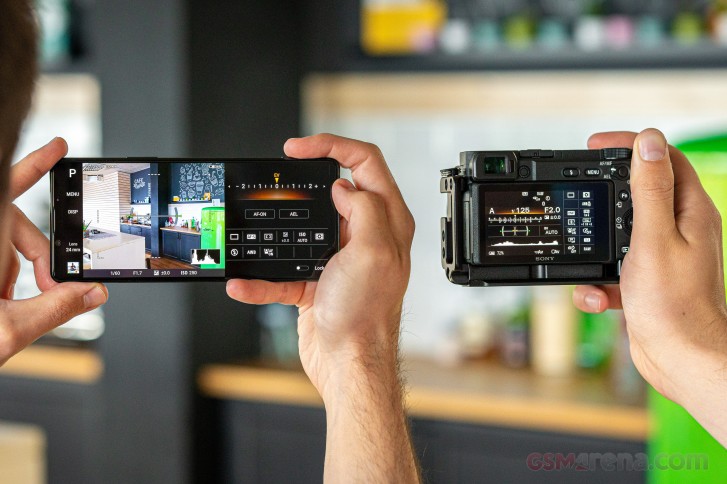 That's most of what bad we have to say about Photo Pro though. Anyone who's picked up a Sony mirrorless camera before will feel right at home. The icons are the same, the viewfinder displays are similar and the menu is, if anything, a lot better.
You get more controls than your average Manual mode too. A Drive mode selector lets you pick between single shot, continuous high speed, and continuous low-speed burst modes and 3s or 10s self-timer. Mind you, the self-timer option is missing when shooting with the rear cameras in the vanilla Camera app.
Single and continuous AF modes are available as well as manual focus (the slider is a bit tiny) and you can pick between a wide area for AF or just the center. A metering mode selector offers the usual spot, center-weighted and matrix metering (Multi in Sony speak) options.
The white balance menu has 5 presets for common light types, and three memory banks for custom presets. You can set the custom white balance by either pointing at a gray card and pressing the set button, or adjusting it manually along the Green-Magenta and Amber-Blue axes in the white balance grid. That's some powerful white balancing right there.
An ISO selector is also provided and adjustment is possible within a 64-3200 range for the main cam, 25-1000 for the telephoto and 50-1600 for the ultra wide.
The viewfinder itself provides information for the current exposure parameters and offers optional histogram and level overlays. Status readings in the top left corner let you know the storage location (phone or microSD card), remaining storage space, resolution and whether geotagging is enabled.
To the left of the viewfinder there's a mode indicator (the P in our case) which turns into a dial once pressed and lets you pick between full Auto, Program, Shutter priority and Manual mode. There's no Aperture priority mode, on grounds of all the lenses being fixed aperture, obviously.
The Disp(-lay) button cycles through the various viewfinder overlay modes but even the busiest (with the histogram and level and all the status icons) isn't too busy, so it's no problem leaving everything on.
The lens indicator turns into a lens selector when pressed, which is one step too many - it's quicker than physically switching lenses on a camera, of course, but when not having to actually do it, why not have all three immediately accessible? To zoom in between the fixed levels, you need to tap the little arrow and then rotate the dial - it looks cools, but isn't the most functional interface. The volume rocker can be set to operate within these zoom levels, but it can't switch cams either - another missed opportunity.
The Settings menu benefits from the large screen and is a lot easier to understand than the often unintelligible abbreviated options in the actual Sony cameras menus. Of course, this here is a phone with just a handful of camera settings, while the dedicated cameras have screens upon screens of options, so there's that too.
Most of the settings in the menu you'll find around the viewfinder anyway, but one is only available here. DRO/Auto HDR lets you choose between Sony's Dynamic Range Optimizer that tries to fit a high-contrast scene's dynamic range within a single exposure by adjusting the tone curve. The Auto HDR option is the more advanced approach, uses multiple exposure stacking, and produces more useful results.
As for the video-only Cinema Pro app, we did a detailed review on that one a year ago, and we will probably take the new version for a spin too.
The new features in this iteration include 25fps recording, an optional level for making sure you're holding the phone horizontally, fewer steps to access project files, the ability to record in 2560x1080px at 120fps, and the intelligent wind filter (also available on the regular Camera app).
The fundamentals that make Cinema Pro that much more useful for an advanced user remain the same. The highlights include shooting at a cinematic 23.98 or 25 fps at 21:9 resolutions of either 3840 x 1640 or 2520 x 1080. It records in HLG HDR and uses the h.265 codec. ISO is adjustable from 50/64/25 (depending on camera module) to 800 and shutter speed can be set by shutter angles. Fine tuning of white balance along the Green-Magenta and Amber-Blue axes is available and you can also set it using a gray card.
Manual control of focus is naturally available too and it includes options for focus racking to precise pre-set distances with the ability to set the speed as well.
You can additionally overlay different frame lines (for 4:3, 2:1, 2.39:1, or 16:9) as well as a rule-of-thirds-grid.
The Look selector lets you pick from professional color profiles for your video. These include VENICE CS, Opaque/BU60 YE60, Bright/BU20 YE60, Warm/YE80, String/BU100, Cool/BU60, Soft/YE40 and Soft Monochrome. Of those, Venice CS is the flattest one with soft colors, the least amount of contrast and soft tonal transitions. It should lend itself well to color grading in post-processing.
Idk maybe it's a software problem u can only hope that its fixed with a software update
has anyone experience the front camera suddenly is not functioning? Prompt is "Failed to camera preview".
Anonymous
22 Jun 2021
YTy
Sony is known to put a ton of oleophobic coasting on their phones and this is no exception. It does help to reduce smudges and scratches to degree. I think repelling water is what it was meant for.