Sony Xperia T3 review: Wits and looks
Wits and looks
GSMArena team, 11 August 2014.
Unboxing the Sony Xperia T3
The retail package of the Sony Xperia T3 covers just the basics. There's an A/C adapter, a microUSB cable and the headset.
Sony Xperia T3 360-degree view
The Sony Xperia T3 measures 150.7 x 77 x 7mm - that's 15mm shorter, 7mm narrower and a tad slimmer than the Xperia T2 Ultra phablet and very close to the Xperia Z2 flagship. The Sony Xperia T3 weighs 148g, reasonable for a solid midranger of such caliber and 15g lighter than the all-glass Xperia Z2.
Design and handling
It's not like we haven't seen the OmniBalance design used on a plethora of Xperia smartphones over the past few years. It's probably time the next flagship moved on but the midrange Xperia T3 is on the safe side. It looks reasonably good and has pleasant handling.
The Sony Xperia T3's entire front is occupied by the 5.3" IPS display.
The non-removable rear cover is made of plastic, with matte finish in graphite black. The material doesn't look or feel low quality, but fingerprints tend to stick on. They would probably be harder to notice on the white and purple versions. Still, the issue is not as obvious as it would have been on a glossy surface.
Just like most of the previous Xperia phones, the Xperia T3 sides are lined with a glossy strip for a nice contrasting accent. The only thing actually made of metal is the signature power/lock key.
Handling the Sony Xperia T3 is a pleasure and the screen size isn't a particular burden. With a 7mm waistline, the Xperia T3 feels great in hand, not bulky at all, and well put together, no wobbles or squeaks. In fact, it's among the thinnest Sony phones ever.
Display
The Sony Xperia T3 flaunts a 5.3" IPS Triluminos display of 720p resolution, which works out to 277ppi. While this is nowhere near the 400+ pixel density of current flagships, it's a completely different price range we're talking about.


Sony Xperia T3 5.3" IPS display
The Xperia T3 display is enhanced by Sony's Mobile BRAVIA 2 and X-Reality engine. The combo aims to improve sharpness, reduce noise, while boosting contrast and saturation, and it does a pretty good job of it.
The pixel arrangement is standard RGB with an equal amount of green, red and blue pixels in line.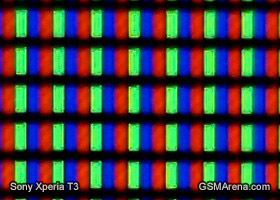 The Sony Xperia T3 uses a standard RGB matrix
The screen's contrast and brightness are very good, and so is color reproduction, all adding up to excellent image quality.
The viewing angles, thanks to the IPS matrix, are better than average. There is no contrast and color washing when you look the screen at an angle, though there is a noticeable color shift from some directions.
Unfortunately, even with Auto Brightness off, the ambient light sensor kept on intervening and we couldn't run our test at 50%.
Display test
50% brightness
100% brightness
Black, cd/m2
White, cd/m2
Contrast ratio
Black, cd/m2
White, cd/m2
Contrast ratio
Sony Xperia T3
-
-
-
0.82
790
963
Sony Xperia M2
0.33
325
989
0.64
643
1000
Sony Xperia Т2 Ultra
-
-
-
0.49
634
1287
Sony Xperia Z1
-
-
-
0.38
580
1513
Samsung Galaxy S4
0
201
∞
0
404
∞
Samsung Galaxy Note 3 Neo
0
142
∞
0
389
∞
HTC Desire 816
0.15
164
1087
0.46
478
1032
LG G2
0.10
149
1522
0.45
667
1495
Using the Sony Xperia T3 in bright outdoor conditions turned out quite a trouble-free experience. The smartphone even managed to slightly outdo the HTC One (M8) in our test.
Sunlight contrast ratio
Nokia 808 PureView
4.698
Apple iPhone 5
3.997
Samsung Galaxy Note 3
3.997
Samsung Galaxy K zoom
3.675
Apple iPhone 5s
3.565
Samsung Galaxy S5
3.549
Alcatel Idol X+
3.527
Apple iPhone 5c
3.512
Samsung Galaxy Note 3 Neo
3.487
Motorola RAZR MAXX
3.42
Samsung I9300 Galaxy S III
3.419
Nokia Lumia 925
3.402
Gionee Elife S5.5
3.386
Samsung I9505 Galaxy S4
3.352
Samsung Omnia W
3.301
Samsung I9000 Galaxy S
3.155
Samsung Ativ S
3.129
Samsung I9190 Galaxy S4 mini
3.127
Samsung Galaxy S4 zoom
3.118
Nokia N9
3.069
Samsung Galaxy Note
2.97
Samsung Galaxy Premier
2.958
Sony Xperia Z1
2.95
HTC One S
2.901
Samsung I8730 Galaxy Express
2.861
BlackBerry Q10
2.856
Samsung I9100 Galaxy S II
2.832
Samsung Galaxy S II Plus
2.801
BlackBerry Z30
2.79
Sony Xperia ZR
2.672
Huawei Ascend P1
2.655
Sony Xperia T3
2.609
Nokia Lumia 900
2.562
HTC One Max
2.537
Nokia Lumia 720
2.512
HTC One
2.504
Motorola Moto G
2.477
Sony Xperia Z
2.462
Samsung Galaxy S III mini
2.422
LG G Flex
2.407
HTC One (M8)
2.371
Motorola RAZR i
2.366
Sony Xperia ZL
2.352
Samsung Galaxy Note II
2.307
Oppo Find 7a
2.279
Alcatel One Touch Hero
2.272
Apple iPhone 4S
2.269
HTC Desire 600 dual sim
2.262
Nokia Asha 311
2.25
LG Nexus 5
2.228
Nokia Lumia 820
2.193
HTC One (E8)
2.185
Nokia Lumia 920
2.17
HTC One X
2.158
Nokia N8
2.144
Nokia Lumia 620
2.142
Nokia 515
2.134
HTC Desire 500
2.129
Sony Xperia acro S
2.119
Nokia Lumia 1020
2.103
Oppo Find 5
2.088
Sony Xperia SL
2.078
Nokia Lumia 630
2.056
BlackBerry Z10
2.051
Samsung I9295 Galaxy S4 Active
2.022
Apple iPhone 4
2.016
HTC One mini
2.003
Huawei Ascend P7
1.992
LG G2
1.976
Oppo R819
1.957
Sony Ericsson Xperia ray
1.955
Sony Xperia Z2
1.944
Nokia Lumia 1320
1.941
HTC One mini 2
1.94
Samsung Galaxy Camera
1.938
Sony Xperia J
1.932
Acer CloudMobile S500
1.931
LG Nexus 4
1.926
LG G Pro 2
1.922
Samsung Galaxy Mega 6.3
1.913
Nokia Asha 308
1.911
Sony Xperia T
1.894
HTC Desire X
1.878
HTC Windows Phone 8X
1.873
HTC Butterfly
1.873
HTC Butterfly S
1.867
Huawei Ascend P6
1.865
Huawei Ascend Mate
1.845
LG G2 mini
1.838
LG G3
1.82
Nokia Lumia 1520
1.813
HTC Desire 616 dual sim
1.797
Sony Xperia V
1.792
HTC Desire 816
1.783
Sony Xperia Z1 Compact
1.772
HTC Desire 700 dual sim
1.769
Sony Xperia U
1.758
Meizu MX3
1.754
LG Optimus G
1.753
Sony Xperia T2 Ultra
1.74
Sony Xperia SP
1.733
LG Optimus 4X HD
1.691
Oppo Find 7
1.691
HTC One V
1.685
BlackBerry Q5
1.682
LG Optimus Vu
1.68
LG Optimus GJ
1.666
LG Optimus 3D Max
1.658
HTC Desire V
1.646
Samsung Galaxy Xcover 2
1.632
Samsung Galaxy Ace 3
1.622
Jolla Jolla
1.605
Sony Xperia Z Ultra
1.578
Sony Xperia go
1.577
Samsung Galaxy Ace 2 I8160
1.566
Samsung Galaxy Core
1.563
LG Optimus G Pro
1.552
Motorola Moto E
1.545
LG Optimus 3D
1.542
Nokia Asha 302
1.537
BlackBerry Curve 9320
1.488
Sony Xperia M
1.473
Oppo N1
1.47
Meizu MX 4-core
1.462
Nokia Lumia 610
1.432
Samsung Galaxy S Duos
1.4
Samsung Galaxy Grand Neo
1.393
Sony Xperia M2
1.393
Samsung Galaxy Grand 2
1.38
Sony Xperia E1
1.372
Nokia Lumia 625
1.371
Gigabyte GSmart G1355
1.361
Sony Xperia L
1.351
Samsung Galaxy Mega 5.8
1.35
Sony Xperia miro
1.324
Samsung I9082 Galaxy Grand
1.321
Samsung I8530 Galaxy Beam
1.315
HTC Desire C
1.3
Nokia X
1.291
Sony Xperia C
1.283
Nokia Asha 503
1.281
Nokia Asha 501
1.27
LG Optimus L7
1.269
Nokia Lumia 510
1.268
Samsung Galaxy Fame
1.245
LG Optimus L9
1.227
Meizu MX
1.221
Samsung Galaxy Young
1.22
Sony Xperia E
1.215
Nokia XL
1.204
Sony Xperia E dual
1.203
Samsung Galaxy Pocket
1.18
Nokia Asha 305
1.178
Nokia Asha 306
1.175
Sony Xperia neo L
1.169
Sony Xperia tipo
1.166
Nokia Lumia 520
1.161
Samsung S6802 Galaxy Ace Duos
1.148
Samsung Galaxy mini 2
1.114
I faced same sim card problem... Then I contacted sony service center they told me to change my sim card to 64k or 128k
Stupid mobile gives me sim detection issues where same sim card was working fine on other mobiles...every time Ive to restart phone by removing sim card...moreover I bought it in Qatar when I go to India Sony center for service they won't do the serv...