Sony Xperia T3 review: Wits and looks
Wits and looks
GSMArena team, 11 August 2014.
Controls
The Sony Xperia T3 has pretty much the same controls as preceding Xperia models. The control layout is pretty much set in stone, and in the T series that includes a dedicated shutter key. Good thing they kept it even though the camera resolution took the axe - from 13MP in the Xperia T2 Ultra.
Above the 5.3" display we find the etched earpiece with a status LED underneath the elegant grille. There're a couple of sensors around the Sony logo at the top, next to an HD front camera. There is quite a bit of blank space below the display, since the main controls are on the screen itself.




A peek above and below the Sony Xperia T3 display
The right side of the Xperia T3 is quite busy - it features the microSD card slot covered by a plastic flap, the power/lock button, volume rocker and the half-press-enabled shutter key.
There is a pull-out tag with the regulator-mandated certifications just below the microSIM bed. This is a very clever way to have those mandatory labels without engraving them into the casing.
The unprotected microUSB port is lonely on the left.
Sony Xperia T3 places the 3.5mm audio jack at the top, while the mouthpiece is over the bottom. There is a lanyard eyelet around, too.





The top and bottom are completely bare
The Sony Xperia T3 matte back has the 8MP ExmorRS camera lens along with a single LED flash. The prominent speaker grille is near the bottom.




The camera and the loudspeaker at the back
Battery Life
Sony has put a 2500mAh battery inside the Xperia T3, down from 3000mAh in the previous Ultra version. We ran our battery test with the battery-saving STAMINA mode off. It scored 75 hours, which means you can count on 3 full days if you do an hour each of calling, web browsing and playing video per day.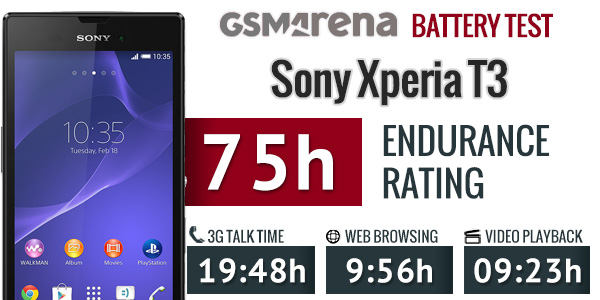 The Power Saver - now part of the settings menu - helps you extend your battery life by toggling things like Wi-Fi, GPS, Bluetooth screen brightness, auto sync and background data on and off automatically when the battery charge falls below a certain user-defined threshold. You can also turn off the Wi-Fi if there is no saved Wi-Fi network in range or turn off mobile data when the screen is off.
For a more detailed breakdown of the Sony Xperia T3 battery performance check out our blogpost.
Our proprietary score also includes a standby battery draw test, which is not featured in our battery test scorecard but is calculated in the total endurance rating.
Our battery testing procedure is described in detail in case you want to learn more about it.
Connectivity
The Sony Xperia T3 has three distinct versions for different markets. Here's the list of supported bands by model.
Quad-band GSM (across all models)
3G: 850 / 2100, 42 Mbps HSDPA (D5103)
3G: 850 / 1700 / 1900 / 2100, 42 Mbps HSDPA (D5106)
3G: 850 / 900 / 1900 / 2100, 21 Mbps HSDPA (D5102)
LTE: 700 / 1700 / 1800 / 2100 / 2600, Cat4 with 150Mbps download (D5106)
LTE: 800 / 900 / 1800 / 2100 / 2600, Cat4 with 150Mbps download (D5103) (our test unit)
The rest of the connectivity features available across all models include dual-band Wi-Fi a/b/g/n and Wi-Fi Direct. There is also support for Bluetooth 4.0, GPS and GLONASS, plus an FM radio with RDS.
There is NFC connectivity, too, with support for Android Beam for sending files to other Android devices.
There is also support for the ultra-low power ANT+ connectivity protocol, which is typically used for connecting to various sports accessories such as heart rate monitors or bicycle speed & cadence meters.
There is a microUSB 2.0 port for charging and data connections. Media transfer mode is supported for accessing the phone's built-in memory and microSD card over a USB connection.
There's also USB On-the-go for connecting USB peripherals such as pen drives, keyboards or real USB hard drives.
The microUSB port doesn't have any TV-out functionality, but if you have a compatible HDTV, you can mirror your phone's screen wirelessly via the Miracast protocol.
I faced same sim card problem... Then I contacted sony service center they told me to change my sim card to 64k or 128k
Stupid mobile gives me sim detection issues where same sim card was working fine on other mobiles...every time Ive to restart phone by removing sim card...moreover I bought it in Qatar when I go to India Sony center for service they won't do the serv...