Sony Xperia X Performance review: Chief of staff
Chief of staff
GSMArena team, 17 June 2016.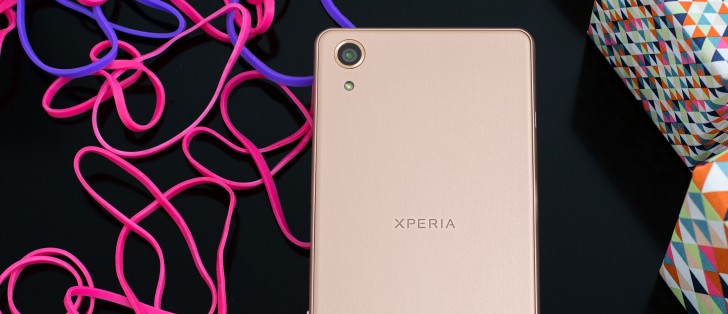 Sony's Album is one great gallery app
The Album app is among the most comprehensive and feature-rich we've seen, it's fast and easy to use, too! Photos are organized by month, and you can use pinch-zoom to change the size of thumbnails (then they smoothly animate into the grid).
At the very top of the list is a slideshow, showing off your photos, lower down, the first photo of each month is shown at twice the size of other images.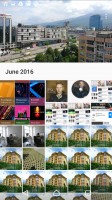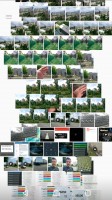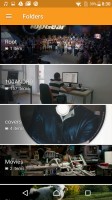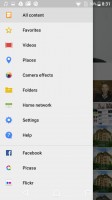 The Album app is beautiful and functional
You can instead browse photos on a map (you can manually add geotag info too) or by folder. This includes network storage so that you can view photos from a DLNA server (your home computer for one). Then there's integration with online albums - Facebook, Picasa, Flickr.
Image editing is handled by several apps, including Sketch and Sticker maker (so you can create your own custom stickers to send to your friends).
Sketch lets you fingerpaint over a photo or a paper-like texture, add text, stickers, photos and so on. If you're talented, you can share your creations on the Sketch mini-social network, and if you're not, you can just browse what others drew.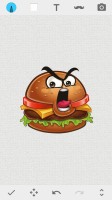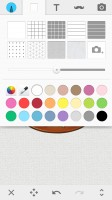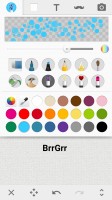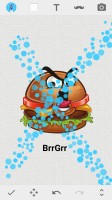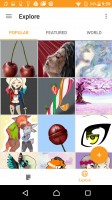 Sketch is a fun image editor with a mini social network for sharing art
Movie Creator is similar to the Assistant of Google Photos. It automatically creates short videos from the photos and videos you've shot.
You can do it manually too: pick photos and videos, change their order, add color effects and music (you get a small audio collection to start you off, but can use custom files too). Then tap the Share button and send out your animated slideshow.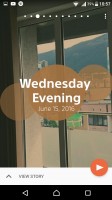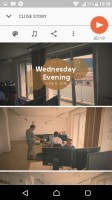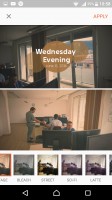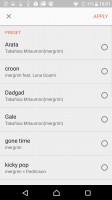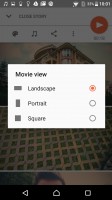 The Movie Creator can automatically or manually make shareable slideshows
We mentioned it in the Display section, but we'll repeat it here. The Sony software uses image enhancements to make even average-looking photos pop. You can choose from Off, X-reality (sharpen and boost contrast) and Super-vivid.
Music app
The Music app feels like a part of the same software package as the rest of the custom Sony stuff. The contextual side menu offers much of the same browsing options - by folder, network folder and online services, in this case, Spotify (it's just a link to the Spotify app though). You can share music from the phone to compatible players.
The Infinite button as such is gone, but its functionality is still here in the menu. It can find the track's video on YouTube, look up info about the artist on Wikipedia and search for lyrics on Google. Gracenote is used here too and it can automatically download information about your tracks and album art.
The Music app offers a variety of audio settings - ClearAudio+ determines the best audio quality settings depending on the track you're listening to. We liked how it changed the sound and carefully accentuated various details.
Then there's DSEE HX, which uses an almost wizardly algorithm , which is supposed to restore or rather extrapolate compressed music files, like MP3s into high-res audio. According to Sony, the result is near Hi-Res Audio Quality. We aren't quite sure about that, but the processing does seem to boost quality quite noticeably. Also, it only works with wired headphones.
Dynamic normalizer evens out the volume differences across tracks, which is great if you've mixed multiple albums from multiple sources.
Video
The Movies app is gone, a simpler Video app takes its place. The app is simpler to use - you pick a file from one of the local folders or your home network. You can also use the Search feature to look up videos on YouTube. The app is missing the HTPC-like functionality though, which pulled movie and TV show info automatically.
A chapter view lets you find a specific part of the video, by letting you scrub through a virtual timeline.
Videos can continue playing in the background (it's an option), but you can't view the video in a small floating window. At least you get full subtitle settings.
Audio output is nicely clean
The Sony Xperia X Performance delivered excellently clean output when used with an active external amplifier, getting top marks across the board. Unfortunately, its output loudness was below average so it's not all perfect.
Degradation caused by headphones is minimal with a contained hike in stereo crosstalk and a few other minor glitches that are impossible to detect without lab equipment. Volume remained low, but it's a very good showing nonetheless.
And now here go the results so you can do your comparison.
| | | | | | | |
| --- | --- | --- | --- | --- | --- | --- |
| Test | Frequency response | Noise level | Dynamic range | THD | IMD + Noise | Stereo crosstalk |
| Sony Xperia X Performance | +0.01, -0.04 | -95.2 | 90.0 | 0.0038 | 0.011 | -95.1 |
| Sony Xperia X Performance (headphones) | +0.23, -0.17 | -93.2 | 89.3 | 0.0078 | 0.174 | -64.9 |
| LG G5 | +0.01, -0.04 | -92.6 | 92.6 | 0.0051 | 0.0096 | -93.3 |
| LG G5 (headphones) | +0.05, -0.01 | -92.2 | 92.3 | 0.0029 | 0.037 | -50.7 |
| Xiaomi Mi 5 | +0.01, -0.03 | -95.3 | 95.1 | 0.0034 | 0.0065 | -95.1 |
| Xiaomi Mi 5 (headphones) | +0.01, -0.03 | -95.2 | 95.1 | 0.0027 | 0.013 | -71.5 |
| Samsung Galaxy S7 | +0.01, -0.04 | -92.5 | 92.6 | 0.0027 | 0.0078 | -92.7 |
| Samsung Galaxy S7 (headphones) | +0.05, -0.05 | -91.9 | 92.1 | 0.0044 | 0.063 | -73.4 |
| Sony Xperia Z5 | +0.01, -0.04 | -95.5 | 89.5 | 0.0033 | 0.012 | -94.8 |
| Sony Xperia Z5 (headphones attached) | +0.22, -0.24 | -95.1 | 89.5 | 0.0057 | 0.212 | -59.8 |
| Apple iPhone 6s | +0.03, -0.04 | -93.5 | 93.5 | 0.0016 | 0.0075 | -73.2 |
| Apple iPhone 6s (headphones attached) | +0.10, -0.06 | -93.8 | 93.9 | 0.0030 | 0.101 | -68.2 |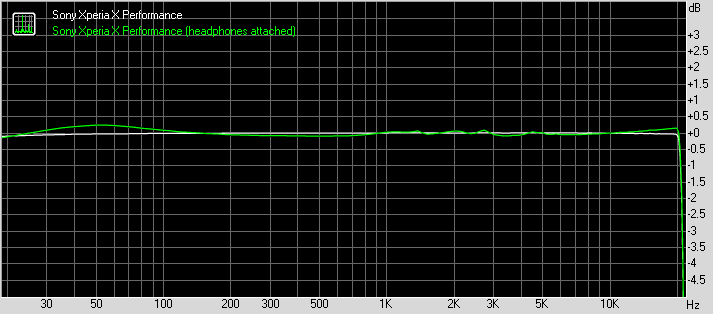 Sony Xperia X Performance frequency response
You can learn more about the tested parameters and the whole testing process here.
SayA ada sony Expedia au sov33 tidak lcd. Cari kamana mana belon dapat . To long kalau ada lcd nya hbg saya di 081266550045
I've had my x for 4+ years now with no repairs or problems and just bought a x pro as a back up. It's a phone that lasts and lasts and lasts, 2day battery life with stamina mode at years
Hi i am using xperia x 64gb in built past 1 yrs but now a days i am suffering there camera not working properly. When i took 6-8 photos countiesly. This mobile indicates device temperature is high so camera is not working until cool down. So please ...