Sony Xperia Z1 Compact review: Mini gone big
Mini gone big
GSMArena team, 28 January 2014.
Phonebook
The Sony Xperia Z1 Compact phonebook is integrated with the dialer using a tabbed interface - the Contacts, Phone, Favorites and Groups tabs can be side-swiped. The bottom bar holds shortcuts to search option, add number field, and the advanced settings menu.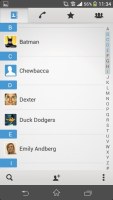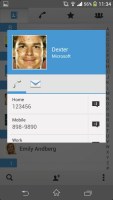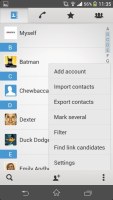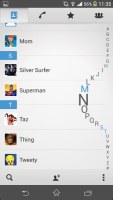 The phonebook • The quick contact shortcuts • The options from the contextual menu
The contact list can be sorted by either first or last name. There are two contact search options - a dedicated search field at the bottom of the contact list, and an alphabetical scroll bar to jump to names starting with a specific letter on the right.
You can sync with multiple accounts, including Exchange and Facebook, and you can selectively show or hide contacts from some accounts (as well as filter specific groups in an account), or set the phonebook to display only contacts with phone numbers or only contacts that are online.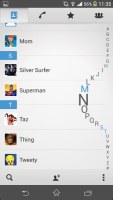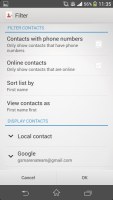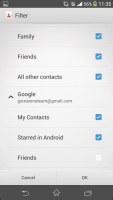 Filtering contacts in the phonebook
If a contact has accounts in multiple services, you can "link" their details to keep everything in one place. Their Facebook photos and interests (part of the Facebook integration) will show up as extra tabs.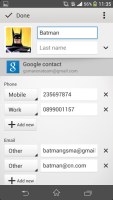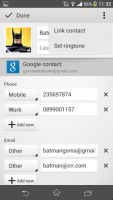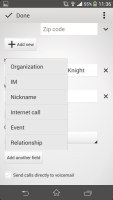 Viewing a contact entry • Editing a contact
A tap on the contact's photo - the so-called Quick Contact feature - will open a pop-up with shortcuts for calling, texting or emailing the contact, visiting their web page or navigating to their home address.
Each contact can have a variety of fields (and repeat fields of the same type). There's an Add field button and the X button lets you remove fields as needed. The fields cover anything from names (including a field to write the name down phonetically) to addresses, nicknames and notes.
There is an option to redirect calls directly to voicemail. Custom ringtones are enabled too.
Telephony
Receiving and making calls on the Xperia Z1 Compact was nothing short of pleasing. The built-in secondary microphone is used for active noise-cancellation, so calls are loud and clear even in noisy environments. All in all, you'll have no trouble making calls with the Z1 Compact.
Unlike its bigger counterpart, this phone fits much better in the hand, so long calls are more comfortable. It helps that it's lighter too.
Anyway, the call log is integrated in the dialer - it shows a list of recently dialed, received and missed calls in the top half of the screen and the keypad in the bottom half. Once you start typing, the call log is replaced by the smart dial list which searches for matches in both the contacts' phones and names. You can hide the keypad to make more room for the call log.
Thanks to the proximity and accelerometer sensors, the Sony Xperia Z1 Compact automatically disables the touchscreen when you lift it up during a call.
Just like the big Sony Xperia Z1 before it, the Z1 Compact scored a Below average mark in our loudspeaker tests, meaning you are likely to miss some calls and notifications if you are in a noisy environment. That's probably the trade-off for the phone being watertight.
Sony has preloaded a number of features that modify how the speaker sounds. We tested with all of them off, then with xLOUD on, but that made virtually no difference.
| | | | | |
| --- | --- | --- | --- | --- |
| Speakerphone test | Voice, dB | Pink noise/ Music, dB | Ringing phone, dB | Overal score |
| Sony Xperia Z | 60.1 | 58.3 | 61.6 | Below Average |
| Apple iPhone 5 | 66.8 | 66.1 | 67.7 | Below Average |
| Nokia Lumia 920 | 61.6 | 64.8 | 65.8 | Below Average |
| Sony Xperia Z1 | 65.7 | 61.3 | 66.7 | Below average |
| Sony Xperia Z1 (xLOUD) | 65.5 | 62.0 | 65.8 | Below average |
| Sony Xperia Z1 Compact | 60.3 | 58.7 | 66.6 | Below average |
| Sony Xperia Z1 Compact (xLOUD) | 60.9 | 58.7 | 66.6 | Below average |
| HTC One X+ | 64.6 | 65.8 | 74.6 | Average |
| Huawei Ascend P6 | 64.3 | 66.3 | 75.7 | Average |
| Huawei Ascend Mate | 67.0 | 66.6 | 75.0 | Good |
| Oppo Find 5 | 70.7 | 67.7 | 73.0 | Good |
| HTC One | 69.3 | 66.6 | 75.9 | Good |
| Samsung I9505 Galaxy S4 | 70.6 | 66.2 | 77.3 | Good |
| LG Optimus G | 74.6 | 71.3 | 82.7 | Excellent |
You can find more on the testing procedure here.
Either way, you'd be better off turning on the vibration and the xLOUD enhancement to make sure you don't to miss any incoming calls.
Messaging and text input
Text messages and MMS use standard thread layout. Each thread is displayed as an IM chat session, with the most recent message at the bottom. You can manage individual messages (forward, copy, delete) and even star them to make them easier to find. Search is enabled to locate a specific message in all conversations and you can also activate delivery reports.
Adding multimedia (photos, videos, sounds, etc.) will convert the message into an MMS. Four shortcuts at the bottom of the screen handle the most common cases - an image, a photo, a doodle (you draw with your finger in Sketch) and your location.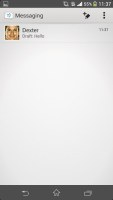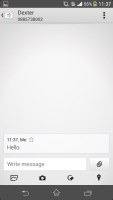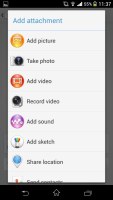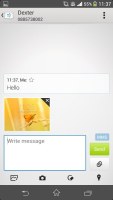 The messaging app • Adding multimedia turns it into an MMS
The Gmail client has the trademark conversation style view and can manage multiple Gmail accounts. Batch operations are supported too, in case you need to handle email messages in bulk. A cool feature in Gmail is that you can swipe left or right to move between messages in your inbox.
The generic Email app can handle POP and IMAP and offers a Combined inbox for all your email accounts. It supports batch operations and has a Preview pane option in landscape mode - the list of emails goes on the left, the contents of the currently selected email on the right.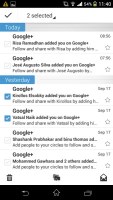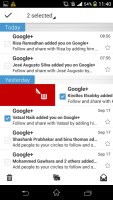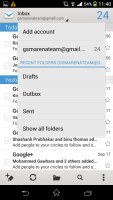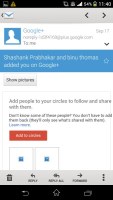 The generic Email client has a combined inbox option for multiple services
Google Hangouts is the default app that handles instant messaging (Facebook is preinstalled, but Facebook Messenger isn't). It can handle regular text messages too, though unlike iMessage you have to manually switch between SMS and IM and the two conversation threads are kept separate. At least now there's an 'online' indicator for contacts so you know it's safe to send them an IM. Unfortunately, those aren't visible in the message thread itself.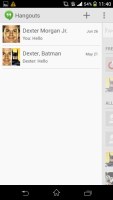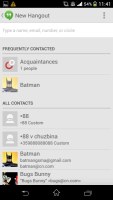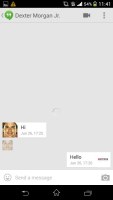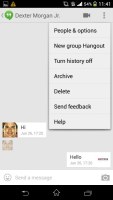 Google Hangouts handles both IMs and texts
As for text input, the Xperia Z1 Compact offers a customized on-screen full QWERTY keyboard, which is comfortable enough.
Flipping the phone to landscape gives you even bigger, easier to press buttons. There's also the added feature of being able to customize the keyboard. You can choose a different layout (keypad, QWERTY, QWERTY with extra symbols), add/remove the coma and period button, the smiley and voice input buttons and also enable things like bilingual word suggestions if you have more than one language enabled.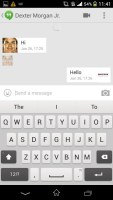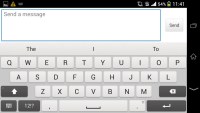 Xperia Z1 Compact keyboard is comfortable in either layout
If you're going to enable auto correction, you might want to let the keyboard learn your writing style by reading your Gmail, Facebook, Twitter or messages you've sent (each of these can be used individually).
You can also try the so-called Gesture input if hitting those keys individually doesn't give you the desired typing speed. It's similar to Swype, and even if you've never used a Swype-like input before you'll quickly get used to it.
The keyboard also comes with three skins pre-installed, which can help if you want to use a darker theme.
Its been 4 years that I have Sony Xperia Z1 Compact and never failed me. only 2 times I changed the battery and I can open heavy files with it easily. I Love it, it is a loyal phone :_)
Great 4g enabled phone Only mediocre battery life Sorry sony but galaxy s3 took far better pics...
How can I prepare battery for Z1 compact ?? Or how can I get new one