Take a look at Samsung's official promo videos for the Galaxy S23, S23+, and S23 Ultra
Vlad, 01 February 2023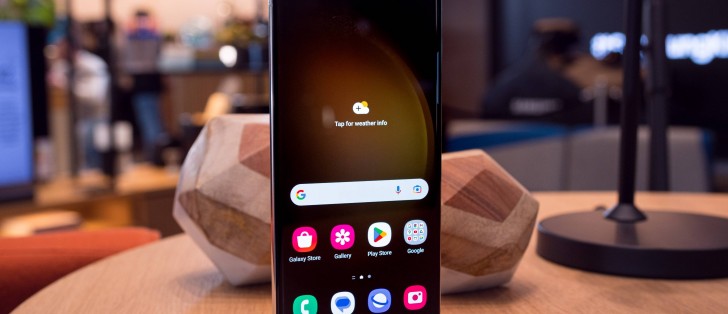 Following the official introduction earlier today of the Galaxy S23, Galaxy S23+, and Galaxy S23 Ultra smartphones, as well as the Galaxy Book3 Pro, Pro 360, and Ultra laptops, Samsung outed a bunch of official infographics, which we've already shown you, and a few official promo videos.
Here they are, starting off with the three that are all about the Galaxy S23 Ultra, the new crown jewel in Samsung's portfolio. First, the "official introduction film" will help you get to know it in under three minutes.
Next up, a video dedicated solely to the "Epic Nightography" that the S23 Ultra is capable of.
And here's Samsung's own official video unboxing of the S23 Ultra. It's a quick one, since the box is so empty.
The 'vanilla' models, we're talking S23 and S23+, haven't been forgotten, and so here's their very own joint unboxing video.
Next, we have a video that's about the entire S23 range - including all three devices.
The Galaxy Book3 Ultra is like the S23 Ultra, but in laptop form - at least that's the image Samsung wants you to have of it. And it gets its very own unveiling video.
If you were thinking how unfair it is to only get official unboxing videos for the phones, worry not, for Samsung has you covered with an unboxing of both the Galaxy Book3 Ultra and Book3 Pro.
And then there's this one, which is showing the Galaxy Book3 Pro 360 getting unboxed.
Finally (for now), another video portrays how easily the two Ultras can work together - we're talking S23 Ultra and Book3 Ultra, of course.
If you want to learn more about the Galaxy S23, S23+, and S23 Ultra, don't miss our hands-on review of the trio, which is already live, and stay tuned for our full reviews.
Related
Anonymous
03 Feb 2023
KiP
out of the phone itself, i hate when company use sustainability as parts of their marketing effort to justify premium price. and it's not just aim to samsung but all brand. if company wanna brag about sustainability well keep it off from the...
Anonymous
03 Feb 2023
swf
Btw, that's how marketing works. It makes people crazy. S23 is almost 150mm high. That's Note series height, you know, the first phablet series: phablet, as in phone-tablet. There is no compact android experience. None, zero, nil, nad...
nooo thank you! what is new? 1300/1500 euro? you think we are stupid? pffff
Popular articles
Popular devices
Electric Vehicles