Tecno Camon 17 Pro review
GSMArena Team, 16 June 2021.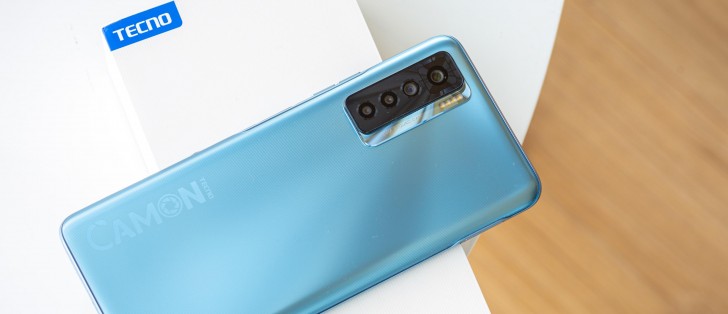 6.8" LCD can go as high as 90Hz
The Camon 17 Pro is equipped with a 6.8-inch LCD in a slightly unusual 20.5:9 aspect ratio with a resolution of 1080x2460px, making for a pixel density of 395ppi. It's got a maximum refresh rate of 90Hz - not quite the 120Hz that some competitors are offering, but not 60Hz either.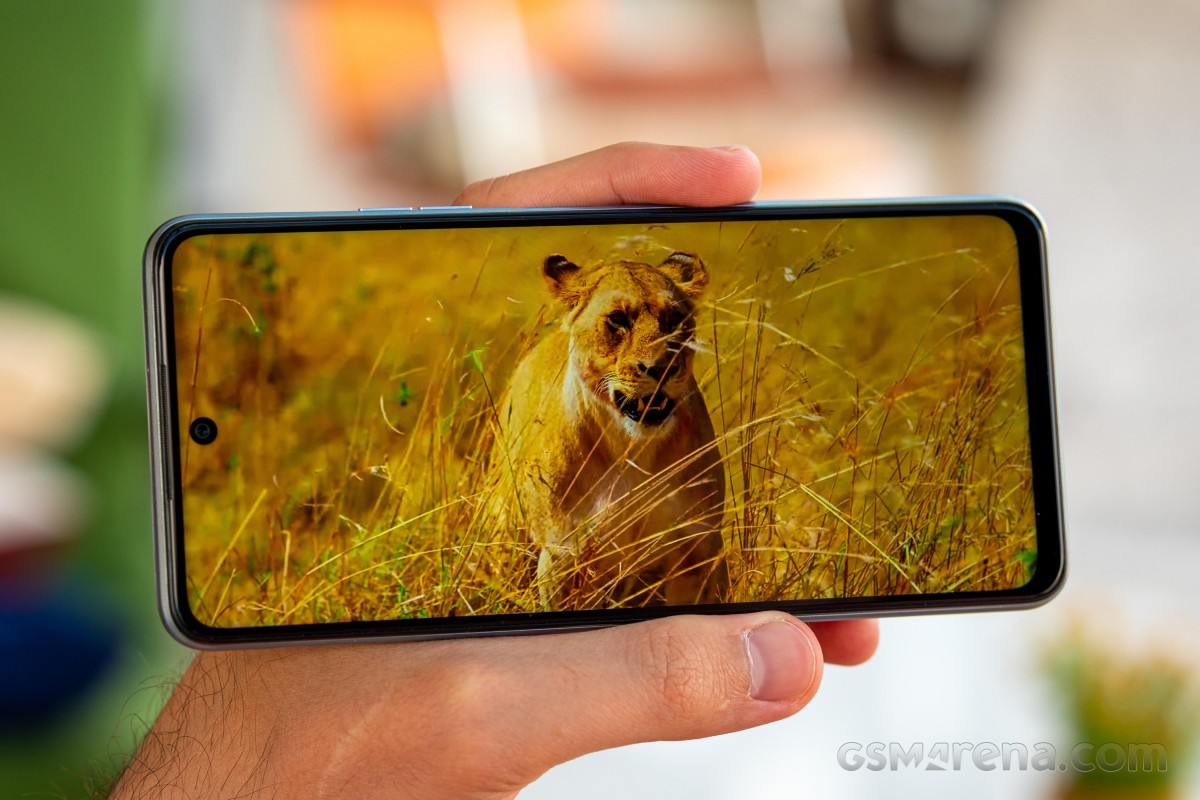 We measured two maximum brightnesses on the Camon, with somewhat inconsistent ways of achieving them - sometimes it would be the higher one, at other times - the lower one. The absolute highest we got was 538nits - an okay reading, if not particularly impressive. The other was 342nits - pretty low for an LCD.
We'd like to say that we got the higher number with the adaptive brightness toggle enabled, but there didn't appear to be a solid correlation between the two - as in, sometimes you'd get the high brightness without the toggle engaged, sometimes not. Additionally, we'd set the brightness slider to a particular level, only to switch apps and see brightness change one way or another - without the adaptive toggle engaged.
Another peculiarity was with the black levels and, consequently, contrast. Black level was unaffected by the brightness 'mode' the phone happened to be in, and relatively high black illumination made for a rather poor contrast ratio in the cases when it would decide that 340nits is as high as it would go. The 1200:1 ratio when in '540nits high brightness mode' is better, if not quite up to scratch. Before you ask, that wasn't caused by light seeping in through the screen protector - we duly removed that for the testing.
In any case, the phone wasn't too problematic to read in bright sunlight where it would consistently get that high brightness boost - text is readable, and the camera viewfinder is usable.
Display test
100% brightness
Black,cd/m2
White,cd/m2
Contrast ratio
Tecno Camon 17 Pro
0.438
342
781:1
Tecno Camon 17 Pro (Max Auto)
0.446
538
1206:1
Tecno Camon 16 Premier
0.211
400
1896:1
Xiaomi Redmi Note 10 Pro
0
457
∞
Xiaomi Redmi Note 10 Pro (Max Auto)
0
725
∞
Samsung Galaxy A32
0
393
∞
Samsung Galaxy A32 (Max Auto)
0
814
∞
Realme 7 Pro
0
459
∞
Realme 7 Pro (Max Auto)
0
585
∞
Realme 8
0
458
∞
Realme 8 (Max Auto)
0
657
∞
vivo V21 5G
0
476
∞
vivo V21 5G (Max Auto)
0
761
∞
OnePlus Nord N10 5G
0.304
440
1447:1
The refresh rate settings on the Camon 17 Pro offer three modes - 90Hz, 60Hz and Auto. In 90Hz mode, you'd be getting the maximum refresh rate almost everywhere - the UI, browsers, video playback apps, social media apps - basically everything that's not the camera viewfinder and Google Maps. 'Auto' will maintain 90Hz for the system UI, but will quickly switch down to 60Hz for virtually all apps. 60Hz is always 60Hz.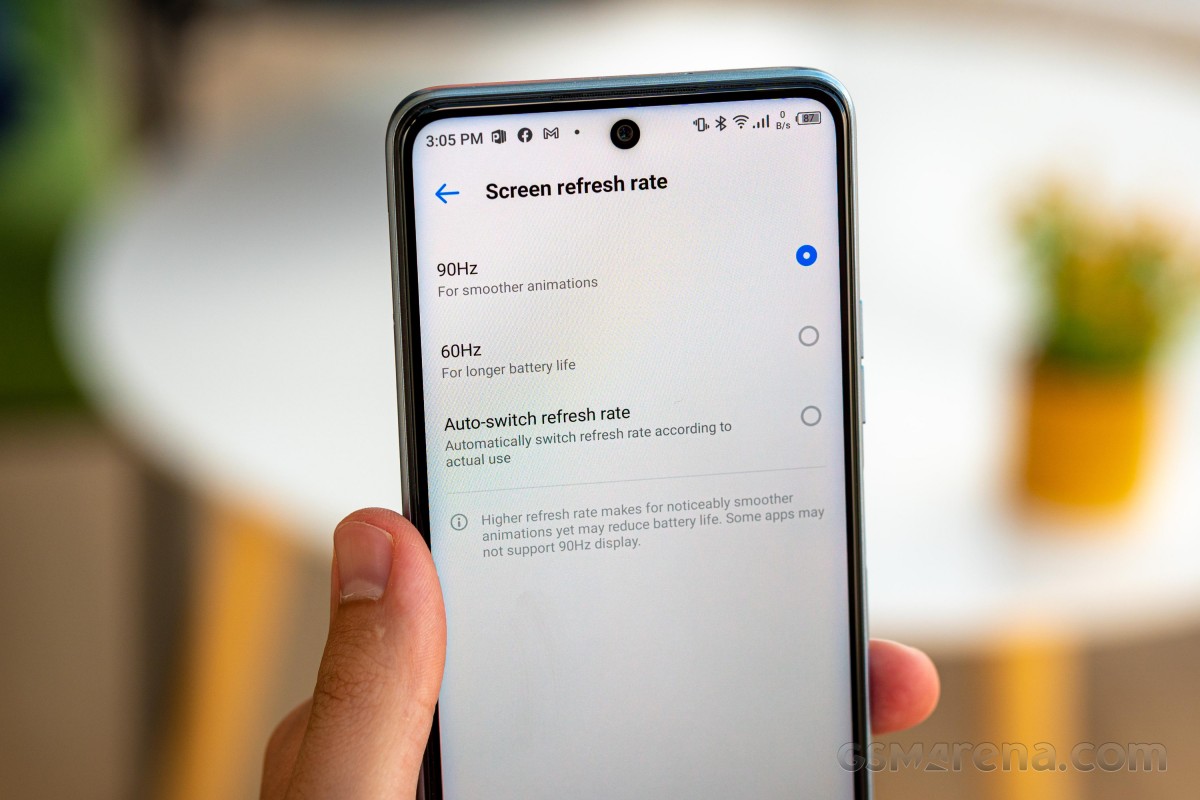 There are no color modes on the Camon 17 Pro, and its display doesn't cover a wide gamut like the DCI-P3, though it does cover sRGB. However, it's nowhere nearly as accurate in doing so, and it exhibits a strong blue shift.
DRM Info reports the Camon 17 Pro supports HDR10 and HLG. YouTube does say it's serving HDR streams of compatible videos, but we're not seeing it - there isn't that noticeable switch in color reproduction when playing back HDR clips. And with only a Widevine L3 certification for digital rights management, you won't be getting HDR from major streaming services like Netflix or Amazon Prime Video either.
Tecno Camon 17 Pro battery life
There's a 5,000mAh battery inside the Tecno Camon 17 Pro, a fairly standard capacity for the size and market position, which should work well with a mid-range chip like the Helio G95. Indeed, we clocked some excellent battery life numbers on the Camon.
In our testing, it was good for 16:32h of Wi-Fi web browsing (at a constant 90Hz refresh rate) and almost 18h of offline video playback (at 60Hz). The 45h voice call result and the standby power draw are both great, too, with everything adding up to an Endurance rating of 140h.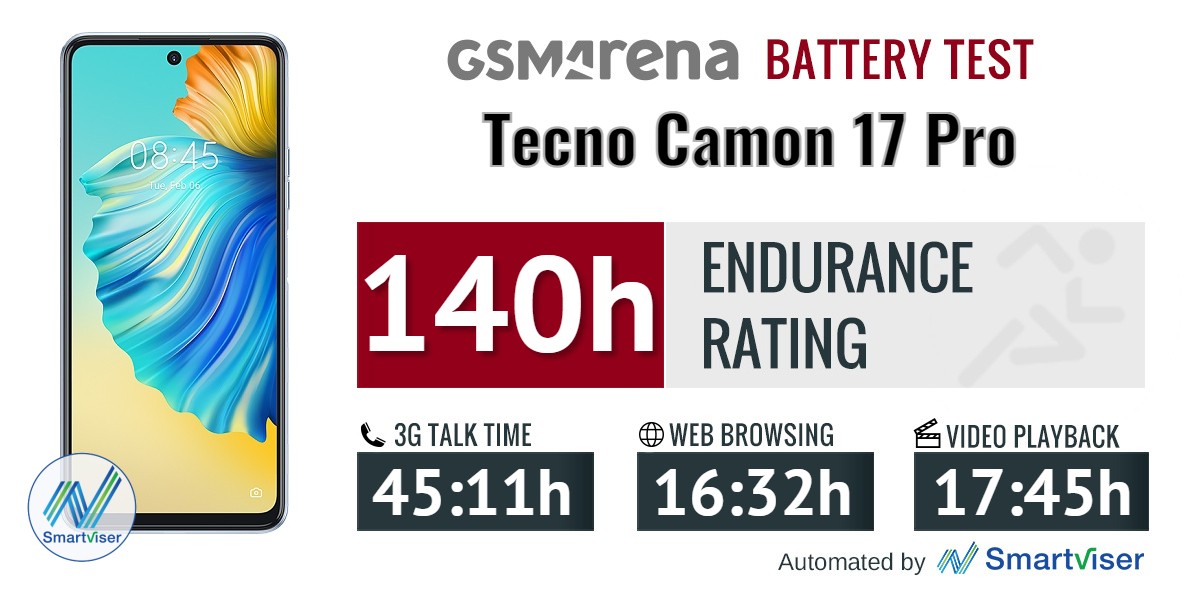 Our battery tests were automated thanks to SmartViser, using its viSerDevice app. The endurance rating denotes how long the battery charge will last you if you use the device for an hour of telephony, web browsing, and video playback daily. More details can be found here.
Video test carried out in 60Hz refresh rate mode. Web browsing test done at the display's highest refresh rate whenever possible. Refer to the respective reviews for specifics. To adjust the endurance rating formula to match your own usage - check out our all-time battery test results chart.
Charging speed
The Camon comes bundled with a reasonably powerful 33W adapter, rated at 5V/3A and 10V/3.3A. A full charge from flat requires 1:40h with the battery indicator showing 47% at the half-hour mark - not too bad, but not quite as quick as others around a similar price point.
30min charging test (from 0%)
Higher is better
Realme 7 Pro
94%
Realme 8 Pro
88%
Xiaomi Mi 11i
69%
vivo V21 5G
64%
Tecno Camon 16 Premier
59%
Realme 8
56%
Xiaomi Redmi Note 10 Pro
50%
Poco X3 Pro
50%
Tecno Camon 17 Pro
47%
Samsung Galaxy A52
34%
Samsung Galaxy A32
25%
Time to full charge (from 0%)
Lower is better
Realme 7 Pro
0:37h
Realme 8 Pro
0:38h
Xiaomi Mi 11i
0:52h
vivo V21 5G
1:05h
Poco X3 Pro
1:08h
Realme 8
1:09h
Xiaomi Redmi Note 10 Pro
1:21h
Tecno Camon 16 Premier
1:25h
Tecno Camon 17 Pro
1:40h
Samsung Galaxy A52
2:03h
Samsung Galaxy A32
2:19h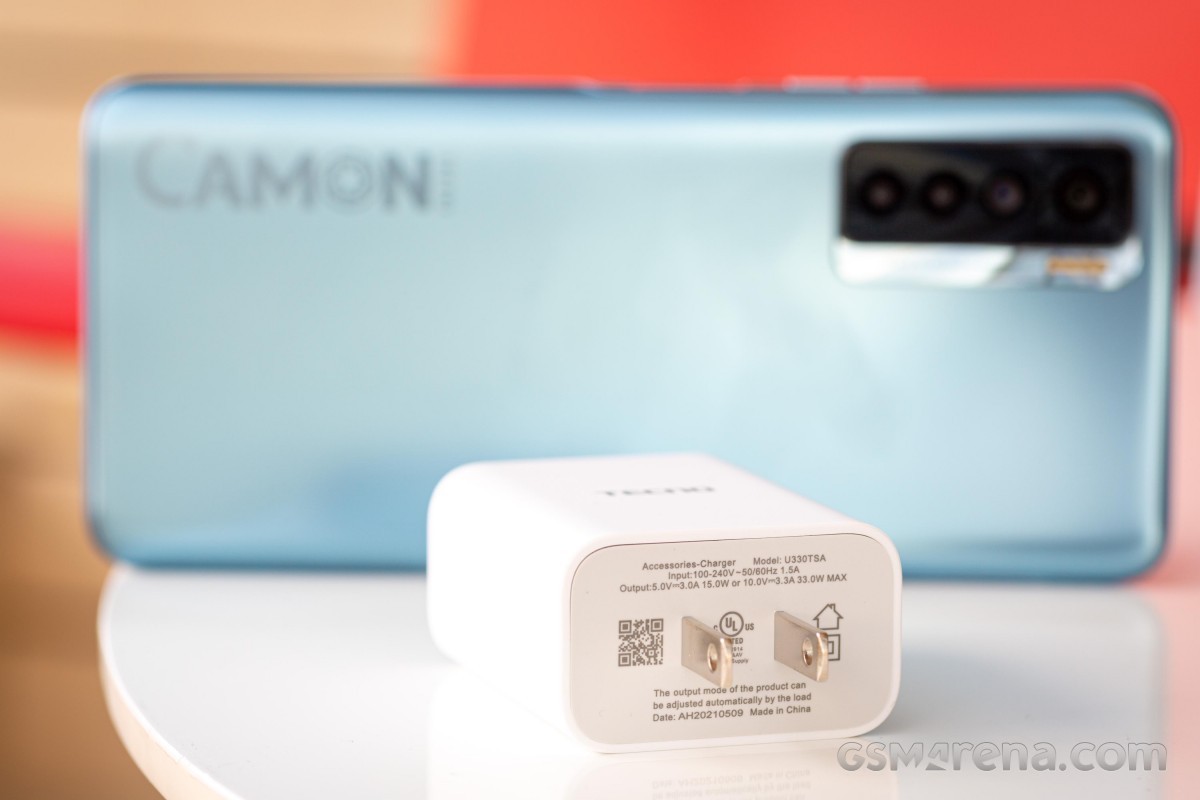 Speaker test
The Camon 17 Pro has a dual speaker setup, but it's not strictly stereo. Both the main speaker on the bottom and the earpiece up top output sound, and there's a notable directionality when the test track switches channels, but there's also sound coming out of the other speaker at the same time.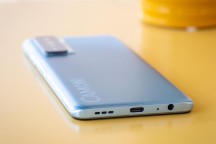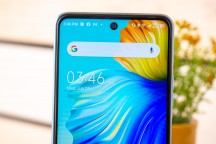 Main speaker on the bottom • The earpiece is a speaker too
These peculiarities aside, the Camon 17 Pro earned a 'Very Good' rating for loudness in our speaker test, a notable improvement over the Camon 16 Premier we last had for review. Quality is decent but not great - there's a pronounced emphasis on the midrange with little low-frequency presence.
Use the Playback controls to listen to the phone sample recordings (best use headphones). We measure the average loudness of the speakers in LUFS. A lower absolute value means a louder sound. A look at the frequency response chart will tell you how far off the ideal "0db" flat line is the reproduction of the bass, treble, and mid frequencies. You can add more phones to compare how they differ. The scores and ratings are not comparable with our older loudspeaker test. Learn more about how we test here.
Xeno Daniel
04 Aug 2023
xtS
I've seen lots of camon 17 pro and the chipset that shows in the settings is Helio G90T
Depends on what you want. Camon 17 Pro can capture videos in 4k and has a nice selfie camera. Ultrawide also has autofocus, which means you can take macro shots with it. Camon 18 Premier has a more premium build, versatile set of cameras an...