The best Black Friday deals for headphones
Yordan, 24 November 2022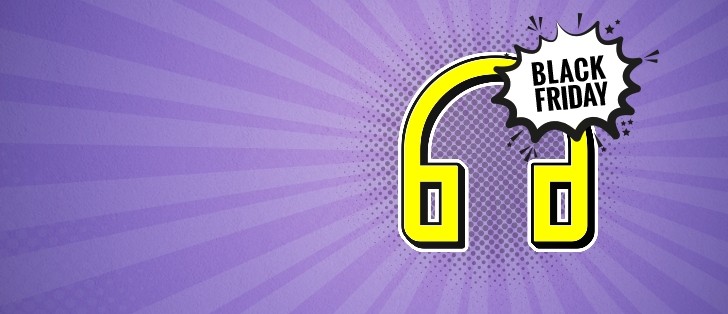 The modern world of audio streaming, podcasts, and working from home requires proper audio accessories that allow you to immerse yourself in action. We picked some of the best deals for over-ear headphones and some TWS audio wearables where it is Black Friday for the whole week.
Our first choice is the Sony WH-CH710N which might be two years old but are still a bang for the buck. We loved them in 2020, and today we love them even more with the massive 55% discount. The battery provides nearly 35 hours of playtime on a single charge, which is the average length of a workweek in many countries.
Philips might be a brand more associated with other appliances and devices, but the H9505 Hybrid is an amazing pair of headphones. We also should note the massive 60% discount which is one of the main reasons to select this deal.
The Jabra Elite 85h provides tremendous battery life and impressive active noise cancellation, and we loved the fast charging. One caveat is the copper/golden accents - yes, you will not see them, but you will be noticed as they tend to be an eye-grabber.
Every list of capable earphones should include the Bose 700. The big discount is for the White pair, but traditionalists can also get this audio accessory in black with a slightly lower discount. While these noise-canceling earphones are among the best looking, their battery life is unimpressive, and that might become annoying if you are often out and about.
The Sennheiser Momentum 3 is not the newest model in the series - there is the 4th iteration now, too. We recommend the 3rd generation because the deal is better, the price is lower, and they still feel as comfortable. After all, Black Friday is about getting the best deal, and the Momentum 3 is a head above its newer sibling in this respect.
The Sony WH-1000XM5 is the newest and greatest over-ear headphones Sony has made, and that was an easy offer to put into our Black Friday list. There are some deals, but we still would recommend getting the previous iteration, the WH-1000XM4, if you are not willing to spend as much. More aggressive discounts there make it the more interesting offer of the two.
The Bose QuietComfort 45 is the natural competitor to the Sony earphones. We don't think this pair is getting cheaper any time sooner, so better grab that 33% discount - it gets you one of the best, if not the best over-ear headphones, with an impressive all-around performance, battery life, and active noise cancellation.
We were personally impressed with the sound provided by Soundcore, an Anker audio brand that provides a lovely audio experience at affordable prices. Now, with Black Friday in front of us, these deals look even sweeter, so we recommend not one but four different pairs of earphones.
Moving away from over-ear headphones, we also have a neat selection of TWS earbuds. A different form factor for active people who prefer a different type of audio comfort. These audio wearables are in a category of their own, but they are still great for sports, gaming, work calls and conversations on the go, so here are our picks for this Black Friday.
TWS headphone deals
Switching gears midway this deal list to TWS headphones, the Realme Buds Air 3 is the first set that came to mind. It brings above-average sound quality, good bass and basic noise cancellation. Most importantly, it's got a universally comfortable fit, which can't be said for all in-ear headphones in this category.
The Sony WF-1000XM4 has been on the market for over a year now. Their audio quality is outstanding for earphones in this class, and Sony's active noise cancellation is a benchmark in the industry. The Black Friday deals are extremely attractive, and we cannot recommend these TWS earphones enough. Be advised that they might not be the most comfortable to ear for long durations - at least not for everybody.
The Samsung Galaxy Buds2 Pro arrived this August, and the Korean manufacturer is already offering a Black Friday deal. These headphones are the latest and greatest from Samsung, and at this price, they are a steal.
The Apple AirPods Pro 2 arrived three years after the first Pro and Cupertino decided to invest in performance improvement rather than design. These are clearly the best earbuds to partner with an iPhone, and one of the best times to get such audio wearables is now.
Some users might not be fans of the Pro design with the rubber tips, so Apple also has regular AirPods. Yes, there are some slight compromises, but the price is also more attractive, especially coupled with a Black Friday discount. Too bad it's not available on all markets we surveyed.
The Google Pixel Buds Pro is a direct competitor to Samsung's and Sony's products in this exact list. We added these earbuds because they look good, they pair effortlessly with any Android phone, and the battery life is worthy of praise.
The Google Pixel Buds A-Series is like the Pixel A smartphones - a more affordable alternative to the flagship series. And given that these are 35% off, we would recommend them to any Android user that loves to have a bit of a native Google feeling with them.
The Bose QuietComfort Earbuds II is the most expensive pair of TWS earphones on this list, but the truth is they are worth every buck, especially on Black Friday when the price gets even lower. They provide what's arguably the best active noise cancellation in the world, and they are also extremely comfortable.
Bose could have worked a little bit on the appearance, but if you can afford $250 TWS earphones, you can afford people to smirk at your bulky earpods.
Wired headphone deals
Moving on to some wired options, we first have the twins from Audio-Technica. The more expensive M50x is known for its colorful sound, punchy bass, treble response, and a high amount of detail. The cheaper M40x is ironically the more neutral and balanced sounding of the two, making it more suitable for mastering purposes.
Sennheiser's sublime HD 650s are a tour de force in the world of audiophile headphones despite their relatively modest price tag. They effectively make most of the more expensive headphones redundant with their all-around performance. Meanwhile, the IE300 IEM are great for those who want skull-rattling bass with high-quality audio.
If you want something more affordable, you simply cannot go wrong with the outstanding Moondrop Aria. And for those on an even tighter budget, the KZ ZEX Pro are also a fantastic option.
Related
I'd suggest you to get Galaxy A52s which is currently the best affordable option with a headphone jack. The iPhone SE 1 is outdated.
I just bought a Sony WH-1000XM4 for $130 brand new and sealed from OfferUp. They're wonderful. I'll probably pick up a Bose QC35 II as a backup because I hear they're more comfortable. I didn't realize they came with a 3.5 m...
What is better if I don't want to spend so much money? Q30? Wh ch710n? Or Q20+?
Popular articles
Popular devices
Electric Vehicles