T-Mobile has the fastest mobile data speeds in the US, Ookla report reveals
Vlad, 07 September 2017
Wondering which of the big four US carriers has the top mobile data speeds? Wonder no more, for Ookla, the company behind the Speedtest.net service has published a new report today telling us just that.
According to the speed tests performed on its website and through its mobile apps, T-Mobile leads the pack in the States when it comes to speed. Its average speed score was 23.17Mbps nationwide, followed by Verizon with 21.13Mbps, AT&T with 20.05Mbps, and Sprint with 15.39Mbps.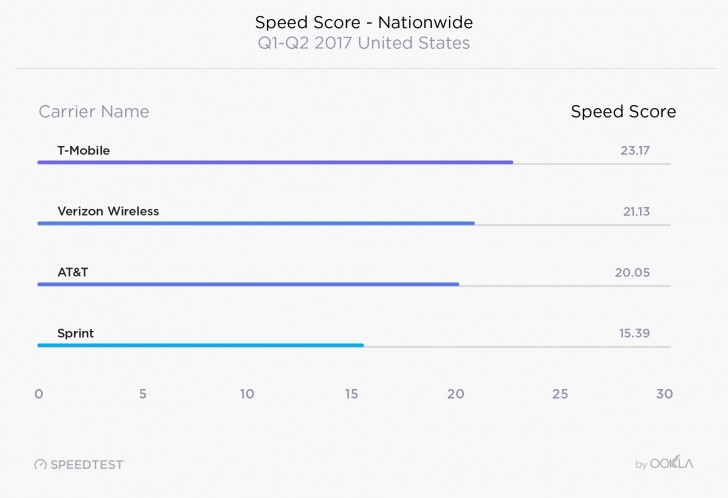 The rankings don't change when only the 100 most populated Cellular Market Areas are taken into account, but the magenta carrier's lead there is minimal - 23.50Mbps compared to Verizon's 23.21Mbps. AT&T managed 21.17Mbps, while Sprint is still last with 16.20Mbps.
Country-wide, the average mobile download speed was 22.69Mbps, and the upload speed was 8.51Mbps. All of the information above comes from speed tests done in the first half of the year. During that period, almost 3 million unique mobile devices performed over 14 million speed tests. The average speed in the US increased by 19.2% compared to the first half of 2016. That's good, but not as good as the 33% growth from 2015 to 2016.
However, the US still only ranks 44th in the world for download speed, right behind Fiji and Germany, and just ahead of Oman. When it comes to uploads, the US is 65th in the world, directly behind Mongolia and ahead of Germany. The full report, which you can find at the Source link below, goes into more detail - including how rural areas compare to urban ones in terms of connectivity.
Related
Geography
13 Sep 2017
IbE
Romania is about 238,400 km². So USA is abou t 40 times larger not 1000 times. Singapore is very small, a small city state. USA has 50 states and 5 territories in its federation, but few are highly populated and industrialized. Rom...
AnonD-666681
13 Sep 2017
TkY
And Romanian's size? Exactly...
AnonD-666681
13 Sep 2017
TkY
Never said it wasn't one of the biggest countries, but 1000 times bigger than Romania? And indictating that size is equal to difficulty in setting things up? Especially when you consider the US is more advanced in terms of economy, infrastructur...
Popular articles
Popular devices
Electric Vehicles