Top smartphone reviews of 2017
Victor, 30 December 2017
Being a mobile tech reviewer definitely has its perks. Shiny new devices are great and all, but still, at the end of the day, the most gratifying thing is to see our work actually help out readers and eager buyers navigate the vast and often confusing smartphone market. 2017 was a really interesting year, with many great announcements and more than one interesting trend set in motion and ready to unfold in 2018.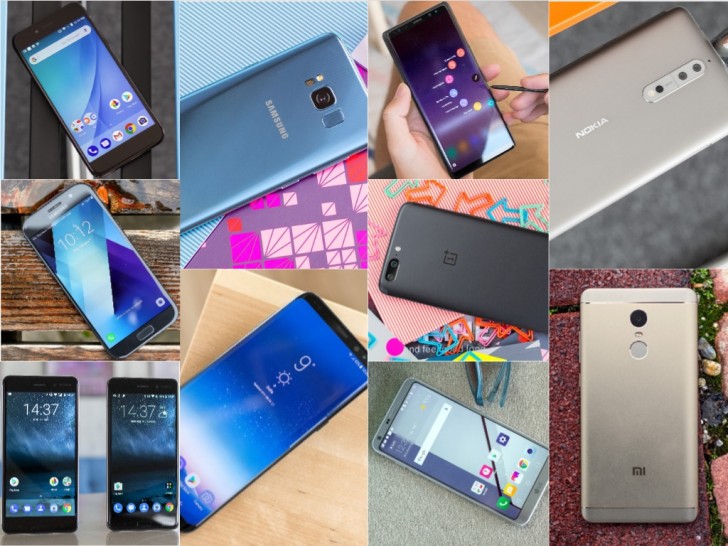 Before CES kicks off and draws our collective attention to the future of mobile, what better time to sift through the top ten reviews of 2017, as rated by your interest. Starting from the top of the list, it's clear that Samsung had yet another strong year in the business. Not only is the Korean giant getting the lion's share of sales in most markets, but it is also drawing ever-growing amounts of attention towards its industry-leading and trend-setting designs. The Samsung Galaxy S8 and S8+, in particular, really shook thinks up vigorously, with their bold Infinity Display, curvy profile, finally breaking the long-standing "slab" design mold.
Besides, topping the review popularity chart, Samsung phones also proudly hold the sixth and seventh spot. Forth place goes to one of the company's devices as well, the Galaxy A5 (2017), but that represents a whole other 2017 trend, we are probably even more excited about - the quest towards great value devices. It's true. Whether it is the Xiaomi Redmi Note 4, the more expensive Xiaomi Mi A1, or the pricier still OnePlus 5 budget flagship, more and more companies are trying their best to deliver great value handsets in most every price bracket. Better still, consumers are starting to expect and demand these offers.
2017 saw an interesting mix of value-first trends in the industry, along with a new breed of ultra-expensive flagships, officially passing the $1000 barrier. Nokia's surprisingly well-received comeback added, even more, excitement to the mix. We can only imagine what new developments and intriguing devices 2018 has in store. In the meantime, if you've missed any of our top reviews in 2017, now might be a great time to catch up.
Related
So Nokia 6 won. I am glad it wasnt Samsung Sony or Apple. Nothing good comes from these 3 apart from high price for nothing special.
I loved the LG G6 & One plus 5t reviews, u guys rock. can't wait to see what content u gat in store for 2018!
And lett me guess, you don't mind it when others like Xiaomi copy Samsung to get you same stuff for less money because Samsung has large Research and Development unit, unlike them? It costs much more to develop something than to just copy it. No wond...