Ulefone Armor 7 review
GSMArena team, 21 Feb 2020.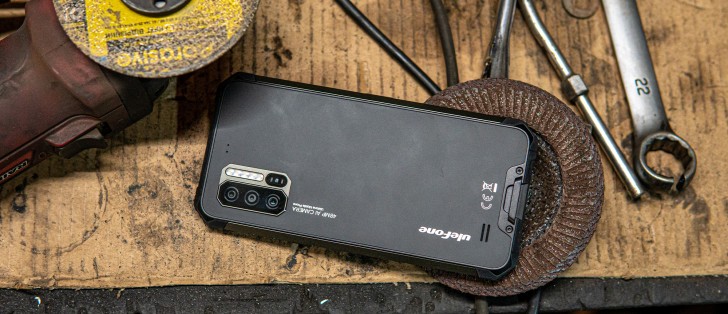 Android 9 Pie - pure but not vanilla
The Ulefone Armor 7 boots Android 9 Pie. The maker advertises it as a pure version of Android, but it's not really. And that's fine. It's still a clutter-free launcher and close to what you'd get with the vanilla Pie.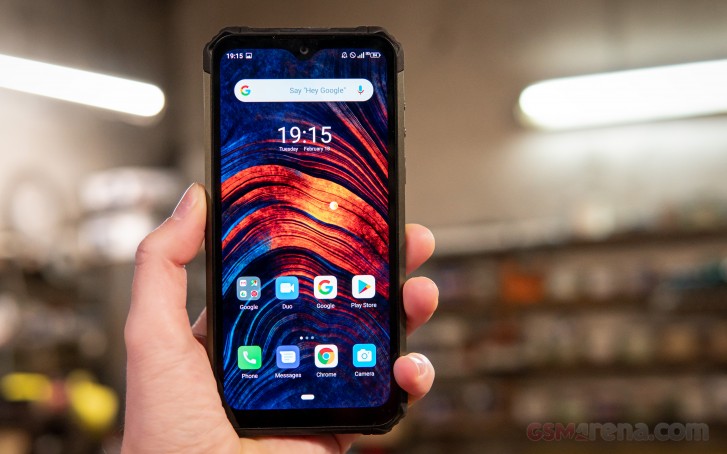 The software indeed looks a lot like vanilla Android. The home screen, lock screen, notification shade, and the recent apps menu are similar to those from the stock Android, excluding some of the icons.
Looking deeper into the Settings menu reveals the changes that Ulefone has made - there is AI app launch acceleration, various gestures, the custom key options, nav bar settings, among others.
You can assign up to three different actions on the custom key - one upon the short press, another one - on long press, and the third option is when you double click it.
There is no app drawer available on the Armor 7, but if it's a must - there are plenty custom launchers.
The app package is pretty straight-forward. The default Android apps are pre-installed, so you have a gallery, a media player, and a file manager. There is also an FM radio app by Ulefone, a custom Notes app, and a Heart Rate app (though no Health app is pre-installed).
The OutDoor Toolbox is probably the most powerful app you will find on Armor 7. It offers Compass, Level tool, Flashlight, AR level for paintings, Height meter (seems like a gimmick), Magnifier, Alarm bell, Pressure info (uses the baroceptor), Sound meter (uses the microphone), Heart Rate (again), and Pedometer.
There are no ads across the UI whatsoever, so you can be sure you won't be bothered by unwanted spam here and there. And that pretty much covers the Ulefone Armor 7 starter package.
Performance and benchmarks
The Ulefone Armor 7 is powered by the MediaTek Helio P90 chip. The SoC was launched at the end of 2018 and is based on the 12nm manufacturing process from TSMC.
The P90 packs an octa-core CPU with two large Cortex-A75 cores ticking at 2.2GHz and six smaller, energy-efficient Corext-A55 cores working at 2.0GHz.
There is a (3-core) PowerVR GM 9446 GPU for taking care of graphically intensive tasks.
Finally, the Armor 7 packs 8GB of RAM.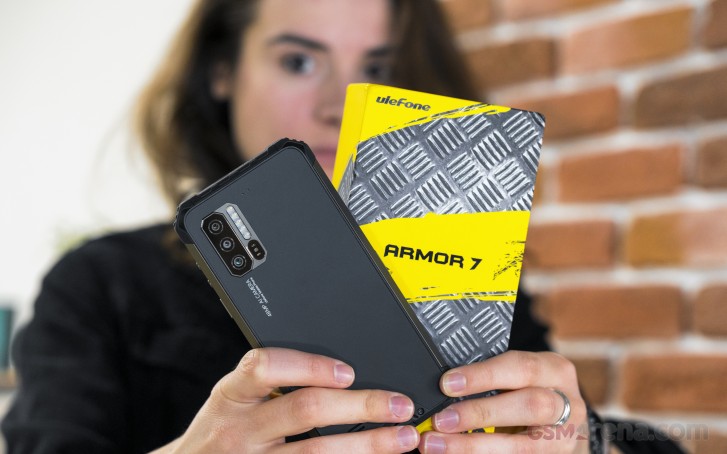 The Helio P90 surely isn't the newest chip around, nor is the most powerful amid fellow midrange offers. There is Helio G90 or Snapdragon 730(G) to beat it. Still, let's see how fast is the P90.
The overall processor performance is in line with the competition. While most of the big cores are based on Cortex-A76, the A75 inside the Helio P90 still do a fabulous job.
GeekBench 4.4 (multi-core)
Higher is better
Samsung Galaxy A71
7039
Xiaomi Redmi K30
7008
Redmi Note 8 Pro
6999
Realme X2
6926
Ulefone Armor 7
6913
Xiaomi Mi 9 SE
6017
Xiaomi Redmi Note 8T
5620
Samsung Galaxy A51
5401
Honor 9X
5345
GeekBench 5.1 (multi-core)
Higher is better
Realme X2
1750
Samsung Galaxy A71
1733
Xiaomi Redmi K30
1692
Redmi Note 8 Pro
1622
Ulefone Armor 7
1476
Samsung Galaxy A51
1294
The single-core performance is somewhat mediocre, but we didn't have high expectations either.
GeekBench 4.4 (single-core)
Higher is better
Xiaomi Redmi K30
2558
Samsung Galaxy A71
2536
Realme X2
2508
Redmi Note 8 Pro
2472
Ulefone Armor 7
2018
Xiaomi Mi 9 SE
1905
Samsung Galaxy A51
1668
Honor 9X
1559
Xiaomi Redmi Note 8T
1519
GeekBench 5.1 (single-core)
Higher is better
Xiaomi Redmi K30
548
Realme X2
545
Samsung Galaxy A71
542
Redmi Note 8 Pro
493
Ulefone Armor 7
380
Samsung Galaxy A51
347
The PowerVR GM 9446 GPU posted rather uninspiring scores on the graphic tests. It is a bit more powerful than the Exynos 9611 and Kirin 710 GPUs but shows the lackluster performance when compared to the Snapdragon 730, Helio G90, or even the Snapdragon 712.
GFX 3.1 Manhattan (onscreen)
Higher is better
Samsung Galaxy A71
27
Xiaomi Redmi K30
27
Realme X2
24
Redmi Note 8 Pro
24
Xiaomi Mi 9 SE
24
Ulefone Armor 7
18
Honor 9X
12
Xiaomi Redmi Note 8T
11
Samsung Galaxy A51
8.9
GFX 3.1 Car scene (onscreen)
Higher is better
Samsung Galaxy A71
15
Xiaomi Redmi K30
15
Redmi Note 8 Pro
14
Xiaomi Mi 9 SE
14
Realme X2
13
Ulefone Armor 7
7.5
Honor 9X
6.5
Xiaomi Redmi Note 8T
5.9
Samsung Galaxy A51
5.6
Aztek OpenGL ES 3.1 High (onscreen)
Higher is better
Redmi Note 8 Pro
10
Samsung Galaxy A71
10
Realme X2
9.2
Ulefone Armor 7
5.9
Samsung Galaxy A51
5.6
Finally, when AnTuTu combines the good CPU and mediocre GPU scores, among other tests, it puts the Helio P90 just between the leading G90 and S730 chips and the aging Exynos 9611, Snapdragon 675 and Kirin 710.
AnTuTu 7
Higher is better
Redmi Note 8 Pro
224759
Xiaomi Redmi K30
218200
Realme X2
215578
Samsung Galaxy A71
192458
Xiaomi Mi 9 SE
180057
Ulefone Armor 7
163017
Xiaomi Redmi Note 8T
141077
Honor 9X
140362
Samsung Galaxy A51
113051
AnTuTu 8
Higher is better
Redmi Note 8 Pro
279355
Xiaomi Redmi K30
272229
Samsung Galaxy A71
263396
Realme X2
257443
Ulefone Armor 7
216770
Honor 9X
187528
Samsung Galaxy A51
175363
Xiaomi Redmi Note 8T
167395
The Ulefone Armor 7 offers more than enough punch to handle flawlessly everything you throw at it but games. Gaming is very much possible, too, but the GPU isn't best equipped to make for a smooth and hiccup-free experience. Still, the Armor 7 is no gaming phone, so we can live with that.
The weight of the phone is heavier than any phone I've had... (Don't expect light... Wear a belt if ya have it in your trouser pockets) The c-type charger port is also shared as the head phone port). The screen is incredibly bright... E...
Don't make me laugh. Gorilla glass is a joke. Do some research before you make such comments.
Read the Wikipedia article on Gorilla glass. It explains how this glass is made so tough.