vivo X50 Pro review
GSMArena team, 16 July 2020.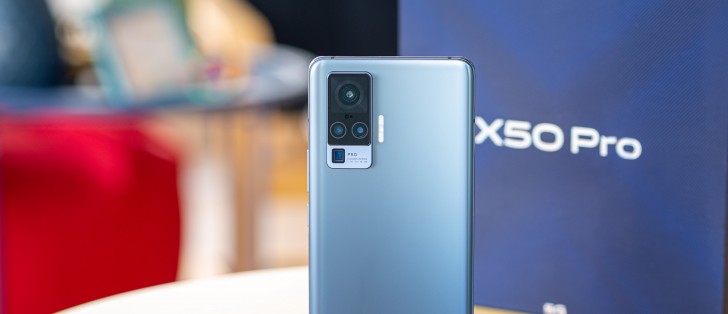 Android 10 with Funtouch 10.5 UI
The vivo X50 Pro runs Android 10 with vivo's custom Funtouch 10.5. The in-house customizations still run deep, though vivo has made many steps in the right direction - the UI is much cleaner and most of the iOS-like elements are now gone.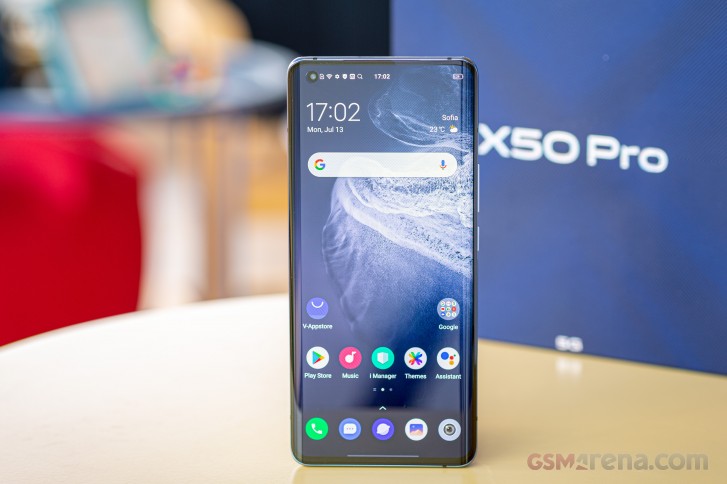 The first thing we noticed is that the new Funtouch has a proper notification shade with quick toggles in it, as opposed to the previous approach with an old iOS-like Control center on the bottom and notifications from the top. And it works like any other notification shade - you pull down from the top and a row of toggles appears, notifications cards below it; pull down again and you get the entire grid of toggles, there is a shortcut to the settings, too.
Funtouch now looks and feels a lot like a clean Android 10 as opposed to the heavily customized old iterations. It has less clutter on the homescreens (the leftmost being the Google one), you get a streamlined App Drawer just like on Android 10, and even the OS navigation is similar.
Some other custom launchers add a swipe and hold gesture from the side to switch between the last two apps, but not Funtouch UI. It does use that gesture for something, though - it is called 'Quick launch apps,' and it's a five-icon shortcut menu, where you can add any app installed on the phone. You can't add the flashlight, for example, which we feel is a missed opportunity. You can disable the feature entirely too.
A swipe and hold from the corners summons the Google Assistant.
Other navigation options are also available including the swipe from the bottom variety which operates like a nav bar, only with swipes, as well as the classic nav bar itself.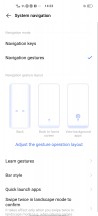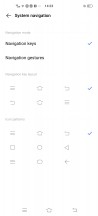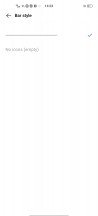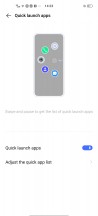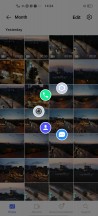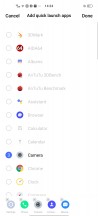 Navigation options and shortcut menu
The vivo X50 Pro has an always-on display feature, which you can customize to your heart's content. Dark mode for the entire UI is also present.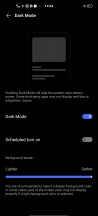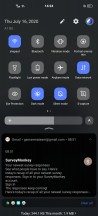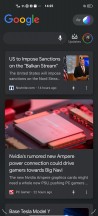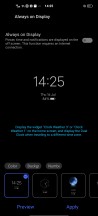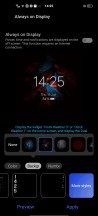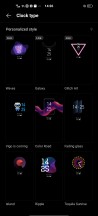 Dark mode • Dark mode • Dark mode • Always on display • Always on display • Always on display
Biometric security comes in two flavors - an under-display optical fingerprint reader and a camera-only face recognition. Fingerprint recognition works excellently fast, but the sensor area is not as big as on some other phones, so accuracy would depend solely on whether your entire fingertip is on the reader or not.
The facial recognition works extremely fast too, even in pitch darkness, where it lights up the display real quick (a little, not blinding you). While it does require at least one open eye to unlock, it's still a relatively insecure authentication method.
There's a bunch of gaming-focused software features baked-in too, operated from within the Ultra Game Mode hub of sorts. That's accessed from the main settings menu or by long pressing the toggle in the notification shade, which also serves a global on/off switch of the features. Game assistant will show a popup, informing you it's got everything optimized and briefing you on current settings - you can disable it after you're tired of seeing it. Game sidebar is where you'll be able to change settings mid-game - handle alerts, screen recording, and the pressure sensitive buttons assignment, among others. You can customize the options in this sidebar as well as disable it completely and only set the things from the Ultra Game Mode Optimization Center.
Some other Gaming options include Framerate Priority setting if the game supports this. Eagle Eye View also sounds cool with local tone mapping, local contrast settings and forced sharpness option. Finally, 4D Game Vibration is simulated gunshot vibrations in supported games.
Vivo's Funtouch 10.5 offers a variety of customization options if you are into this thing. There is a dedicated Theme Store with a ton of custom themes, and you can change literally everything - wallpapers and color schemes, icons, fonts, transition effects, among others.
The new Funtouch UI is a huge step in the right direction even of some remnants of the past iOS-copy era remain - like the iManager. But it is only a matter of time for vivo to get rid of this one, too.
The entire interface is optimized to work at 90fps, and it is super smooth. We had no issues using Funtouch, in fact, we liked what we experienced a lot. The old chaotic Funtouch is gone in favor of clean and organized one, and we are very happy with that change.
Performance and benchmarks
The vivo X50 Pro runs on the Snapdragon 765G SoC, Qualcomm's midrange 5G-capable chipset. It is manufactured on a 7nm production process and features a built-in modem unlike the flagship S865.
The octa-core processor has a 1+1+6 configuration with a Prime core clocked at up to 2.4GHz, a Gold core limited to 2.2GHz (both of these Cortex-A76 derivatives) and 6 Cortex-A55-based Silver cores with a top speed of 1.8GHz.
The GPU inside the Snapdragon 765 chips is Adreno 620.
The vivo X50 Pro offers 8GB RAM no matter the storage option - 128GB or 256GB. The unit we tested has 256GB storage.
And now, let's run some tests, shall we?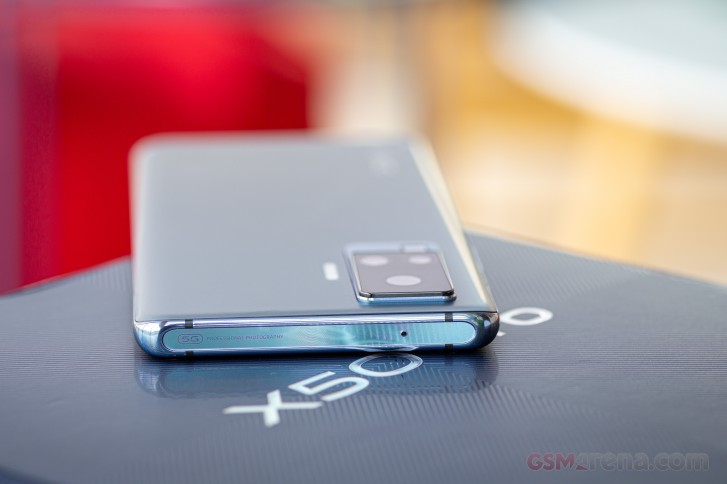 The CPU-focused GeekBench puts the vivo X50 Pro on top of all midrangers but you can buy faster phones for the same cash with flagship-grade Snapdragon chips. You can see the gap in the theoretical performance, though it is debatable if you will be able to feel it in real life scenarios.
GeekBench 5.1 (multi-core)
Higher is better
vivo iQOO 3 5G
3402
Huawei P40 Pro
3197
Realme X50 Pro
3175
Realme X3 SuperZoom
2579
vivo X50 Pro
1937
Xiaomi Mi 10 Lite 5G
1927
Samsung Galaxy A51 5G
1867
vivo X50
1827
Realme 6
1726
Xiaomi Mi Note 10 Lite
1694
Realme 6 Pro
1666
GeekBench 5.1 (single-core)
Higher is better
vivo iQOO 3 5G
928
Realme X50 Pro
911
Huawei P40 Pro
780
Realme X3 SuperZoom
756
Samsung Galaxy A51 5G
677
vivo X50 Pro
636
Xiaomi Mi 10 Lite 5G
616
Realme 6 Pro
565
vivo X50
552
Realme 6
548
Xiaomi Mi Note 10 Lite
521
The good performance continues in graphics benchmarks, where the vivo X50 Pro once again leads the midrange but trails behind the flagship bunch. The shown scores are plenty enough for gaming under 1080p screen though.
GFX 3.1 Manhattan (onscreen)
Higher is better
vivo iQOO 3 5G
61
Realme X50 Pro
60
Realme X3 SuperZoom
56
Huawei P40 Pro
52
Xiaomi Mi 10 Lite 5G
32
vivo X50 Pro
31
Samsung Galaxy A51 5G
28
Realme 6 Pro
27
Realme 6
27
Xiaomi Mi Note 10 Lite
26
vivo X50
24
GFX 3.1 Car scene (onscreen)
Higher is better
Realme X50 Pro
45
vivo iQOO 3 5G
42
Realme X3 SuperZoom
35
Huawei P40 Pro
31
vivo X50 Pro
17
Xiaomi Mi 10 Lite 5G
17
Samsung Galaxy A51 5G
17
Realme 6 Pro
16
Realme 6
16
Xiaomi Mi Note 10 Lite
15
vivo X50
14
Finally, Antutu, too, puts the X50 Pro in the midrange lead, but it's nowhere near the flagship scores.
AnTuTu 8
Higher is better
Realme X50 Pro
592447
vivo iQOO 3 5G
575601
Huawei P40 Pro
496356
Realme X3 SuperZoom
477905
vivo X50 Pro
323736
Xiaomi Mi 10 Lite 5G
318117
Samsung Galaxy A51 5G
316007
Realme 6
288931
Realme 6 Pro
268785
Xiaomi Mi Note 10 Lite
253271
It is a tough job to be the vivo X50 Pro. It is priced closely to phones with proper flagship hardware and yet it offers midrange-grade performance. It is very dependable performance and does for smooth gaming, don't get this wrong, it's just not even close to the Snapdragon series 8.
Still, the X50 Pro is first a camera-phone and multimedia device, so resources were obviously invested elsewhere. And that's fine. You just need to know that whatever you decide, the speed may not be chart topping, but it is a balanced and dependable for whatever you throw at the vivo X50 Pro.
Please don't buy, many of my friends purchased this phone, and after almost one year green vertical lines appear on screen. Very pathetic.
You can use any image resizer app on Android. On Windows, you can simply use MS Paint as I did. You can even use Photoshop or Photopea, which is a browser-based open-source alternative to Photoshop if you want more freedom.