Warp Charge VS other fast charging standards - the 30 minute charge test
Ricky, 13 December 2018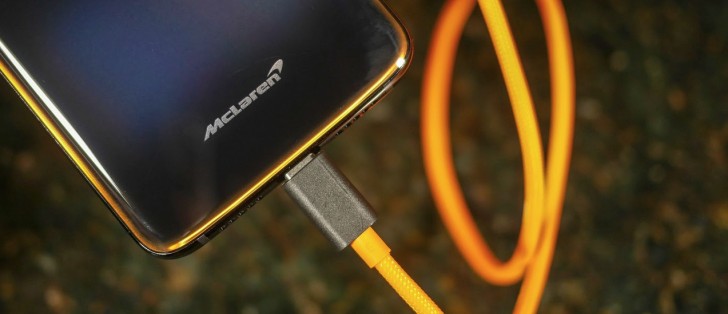 The OnePlus 6T McLaren edition debuted a new charging standard for OnePlus to succeed its 20W Dash charger. So with Chinese phone makers bringing more proprietary charging standards, we want to show how they compare with other standards on the market.
There are several fast-charging standards across the smartphone industry which have their own pros and cons. In a nutshell, quick-charging is great and convenient for the customer, but proprietary charging standards means that you can only get such speeds with the original cable and adapter.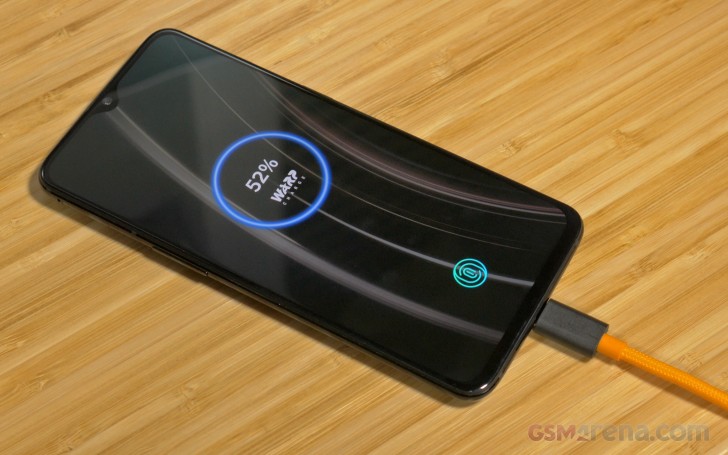 OnePlus 6T McLaren Edition with Warp Charge 30
We've compiled a couple of charts with several quick charging standards and pinned them against each other. Note that for this comparison, we're only comparing how quickly the device charges in the first half-hour from a dead battery. This is the most crucial for judging how much endurance you can expect from a device if you have only 30 minutes to charge it between flights or before you need to head out the door.
The raw data we are using is the percentage for a 30 minute charge from a dead battery, the battery's capacity, and just for fun, we're going to incorporate our battery endurance scores for this comparison as well.
The first chart is the raw charging percentage after charging for 30 minutes. Of course, the percentage depends on the overall capacity of the battery and how fast the power current can be restored to the battery pack.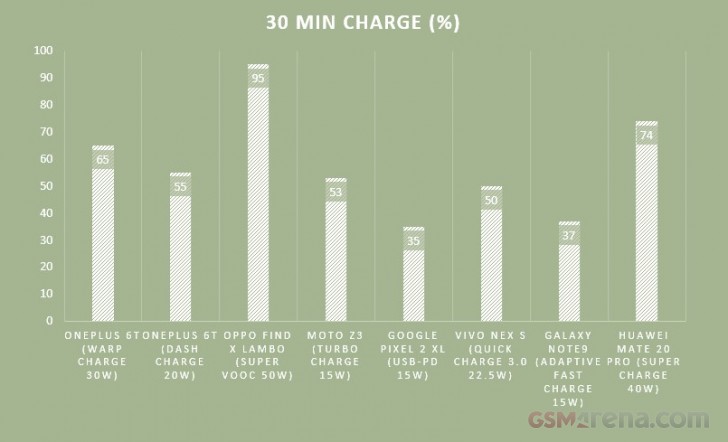 Right off the bat, the Oppo Find X's Super VOOC charge is undefeated. It charged to an impressive 95% of battery in just half an hour. Meanwhile, the Google Pixel 2XL with its 18W USB-PD charger only reached 35% with the Samsung Galaxy Note9 not too far ahead with 37% using its Adaptive Fast Charger.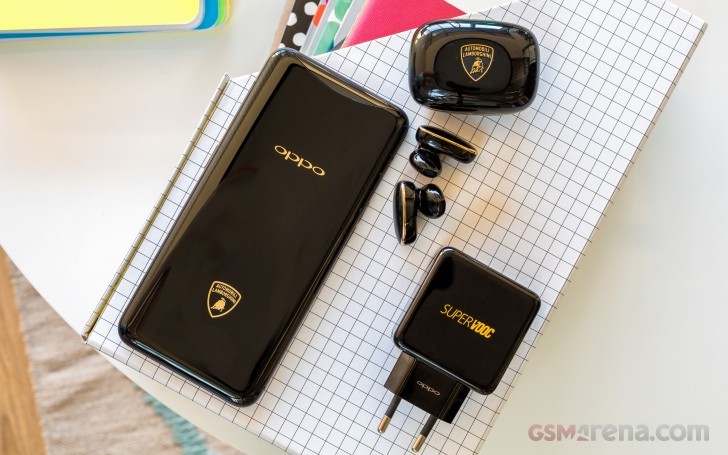 Oppo Find X Lamborghini Edition with Super VOOC
This next chart estimates how much battery capacity is restored based on the percentage and capacity of the phone. The Find X is now really close to the Huawei Mate 20 Pro since Huawei has the biggest (4,200 mAh) battery of the bunch. Meanwhile, the Note9 and Pixel 2 XL are still last.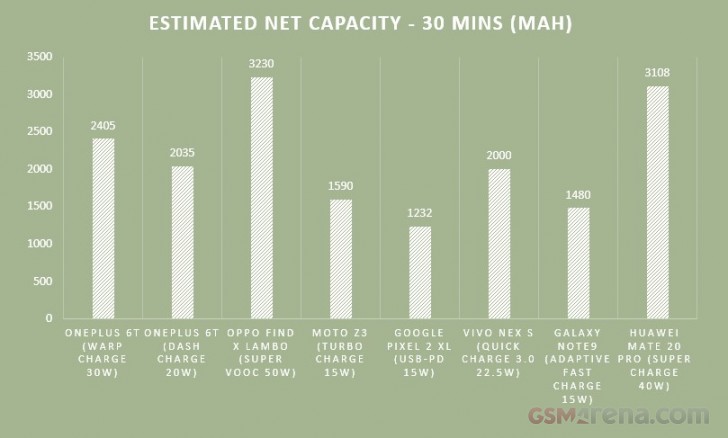 Finally, the last chart takes into account the battery endurance score that we gave these phones when we reviewed them. Simply put, this is our battery endurance score of the amount of battery that the phone manages to charge in half an hour.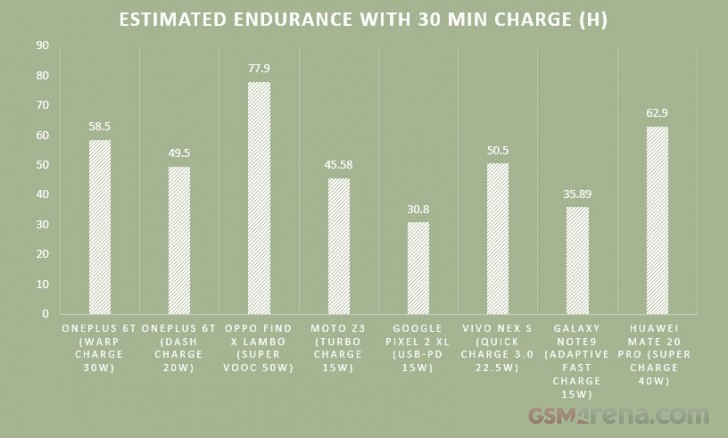 The Mate 20 and Find X were right next to each other in the capacity chart, but the endurance chart reflects the difference in battery endurance scored between the two devices - still very impressive numbers from Huawei.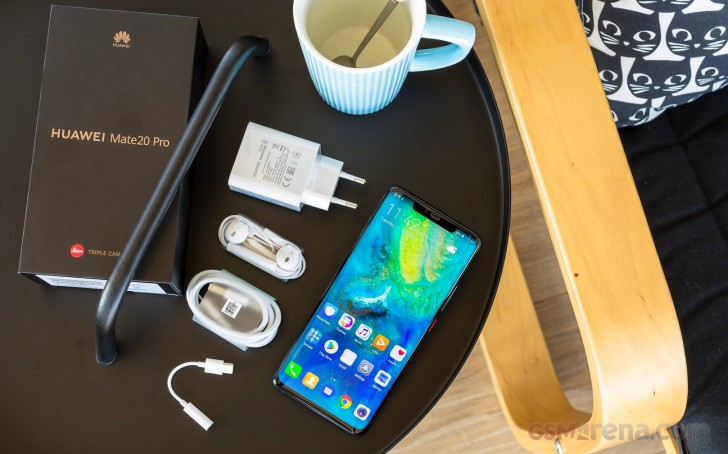 Huawei Mate 20 Pro with Super Charge 40W
The OnePlus 6T with Dash Charge and the vivo Nex S with Quick Charge 3.0 were neck-and-neck in the 30 minute charge tests where they scored 55% and 50%, respectively. This yielded about 2000 mAh capacity charge in each device with about the same endurance estimations right at 50h.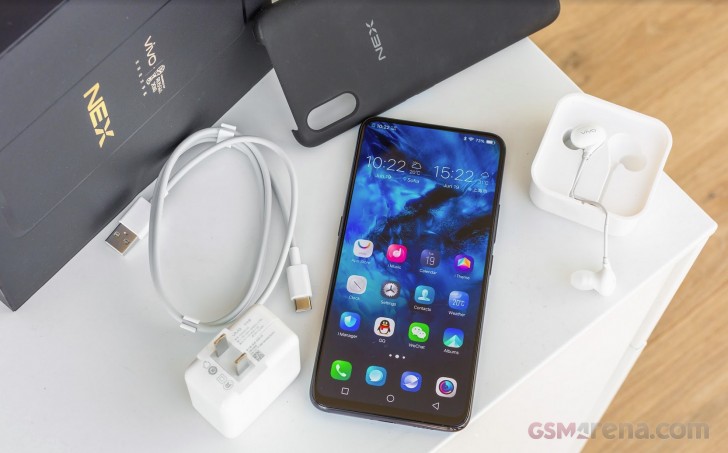 vivo NEX S with Qualcomm Quick Charge 3
The Chinese brands are far ahead of other industry-standards like USB-C Power Delivery and Qualcomm Quick Charge in smartphones simply because the competition between Chinese brands is so fierce. We have to wonder when there will be an industry-wide fast-charging standard that will reach past the 20W-25W range.
USB-C Power Delivery has perhaps the most potential to be an industry-wide standard (it does charge many laptops, after all) and it already is quite easy to find USB-C PD power banks and Apple uses the same standard on its laptops.
Until then, will we see other phone makers develop their proprietary charging standards outside of China?
Related
Please give us a temperature comparison between Mediatek,Qualcomm during using the fast charge .
LOL, good joke. I have had Samsung phones since the Galaxy S2, Samsung Fast Charging does indeed heat up the device it has become better over the years, but it does still create quite a bit of heat.
There has not been any major issue with battery degradation with these standards, that is my proof. If they really degraded the battery faster there would be 100,000s of OnPlus, Huawei etc... owners with batteries lasting far less than they did a yea...
Popular articles
Popular devices