Weekly poll: Nominees for Best Phones of 2018
Peter, 09 December 2018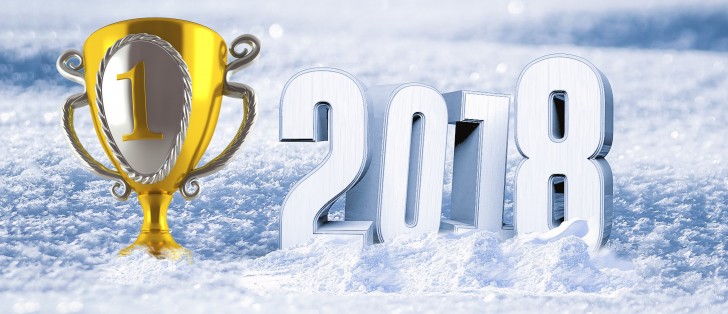 There are only a few weeks left in 2018 and even though we're still expecting new phones to launch they will be too late to make a significant impact this year. So, we're no longer accepting applications for Best Phones of 2018. It's now time to vote.
There were so many new devices that we can't just pick the Top 10 and ask you to vote. Instead this is a preliminary stage roughly divided into three categories: flagship, mid-range, entry level.
We tried to include as many phones as possible while still trying to keep the lists at a manageable length. We were partly guided by the Daily Interest rating in the specs, but also included some cool phones that didn't necessarily made the most headlines.
You can pick as many phones from each category as you want. Next week, the most popular options will go into the final round of voting. That would be a winnner-takes-all vote.
First up, the flagships. There are over 30 of them as this category is invariably the most exciting. It would take too long to introduce each contender – if you don't already know everything about a phone, it's clearly not your pick for Best of 2018. This poll will help us weed out the losers and next week we'll have more time to focus on the strengths and weaknesses of each device.
Flagships: Best Phones of 2018
Next, the mid-range. We're sure some of you will argue that this or that phone does or does not belong in the mid-range. For example, the Pocophone F1 is priced like a mid-ranger, but we felt it's good enough to compete with flagships. Plus, different brands have different costs – the iPhone XR is Apple's mid-range (sort of), but at €850 we can't place it in this category.
Mid-rangers: Best Phones of 2018
And finally, the entry-level phones. This is an interesting mix of phones, some of which draw little attention while others score higher in the Daily Interest chart than many of the entries in the flagship category. Solid features at an affordable price, coupled with a strong marketing campaign can make a winner even out of a modest phone.
Entry level: Best Phones of 2018
Related
In Real Life: Pocophone F1 has faster performance than my Samsung Note 9 Exynos. Pocophone F1 has faster charging than my Samsung Note 9 Exynos. Pocophone F1 battery endurance is higher than Huawei Mate 20 Pro. Pocophone F1 has be...
Iphone 8 is flagship because every apple phones arw flagship at his tym so i always chose apple phones
Popular articles
Popular devices
Electric Vehicles