Weekly poll results: Sony's Xperia Mark III lineup excites, a price cut may take it a long way
Peter, 25 April 2021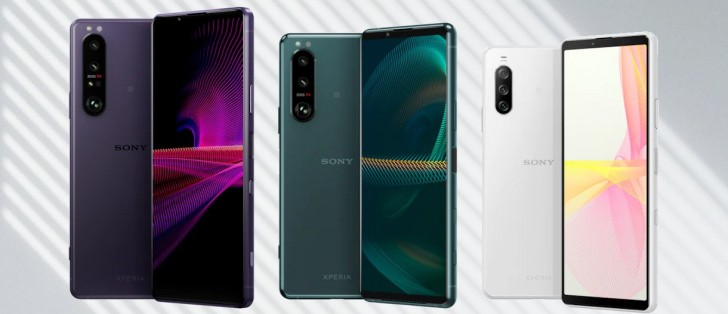 Sony knows how to make desirable products – last week's poll shows that the new Xperia Mark III models have enticed the audience. But the audience has some concerns about the pricing, it's the same story as last year.
The Sony Xperia 1 III lived up to expectations and got an 80% positive vote. It's a pricey phone, especially since launching this late (it's scheduled to arrive in early summer) means that competing brands have had time to do deals and discounts.
But no other phone on the market has a 4K 120Hz AMOLED display, a telephoto lens with two focal lengths of Real-Time Tracking with 20fps burst shots. Sony has played to its strengths and it resonates with select consumers. We don't think the 1 III will outsell the Galaxy S21 Ultra, but it does look it will sell well enough to keep Sony happy.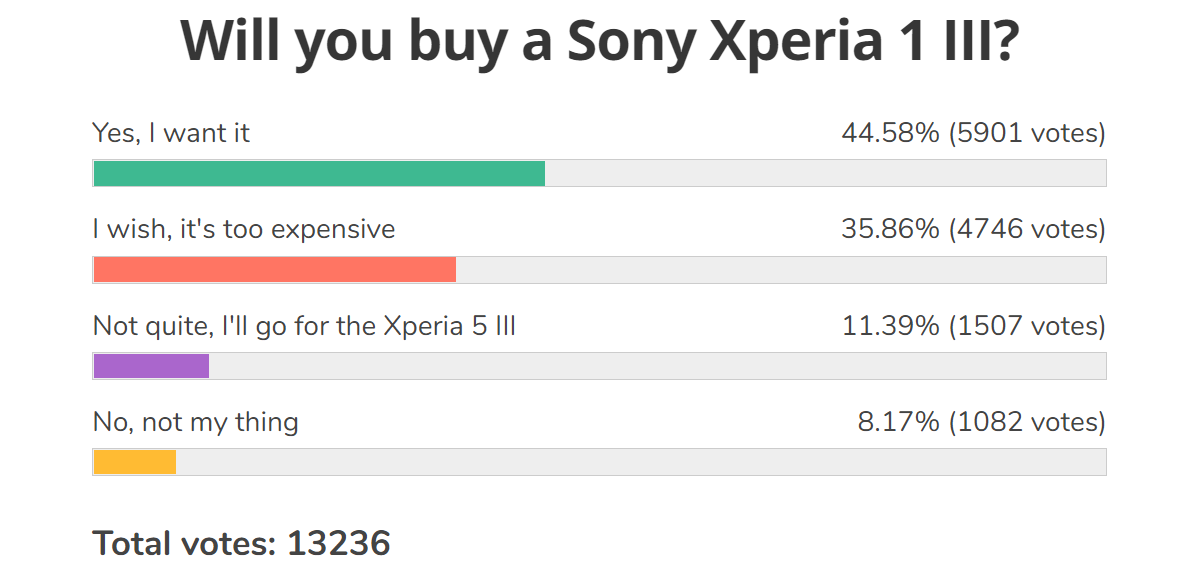 Some of the positive vote was aspirational – people love the phone, but it will probably be outside of their price range. Sony still hasn't announced the pricing for most regions, but it appears that the Mark III will cost the same or slightly higher than its predecessor. Another issue is that Sony scaled back its distribution channels and some countries don't get Xperia phones at all, so even if you can afford one, you still can't get one.
The Sony Xperia 5 III did well for itself with a similar breakdown – most people love it, but some of those don't think they can afford it. The 5-series model looks like it will offer better battery life (same battery capacity, 1080p+ display) and has almost the same camera features (no ToF sensors limits the object-tracking performance).
The good news for Sony is that while there is some overlap between would-be buyers for the Xperia 1 III and 5 III, it's a fairly small cross section. That means that the two models are different enough not to cannibalize sales from one another.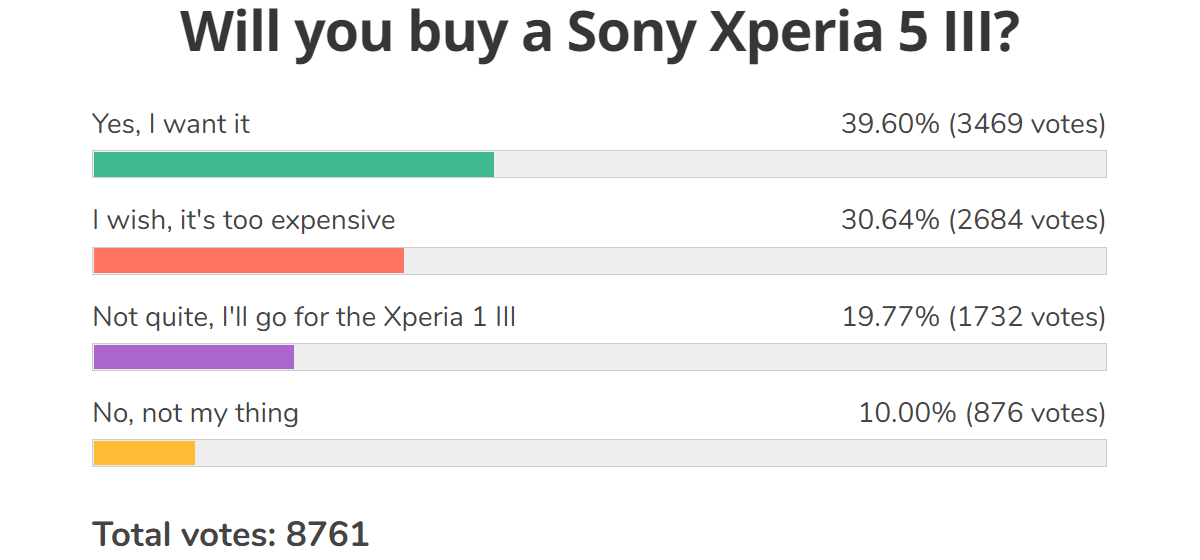 The Sony Xperia 10 III can prove to be a popular mid-ranger, but as with its flagship siblings it all comes down to the cost. A few commenters say that if Sony manages to keep it under €400, they'll pick one up.
This year the 10-series is much closer to to the 1 and 5-series with 5G connectivity, HDR display (albeit 60 Hz), stereo speakers and a larger 4,500 mAh battery. The Snapdragon 690 chipset proved to be a popular pick as well.

Now all that is left to do is wait for summer to arrive and for Sony to release the Xperia Mark III models. As a reminder, there will be some pre-order deals, e.g. a pair of WF-1000XM3 TWS earbuds with the Xperia 1 III and WF-XB700 for the 5 III, which could soften the blow to your wallet.
Related
Maybe consider watching this👇🏻 https://www.youtube.com/watch?v=18cAPhfjTzs (This might be b4 the Android 11 update tho which could help/hinder the overall output) And b4 u start commenting-look how garbage the stock processing is, it's not...
Popular articles
Popular devices
Electric Vehicles